Investing in high-quality PIM data is investing in the future of your organization.
The PIM market has really skyrocketed in the past decade, and the next five years are no exception. According to PR Newswire, the PIM software market value is set to reach $16 billion by 2025.
Product content is the basis for products that sell themselves. Before your sales reps make any moves, product pages speak for themselves. Therefore, PIM data must be the first line of defense to target.
That being said, it's pretty challenging to know what product information to place on the frontlines. Some data is absolutely necessary. Every organization should and do have them, no questions asked, as they are the baseline standards for every sales platform.
Other PIM data remains to be nice-to-have (for now). Increasingly more businesses have proliferated the web, with thousands of products. Now, the main differentiating factor of success is how well an organization's system is automated and propelling market speed. So as eCommerce expands into 2021, and more organizations adopt PIM and other SaaS tools, more specific PIM data types become crucial to include. After all, no one is looking to just "get by."
That means as competitive values raise their standards, there is a greater importance on addressing product information needs. For example, what product data do you need in your industry? Which data would boost your customers' experience? What product information can you automatically knock out to speed you to the finish line (in terms of market time and product introduction)?
Every PIM tool works differently.
Factors like installation, software type, and configurability all affect your organization's processes. It's important to specify what you require and desire from an efficient product content management system. After all, you don't want a system with fixed tools, 50% of which don't apply to your needs.
A PIM is built to help businesses thrive, so businesses must know what they want to prioritize before selecting a solution. The goal? Get the best value for the investment – that means robust functionality, flexibility, and easily customizable PIM data features.
The following is a guide to the most necessary and recommended product information on a PIM that you will want to consider.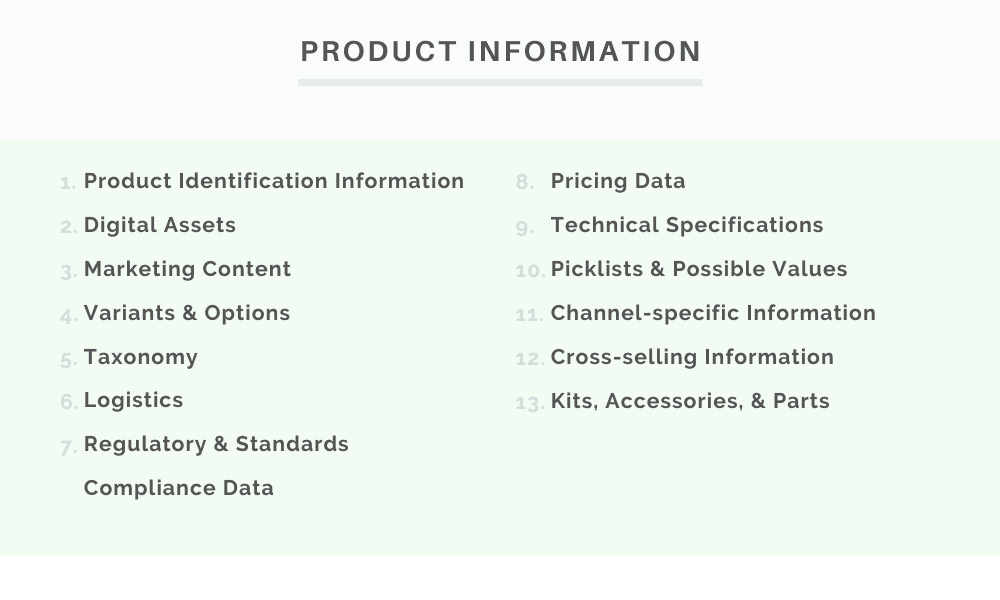 1. Product Identification Information
All organizations have a set of product identification labels that start on the ERP. Product identification helps establish consistency in naming and organizing products. This consistency is critical for efficiency for team members, as well as a great user-interface for shoppers.
Types of product identification codes:
SKU: Stock Keeping Unit
UPC: Universal Product Code
GTIN: Global Trade Item Number
Stock Keeping Unit (SKU)
The most basic identification information is the SKU. The stock keeping unit is a company-specific code is that companies use to follow their products throughout their internal departments. A product and its variants will be identified at the SKU-level since each variant has a different code while preserving the same base code.
SKU data starts in the Enterprise Resource Planning (ERP) system, which is the central back-end system for all things inventory, manufacturing, and order management. When you think about what PIM you want, remember it needs to be able to connect to your ERP. That's where the SKU data will automatically populate PIM fields for any new product you add. With the SKU, all the basic product attributes are uploaded into your PIM without you having to manually enter any information.
As you may already know, SKU keeps products differentiated. Additionally, it helps track stock levels and maintain price information. It helps all your supplier and manufacturing partners send you product data that you need before you start enriching it on the PIM.
Universal Product Code (UPC)
The Universal Product Code is the standard, 12-digit product identification code that is used in the U.S. and predominantly English-speaking countries. The UPC constitutes the basis of the product barcode, and is, in fact, a shorter version of GTIN.
Additionally, UPC identifies a product by its attributes – size, color, dimensions, variant – and assists in simply creation of item-setup sheets for e-retailers.
Global Trade Item Number (GTINs)
The Global Trade Item Number is the 14-digit version of the UPC, which identifies all trade items at any point in the supply chain. In this case, it's on a broader scale – hence, "global."
Because it is global, it remains the same throughout and no matter where it has been distributed. That means it's not only for internal identification uses but also for manufacturers, suppliers, distributors, retailers, ecommerce platforms, etc. Furthermore, the GTIN is vital to carry out any order management information; it allows for full and complete traceability throughout the course of the product journey.
Because the PIM system is the connective point of all your back-end and front-end departments, it should be able to hold all product identification information. That way, you can either track codes forward and track them back.
Why is product identification is vital to store on a PIM?
PIM represents a portal for your vendors, suppliers, distributors, all of whom might need access to the product identification data at any point in time.
Furthermore, internal codes, like the SKU, are incredibly essential – for maintaining inventory processes and tracing all sales and analytics back to the ERP or Customer Relationship Management (CRM) software. Customer service and sales teams become more efficient at work. They are able to find products easier, read and analyze customer data, and assess product stock levels when offering customer assistance. Moreover, they can view related products, variants, or recommendations.
Put it all together – and procuring robust product identification information generally improves supply chain efficiency. Even if it's not PIM's job to do so, it elevates product visibility in a way that demolishes silos between the most separated departments.
2. Digital Assets
A company's digital assets are its pride and joy. They must be protected, secured, and maintain high-definition quality no matter where they are.
Often, organizations struggle with managing their digital assets. Using traditional storage systems like Excel, as opposed to cloud-based storage, leads to an abundance of files.
Think about it. It's rare for an ecommerce retailer to have only one sales platform. Even then, it's likely that they are advertising on multiple social channels. Regardless, there is a major need to reuse and resize digital assets for a variety of marketing content. Things get tough when the means of storage becomes a wild ecosystem of digital assets.
That's why digital asset management is now an essential tool in the ecommerce SaaS arsenal.
All businesses should adopt a robust DAM system.
If the number of SKUs is more than 10, a DAM might be a huge help, especially if a business is multichannel. Even better is a PIM with DAM features.
Not all PIM tools have digital asset features – or they may be limited in capacity. We believe that product information should always remain connected to associated digital assets. So it's not a question of: "Do I need a PIM with DAM capability?" but one of, "What digital assets do I need to support?"
If you're an ecommerce organization, you'll know that product photography just isn't enough. It's incredibly critical, yes – product images are the bare-minimum standard. Today, to remain competitive, investing in richer visual content is paramount.
Digital asset options are endless: 360-spin images, videos, spec sheets, safety data sheets, installation guides, technical drawings, and so on.
Before implementing a PIM, think about what digital assets you prioritize.
The types of content will largely depend on your industry. However, choosing a PIM that is comprehensive in its digital asset support allows for flexible and scalable adoption. You can easily add new digital asset types down the line, regardless of file type or richness.
3. Marketing Content
As one of the primary functions of PIM, marketing content is not something to skimp on.
But a PIM system does not only affect the quantity, as it also affects the quality: it is the solution to a disorganized scenario, composed of poor or outdated content regarding structure and descriptions, which may have gaps, omissions, and contradictions between different platforms, or even between different product pages.
Everyone needs marketing content.
That being said, don't think that marketing content is not a priority. It may seem like something you can do on your own. However, businesses struggle a lot more with content creation and strategy than they assume.
Consider the following before you decide to invest in PIM:
How many channels are you selling and marketing across?
Are there any channels or platforms that are driving more revenue than others?
A lot of the time, channels with underwhelming results (driving less traffic, fewer conversions, lacking in sales) – is due to content. Manually managing content on each channel can lead to inconsistent brand messaging. Sometimes, different channels require different sorts of content – some prioritize bullets and features, with varying numbers of bullets, some have product descriptions, some allow enhanced content, and so on.
The time and effort spent on content could be better optimized by 1) addressing data quality, and 2) optimizing content creation workflow.
Every business needs marketing content.
But before that, you require a sturdy foundation of accurate product data.
Just because you get all the seemingly complete spreadsheets of product data from your suppliers or manufacturers or other sources, it does not mean that it is perfect. Actually, it may be far from it.
What PIM software does is it aggregates all the product data automatically, standardizing it into a uniform format. That means that all your product data remains clean and accurate, with similar standards of units, language, and spelling with little to no missing information or inaccuracies. That is the first step to high-quality converting marketing contact.
Essentially, the PIM system refurbishes the state of your product data for you. After that, it is a solid stepping stone to building enthralling product description and marketing copy.
Arguably, the whole point of a PIM system is to enrich that high-quality product data into similarly high-quality content and copy. This is a major jump from using an outdated or manual product content management system. Or authoring all your product content directly on your platforms (multiple times for every single product storefront that you have). Instead, PIM manages all your marketing demands from one place.
Each PIM might offer varying features of marketing copy.
Because various platforms and channels might have a diverse set of features for marketing needs, organizations might want to think about how flexible their PIM is.
Certain content like product titles, descriptions, bulleted features and benefits are necessary no matter the platform or storefront. That being said, some PIM systems might be more comprehensive than others.
For example, some software might offer enhanced content features, which is something that can only be done on us type of platform such as Amazon, Walmart, eBay, among a few others. Regardless of what platform or channel you are selling on, it's always suitable to find a PIM that is very robust and multifunctional. No matter the sorts of channels or types of content, never limit yourself in the expansiveness of marketing features that you allow.
After all, marketing is essentially half the job of selling.
No matter how good your product, it simply won't get sales without a superior marketing strategy.
That being said, consider a PIM software that almost acts like a database for all possible marketing materials that your team would need. Not just for sitting product pages or listings – it's also for using digital assets for banners, media, videos, using photography for creating ads, or even for organizing workflows that band all of your marketing team members together.
4. Options and Variant Information
Product variants are the different options that are available for each product, denoted by a different SKU. When a company has a lot of products, it can eventually get very difficult to manage all the options for each product.
Since each option branches out into a unique SKU number which may include different types of price points and product attributes. other differing information will include digital assets dimensions inventory availability product type and so on.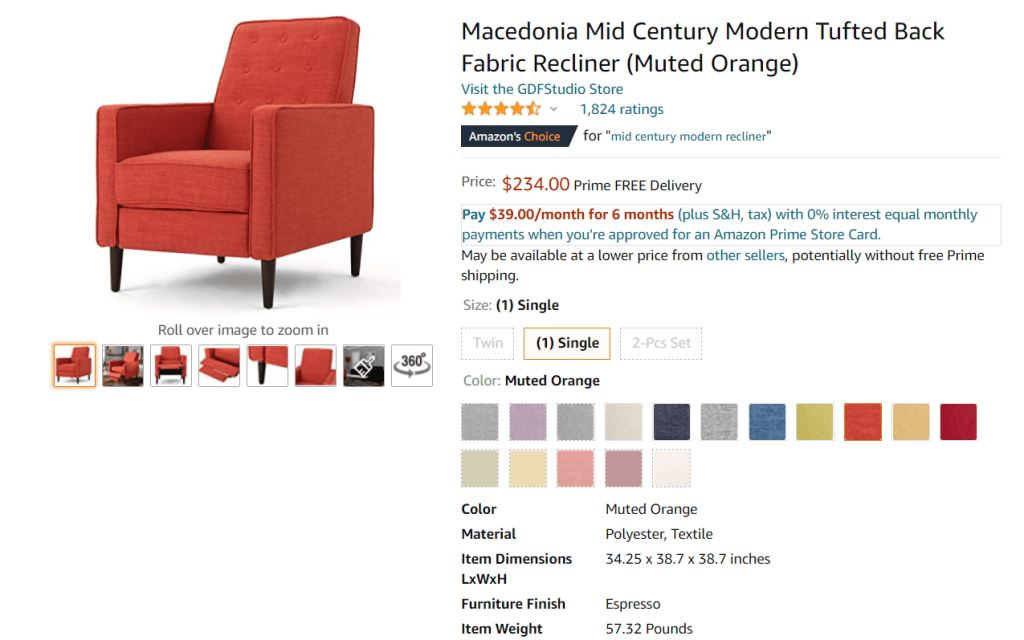 Why should companies consider product options before investing in a PIM?
Do all systems are going to have the same functions regarding options and variants. Organizations need to figure out how many options they already have and how many they plan to have later in their business. If they want to scale, they need to make sure that their software which should be built for scale is able to support rich product options information. ensuring that you have a lot of options and variance for your customers makes for a great customer experience on all front facing stores.
If you are a new or growing company, it may be hard to consider adding more products or variants. but choosing a PIM that can support this in a robust manner helps with the growing pains as you develop your inventory.
What we talked about before taxonomy on the system makes it easier to categorize different products. But that also includes all of your variants. does basically does all the back and work for you. Furthermore, it helps all of your products be ready to distribute across different storefronts. All of your options remain perfectly organized on all of your websites and e-commerce platforms without any extra work on your end.
Ask yourself the following before choosing a PIM system:
Do you face any issues with your current management system for variants?

What channels do you use and how many?

How difficult is it for you to set up options on each channel

?
The benefits of simple variant establishment on PIM are plenty.
You need only set up your variants once, then the PIM distributes them across all of your channels. As you'll soon read about, PIM uses a taxonomy structure that translates everywhere. Think about the effect that this has on your customer experience. For example, research shows that having in providing more options for customers leads to…Finally, it's also a lot easier to manage your digital assets without having to deal with a ton of product images for every single option.
5. Taxonomy
PIM is built on a complex organizational structure ruled by taxonomy.
What is product taxonomy?
It's the method of organizing products by group, relating them by commonalities. This taxonomy is the foundation of clear, user-optimized navigation systems on online stores. Naturally, creating product taxonomy requires a ton of planning, especially if an organization sells hundreds of SKUs.
Every ecommerce platform has some way of managing product categories. The advantage of PIM is that businesses need only do this once. Just set up your preferred taxonomy structure and PIM, and it is copied across sales platforms.
Businesses can manage how they categorize products by tags. Major product attributes or characteristics become tags that connect related products. From a broader perspective, it creates a product hierarchy.
For example, a broad category might be a custom collection, like "Winter Gear" that branches into categories like Coats & Jackets, Sweaters, Footwear, and Accessories. Each category is further broken down into type of product. Take accessories, for instance. An organization may create subcategories like Scarves, Socks, Hats, Gloves, and so on. From there, more detailed filtering on the faceted search leaves the more intricate preferences up to the shopper.
The value of taxonomy for ecommerce companies is twofold:
To improve internal product organization
To provide product visibility on online storefronts
Even better is the ability to maintain a consistent system of categorizing products. For example, if a customer finds your brand on Amazon, they can find the same products on your Shopify store. A PIM allows the same keywords and tagging to display across all platforms. Frankly, even if customers can't tell the difference, having the same schema throughout the organization protects the brand from inconsistent wording or invisible, neglected products.
Other benefits of proper product categorization for internal teams:
Marketing can better create product-specific campaigns
Improved conversion rate
Helps establish search engine optimized category pages
Various PIM software differ in their taxonomy structure, but all have provided this function – after all, what would be the point of a PIM otherwise?
What's important to consider is how robust a PIM is in its taxonomy.
Ask yourself the following before investing in PIM:
Are you looking for flexibility in customizing your taxonomy?
Do you prefer preset settings for product hierarchy?
How many products and options do you generally have per product?
The ecommerce world is abundant with options. If you don't make your product findable, you may risk losing a potential customer and wasting their time.
6. Logistics Data
After products leave the warehouse, traveling through the supply chain to the customers' doorstep also relies on PIM data. This process, driven by operational logistics, requires a specific set of information to make it work smoothly.
Logistics data is all the information needed to facilitate this swift movement. Any error in the process is a major chink in the armor – the whole system falls apart. Or, at least, it creates physical constraints and difficulties in a domino effect.
For example, incorrect product dimensions will mean incorrect packaging or an error in the true weight or size of the product with packaging may prevent it from transporting. There are tons of rules and regulations that apply to the advancement of the product. As result, orders are late and customers are unhappy (not to mentions the costs of fixing the issues).
What constitutes logistics data?
The following are just some examples.
Case pack
Master pack
Weight
Dimensions
UPC
Logistics data is not always on a PIM system. But when it is, it maintains a smooth passageway from the warehouse to delivery. A PIM successfully breaks the siloes between parts of the organization.
Why keep order processing and fulfillment separate from your master database of product information? When logistics are also contained within PIM, it fills this gap, creating a chain of positive impacts. Everyone is on the same page – manufacturers, suppliers, distributors, pickers, transportation systems, delivery processes. Most importantly, customers remain pleased at the excellent service.
Let's not forget the ease at which a multichannel enterprise can be carried out. A PIM that integrates logistics effectively reduces friction, consistently with orders from multiple platforms, and across many warehouse locations.
7. Regulatory & Standards Compliance
Depending on your location, you will need to keep up compliance with your state.
For example, retailers or organizations in California will need to remember California Proposition 65, which ensures the products clearly inform users of any harms. More specifically, this may include "significant exposures to chemicals that cause cancer, birth defects or other reproductive harm." That includes products like cleaning supplies, toys, and other items that may contain chemical or potentially dangerous dyes. To be clear, all businesses must comply with this rule, since its purpose is to protect Californian citizens.
Since not all PIM may take into account state-based regulatory standards, so it's important to consider how tailored you want your PIM to be. It can be hard to keep up with all rules and regulations, especially when it could lead to devastating effects on consumers or lawsuits. Manually including warnings on product descriptions can be optimized with a PIM that automates the inclusion of regulatory labels.
More common examples is choking hazards, small parts regulation, and HAZMAT labels.
If you sell a lot of tiny parts or industrial products, it's important to maintain and store these regulatory labels in one place. Additionally, such products may include any household or day-to-day items like disinfectant or perfume. These labels are included on PIM as product attributes. You can choose to add them to product pages by inputting attributes into data fields.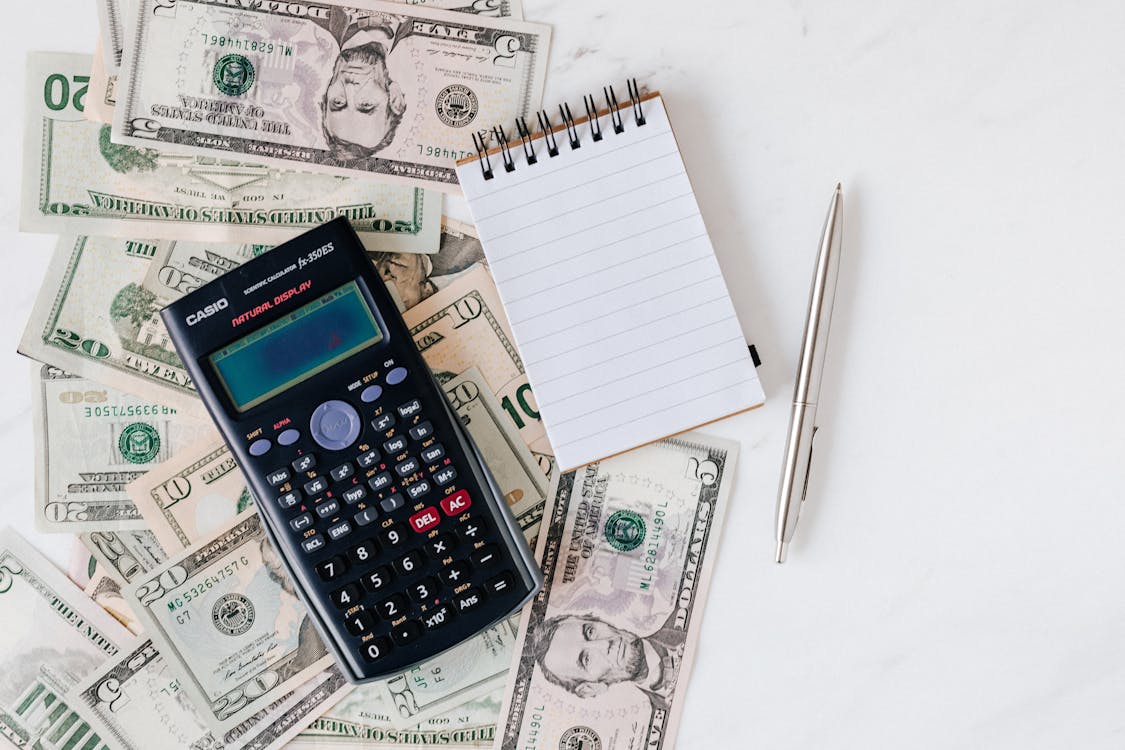 8. Pricing Data
While pricing generates on ERP, it's good to be able to view pricing on PIM as well. Especially if the PIM offers a hub for multiple customer-facing departments. For example, sales reps will definitely need pricing data to see to offer customers accurate information. For B2B organizations, offering pricing data on PIM is incredibly critical, a great power move for efficiency – it's easier to customize pricing and create quotes for prospects.
The most important pricing data that PIM can include is the MAP price, MSRP price, and the list price
Manufacturer's Suggested Retail Price (MSRP)
Manufacturers recommend a point-of-sale price that usually is not the end price that a product is sold for. When on PIM, organizations can choose to reveal this price on product pages, especially if the official for-sale price is far less. This usually applies to automobile industries, wherein dealers can choose to stock to the MSRP or not.
The List Price
This is the original price of the item that it sells on, sometimes used interchangeably with the MSRP. The list price doesn't necessarily need to be the same as the retail price.
The MAP Price
The MAP Price is the minimum advertised price, or the least amount that a retailer can sell or market a product for. Any less than the MAP, and you could be banned. It's a legal violation to always be aware of. In some cases, retail or manufacturer partners could even end relationships.
9. Technical Specifications
Many PIM systems tend to be general, including just the standard specifications that the product needs. But for certain industries, technical specifications might be a major priority. Especially if you are selling any complex or technical product that requires a lot of engineering data you will need software that caters to do specific specifications.
What are technical specifications?
Technical specs are more specific attributes that describe a product's features and functions. In other words, they represent the requirements or basic standards, design elements, and maintenance or upkeep over-time. Early in the product development process, technical specifications lay out all the requirements for ideating, constructing, or assembling the product, with in-depth details about materieals, structure, and power source.
For example, technical specs might include a motor's RPM (revolutions per minute) which is the rate at which that motor is revolving. It may also mean horsepower for automobiles or other engines; perhaps voltage for any electricity-driven product, and wattage for light bulbs.
Most industrial products will need detailed technical specifications. Many B2B distributors sell manufactured goods or parts to supply other organizations' product needs, like machinery, tools, power-generators, etc. The more a product has, the more challenging it is to manage; repetitively inputting custom attributes into fields. For the most optimal back-end experience, a customized PIM is recommended.
Even more, a PIM with built-in templates for spec sheets and instruction guides – perfect for showcasing even the most intricate engineering data.
With ready-made templates for specifications sheets, combined with an extensive digital asset management (DAM) features, businesses can create instruction guides, installation guides, CAD diagrams, and other documents to fully encapsulate the essence of a product.
10. Possible Values & Picklists
Every organization needs a way to manage how they fulfil orders accurately. While order management is an ERP thing, ERP doesn't have any part in offering rich product details. This is especially true if an inventory has hundreds of SKUs, and it's even more critical with many variants with similar product types. You want to make sure warehouse pickers are clear on which product is which. Sometimes going off by SKU number or product identification alone can be different if two products are practically exactly alike in appearance.
With PIM, it's possible to create a picklist that includes a diverse and in-depth set of product attributes and values.
What is a picklist?
A picklist, or sometimes called a picking list, is a document that every organization needs to send to their warehouse. There, pickers use the list to fulfill customer orders. The picklist communicates all the possible product details on any order. Pickers retrieve and prepare the items for packaging from the inventory. The standard list may include SKU, qualities, warehouse location, aisle, and bin location, among other identifiers.
The more extensive the details on a picklist are, the better. That's why it's better to have a large number of possible values on your PIM.
Why use PIM data to generate pick lists?
A lot of companies struggle with a really slow order fulfillment process.
PIM speeds up that process by making it easy to populate preset pick lists.
What usually happens is picklists are generated through more traditional means, via the ERP, which holds the order information. The value of PIM is that since an enriched set of product information – in addition to all the ERP data – is already on the system, you may as well go a step further.
For example, Catsy PIM has templates for other sheets and documents, so creating a picklist was a good-to-include – why not? Just like everything else, a PIM is designed to allow backend and front-facing systems meet. The same content that helps shoppers can also help teams, from customer service to warehouse pickers.s
The faster the flow of the supply chain, the better it is. Stock levels for products can update immediately, as soon as picklists are generated and the pickers are on the move. The inventory populates all ecommerce channels through PIM, maintaining accurate data. It helps cut down on operational costs, particularly for organizations with a tremendous amount of SKUs.
11. Channel Specific Information
At this point, it's unheard of to be an ecommerce business without multiple channels. A PIM that holds channel-specific information makes it easier to manage a multi channel organization.
What is channel-specific PIM data?
Alongside all your stand product information, each channel might have more specific requirements. When you sell on multiple channels, it can become a juggling act to keep up with each channel's details.
PIM connects to a variety of common sales channels. From ecommerce marketplaces to platforms, it's a bird's eye view on all endpoints. This makes it easier to oversee the channel-specific PIM data across each one, adjusting information to match specific standards, word and character lengths, and all while preserving the integrity of your PIM data.
Deploy channel-specific spec sheets
Keep product data consistent
Adjust information to suit requirements for each channel
Tailor digital assets to each channel
Match channel characters & word length for each field
Other than channels, organizations also navigate relationships with vendors.
Vendor Information on PIM
First of all, being aware of vendor information like content requirements and regulations is difficult to manage all the time.
A vendor is the critical third-party for direct-to-consumer entities. Vendors supply products and their attributed information to whoever is next in line – it could be a distributor or a retailer. Receiving products or parts form manufacturers, they pass along that information. But in addition to product information, organizations also need to stay on top of their vendors – who they are, their branding, etc. Since vendors have a lot of other relationships to manage, it's up to the organization to take charge.
A PIM with accessible data about and from vendors is a much better investment.
After all, it's more affordable than getting a specialist or consultant on board. Instead, PIM allows you to create as many product sheets or documents as you need. Customize them, tailor them to the end-user, brand them – you name it. No need to have anyone else facilitate the sending or export of the product sheets.
To summarize, you can easily communicate back and forth with vendors and other parts of the supply chain. If there are any errors or missing PIM data, all parties can easily obtain the necessary updates.
Maintain high quality PIM data by establishing strong B2B relationships with vendors, and remaining in each others' circles. Any updated information reaches them immediately. No matter what organization you are – manufacturers, distributor, or retailer – a PIM helps you be in every part of the process.
12. Cross-selling information
Consider if you want your PIM to handle cross-selling information. While unnecessary, this is an advanced feature that can boost your sales.
If anyone knows better about your customers, it's the customer service team since they build rapport with customers. Gaining that trust allows them to better forecast the customers' interests or needs, and tailor cross-selling to them. Furthermore, who better to sell to than people who are already customers? People who have already bought something are more likely to buy more, and at a lower cost than obtaining new customers. Existing customers are 60-70% more likely to be convinced.
How can your customer service reps use PIM data to increase sales?
A self-service hub on PIM catered to customer-facing teams provides additional information related to each product. Say a customer call to ask about a replacement for a product. PIM displays products together, related by category or attribute. So right away, customer service reps immediately see related items to offer that customer. If a customer is inquiring about a screwdriver, customer service reps can cross-sell a set of screws or other types of tools.
Customer reps can do this anyway. However, PIM makes all cross-selling and upselling information so accessible, that reps can adapt it into their workflow easily. When focusing on customer calls, this can reduce a lot of time for both rep and customer.
Cross-selling may be lower on the list of high-priority PIM data. Nonetheless, remember that it's a valuable enhancement to the software – one that can drive so much more revenue.
13. Kits, Accessories, & Parts
Kits are a great way to group together certain products or components. Essentially, a kit is a way of putting together different products or components into a single bundle is that customers can buy and install at home.
Some companies might be more familiar with this than others. Companies who have a lot of smaller industrial or mechanical parts definitely rely on kits and accessories to drive sales. Usually, it has to do with software related items which they can install at home.
For example, a laptop company might sell a bunch of different components like a mouse, a charger, batteries, and other accessories like a laptop case or bag. After all, customers will generally buy all of these things anyway. Why not make it easier for them? The idea is that if you package a bunch of related items and sell at a lesser price, customers will appreciate it, leading to more sales.
When are accessories, kits, and parts PIM data are necessary to manage?
For example, if you have a lot of low-price items that and are really filling up your inventory space, consider selling them as multipacks on sale. Alternatively, mix them with other related items and by and let customers buy them together. Kids can come pre-packaged or customizable. any paragraph kiss kind of work the same way as bundles which are a really great merchandising tool
Bundles include a variety of products that are usually complementary and they may have a theme or something in common contact information software makes it easier to build bundles a cell as a as one likes to item as one stock keeping unit item because it's just easier to use the tagging system to find related items to put together. Also you can like pick out the most popular product line or collections or gift or most commonly bought products and package them and then again so the met on sale.
Finally another way of doing this is selling a bunch of parts in bulk or multi-pack grateful for everyday use staples or items that might be needed for a long. Of time. You can sell items in three packs or or or multiple packs and then give your customers a discount.
The benefits of a software that can help automate kit of product parts and accessories are endless.
For one, you can increase the average order value. The AOV is a measure of how many items customers generally buy per order, which improves your metrics over time. Overall, it helps increase your revenue, because people appreciate discounts on bulk items, promoting customers to buy more even if more money is spent. No one can pass up a bargain. Overall, this inspires further repurchases.
How product information management does that?
PIM facilitates the creation of kids and bundling accessories by building SKU and product listings automatically and immediately and easily. It makes it easier to put things together and sell them as one single product. Rather than creating like a whole new product database splash page period. Are the more it's a lot easier to handle the marketing for the kids and the bundles. And since it's all connected a year. And always attract the kids back to the inventory.
So no matter what industry you're in, automating kits of parts and accessories can really work in your favor. If you've never tried this before you might want to check that a pimp system includes this feature in case you want to use it to fast-track your sales down the line. do another reason why customers might like this is because they don't have to look for all the other unlike products that they might need to get with like one main product for an example of someone is buying a PlayStation and obviously, they're also going to buy all the related choirs controllers maybe some games blah blah blah instead of doing all that in like wasting time searching for each individual part it's better to package all those things that they will already buy together but I am much lower price here we go.
The Bottom Line
With what PIM can do, the possibilities are endless.
The system that is taking product content creation by storm has the potential to drive significant revenue. On the path to building that content, you need a complete, exhaustive set of product data.
Depending on your organization, not all of these data types might apply. However, it's important to consider which information is top priority.
It's always good to choose a PIM with varying features and information they include must-haves, like digital asset management, analytics, and options to edit in bulk. Flexibility in deployment is key. You don't want a bunch of features you'll never use – that's a waste of half your investment. A comprehensive PIM, with an abundance of support, and multiple functions that gives you the freedom to choose. If you don't know what PIM data you'll need later on, it's best to leave your options open. Of course, the variety in product information is never unwanted.
Here at Catsy, we work with organizations to deliver the best PIM experience specifically tailored to them, not roundabouts or cut-arounds. Check out Catsy PIM by scheduling a demo today. Help your product data work for itself.