Are you a B2B organization looking to support your business with PIM?
Business-to-business companies increasingly need a secure organizational system. As sellers to mainly other businesses, B2B tends to oversee lots of products. Furthermore, B2B companies today might even be B2B2C; they sell directly to consumers as well. Subsequently, they have multiple online platforms to cater to different market segments.
Long-lasting B2B customer relationships are the No.1 source of revenue for B2B companies. However, with more tech-savvy B2B prospects adopting values like digital experience, managing all these moving parts becomes a juggling act.
Product information management (PIM) is one of the plethora of tools available for B2B organizations. By centralizing product data from multiple sources, it keeps companies grounded between all publishing endpoints. It's possible to deliver product data to many syndication points at once. Meanwhile, that same information is accessible for all teams, sales and customer service reps, and important customers to view.
But, like every other tool, each PIM system varies in its offering. So what should every B2B company know before buying PIM software?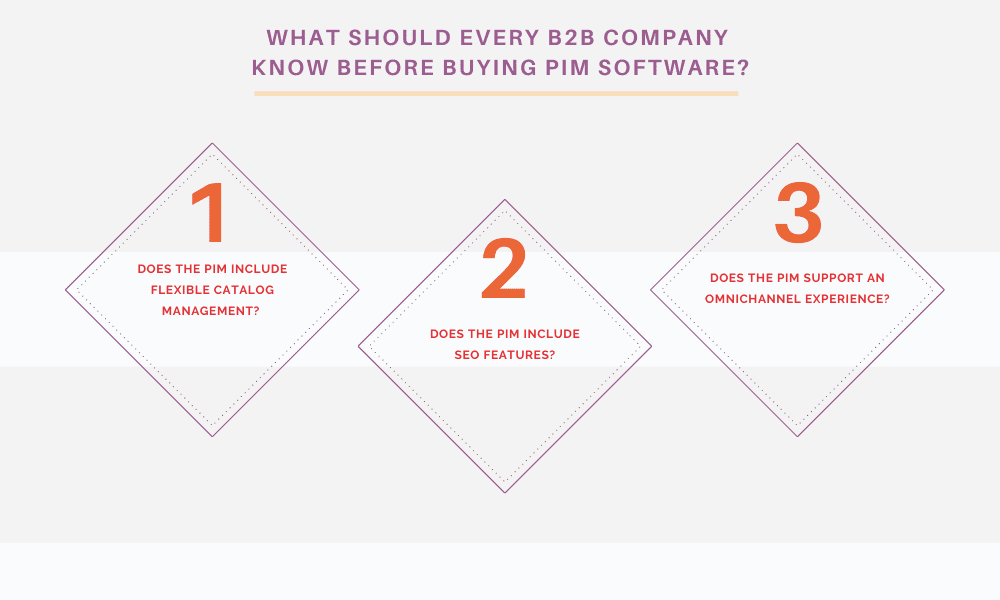 A PIM that caters to B2B companies must include simple print and digital catalog creation.
In the past, catalogs have been a critical marketing channel. Companies would print large volumes of print catalogs full of curated products. They selected these products strategically, with a central theme or category.
For example, a seasonal catalog would have products related to the season, like winter clothing or gift items during the holidays. Otherwise, companies showcased their most successful products. So print catalogs were one of the few, major ways of attracting traffic. Back then, the only points of engagement available included in-store sales, mail-in order, or phone sales.
Clearly, this is a huge divergence from today's interconnected, busy digital world. Since then, values about catalogs have certainly shifted. Considering the fast pace of markets today, those thick catalogs of the past are no longer suitable. The time and effort to publish them far outweighs their return-on-investment. Depending on a print catalog campaign may leave organizations in the dust.
Evolution of the B2B Customer
Today, the B2B customer has evolved as well, further driving this shift.
For one, no one can claim to be out of touch with digital touchpoints. B2B buyers are changing the way they search for and choose the products they need. Prioritizing speed and convenience, the B2B buyer has a more thorough research strategy. Just like B2C customers, they are checking out various channels for the right business from which to purchase. That means B2B companies have to be at those potential touchpoints to find them. Thus, it requires a departure from solely catalog-driven marketing.
However, catalogs are still relevant — very much so. Just not in the way they were a couple of decades ago.
Take advantage of print and digital.
The good news: B2B companies can keep all the advantages of the catalog with the disadvantages. They can do without the long-creation cycle, cumbersome distribution methods, or printing costs. With digital catalogs, this feat is completely possible.
Digital catalogs allow companies to present any or all collection of products in an aesthetically-pleasing manner. Being digital, they are trackable. It's possible to view analytics reports about where users are clicking, liking, or bouncing from. Subsequently, this means saving your budget for quality-improvement.
Furthermore, with product information management (PIM) software, it's absolutely viable to serve customers both digital and print catalogs. By centralizing all essential product data, it immediately eliminates the time costs associated with catalog creation.
But a lot of PIM systems have catalog features. So what should B2B companies look for in PIM regarding catalog management?
Indesign plugin
Multiple catalog options
Interactive & dynamic
Product findability
Self-service portal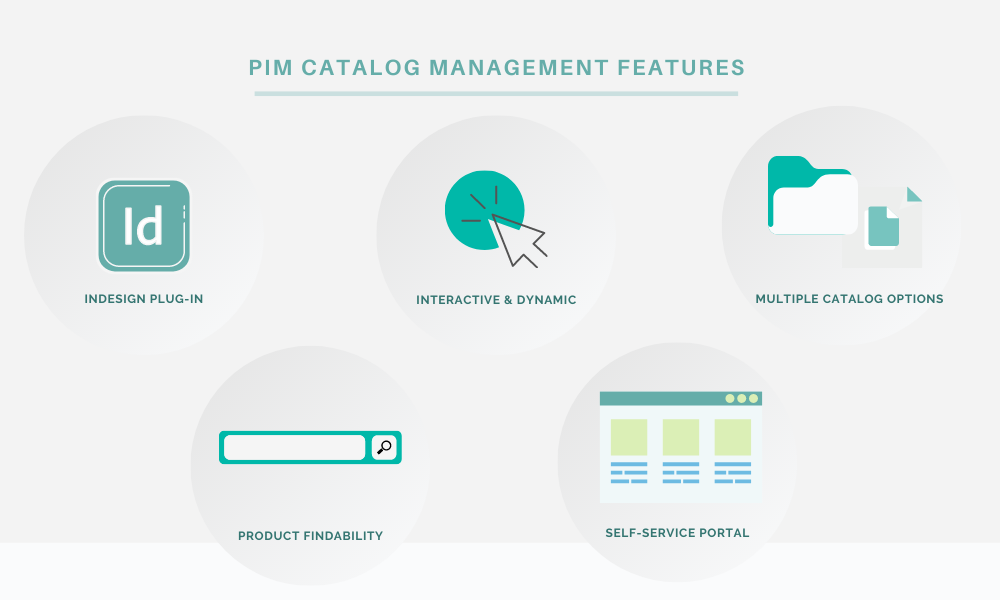 Indesign plugin
B2B companies should know if a PIM has an InDesign plugin for better catalog creation. This integration automatically populates the catalog design with product content straight from the PIM. Subsequently, it improves the productivity of your design team. Perhaps more importantly, it destroys the possibility of errors from copying, pasting, and situating product content.
Exceptional software is that which breaks barriers between other systems. In any business, removing all forms of data-siloing improves all processes. In this case, that means cutting out the friction between the catalog design process and the product information.
If there's anything you shouldn't give your B2B customers, it's inaccurate or out-of-date information. Other businesses will refuse to move forward with a purchase if there is any sign of error in critical product specs. Reputation and quality are two key components of a B2B business. PIM dispels these risks and elevates these components with its cloud-based product data hub.
When you print a catalog with an error, the result can be detrimental. Digital catalogs allow you to edit errors and republish ASAP (hopefully you haven't sent it to a prospect yet). But even better, PIM effectively eliminates any chance of error in the first place.

"Silo builds the wall in people's minds and creates the barrier in organizations' "hearts."

― Pearl Zhu, Digitizing Boardroom: The Multifaceted Aspects of Digital Ready Boards
Multiple catalog options
Along with allowing for both print and digital, a PIM should also have multiple types of catalogs. For example, businesses need catalog-style documents like line sheets, spec sheets, and sell sheets.
Along with the type of catalog, there are also different distribution formats. A multifunctional PIM should provide options to publish catalogs in PDF form, on the web, or even a digital showcase.
Interactive & dynamic interface
Digital catalogs are better optimized on PIM for engaging users with interactivity. Designed for usability, interactive catalogs respond to readers' clicks and swipes. Links can easily direct B2B prospects to the product pages and store website. Essentially, it's another removal of a barrier to conversions.
Additionally, dynamic catalogs will possess rich digital assets, the management of which is included in PIM, with a built-in DAM. Thus, B2B businesses can use PIM to add videos, banners, and logos easily for a highly creative, brand experience.
Product findability
Faceted search is another feature complicit in a captivating showcase of products. A significant feature of digital catalogs, B2B buyers discover exactly what they need.
The B2B landscape is all about finetuned focus. B2B companies have very specific, niche buyer personas. Similarly, B2B buyers have a decisive list of specifications they seek in a product. B2B customer relationships are a long-term investment. Thus, it must be clear that you have what a prospect needs fast.
Therefore, a faceted search feature allows users to narrow down their attributes. Hence it vastly improves the catalog's usability and experience. Overall, this enhances product findability, bringing all your products to the limelight.
Self-service portal PIM for B2B
Not only should a PIM allow B2B companies to provide self-service catalogs to prospects, but also to their internal and external teams.
Customer service teams and sales reps struggle with finding product data. When it comes to specific buyer personas, it's necessary to create tailored catalogs or find specific products easily. With PIM's self-service hub for both teams, they can accomplish their tasks, maintain quality customer service, and save time.
2. PIM with SEO Features for B2B
Organic search works the same way for B2B as it does for any other business. The search engines don't change. However, SEO differs for B2B companies in terms of how B2B prospects behaving in their search activities.
The Importance of SEO for B2B Companies
B2B companies tend to have more specific niches or multiple niches. As a result of having many products and product lines, they may have to divide their marketing efforts between keywords. Furthermore, because the market for businesses as customers is far narrower than that of individual consumers, B2B companies might underestimate the power of search engines. Instead, many companies prefer networking and social media.
However, it's important to understand that SEO is unavoidable. As long as B2B companies have any sort of online platform, SEO is intrinsically connected.
Strategize SEO content on PIM for B2B buyer personas
To maximize their product content, B2B companies need to do intense research on exact B2B buyer personas. Consequently, this results in better, focused target keywords.
More importantly, B2B companies can also use search intent to better gauge possible search queries. Search intent helps narrow down the diction a user will input into the search bar to find what they need. Understanding intent helps generate long-tail keywords.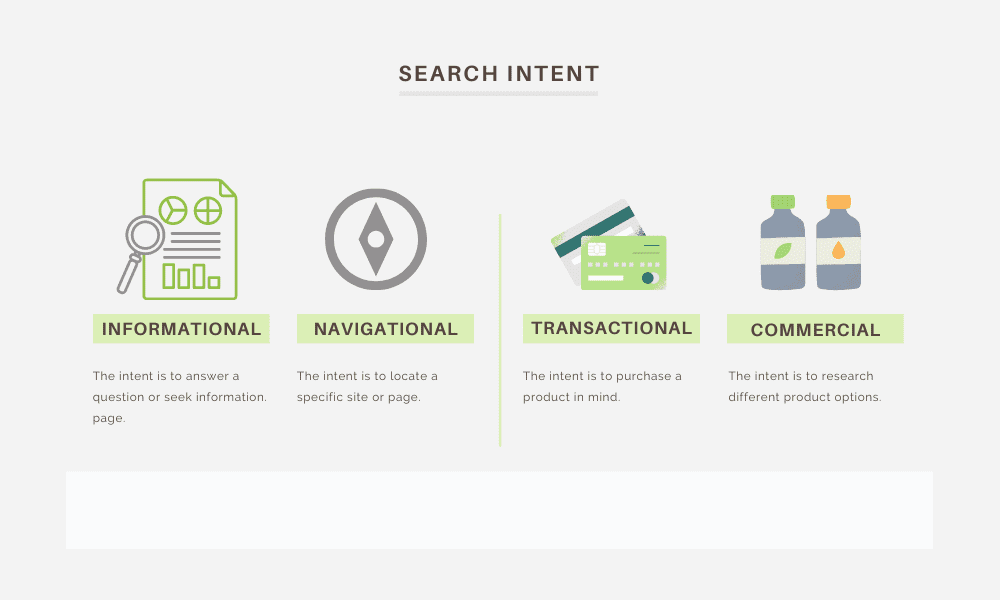 There are four types of search intent or four motivations that prompt anyone to search for anything.
Informational: The intent is to answer a question or seek information.
Navigational: The intent is to locate a specific site or page.
Transactional: The intent is to purchase a product in mind.
Commercial: The intent is to research different product options.
Each of these types coincides with a part of the buyer journey or a part of the sales funnel. Targeting keywords towards each search intent makes for an efficient SEO strategy. You direct focus of content only towards the exact visitors you need.
For example, a B2B site's blog content can aim to attract users with informational search intent. As for the ecommerce website or an online catalog, keywords draw on transactional search intent.
Search intent is important because it helps in using the right language. What words do your prospects use to search? Business executives will use industry specific jargon when researching a product or service, compared to the regular consumer. SEO keywords that match intent is a fantastic way of contextualizing content to the prospect.
PIM SEO contextualization
When you use context, you take into consideration all B2B avenues. It's significant to tailor to various target segments and successfully sell multiple product categories.
If you're a B2B company with products that fall under different categories, you might have to target your keyword research to different market segments. This makes sense to address B2B buyers' specific product considerations. Categorizing products on PIM, then distributing that content already organized sets all platforms up for a fantastic customer experience.
For example, say a B2B business sells office furniture. Perhaps, they might set up a site for schools and institution who wants student desks and chairs. Another site might be directed to work offices, like executive desks and cabinet. Instead of optimizing each site separately with a diverse keyword, why not govern everything from one place – PIM?
PIM unites B2B Product content & keywords
PIM is a two-in-one: a content management system and a data storage system. So naturally, PIM is the first place where B2B companies can begin optimizing content.
PIM drives SEO for B2B companies from implementation. By populating keywords from the very beginning, it simplifies the ease of optimizing multiple distribution channels. After all, PIM stores and offers a place to organize, modify, and update product content. And SEO is a huge part of that. To create content that seamlessly integrates the right keywords, consistently across touchpoints, such a PIM is vital.
Optimize content from implementation
Once B2B companies have keyword research out of the way, the next step is fitting it into the product content. On PIM, B2B companies can optimize copy, description, bullet features, and benefits from implementation. What this does is save you from being forced to optimize multiple channels, catalogs, or retail-syndications. When you publish, or syndicate, the SEO is consistently and simultaneously ready to do its work.
PIM cultivates an environment for collaboration for B2B companies. Thus, multiple teams can help with the coordination and decision-making process of keywords. Since all have access to the right keywords, they can use them consistently across all pages, technical or otherwise.
More importantly, keyword updating is completely possible and straightforward. Search engines are always changing, and SEO trends are like rapid waves in the ocean. With PIM, B2B companies can easily keep up with these changes.
Optimize meta tags of digital assets
Along with content, B2B companies can also optimize digital assets in PIM. Images, video, and 360-spin, among other assets, are major opportunities for SEO.
PIM's ultimate tool in organizing and categorizing both products and all assets is tagging. By tagging each digital asset, not only is it findable on the interface, but it travels with the asset once published, boosting SEO with critical keywords. Populate keywords in metadata, file names, alt text, image descriptions, and so on.
Other than keywords, images are thriving with chances to draw in prospects. With image transformation on PIM, B2B companies can streamline optimization on any device. Prospects should be able to access your product pages, catalogs, and sites easily on mobile, tablet, and any other device. Who says executives aren't searching for products on-the-go?
3. Support for B2B Omnichannel Experience on PIM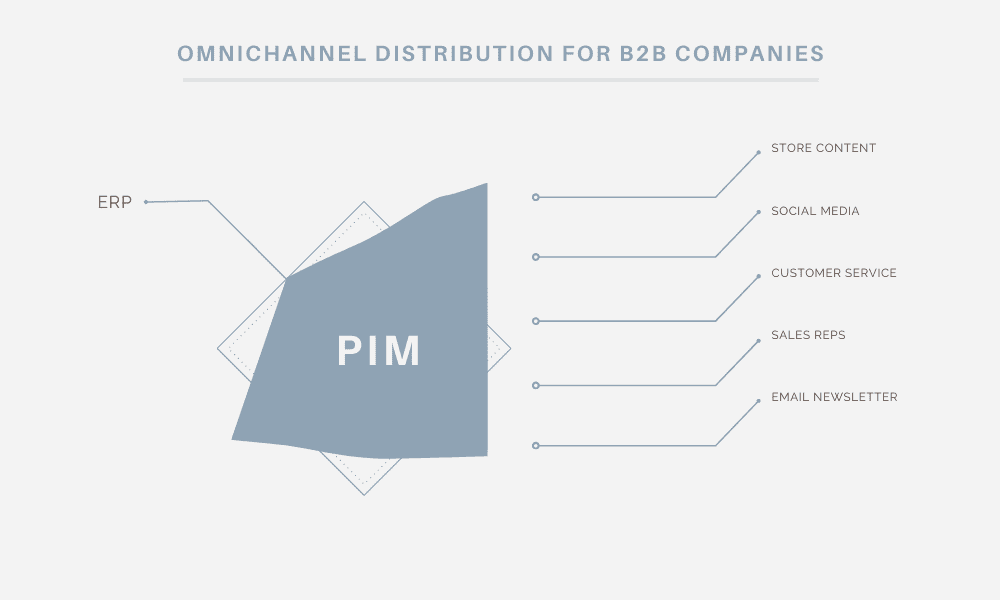 An omnichannel strategy describes the consolidation of all parts of the marketing and sales platforms.
Why do B2B buyers need a tight-knit omnichannel network? With omnichannel, B2B companies are more likely to grow their revenue. Because their narrowed pool of B2B prospects will expect tailored, and contextual brand messaging at every place of interaction.
For example, let's say a prospect finds your company on LinkedIn and goes to your website. Obviously, they won't be even close to buying yet. Rather, the prospect will want to research you on all platforms: social media, ecommerce platform, catalogs. They might sign up for your email list to be updated and learn more about your company. Once you have that lead, you have to give them a consistent experience through the newsletter, sales calls, and subsequent chats that get the sales cycle rolling.
The omnichannel focus for B2B ensures that experiences are personalized and tailored to B2B buyers on every level. Consequently, B2B companies can support the convoluted journey of their prospects. Additionally, they can orchestrate fine-tuned customer service.
B2B vs. B2C customer service
The customer base of a B2B company is vastly different from that of a B2C company. Since you are targeting other companies, naturally the values, needs, and challenges will be different.
Firstly, the B2B buyer base is much narrower than that of B2C. B2B companies are more familiar with the type of company that would need their services. In other words, although there are fewer prospects to hone in on, you have to really know each one.
Different decision-making process
Secondly, the marketing focus differs. Because businesses and individuals have different motivations for buying something. For example, B2B prospects making a buying decision based on a drawn-out, rational, need-based process. Usually, multiple shareholders and executives are involved. In contrast, the typical consumer tends to make individual, emotion-driven decisions, perhaps even impulse buys.
What this also means is that customer service standards are much higher. Nowadays, even B2B customers expect the speed and convenience of B2C customer support. At the same time, B2B customer questions, concerns, and issues tend to be more complicated. They take much longer to resolve and require consistent, timely responses. So as a B2B company, you'll juggle the task of addressing more involved problems while delivering a speedy process.
On the plus side, customer relationships are more rewarding in the B2B realm. Companies must know their B2B customers very well, on a detailed level. And it's this high-quality service that propels long-term success and customer retention.

"Thank your customer for complaining and mean it. Most will never bother to complain. They'll just walk away."


― Marilyn Suttle (Customer Service & Engagement Speaker )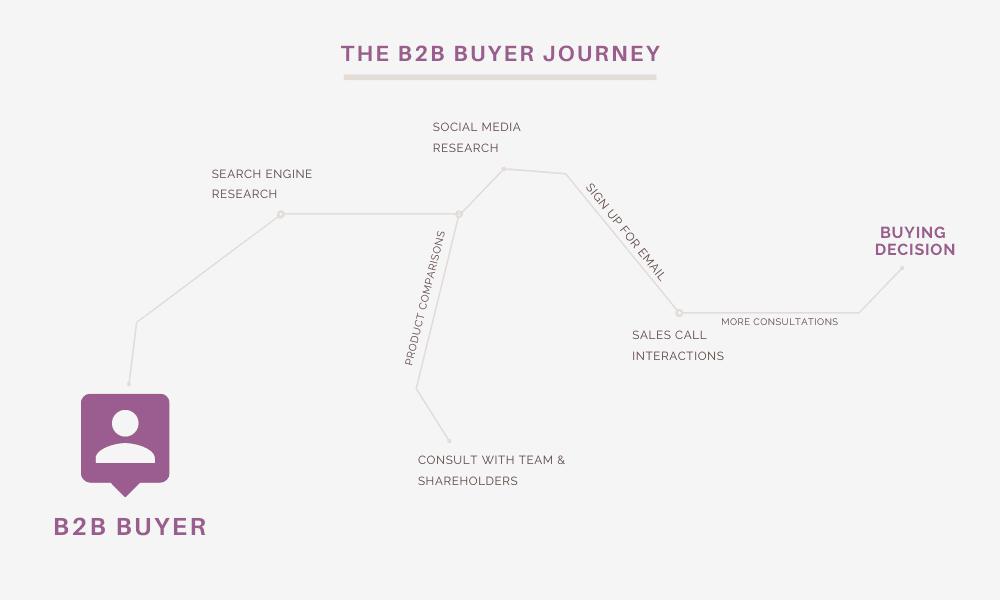 B2B buyers undergo multiple touchpoints before buying
Before even conveying an interest in your product, B2B buyers interact with a brand at multiple touchpoints. The buyer journey is very up-and-down, left-and-right. To meet this complexity, B2B companies have to take this wayward adventure into consideration. The best way to engage buyers successfully everywhere is with an omnichannel strategy.
B2B companies have to meet prospects where they are and frequent. Each prospect has their channel of preference. So it's important to be ready with the same information and support everywhere. Whatever social media platforms and channels make the most sense for you, maximize their potential.
For the B2B sphere, direct calls are still the top choice for many. However, increasingly more digitally-apt B2B prospects prefer to live chat or social media. For instance, LinkedIn and Twitter are of high priority. Others like Instagram, Facebook, and TikTok tend to be more B2C, but depending on your product, service, and target audience, they might help.
For an optimal omnichannel strategy, follow the data. Knowing where your audience is the best way to use the right channels and save money on the wrong ones.
Omnichannel results in more loyal buyers
When you are ready at every potential place a prospect might be, it. The more prospects see you in their online circles, the higher their interest. Considering the mere-exposure effect, the very act of appearing more in someone's life increases their positive feeling towards you.
B2B companies prioritize customer retention. When B2B companies onboard new customers, the goal is to keep them for as long as possible. While companies, in general, might focus on customer acquisition, or getting new conversions, it's not as sustainably successful as investing in retention.
When you market and aim to sell to existing customers, it's a lot easier, with a faster sales cycle. In fact, most of the B2B company's revenue comes from strong and loyal customers.
Retain customers with great customer service
Establishing an omnichannel experience is useful for great customer retention. Once you've garnered loyalty, the goal is to keep your customers.
All customers, including B2B customers, have exceptional standards for customer service today. Omnichannel is key to improving customer interactions at every step of the way. With a combination of faster customer service, personalization, and integrating all touchpoints, customers are more likely to stick around.
Customer service is a key component of this. The PIM self-service portal and search features give them what they need to provide high-quality service. PIM improves customer service by giving your reps access to all the data they need to provide fast responses. Moving through customer inquiries ASAP reduces frustration on both ends. With omnichannel, all points of contact – live chat, phone, social media, and email – conveys a consistent customer experience.
B2B requires PIM with multichannel management
Using PIM is the main landing for all product data governance, it's like a headquarters. B2B companies can connect externally to various channels on which to syndicate data.
Because of data unification, PIM enhances the process of creating product content. B2B companies have complete control over the ability to ensure accuracy, edit and manage rich descriptions, oversee all personalized content on different channels, and update simultaneously. This in itself boosts omnichannel success. You can have a direct view of channels and pinpoint how to deliver the right, contextualized content there. Furthermore, PIM integration with ERP allows B2B companies to easily utilize analytics from ERP to improve and further personalize content.
By breaking barriers between all business proceedings, PIM also destroys friction between customer-facing platforms.
Send catalogs to multiple partners
When B2B companies have a PIM, it keeps all information and data clean. So regardless of where you publish the data, it remains high quality no matter what. B2B companies can syndicate to channels from PIM. Accordingly, this includes sending accurate catalogs to multiple retail partners. As a result, every platform on which you showcase your products mirrors your brand's consistent, quality information. It's a uniform omnichannel ecosystem.
Unify ecommerce site & social media experiences
B2B buyers might have channels of preferences. So you have to be ready for any and all of them.
More B2B marketing specialists want to use social media marketing for brand awareness and more inbound leads. Research shows 79% of marketing specialists considered social media to be the most influential of marketing outlets. Even if some platforms might not make sense.
For example, a B2B automobile parts company using TikTok might be unconventional. Regardless, social media acts as a way to direct traffic to your website. That's where you want your prospects to go.
Support internal teams and customers
Since sales calls are traditionally the vital method of contacting leads for B2B companies, PIM supports reps. Phone sales have the potential to nurture leads, resulting in 47% greater purchases per order.
Whether field sales reps or internal sales, PIM provides them everything required to present their high-value service or product. B2B prospects really can figure out any inconsistencies and misinformation right away. When sales reps have access to up-to-date correct product data, in a timely manner, it prevents any holes in the experience.
Overall, PIM supports customers, sales, and customer service teams, for continued omnichannel cohesion and behind-the-scenes productivity.
ABOUT CATSY
Catsy has been providing unique value to the product information industry since 2003, allowing businesses a way to achieve high-quality product content. Our product information management (PIM) software centralizes all product data, so you can manage and share data with internal teams, retailers, and multiple platforms. Revolutionize your business with Catsy's accuracy, automation, and optimization. To learn more, visit us at https://catsy.com.