Finding more ways to drive revenue is a central goal for any brand, new or old. Product sheets, datasheets, spec sheets, sell sheets – whatever you want to call them – can do just that. Certain products that are more technical or complex in nature require product sheets, but that's not their only purpose.
Today, a product sheet can be incredibly multifunctional.
With uses across departments, from marketing to engineering, and multiple destinations to send product sheets, they have the ability to ramp up the sales success of growing ecommerce brands.
In fact, today, product sheets are a must, whether you want to maintain product quality in your supply chain or content quality on your customer-facing online stores.
What is a product sheet?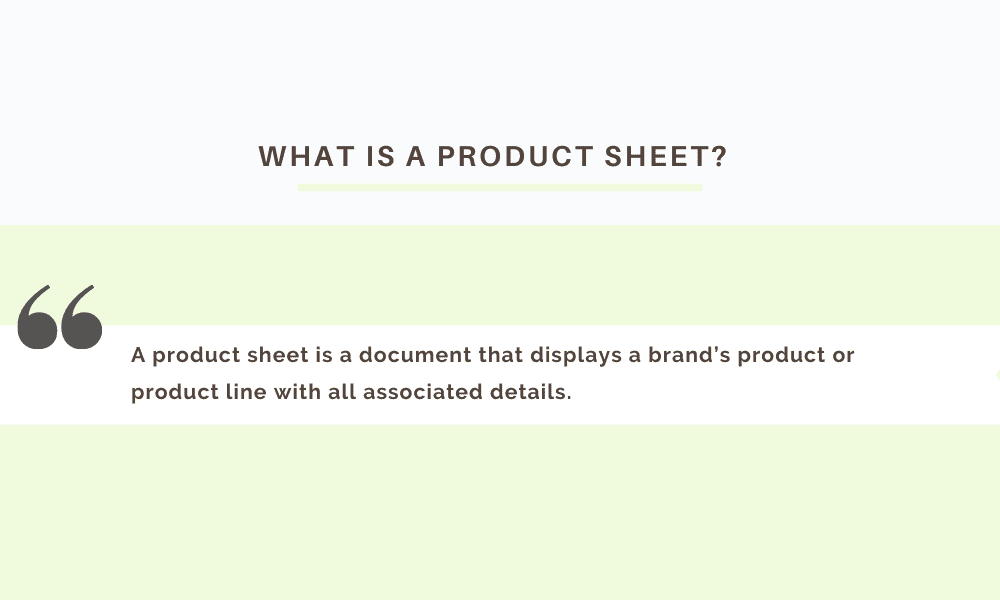 A product sheet is a document that displays a brand's product or product line with all associated details.
As a powerful marketing and sales tool, product sheets provide comprehensive information about the product in question.
Traditionally, product sheets have been largely print materials. To aid their prospects in making a buying decision, businesses would mail them product sheets that convey clear information. In our current multichannel world, print product sheets are still in-use. However, online and PDF versions are more widespread and convenient.
What does a product sheet usually contain?
Product sheets are incredibly customizable and flexible, so there are many subtypes of sheets. Businesses can choose the product sheet type depending on product type and needs, to make them more or less detailed.
A product sheet may layout basic product information, as well as in-depth specs like material, dimensions, colors, performance, functioning. It also includes compliance and regulatory needs, like durability, conditions, and water resistance. Technical products will have every important specification, from software type to hardware.
Brands can present and design their product sheets to be beautifully compelling. Much like a product page, it will provide images, diagrams, and other graphics that best showcase the product.
Many will rely on a template base, with a standard back-front two-column layout. The brand logo will be clear on all pages of the sheet. Design, colors, and images, as well as text and graph or chart placement, are up to the brand. Some organizations choose to add extra elements like reviews, testimonials, and proof of the product or product assortments' impact on lives.
If designed for consumers, a product sheet will include attractive headlines, product names, copy, descriptions, parts and specs, and so on. Content should emphasize the problem or need of the consumer base.
For potential investors or those involved in the product development process, a spec sheet will contain more detailed data and information. Providing knowledge tops any other purpose no matter the use case.
Why is a product sheet important?
Incorporating product sheets into a holistic marketing campaign can propel growth for a lot of brands.
To summarize, a product sheet is important for…
Product development
Instructions for engineering & complex products
Garnering more leads
Informing interested prospects
Drives revenue
Product Development
For new, growing companies and distributors, product sheets are critical to attracting investors for new product development. In the initial stages, a product sheet provides a clear, technical document that strategizes the plan for a new product. It provides all details about its functions, in technology, parts, and manufacturing data. In that case, companies can send the sheet to manufacturing and supplier partners as a guideline for creating the product prototype. Overall, a product sheet streamlines the supply chain process, while ensuring company standards are met.
Instructions for Engineering or Complex Products
Product sheets are particularly critical for complex products. Usually, this means industrial products like tools, office supplies, machinery parts, and other equipment. Such products come in endless variations, with pricing that varies from client to client. Other products might include software or a product that is technical in nature requires a data or spec sheet for engineering. Alongside diagrams, images, graphs, and charts, a spec sheet works as a map for creating the product. For both, a product sheet is a perfect way to condense that many variable attributes clearly.
Generating More Leads
When you distribute product sheets online, they drive more traffic and provide an opportunity to increase your sales-qualified leads. Because product sheets are more specific and comprehensive, they can attract the best match of leads. It will reach leads who know exactly what they want and find that your product sell sheet or spec sheet has all the specs and features they're looking for.
Informing Prospects
Products sheets are a two-in-one marketing and informing tool. Sheets can display all the exact product technical details while providing a space to design, beautifying the product with copy, headlines, and marketing bullets and features.
Driving Revenue
A lot of people require product sheets.
From shareholders to potential buyers, existing customers to retailers, manufacturers to suppliers, and practically all departments of an organization; all need a single, concentrated document of all product details. Product sheets in all iterations are curated to drive revenue in every way. Consequently, they target several different points of opportunity for growing ecommerce brands.
Moreover, a product sheet provides the best advantage for the organization itself. By providing key, accurate product data, and attracting more leads, improve customer trust and solidify brand message.
The Top 3 Advantages of Product Sheets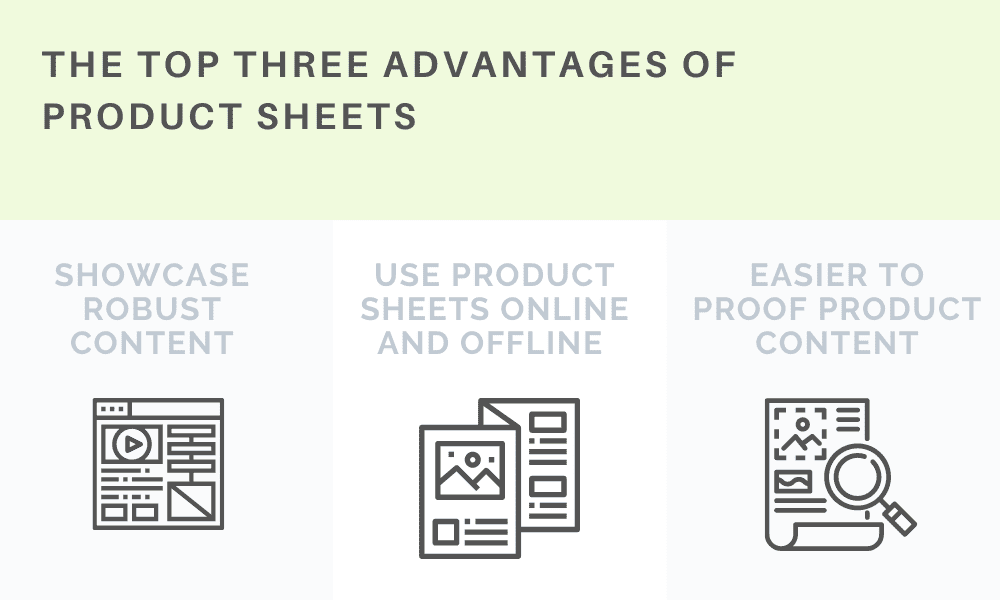 #1. Showcase Robust Content
"Treat your content like a product."

Drew Davis
Product sheets are massive vehicles for delivering robust content to the right people.
What exactly constitutes robust content?
When you can have a set of data to its fullest extent and detail about a product, and ensure that it can remain correct, high-quality, and scalable – that is robust content. It is well-rounded, complete, and has all elements that the end-user of the product sheet wants to know.
On a product page, while possible to include an abundance of robust content, it may be too much for the shoppers. Especially if you limited as a listing on a marketplace.
But a product data-sheet can be anything you want it to be.
A product sheet includes the most complex specifications, including warrants and marketing content. Despite the name, a sheet is flexible enough to extend to multiple pages.
Brands can choose to take more creative approaches with product sheets, by telling a story. Taking into consideration the purpose, distribution method, and intended audience, you can use a story to enhance your marketing success.
How do you use storytelling on a product sheet?
Use the sheet as a chance to boost the enticing quality of your product descriptions. While the porudct(s) is the focus, it's important to shift focus to the customer or prospect. For example, since this is storytelling, make them the protagonist. Highlight on their pain points, present the benefits of the product(s), and put the product attributes into context. For example, detail in what ways it will enhance a prospect's life or provide a solution.
For more technical product sheets, robust content will mean comprehensive charts, graphs, graphics, instructional guides, and so on. All of it is laid out neatly in a readable format that would be harder to do on a product page.
#2. Use Product Sheets Offline
An abundance of avenues exists today to showcase product information. Online, the product page certainly is the center point of an ecommerce organization's sales. However, it pales in comparison to a product sheets narrowed, specific focus and design.
That's why product sheets, both online and offline are critical.
Product sheets start off on digital channels or as PDFs. In contrast to common misconceptions, print material is still strongly valuable. Many people might assume the process of printing and wasting paper to be more trouble than the rewards warrant.
Fortunately, today, it's possible to create product sheets faster than ever before. Thus, it results in more flexibility in using offline channels.
When is it better to send product sheets offline?
For example, when sending highly technical sepc sheets that are suited to a specific prospect, you want that information to remain private.
Other times, online or PDF documents are not practical. For people on-the-go, mobile access to a product sheet may not communicate the visual breadth of the original version. Downloading a PDF online on a mobile device is often cumbersome when the data is too rich. The cornerstone of a product sell sheet is the stunning design and highly-enhanced media, from in-depth product photography and diagrams. So compressing the PDF might heavily sacrifice quality.
Thus, sending print product sheets as marketing collateral is still an incredibly powerful tool. Although we live in an all-online world, having offline access adds one more opportunity to increase brand awareness.
#3. Easy to Proof
Proofing is a necessary step in product data sheet creation. It entails ensuring that all information is fact-checked and accurate. Furthermore, it permits for envisioning the final version of the sheet.
After all, no company wants to waste time, effort, and resources, especially when printing, if it isn't a satisfactory quality. In this case, the proof, or the initial version of the product sheet is meant to be almost a prototype of the final content.
Brands can ideate how the content, design, and structure will look like before making a commitment.
When it comes to sharing product data or spec sheets with manufacturers, suppliers, shareholders, and prospective customers, this is important. You want to send only the best, most powerful work to them.
A product sheet that originates from a product database makes the proofing process easier.
For example, a product information management (PIM) database with data governance automatically inputs chosen information on a template.
After the design team works their magic, decision-makers can easily re-work the product sheet. All it takes is moving things around, choosing what data to add or remove, and laying out any graphics.
The database ensures all information is accurate and up-to-date, so it doesn't require fact-checking.
That's the beauty of product sheets today.
There's less manual work, making the investment much less for new or growing brands today.
Any business has access and streamlined ease to create as many product data sheets and versions during the proofing process. All of this amounts to the best quality product sheets for its intended purpose.
Team-specific Functions for Product Sheets
Sales Reps
Product sheets are just as important for supporting your internal staff as they are for the end-user. When it comes to sales teams, product sheets empower your reps to be ready to sell anytime.
Sales reps are ready to sell
Whether inside or field, sales representatives have to sell more quickly and effectively, all while offering personalized content to prospects. Product spec sheets are the perfect, illuminating, and compelling collateral that can bring that success. Depending on a prospect's desires features in a product, sales reps can filter out unnecessary products on a PIM system, which stores product sheets alongside other digital assets. Being able to scan only sheets with those relevant attributes saves valuable time.
But what if the prospects' needs are too specific?
Create your own product assortments to drive revenues
Sales reps can make their own product sheets on-demand.
Significantly, effortless product sheet creation is relevant for B2B prospects. Sales reps can create ideal sheets with tailored content product assortments. When generating product sheets is a swift, straightforward process, prospective customers acquire more information in a compact way. Sales reps can create visually intriguing and clear sell sheet that has the right kind of content.
As such, custom sell sheets make for more personable, quick, and successful sales cycles that delight prospects because they feel reps have catered to their specific needs. Additionally, they leave the interaction with collateral to take keep and refer back to when they need it.
Most importantly, prospects are empowered to make a buying decision at a glance, leading to more efficient deals.
Move faster with a self-service model
A self-service model helps sales reps make sheets for themselves as well as others. The concise format of a sheet provides all the information they need to sell. It helps them zero in on only the critical, more valuable details related to their current sales cycle. As a result, it removes any unnecessary content that would divert the sales rep's flow or focus.
Product sheets aid sales teams in making more sales. No longer do they need to research to provide prospects with specific sales points. Rather, the process moves along efficiently, leading to more sales deals.
Customer service
Products sheets are vital for improving the work of customer service teams. With this, it's difficult to consolidate and deliver all product content to customers post-sales.
Customer service reps can help with troubleshooting a customer's problem. When customer service teams can provide customers with all the information they need when they have a product sheet in their hands.
Additionally, upon answering a question, the representative can also send a printable, PDF sheet to the customer for their own copy. A spec sheet usually may include a guide, or how-to, installation information – providing rich, detailed information.
With access to PIM, customer service reps can generate their own spec sheets. Consequently, the rep can choose only the most relevant, customer-specific information, to target the initial concern.
In other cases, product sheets help with cross-selling. While sales aren't the customer service team's responsibility, any chance anyone gets to propel purchases.
After all, long-term customers are the most advantageous segment to tap into for repeat purchases. So this point of contact is a vital opportunity to propel additional sales.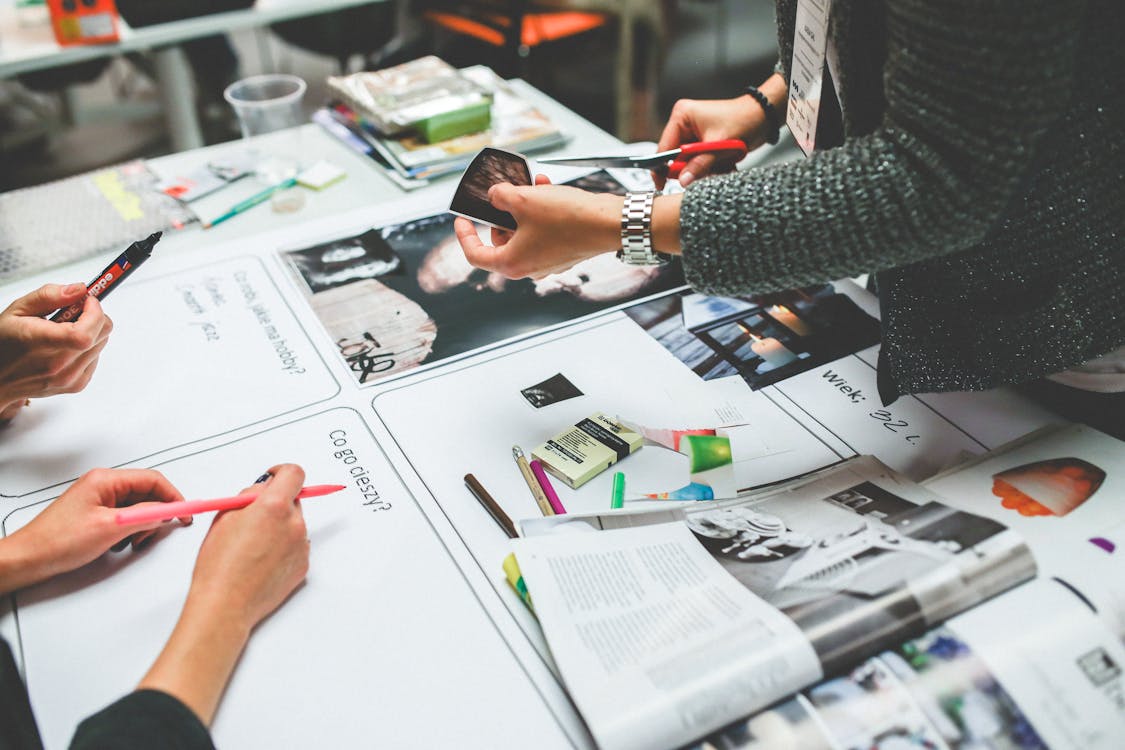 Marketing
Product sheets are invaluable as a line of attack in an eCommerce marketing strategy.
Powerful in its ability to enforce a brand, a product sheet rings with highly enhanced, rich presentation, and compact design.
It's not just another content type. In fact, a product data or spec sheet has the power to not only inform, but also perpetuate the company's character.
Despite it being only a page (or a few pages in some cases), a product sheet is scalable across environments and uses. From presenting to prospects or shareholders, sharing online to secure more traffic and attract sales-qualified leads, a product page is multifunctional.
For marketing, this is excellent news.
A suitable marketing budget requires a balance between time and cost. For that, a product sheet brings a lot of return for a simple investment.
Even further, the ability to create product data or spec sheets continuously can maximize revenue. For instance, a PIM software with InDesign plugin acts as a robust product sheet creation machine. A complete array of product data already exists on the tool. Therefore, all an organization needs to do is fill out a template.
Engineering
Specifications can change faster than the seasons.
With continuous updates to complex or tech-based products, the engineering team needs to be able to maintain product sheet content.
Usually, what occurs is that engineering data is sent to the marketing department, then to online web stores. In between the transition, it's hard to properly exhibit the engineering data. While ecommerce sites and marketplaces do have a place for the most necessary specs, they are not up front-and-center.
For the more inquisitive, attentive customers who want to know more, this isn't enough.
That's where a well-designed datasheet comes in.
Not only does it provide a space for the detailed set of specs, technical details, guidelines, graphics, and charts, but it also brandishes them in an enticing way. No longer does it only consist of lines of boring text, numbers, units, and descriptors. Rather it communicates them in a pleasing, aesthetic fashion.
Furthermore, it provides a place to supply regulatory information.
The customizability of it gives engineering departments dominance over how they want to present this data to the target end-user. After all, they know best how to showcase the information in a way that will benefit the target audience.
How to Maximize Revenue from Product Sheets?
The trick to achieving higher revenue lies in optimizing your product sheet creation process. One way to accomplish this is with a product information management (PIM) system.
How can PIM software help you maximize your product sheets? A PIM targets some of the most pressing challenges when it comes to product sheets:
Slow process
Possibility of Error
Cumbersome proofing
Difficult to update quickly
First of all, you want a way to rapidly generate multiple product spec sheets. For retailers or organizations with many SKUs, this would allow them to tackle as much of their products as possible.
A PIM tool like Catsy harbors three features that can propel the speed of product sheet creation: centralized product data that is ready-to-go, InDesign plugin, and automated tools that slash the total time.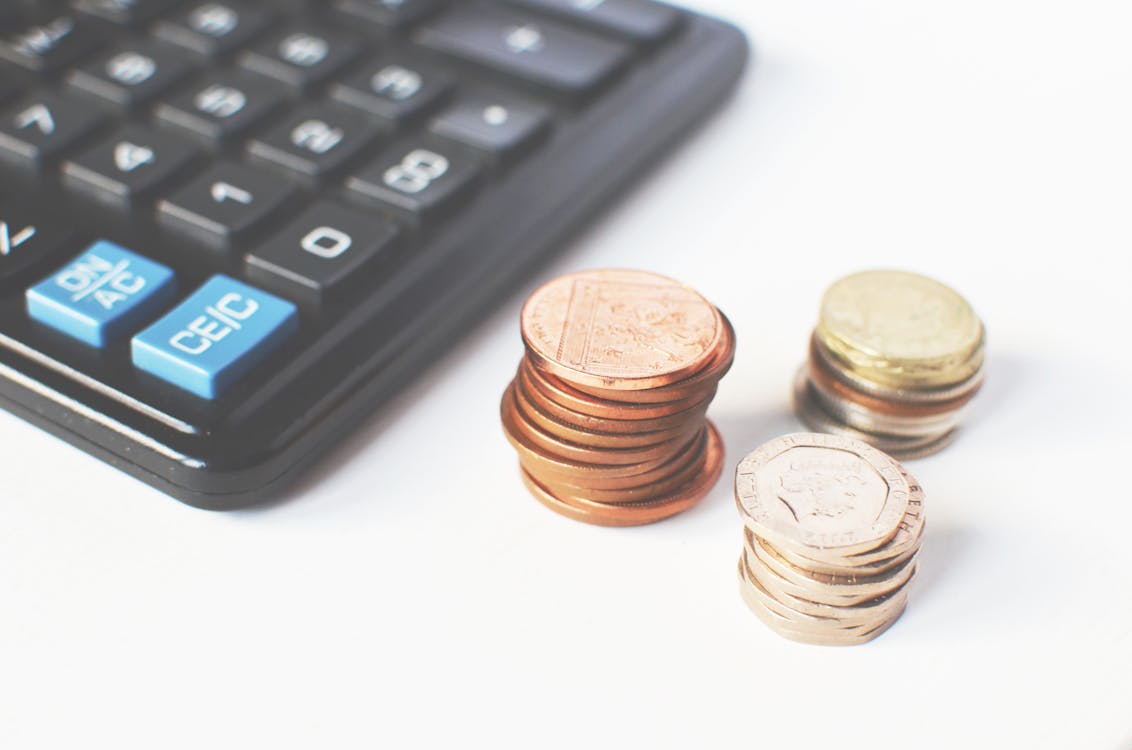 Centralized product data is accurate & ready-to-go
Centralization does half the work for you in maintaining product data quality.
Gathering all your product data in one place reduces the risk of inaccuracy, errors, or inconsistency to little-to-none. The PIM preserves your product information completely, along with rich detail and images. Product information becomes ready to populate any product sheet at all times.
Automated processes on PIM send that data to Adobe InDesign via a plug-in. Then your design team can take over, tapping into high productivity without wasting time copy-and-pasting or fact-checking.
Since PIM is sure to contain only clean, up-to-date information, there's no fear of errors on the product spec sheet. However, if there happens to be a new change to any data on PIM, simply refresh the sheet to feature these new changes. This goes for prices from the ERP as well. The InDesign plugin uses tags attached to the content on the product sheet. Product content is tagged to the product sheet at all times. As a result, this is a major step up from usual manual processing, because refreshing allows the template to reveal the latest version of the tagged information or product attribute.
Product sheet templates that are fully customizable
In terms of branding and design, product sheets are completely at your discretion. When the tools you use include templates that set up the standard format that any product sheet requires, it frees your design team to pursue creativity.
Depending on how technical you want it, there are a variety of templates to choose from. All of which will help your product sheets be more digestible to suppliers, manufacturers, or prospects.
For smaller, newer businesses who have never made a product sheet, templates are especially beneficial. If you are wary of wasting a lot of time and resources out of uncertainty about using product sheets, templates are a good workaround. Templates take care of the foundational layout, saving a ton of time and energy for your organization. Furthermore, the PIM database fills templates out straight with product information, facilitating the automated process.
Ensure quality product content with proofing
Before publishing a product sheet or sending it to a prospects, it's critical to make sure it's all correct. Sometimes an organization might want to use product sheets as proofing before publishing on ecommerce sites. How does PIM software ensure high-quality product sheets?
First of all, implementing an automated system simplifies proofing. In the case that organization decision-makers want some changes to the initial proof, updating it is just as easy, if not easier than doing it the first time. All you need to do is go back to the drawing board. With product data on PIM, it's easier to redesign or rearrange data, eliminating the need to create a new sheet.
If you have localized storefronts, you can create copies of high-quality product spec sheets in other languages. Catsy PIM includes a plugin that allows you to refresh the product sheet by language. Creating multiple versions of your product sheet in languages becomes just as efficient and labor-saving.
Speed up the product sheet creation process
PIM uses workflow processes to create product specification sheets in high volume, without the associated time-cost.
With workflow, complex product sheets like spec sheets, which are highly technical, information-intensive sheets are easier to manage. Usually abundant with tables, graphics, diagrams, and other necessary data, such rich, in-depth sheets recapitulate a ton of information at once.
All these features combined – fewer product content mistakes, less fact-checking, ready-to-go templates – speed up the creation of product sheets of any type. Growing businesses can master the product sheet creation process, tapping into massive sales potential.
Final Words
Any growing eCommerce brands can profit from product sheets.
Even more, solutions that centralize product data make it easy to generate product sheets – as needed for all departments and functions.
No matter the type of distribution method, product sheets are a necessary means of garnering revenue in a multitude of ways. Product spec and data sheets either attract leads or hold interest among prospective buyers. More importantly, they comprehensively inform customers, thus improving existing customer relationships.
Want to elevate your product sheet creation process? Check out Catsy PIM software to schedule a demo today and see what it can do for you.
ABOUT CATSY
Catsy has been providing unique value to the product information industry since 2003, allowing businesses a way to achieve high-quality product content. Our product information management (PIM) software centralizes all product data, so you can manage and share data with internal teams, retailers, and multiple platforms. Revolutionize your business with Catsy's accuracy, automation, and optimization. To learn more, visit us at https://catsy.com.