We've seen that 2020 has been a big year for eCommerce. The growth of online retail has taken the fast lane due to the pandemic. More people are depending on online shopping now than ever. With eCommerce's trajectory, businesses are increasingly in need of product information management (PIM) software to keep up with demand. Likely, the importance of PIM for eCommerce will only become more apparent in 2021.
The question is: How will 2020's eCommerce growth impact its trajectory in 2021?
Furthermore, how can online retailers, new and old, tap into a scalable process with PIM? That's what we are here to discuss.
A Refresher: The Growth of eCommerce in 2020
In the third quarter of 2020, US ecommerce sales ramped up 37%. While people are overall consuming less unnecessary things, like clothing, online shopping has still grown beyond that. It has become a new normal for shoppers. Especially with department stores expected to decline over 60% across the whole year, this is more apparent. The impact couldn't be more clear than in The dramatic impact on this year's online holiday sales compared to 2019.
When we talk about the growth of ecommerce, it's not just new sellers that began online.
Multitudes of retail brick-and-mortar stores had to relocate to a convenient digital platform. Additionally, it includes long-time distributors or B2B sellers who have needed an online presence. About 57% of purchasing managers began focusing their budget more on ecommerce so as to offer a better experience to their customers. Moreover, they've started veering into direct-to-consumer marketing to expand their prospects.
What 2021 Will Look Like for eCommerce
The new year is expected to cater to 2.1 billion shoppers. Considering 2020 has pushed even the most reluctant populations to shop online, this makes sense. It has even created higher demand for markets that normally would've trailed behind, like grocery shopping. Alongside that, sales in ecommerce might hit $4.9 trillion across the world in 2021.
Yet, as much as there has been tremendous changes, it's not all fun and games.
Building a new store is not enough. For as many new stores that opened, more will fail to maintain or grow without a proper structure. Not to mention the overall competition and rising demands present. Even major retailers have been struggling with their distribution and fulfillment processes, leading to a potential for more creative tactics.
While online shopping has skyrocketed, efforts to keep up with demand is trailing behind.
The stores that survive, that can maintain success into 2021 and beyond must have the right foundation.
In order words, a backend process for customer-facing content like PIM is critical now more than ever.
PIM software used to be just for ecommerce companies with a large amount – over hundreds – of SKUs. With the said needs, a PIM is becoming a more vital recommendation for many in ecommerce. Regardless of SKU count, there are far more areas today to manage in the multichannel, oversaturated world. To upkeep your digital presence with competitive content, manage interactions between departments, teams, and sources of product data, a PIM has become less of a simply nice-to-have.
That being said, here are 8 Reasons Why PIM Software will be Increasingly More Critical in 2021 for eCommerce.
1. Create a Single Source of Truth for eCommerce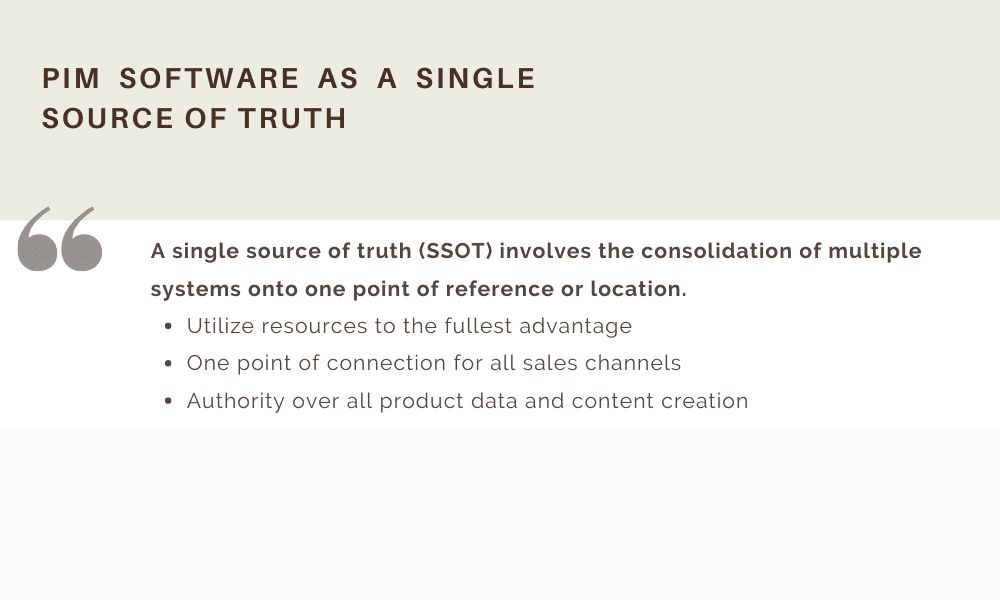 Based on information systems principles, a single source of truth (SSOT) involves the consolidation of multiple systems onto one point of reference or location. It's the authoritative place from which you can access all accurate information, providing the whole picture.
A single source of truth is the only way for organizations to fully utilize resources to the fullest advantage.
Consider the number of systems an ecommerce company has. There's product management, information, digital assets, order management, inventory, accounting, shipping, analytics, and more. Depending on the size and type of an organization, the complexity may differ.
Certainly, it's possible to be a retailer with no personal inventory, office, or employees, all in the comfort of your own home. However, it's safe to say that, to achieve long-term success, you cannot expect a one-person, one system process.
Just like you need all your data grouped into one source, you also need a single point of connection for your ecommerce channels.
Being multichannel is not a new thing. Rather, 2020 only solidified the necessity for a multichannel ecommerce further. Growth in the online retail space requires maximizing all avenues. The pandemic made sellers realize that it's not smart to place all of one's eggs in a single basket. Rather, setting up an assortment of different sales channels is a highly valuable venture. It's such that will drive the potential for reaching as many consumers as possible.
Centralization is necessary to take authority over everything when handling numerous pieces of information and channels is inevtiatble. Consequently, information can travel easily between departments for a cohesive system.
How does PIM provide a single source of product truth?
PIM facilitates the centralizing of all these ecommerce processes, creating a single source of truth. With integrative features, PIM acts as a master data management point between all networks: sources of data, ERP, and departments,
Why is this single source of truth important? Increasingly, omnichannel is taking the lead in what businesses want to prioritize. About 73% of customers already use more than one touchpoint in their shopping journey. This includes online channels to different devices, with mobile forecasted to generate 53.9% of sales in 2021.
All your channels inform you about your shoppers, and integrating helps to grow and retain customers. The more channels a shopper uses, the more money they are likely to spend. So it's not necessarily about just maximizing revenue by tacking on more channels. An omnichannel strategy is built on the concept that many pieces of your business are stronger together. All the touchpoints are pieces that form a bigger picture when tightly integrated. Whereas when separate, it would cost you more for less of the potential.
Hence, addressing all channels is paramount to creating a tightly woven integration between ecommerce parts. To achieve this successfully, the product information must be equally rich and correct at each point of contact with prospective customers. Secondly, and just as critically, all channels should work in tandem, laying down a consistent and valuable customer experience.
The benefits of a single source of truth are as follows:
Creates a detailed, trustworthy view of the organization as a whole
Manages and maintains the accuracy of all data
All employees have access to the same set of data
Are you looking to scale your online store? It all starts with a centralized configuration. Without a centralized product data system, scaling is impossible. Product information must be effective in converting visitors across all channels.
Scaling requires a strong foundation of data, gathered all in one place to deploy easily and quickly. Without it, an organization will find it is not ready to grow even if they have all the rescues and potential. Taking on more products, addressing growing demand, or entering new platforms creates more layers of complexity.
To do so without unnecessary costs requires the ability to manage everything. This includes multiple products SKU data and content, manage the easy syndication of product content to retailers, manage the connections with channels and ecommerce platforms to ensure all mirror your brand standards for quality, all while keeping up with customers, new old.
Centralizing product data on PIM and integrating with eCommerce systems is key.
Acting as a system of records, PIM is a comprehensive library for all product information, and content authoring materials. At the same time, it stands as a central source of all product data, from which an organization can automate their publishing of product pages and listings. With minimal risk to its integrity, all parts of an ecommerce trust and depend upon the clean data on PIM software. As a result, PIM software provides that foundational structure so ecommerce organizations can gain a stronger foothold in 2021.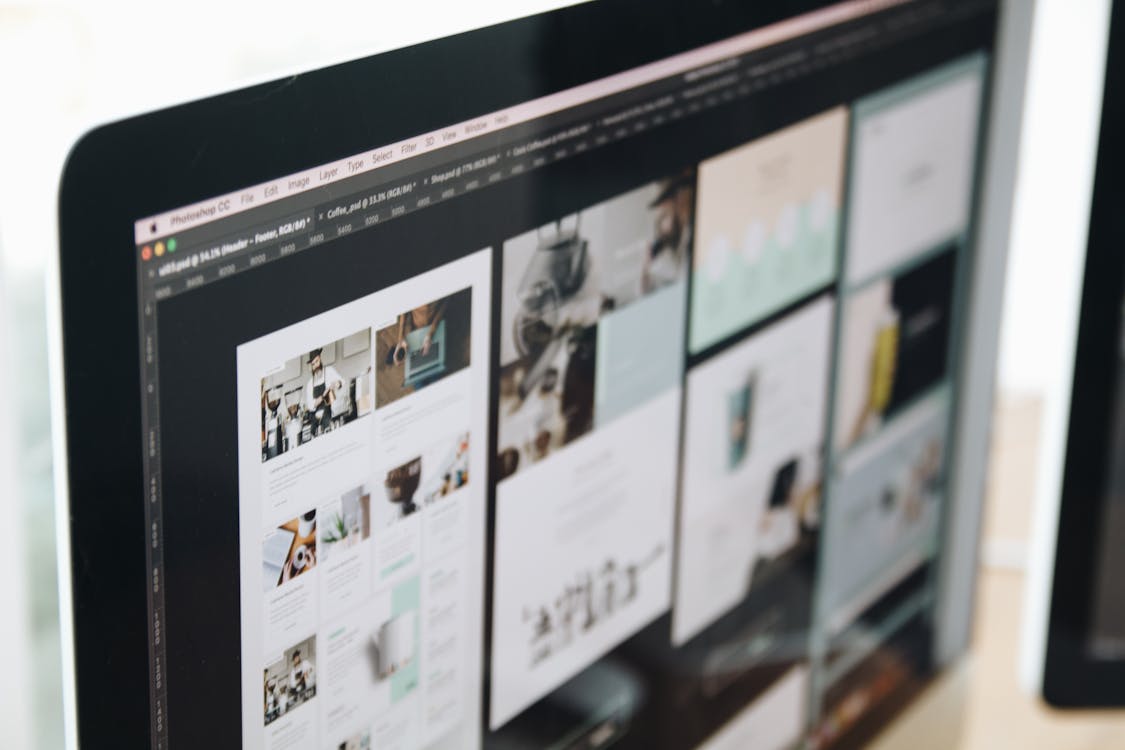 2. PIM Supports Image Updates
Images are critical for a business to formulate regular sales and marketing material. A product page derives at least half of its success in engaging visitors from images.
In other cases, visual commerce has taken the next step. It involves using images and media abundantly across the entire online store, with a diverse mixture of high-quality photography, 360-spin, videos, and user-generated images from social media. Many online stores, like Ethan Allen furniture store, have done so by creating a rich portfolio of products all over the website.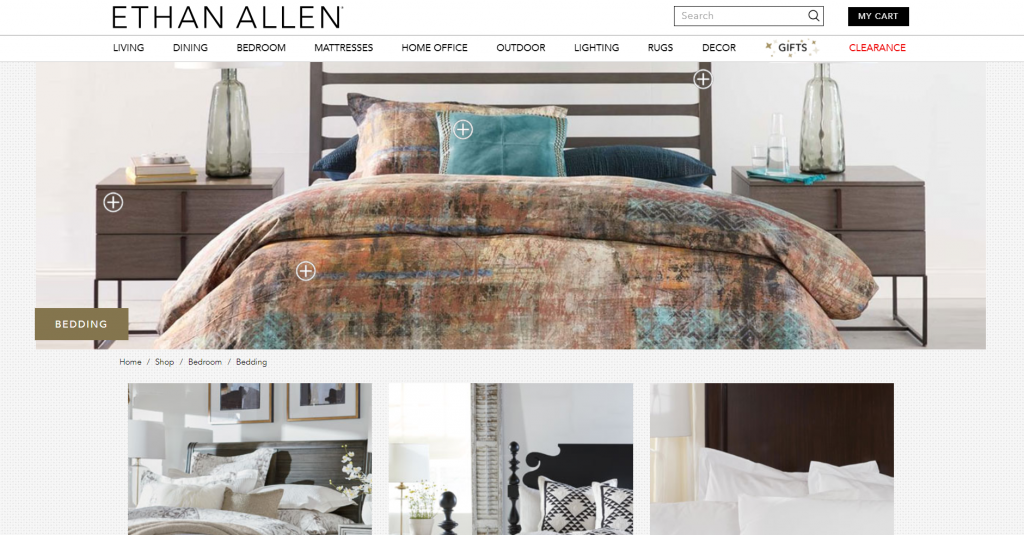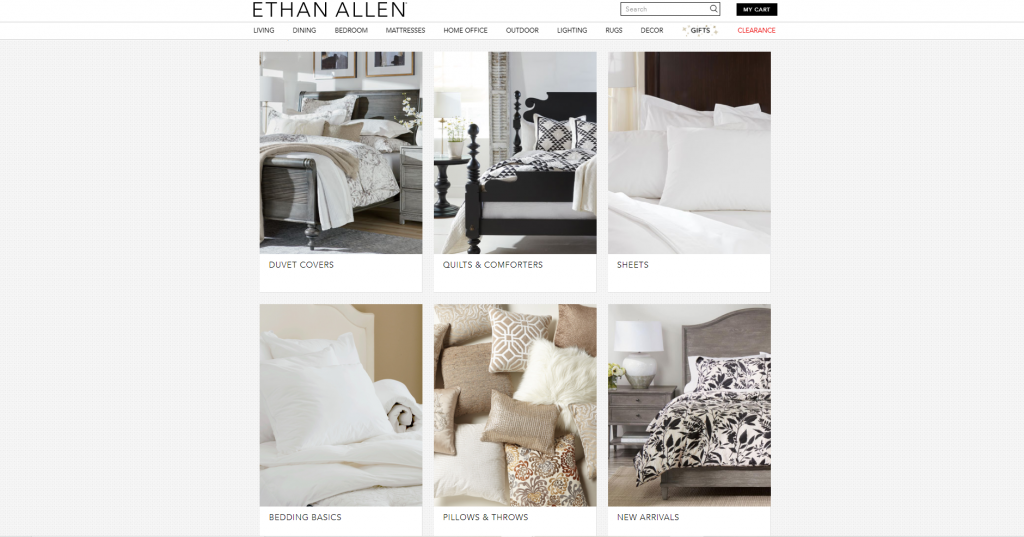 But when handled improperly, in a way that isolates files, keeps them disorganized, and manages them inadequately, the time costs are substantial over some time.
Digital assets and lush, descriptive visuals will always maintain a high status of importance. Especially when online shopping is the new normal. However, to utilize digital assets appropriately, ecommerce businesses require an organized system of gathering and updating images. By that, I mean that simply organizing digital assets is not enough to have them ready for use at any time. But also, establishing a scalable process in image management and digital asset usage is necessary to advance to the next level.
PIM software is imperative for ecommerce in 2021 for consolidating visual elements into your data and content management.
Automatic Digital Asset Tagging
Digital assets require a set of keywords and information that describe them comprehensively for both internal management and easy syndication. PIM eliminates the need to manually input tags for ecommerce channels. As images come in, they are immediately tagged based on its metadata: things like name file, date created, and other creative details, as well as tags related to product attributes. These tags link to the product in question. When publishing, the tags related to keywords and product attributes inextricably link digital assets and associated products.
Be it on a marketplace, ecommerce store, or catalog, your product images and product information remain together with PIM software.
What are the benefits of automatic image tagging?
Accuracy
Findability
Efficiency
PIM's automatic tagging keeps tags standardized across all digital assets. This maintains consistency, ensuring all media files are categorized properly. Metatags allow team members to find whatever images or content they need to complete their tasks.
As a result, speed and productivity are enhanced. PIM's DAM also automatically resizes and transforms assets, so there's no need to have tens of the same digital assets of varying aspect ratios or file formats. It also eliminates the need for the marketing, design, or photography team to waste time uploading or manually resizing images.
3. Create Marketing Content Directly on PIM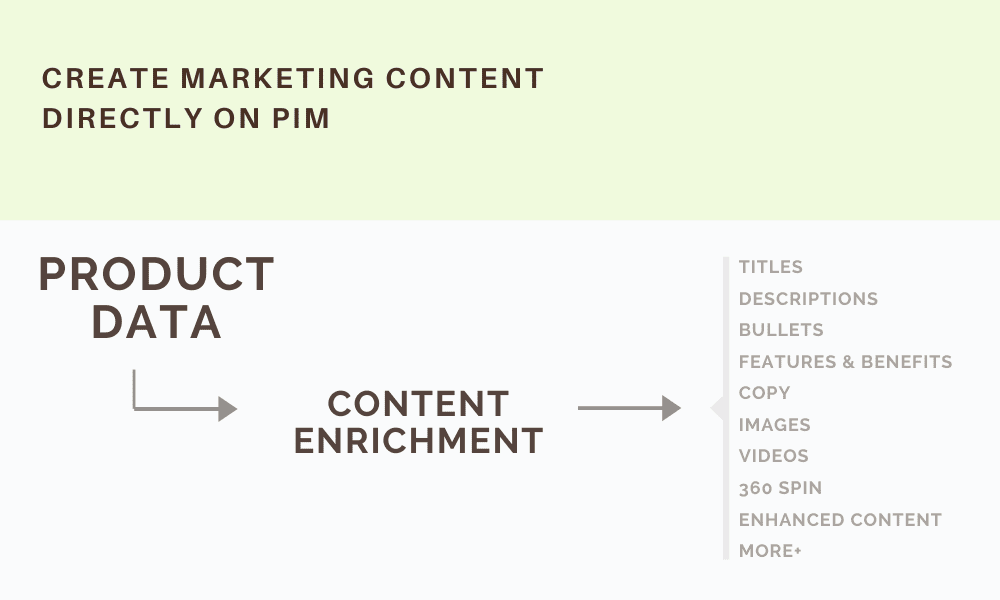 Content marketing for ecommerce brands has always been and will continue to be crucial. Along with new content evolutions, like voice and more focus on visual, the content will aim to drive a close-knit connection between a brand and its customers.
With product content and copy, you must sell an experience. To provide an accurate depiction of a product, clear, concise, and compelling writing is lucrative, in addition to other forms of marketing collateral and materials.
A PIM provides a user-interface built for authoring copy easily.
Rather than create product content on every single platform, it's much better to create one set of product content and distribute it everywhere. Most sites will have a similar format of product page content. The basic requirements include the title, description, bullet features, and other basic copy.
To save time, create one set of ecommerce product content directly on PIM, optimizing it to the best of your ability. Taking energy off of creating multiple product content or copying and paste, it is feasible to devote your time to perfect, engaging content. Moreover, you can focus on the content in other places like brand pages.
Using PIM software as a central place to creating content is conducive to a speedy workflow.
The marketing team can unify and collaborate to make high-quality work. Remote or in the office, all users can establish an environment of communication, receiving notifications about tasks and approvals about finished content.
Since PIM software has every sort of information you could need, it's easy to string that data together into the content. In this way, it's an all-in-one database and content management system. Being able to author content collaboratively creates a continuous experience across marketing material.
Consequently, all channels from the web, social media, and print procure collateral that highlights the same brand messaging.
The interplay between digital assets & marketing copy.
PIM creates a union between copywriting and digital assets for ecommerce.
With its DAM capabilities, It's possible to generate consistent content, with compelling visuals. With both types of content centralized on PIM software, all members from copywriters to marketing, photography to design, are able to use accurate data and up-to-date product images to create beautiful works of (marketing) art.
From photos to brand images, collection visuals to banners, and all other guides, brochures, catalogs, and infographics, and rich media that showcase the lifestyle and context of the product's promise.
4. Maintain Technical Specs and Logistics
The extent of product information's complexity depends largely on the product. However, technical specs will always be something to pay a great deal of attention to, especially with more involved products.
Even simpler products need a detailed set of technical specs that can describe it fully. With engineering data that may easily shift, especially in regards to technology or appliances, it's incredibly critical to maintaining a flow of the latest specs at all times. This goes for logistics too, to streamline the order processing process. Both elements are important to pleasing, converting, and ultimately, scoring rewarding customer relationships.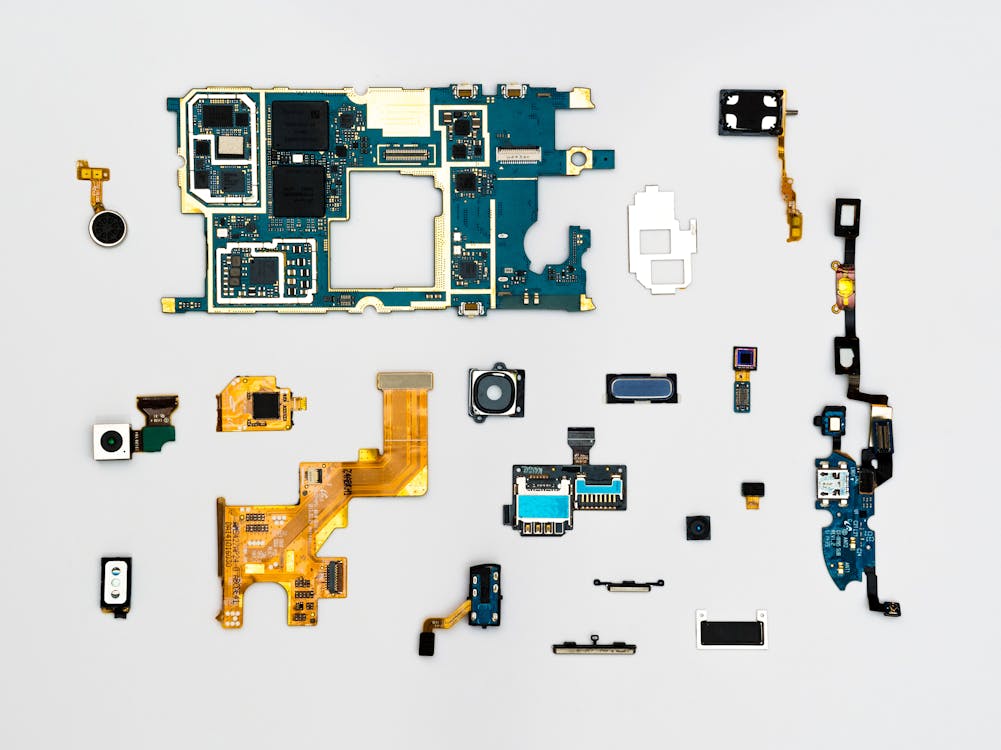 What are technical specifications?
Technical specifications are the parts of product data that explain the characteristics of a product that apply to how it functions. A technical spec sheet is a document that details all of this: product dimensions, materials, internal structure, design, functional features, and implementations.
For example, a smartphone's technical specs would include the material and finish of the phone, (say, glass or aluminum), color, design, size, and weight (further broken into width, height, depth), specs about the display, software type and capacity (gigabytes) and so on. Complex products and technology have some of the most extensive technical specs. Particularly important are they for customers to know every single thing about the phone they are getting.
The product specs sheet is a document that relays a set of requirements. Meant for the product management teams, the document provides information meant to build new features and functionality.
The source of the product, if external or outside a company, comes from a supplier or manufacturer or wholesaler, from whomever you purchase.
What are logistic attributes?
Logistics refers to the information regarding the processing, packaging, and shipping of products. For example, logistics include data about inventory, packaging, and order tracking.
Managing logistics is the domain of the ERP, but PIM needs that information as well. With some larger companies, logistics tends to be in the hands of an external partner, who will need to send you that logistic data to join with the rest of the product data. This is important to communicate packaging size, dimensions, weight, cost and time of shipping, and other managerial knowledge.
Furthermore, the effortless transmission of logistics allows for straightforward supply chain movement and swift order processing. When published on channels and platforms, this translates to clear, immediate shipping and fee calculations. Hence, the accuracy of your logistics consequently impacts end-customer satisfaction.
Improved faceted search
When logistical and technical information has a smooth passageway into PIM, it results in an improved faceted search. Both on the database itself and on your ecommerce store.
Faceted search is a detailed system of search that uses the act of filtering and refining one search. Fantastic for user experience, faceted search reduces search results to the specific product attributes a shopper is looking for.
Right away, they can find out if you offer their desired product so that they don't feel as though they wasted time if it so happens you don't. Faceted search has become more common and particularly vital for brands with numerous product offerings. Not every ecommerce retailer prioritizes is the optimization of detailed keywords. Therefore, doing so gives you a competitive advantage. You save time and improves the experience for customers and company employees.
PIM software congregates all possible ecommerce product data, from the basics, like attributes and descriptors, to the technical and logistic. Thus, it creates an environment for a more comprehensive faceted search. For example, users can search for desired shipping time based on estimates from logistics. As we'll discuss later, ERP allows for this real-time information to disperse across all channels via PIM. Additionally, technical specs provide more detailed filtering, which is especially important when shopping for electronics.
In a nutshell, maintaining a steady stream of variable logistics data and specs is empowering. For ecommerce businesses, PIM helps match up with the right prospects. For shoppers, PIM contributes to outstanding online store UI/UX that facilitates prompt, informed decision-making.
5. Better Content Security
Product data is a highly essential asset that requires high-level security. When businesses store product content with an approach that lacks security, the accuracy of their product data comes into question. Using tools like spreadsheets doesn't alleviate the risk of error or unauthorized editing.
In 2021, content security is so much more vital than ever before.
Lacking security leads to the following consequences
Inconsistency
Data integrity
Again, the proliferation of ecommerce has led to a higher standard of content. What you could afford to risk before, would now hinder your competitive value. A single error could turn a visitor away from your brand to search for a similar product from a more trusted company.
Accuracy breeds brand authority and trust. So if a product page has grammar mistakes, a misspelling in critical features of the product, or inaccurate specifications (numbers, units, etc.), how much does that company know about their product? These days, it's easier for anyone to pick up an ecommerce $$$$$
More than simple errors, the value of your content and copy should be maintained. When vulnerable to the risk of unauthorized edits or changes, it loses its compelling essence. When businesses have to be more original than ever in their product descriptions, you want to avoid others tinkering with content when they shouldn't be.
Compiling your product data and content authoring systems into one place, the PIM software establishes security with role-based access at the attribute level.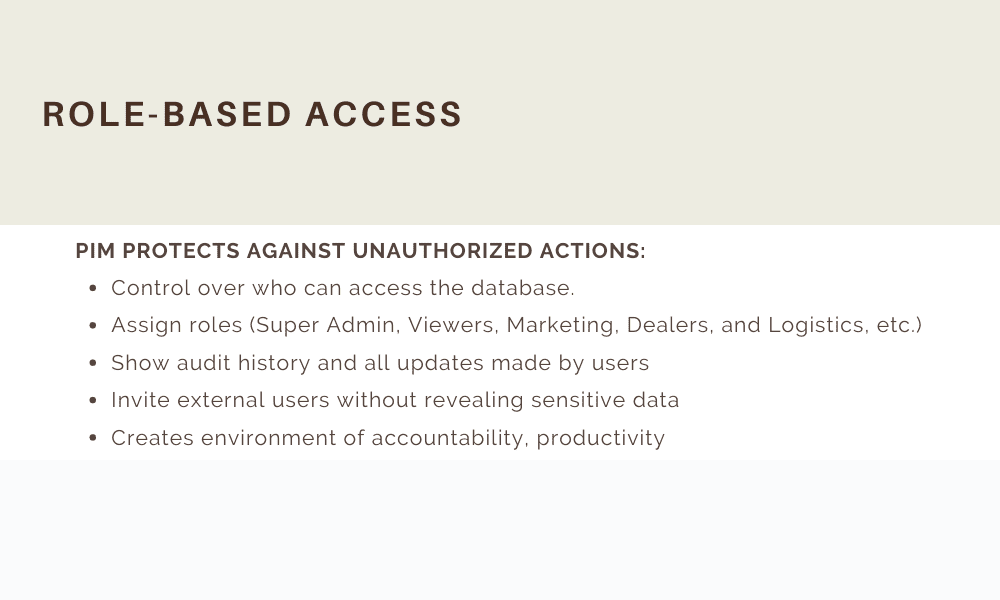 Role-based Access
PIM secures against unauthorized actions by giving control over who can access the database. An ecommerce company can have a certain number of users on the PIM, each of which the administrator can tailor the role. Roles fall under labels like Super Admin, Viewers, Marketing, Dealers, and Logistics, and so on.
All authorized users on PIM reveal their actions, history, and all edits they've made. This creates an environment of accountability, ensuring everyone does only what they are supposed to do, nothing more nothing less.
Along with that, administrators can invite external users onto the PIM interface. A concern many ecommerce companies have is how to pull in data from outside sources. Not all businesses have their inventory and manufacturing, many outsource manufacturing and suppliers outside.
However, how do you balance security while streamlining the flow of product data from various sources to PIM?
Again, role-based access allows for external vendors, suppliers, and manufacturers (long-term partners) to have perpetual access to send product data into the system. Doing so ensures all data coming in standardizes to already existing data. Because supplier product data might just be the bare-bones material, its quality usually needs a touch-up. PIM automatically improves that without risking any security breaches or accidental errors from external users.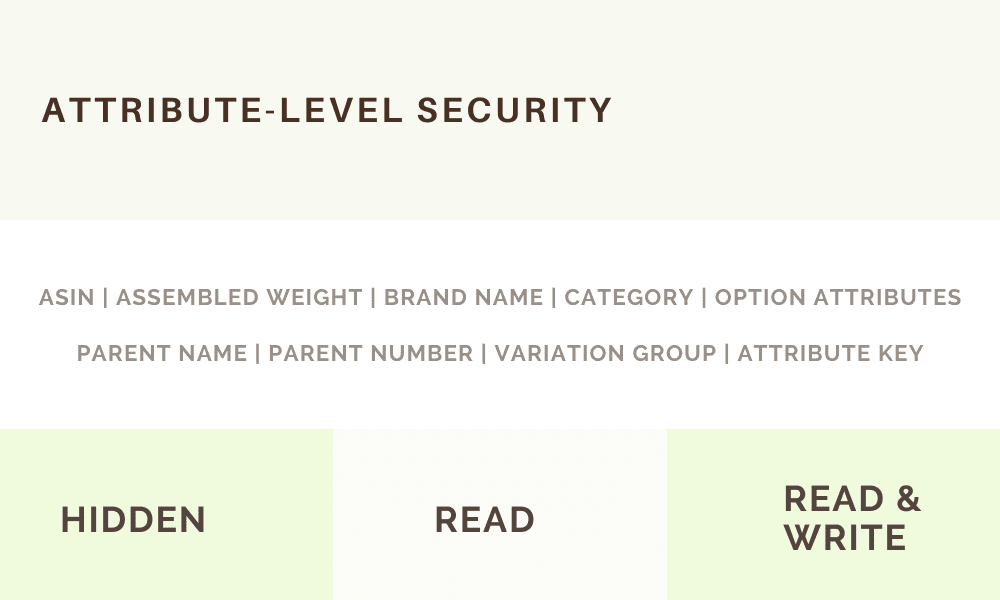 Attribute-level Security
PIM takes another step in security by allowing administrators to specify exactly what attributes they want certain user roles to access. Attribute-level security breaks down settings by attribute: ASIN, weight, brand name, category, option attributes, parent name, parent number, variation group, attribute key, and more.
This way, attribute security is dependent on a team's responsibility. Only content that is relevant to a role will be accessible. Administrators can choose from three levels of access: Hidden, Read, or Read & Write. With this, team members stay focusing, knowing exactly what data they can attend to or not.
Administrators control the movements and status of data. Simultaneously, teams and departments are free to share, read, write, and collaborate over content all in one place.
6. Support Internal & External eCommerce Users
A well-consolidated ecommerce organization connects all departments. When every internal team has access to the same truth, it improves content consistency. Particularly, PIM supports ecommercesales teams, customer service teams, and marketing teams.
PIM software for Sales Reps
The sales team requires a variety of content to do their work efficiently. PIM software provides a hub tailored for sales reps. With all the data at their fingertips, sales reps need not fumble around their siloed files. If they need a catalog, they can generate one easily. Catalogs are customizable for the customer segment. So if you're a large B2B distributor and your customers have very specific needs, your sales reps can make a catalog tailored to them in a snap.
For example, say there is a hardware company with thousands of SKUs. An interested prospect specifically wants to look at wrenches of a certain length. The organization can filter those desired attributes in PIM, find all relevant products, and populate them onto a catalog via PIM's InDesign plug-in. A catalog has just been assembled, ready to send to that particular prospect right away.
Fantastic for customer experience, while time-saving, the sales self-service on PIM software is successful in closing deals fast. Furthermore, to keep up with sales cycles, reps need case studies, ebooks, blog posts, and other non-product page content.
PIM software for Customer Service Reps
The customer service team also has its self-service hub, from which they can accurately answer customer queries. With access to product data like specs, guides, and videos, customer service reps can send the right solutions and answers to their customers.
With all users viewing the same information, the entire organization remains consistent. Customers receive an invariant experience all through the funnel, from prospective buy to post-purchase. More importantly, it allows all teams to be productive, getting rid of unwarranted frustrations.
7. Uphold Content Accuracy
2021 will pave the way for the vitality of content accuracy.
Content governance is the standard of content to maintain its quality and comprehensiveness under the full control of an entity. Ecommerce companies need to establish governance over their data and content to ensure unfailingly higher quality output.
Today, content is essential – but not in a vacuum. In other words, content creation is not just about being a generation mill just for the sake of getting a brand out there. What makes content useful today depends on the level of control, context, strategy, and fine-tuning.
With a dashboard overseeing the status of all product content, PIM sustains and drives content governance. It includes everything necessary for the standard product page. But more than that, PIM offers a system from which you can generate many forms of marketing collateral.
For example, companies can create and govern the standards of the following content forms:
Product Titles
Descriptions
Picklist values
Data types
Product Titles and Descriptions
For product content on the product page, like product titles and descriptions, PIM establishes ecommerce requirements. These critical forms of content are optimized immediately according to the character and word limits. For instance, you can create strong, keyword-rich product titles that are long enough to describe the product in full accuracy.
For both product title and description, copywriters on PIM have access to the exhaustive details of a product. It's all the better to create an original, unique copy. Teams can pinpoint the most noteworthy features and functions to highlight. If you're dealing with freelance content creators, a PIM can be really helpful for navigating all the information they may need. This way, there's no need for them to author copy in the dark.
PIM also lays out fields for a body of product description body text capped at a certain word length, as well as fields for bulleted features and benefits. When publishing, they translate across many different platforms, fitting to standards as needed. This is automatic, eradicating the need for tedious attention to ensuring met requirements.
Picklist Values
Picklists are important for warehouses to pick exactly what is needed to fulfill an order. When sent to the warehouse or inventory, the picklist must be detailed in its description of the product. This form of content is incredibly vital. After all, its purpose is to ensure customers receive the exact products they ordered, on time. There's a high emphasis on clear, in-depth communication, with accurate data.
One thing you don't want is for a picker to retrieve a similar product or variant, but the wrong SKU. This may happen if an organization has a high volume of SKUs or a large inventory. With customers today expecting faster and more convenient delivery, an efficient picklist creation system is a necessity.
The beauty of PIM is that you can generate picklists faster. This speeds up the supply chain and order fulfillment process, all while maintaining absolute accuracy. Additionally, the integration with ERP or other order management systems helps PIM be on top of whatever orders are coming in. To create a picklist, there is no need to go back and forth across separate systems. All the information you need gets put onto templates immediately, from content to a variety of included data types.
Data Types
String
Integers
Decimal
Measurement
Prices
Currency
Be continually aware that your accurate content is formatted exactly as it should be based on its intent or destination. This is content governance.
To each marketplace, content is controlled to match its exact standards. This successfully avoids the risk of getting kicked off or having to review it again to make sure it fits. For ecommerce platforms, the content is already complete on PIM as well. Whether a platform needs 3 bullets, 5 bullets, or 7 bullets; PIM allows fields for you to enter in all 7, beginning with the most priority ones.
About 98% of shoppers back out of buying decisions due to inaccurate product content. Even if you might think all your content is fine, remember that content impacts everything. From the ability to attract traffic, to inform visitors, and to successfully deliver products by way of picklists – it's all affected. Content that is accurate, correct, and thorough must be present at all major points in the buyers' journey.
8. Improved Integrations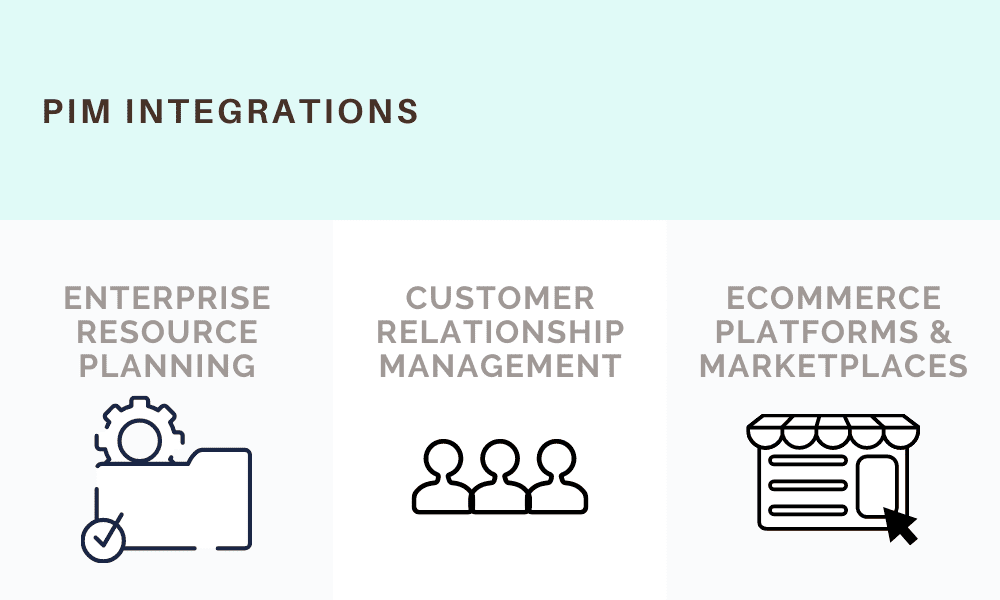 The basis of PIM software is integration; integration with other systems, all departments, external users, and ecommerce sites.
The differentiating factor of success between the many new online stores today is the stability of their foundation is. The force of intersystem connections has been significant. It will continue to be so in the upcoming year.
Using PIM is so crucial to possess the tight interconnectedness of an organization in 2021. Ecommerce businesses will need to focus their efforts on creating an easily scalable system, one which merges the many parts of their business.
A PIM solidifies these connections with API-driven integration with essential systems. Business solutions like ERP, CRMs, and other eCommerce sites can all unite to achieve efficiency.
ERP-PIM Integration
As mentioned before about logistics, ERP feeds SKU data and other warehouse data into PIM software.
An enterprise resource planning system oversees inventory, warehouse management, supplier detail, order management, pricing, product quantities, and other logistical information. When connected with PIM, this information flows from ERP into PIM to add new product lines, technical data, and keep pricing up-to-date.
The advantage of this is that you can easily send product data from ERP to PIM.
For example, ERP sends SKU data to PIM, triggering the creation of a product listing. With this data comes the skeleton of a product page – the information supplied by the manufacturer or distributor of the product and its parts. Additionally, you can onboard new suppliers on ERP easily to transmit the latest or new product information. All of that plus the technical specs we discussed (dimensions, weight, pricing) comes in.
From there, it's PIM's job to facilitate the enrichment of that data. To standardize it, clean it, and allow for the content creation process. As you can tell, the PIM-ERP collaboration automates many otherwise tiresome and time-consuming tasks. Instead, you can now focus on the process of preparing your product page content, including marketing, SEO, and optimizing to your buyer personas.
CRM-PIM Integration
A customer relationship management system oversees customers' data. It's usually a cloud-based software that holds data about all interactions with customers at different touchpoints.
The sales and customer service teams use CRM to keep track of customer behavior and information. Anything from conversions, leads, long-time customers, lost customers, and other analytics is on CRM. With automation and helpful workflows, it provides the sales team an organized way of getting through sales cycles smoothly.
PIM software keeps product data at the fingertips of sales and customer service teams via the CRM. Analytics becomes actionable. W
Users can manipulate product content in PIM through the insights that a CRM provides. What sort of copy works better to convert? Which of your product pages brought the most leads? Specifically what ecommerce platforms seem to perform the best?
All of these discussions are possible with PIM-CRM integration. Furthermore, since CRM receives data from social media, it helps spearhead a better, more consolidated omnichannel strategy.
PIM & eCommerce Site Integration
Rather than publish on each ecommerce marketplace or platform separately, populate them all from a common point of contact. Avoid manual data entry and updating by connecting PIM product data to all of these channels.
Ecommerce sites that you can publish straight from PIM include Amazon, eBay, Magento, BigCOmmerce, Shopify, WooCommerce, and more. PIM the rouble of taking care of multiple ecommerce platforms in a disparate way.
A consolidated omnichannel strategy is the most valuable benefit. To tie together all your channels on the customer's side, it only makes sense to do the same in your internal affairs.
Integrating with ecommerce sites ensure that PIM's reservoir of product data remains the same across all. Other data from ERP like pricing, stock levels, item, and logistics information also updates successfully on each and every one.
Overall, it's simply a much more organized system when you have control over all the endpoints of your central business. For those with only a couple of platforms, PIM sets the stage for future scalability. Rather than going through the process of uploading files of product data and organizing it on a new ecommerce site, PIM instead requires only one set of data.
Final Words
All-in-all, more eCommerce businesses are popping up. In the grand scheme of things, it's promising. Many lucrative and rewarding markets exist, no matter how saturated they may be.
But for anyone who is concerned about competition in a field or niche, remember that there are always ways to get ahead that may not always seem obvious. The need for backend management support like PIM software and other tools grows more necessary as time goes on.
Such tools are massive resources. You can tap into them for cleaning up your business on the frontlines. Polish up content, tye up loose ends between disparate systems, maintain security, rich detail, and simple syndications to multiple online retail platforms.
Want to learn how you can utilize PIM software to manage your systems and drive your success in 2021? Schedule a demo today.
ABOUT CATSY
Catsy has been providing unique value to the product information industry since 2003, allowing businesses a way to achieve high-quality product content. Our product information management (PIM) software centralizes all product data, so you can manage and share data with internal teams, retailers, and multiple platforms. Revolutionize your business with Catsy's accuracy, automation, and optimization. To learn more, visit us at https://catsy.com.