We have witnessed accelerated ecommerce gains firsthand. Now, at the cusp of opening up the economy any day now, online businesses are apprehensive. Where do we go from here to maintain the gains that COVID-19 has inadvertently given ecommerce? More importantly, how do we switch to prioritizing customer satisfaction in the new digital age?
To explore this inquiry, we're doing a 3-part blog series on keeping ecommerce gains for a customer experience upgrade. Before we can address the future of ecommerce, this first part will map out the basics – the rapid ecommerce gains during the past couple months. The prologue, if you will. Read on to refresh yourself on the ecommerce trends of the present, and how you can leverage those to keep and excel in the time to come.
The acceleration of ecommerce gains
By now, we've seen dramatic adjustments in our lives due to the pandemic. Most of the population has been staying at home as much as possible. At least 20% of the workforce became remote by April, with the help of workflow software. Going out is limited to necessary tasks like shopping for groceries and supplies. Social distancing is the new way of life. Furthermore, students both young and old are continuing their schooling online.
Perhaps most jarring is the closures of many businesses. With restaurants and retail stores on pause, people are forced to find other ways to shop. Coupled with the less stimulating way of life and the heightened unease of the foreboding pandemic — well, it's enough to completely revamp everything we know about normal consumer behavior.
In this article, we'll discuss the ways in which the novel coronavirus has shifted ecommerce, and what the long-term implications are for online businesses.
The shift in ecommerce consumer trends
The pandemic has turned shopping patterns inside out. The usual buying trends, both online and in-store, are poles apart from those of last year. However, it's not just the fear of the virus that has urged consumers to flock to ecommerce.
To slow the spread of COVID-19, half a million businesses have temporarily closed. Over 100,000 small businesses have been devastated, perhaps permanently. Boutique shops, hair salons, retail stores, restaurants, and coffee shops are all at a standstill.
Large stores like Walmart, Target, and Costco have been banned from selling nonessential items. With many people staying home, there is only one viable option to satisfy shopping desires: the internet.
Consumers have turned to ecommerce amidst COVID-19
Online shopping has been an increasingly popular activity in this modern age. Now, COVID-19 has manufactured a boom in ecommerce gains. March welcomed over 14 billion visits to online retailers, a 6% hike since the beginning of the year. Even people who had never been ecommerce zealots before are subsequently jumping on the bandwagon. Surprisingly, 41% of U.S. consumers bought groceries online for the first time during the initial wave of COVID-19 -fueled online shopping.
According to Feedvisor's data analysis of consumer behavior, Amazon's and Walmart's revenues have skyrocketed. Markets that were slow to gain traction in ecommerce before, like grocery, have increased 37% in sales.
Considering the nature of the situation, the changes in consumer psychology make sense. Purchasing and consuming fill some sort of need, be it physical or mental. There are (at least) three motivations that fuel the current ecommerce shopping surge:
Necessity: Online shopping is a way to get what you need without risking your health.
Comfort: Shopping therapy still applies now more than ever; it's a classic coping mechanism.
Boredom: With the stay-at-home order, it's inevitable to feel aimless and lack novelty in day-to-day life. Thus, people turn to new hobbies and forms of entertainment.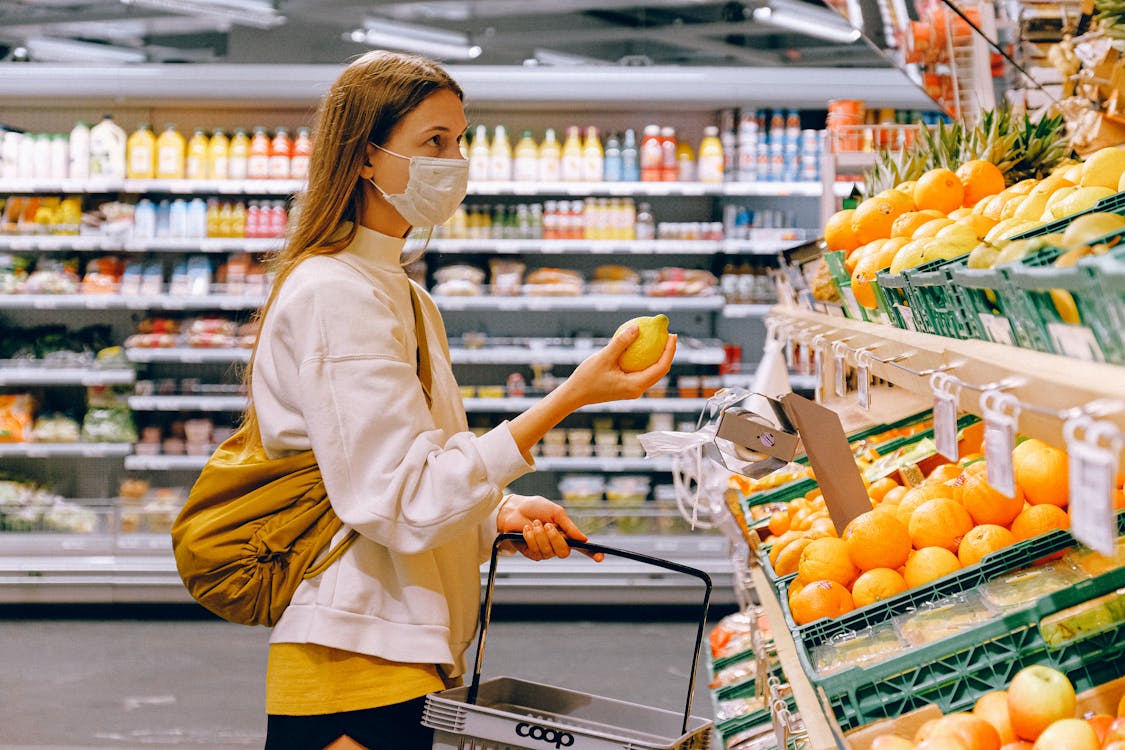 What are the ecommerce market gains and losses?
From the viral internet conversations about toilet paper going flying off the shelves, you'd think the Household Products industry has upended all other markets. While it hasn't, COVID-19 has driven unprecedented shifts in what consumers are spending on.
The declaration of COVID-19 in the U.S. prompted one such change: a distinction between essential and nonessential products. These regulations pertain to brick-and-mortar stores. As for online ecommerce stores and marketplaces, essential items are prioritized for faster shipping.
Essential items include products in the following categories:
Groceries
Household items
Industrial and Scientific
Health
Personal Care
Pet care
Meanwhile, nonessential items are anything that would seem ridiculous to prioritize over staying safe. For example, continuing to sell toys, home decor, and furniture would only garner more foot traffic. In other words, it equates to a higher risk of people contracting the virus.
Fittingly, both brick-and-mortar and online stores saw a race to stock up on disinfectant, toilet paper, hand sanitizer, face masks, other protective gear, and nonperishable food.
People are also looking to other products that don't necessarily fall under "essential." According to SearchEngineJournal, many shoppers are taking to the internet to search for the following things:
School equipment
Garden furniture
Crafting supplies
Entertainment
Feedvisor lists the following best-selling trends during March:
Office supplies
Work out gear
Toys and games
Electronics
Considering the state of self-quarantining and social distancing, there is a need to fill one's time. Or rather, there is more time to spend doing things that people wouldn't normally do. As a result, there's a rise in shopping for things like video game equipment (Xbox and Nintendo), streaming programs like Netflix, crafting supplies and home furniture, and toys to stimulate children.

Markets on the decline
From the same analysis of search results, there was a dramatic dip in people searching for the following:
Travel
Cinema
Fashion
Luxury
Services
Data on the U.S., the U.K., and Germany show similar patterns of devastatingly low spending in these areas. Amazon's sales trends mirror these unfortunate downs. Clothing sales, for example, decreased by 13% since February. After all, clothing isn't a priority when you're at home all the time.
How have ecommerce platforms responded to COVID-19?
As expected, large ecommerce marketplaces made changes to their processes in light of Covid-19. For instance, Amazon has been adapting its guidelines regarding non-essential items since February. FBA fulfillment centers temporarily ceased unnecessary shipments to prioritize important supplies. Amazon's move was particularly prominent following a Franch lawsuit in mid-April that threatened severe fines. Fortunately, these restrictions have lightened in certain locations since.
With larger stores limiting their in-person foot traffic, they've had to pour their efforts online. Based on the 11% increase in Walmart's shares, it seems to be working for them. Target has made some exceptional ecommerce gains during this tumultuous climate. With online sales increasing up to 275%, they've established a huge activation of their digital presence.
Other ecommerce platforms have issued official COVID-19 responses.
For instance, Shopify has instated updates to improve its sellers' experiences: contactless payments, and improved orders list age for faster shipping, and shipping-from-home options. The ecommerce enterprise platform, Magento, has also set up supportive services for its merchants.
Overall, various ecommerce sites have found ways to make gains and grow amid challenges sparked by COVID-19.
How has COVID-19 affected ecommerce sellers?
The answer is pretty mixed. Certainly, more people are buying online, with a 52% sales spike since mid-March. With less in-store traffic, online shoppers flood the ecommerce markets, allowing many stores to witness gains in revenue. However, other issues have arisen to challenge ecommerce sellers.
Restrictions on nonessentials
Due to the varying restrictions by prime marketplaces, many sellers were barred from shipping out certain items. For FBA sellers on Amazon, for example, many had to ensure their products were still eligible for selling. Furthermore, not only did Amazon

Supply chain slow-down
Sellers of essential products have had the good side of the coin. Even then, however, issues in the global supply chain may have caused costly delays to shipping. According to the Institute of Supply Chain Management, as many as 75% of companies had issues in their supply chain.
Challenges to productivity
No matter the size of an ecommerce store, chances are many employee's work lives have been disrupted. Although everyone's at home, it can be difficult to continue efficient ecommerce processes when employees also have their families or children vying for their attention.
Finally, with life seemingly frozen, consumer motivation to shop has veered off-course. The lack of in-office work and social gathering has made the market for certain items unnecessary. Who's going to buy a new business suit right now? What's the point of buying new jewelry or shoes when there's nowhere to wear them?
What are the long-term outlook on overall gains in ecommerce?
"The deeper the economic impact is and the longer everybody is cooped up; the more of a shock there will be to the system and it may take longer for the consumer to come back."



Chip Bergh CEO, Levi's (source)
Overall, the impact of COVID-19 on retail and ecommerce gains will resonate for quite some time. Even when all businesses are officially free to run as before, it's unlikely that consumer behavior will return to normal. At least, not instantaneously. As such, many retailers and store owners are concerned. Will their previously acquired customers return?
The lasting effects of the U.S. and global economy could also affect how people shop online. With the stress on finances and the possibility that people may adapt to a life without unnecessary overspending, consumerism may take a hit. According to a Retail Dive interview with a professor at the New York Stern School of Business, people may "realize that they don't need as much." In other words, consumer behavior after COVID-19 may be more tamed.
So the bottom line is, we can't know for sure what the future may hold. Fortunately, there is always a solution to steer you in the present.
How to adapt for optimal ecommerce gains and customer satisfaction?
So while ecommerce is flourishing, it's effecting sellers disproportionately. However, the future is not completely grim. Whether you are a retailer who recently moved online or a seller whose products are in high demand, it's clear that adaptation is the way to go. With supply chain disturbances, remote collaboration, and product delivery delays, everyone's in the same boat.
Just like coffee shops and restaurants are opting for contact-free delivery and curbside pickup, ecommerce businesses must also manipulate their strategy. Even if your products aren't selling as well now, there are ways to overcome these bumps in the road.
How you communicate with your customers is a focal element in your store's performance. It's more vital now than ever to connect. You can't pretend COVID-19 doesn't exist. Instead, accept and include it in your messaging to empathize with customers. Now is the time to truly establish an authentic relationship.
How to communicate with your customers now
The following efforts will fabricate a customer experience that is suitable for the circumstances.
Be completely transparent about everything (stock inventory, prices, delays)
Offer return options or free shipping to show you are understanding of customer's situations
Highlight relevant products that will meet your customers' needs, like health, wellness, and self-care products
Keep customers up-to-date with regular email newsletters
Use social media to continually convey your support for customers
Publish tailored content – the importance of this will never change
Customers have different priorities
"Control what you can in your own ecosystem. You can't control what's going on in the world. Think outside the box. Reach out to people who are doing something well. People want to help now, and we're all in the same boat."


Dana Varrone, Director of Operations at Organic Olivia (source)
Consumer behavior is just a physical manifestation of what people value – not just what products they need or don't need. Right now, a considerable shift in reprioritizing ecommerce shopping values is happening.
An example: If you are a clothing retailer, your trendy, seasonal outfits might not be what customers are looking for. Instead, focus on marketing your home-wear clothing. Finetune your brand message to emphasize the importance of being comfortable during COVID-19 stay-at-home orders.
So it's not about reconstructing your ecommerce store. Nor is it about giving up and laying low until the situation ends. Rather, you must switch gears to relevancy, context, and customer-focused efforts. Every ecommerce product has some significance during this COVID-19 storm – you just need to dig deeper to find it.
Powerful tips for adapting your ecommerce business
While the world seems like it's turned upside down, it's not post-apocalyptic just yet. Here are some proven ways to nurture your gains as an ecommerce seller.
Rework your budget for your PPC campaign. You want to maximize your specific keywords for the lowest possible cost.
Make sure your foundation is strong with a PIM software that keeps product data organized. This can lighten the load on your backend product management.
Turn to social media marketing (if you haven't already) – that's where the people are (most, if not all of them).
Display your COVID-19 response on your ecommerce website. Many platforms are doing this to show support, offer resources, and present as a stable authority in shaky times.
Offer a discount to customers. Online stores are finding more success by bestowing generosity and conveying understanding.
Try new cross-selling and upselling tactics, like a #Stay-at-Home Package.
Focus on your own store website's shopping cart system (because Amazon's shipping is slower than normal).
Improve your SEO strategy. People are searching a lot more now that they have the time.
Consider altering your business model if you're struggling with low sales from your usual target audience (i.e. B2B to B2C or D2C). Fortunately, you can ramp up online sales by changing who you sell to. For example, Selecta, a B2B coffee and food supplier, swung to a B2C model. Since many eateries and coffee shops are in a lull, Selecta opened up a B2C store for customers to order directly.
Consider revitalizing how you manage your images, videos, and enhanced content. With digital asset management (DAM), you could save on time and money while crafting product pages that convert.
A practice in reframing
A lot of these tips are nothing new. But because these strategies are already so established, you may not think to reframe them to fit the situation. In other words, the context changes the effect of the solution.
For example, it's obvious that social media marketing is the optimal way to reach many people. It always has been. The only difference is that, now, social media has transformed into the main connective force between people all over the world. We are all spending less time in the physical presence of others than ever before. Hence, social media has taken a new meaning for everyone. And for your e-commerce business, it's a new opportunity to re-engage with customers.
Final Words
The COVID-19 situation has completely renovated the state of ecommerce. Overall, the novel coronavirus has accelerated ecommerce usage. More retailers are adopting ecommerce while more people are open to online shopping.
In a way, the situation has brought about positive gains for ecommerce, despite the challenges that many sellers and customers are facing. At Catsy, we know the challenges that arise even under normal circumstances. Managing an ecommerce store is an obstacle in itself, without any other external factors. However, with the support of our Product Experience Management (PXM) software, we can give your ecommerce store confidence in growing and hanging on to the gains you've made.
Stay tuned for Part 2 of this series, where we'll discuss the new customer-centered strategy all ecommerce merchants will need to adopt now.

Catsy has been providing unique value to the product information industry since 2003, allowing businesses a way to achieve high-quality product content. Our product information management (PIM) software centralizes all product data, so you can manage and share data with internal teams, retailers, and multiple platforms. Revolutionize your business with Catsy's accuracy, automation, and optimization. To learn more, visit us at https://catsy.com.