When it comes to ecommerce SaaS systems, DAM may sound like just another buzzword or acronym. Nevertheless, DAM is a world-class solution that businesses would do well not to miss out on. In particular, establishing a PIM with DAM functionality is an excellent driving force for sales. Because not only should eCommerce companies focus on creating compelling content that sells but highly-engaging images as well. We all know this. Yet many businesses are stuck in the mismanagement and disorganization of their rich media.
Recognizing that the face of your brand depends upon how your internal systems are set up. Are your teams on top of every file, or do they get trapped looking through every folder to find what they need? Is it easy to pinpoint which digital assets belong to which products? Is it daunting to think about creating enhanced content when you don't even have your images in order?
In this article, we discuss how DAM, especially when connected to PIM, can drive sales success.
DAM stands for digital asset management
Let's begin with a definition. Digital asset management is a set of systems or features that have to do with all things concerning digital assets, be it gathering, organizing, or optimizing.
Usually, DAM software is helpful to businesses of all sorts, from publishing companies to media companies. DAM is especially useful for eCommerce, helping businesses drive sales when equipped with a PIM. Basically, any organization that has a lot of digital assets can benefit from a DAM. But what exactly is a digital asset?
What is a digital asset?
A digital asset is any file stored on hardware or electronic which provides some sort of business value. In a nutshell, a digital asset can be something like an image, video., or other rich document.
A lot of companies have digital assets simply because brands require rich media and documents to upgrade their brands, like a banner or logo. But more specifically, what makes a digital asset what it is is its purpose: it's a business-owned entity used to further a business' growth or success. Therefore, taking care of digital assets requires security.
In eCommerce, digital assets are vital to a product's success and online sales. Businesses cannot neglect the visual side of product pages. And including the bare minimum of photography is not enough. Furthermore, may digital assets are documents that provide extra or enhanced information, like an instructional diagram.
To sell products, an organization may have any of the following digital assets:
Photography
Application images
Group images
Specification sheets
360-spin images
VIdeos
Product photos
Shopping online is ultimately a visual experience. Product photography should show your customers exactly what they need to make an informed buying decision. Otherwise, converting them will prove challenging with only textual content. So what makes an engaging product photo?
Alternate images like photos with a white background
More specifically, online retailers and marketplaces require certain types of images in which products are at the forefront of a completely white, crisp background. Without fulfilling these priority requirements for images, you won't be able to publish product pages in the first place. It's important to portray a product in precise, high-resolution detail, without any surrounding distractions that make take away from its clarity.
Application images
Application images portray a product in action, or how it's applied in daily life. They are important for providing proof of a product's ability to solve a customer's pain point.
After all, shoppers have problems that inspired them to seek a solution through a product – intentionally or not. Application images put the product into context. It's like a promise that the product will solve whatever problem, big or small.
For example, take a handheld frothing wand. Customers looking for a frothing device probably have this problem: not being able to enjoy foamy lattes without breaking the bank. An application photo would show the frother in-use, perhaps frothing milk to create a cup of coffee.
Additionally, application images are a chance to show all the possibilities of a product. A frothing wand can do much more than just froth milk. You can display an image of frothing egg whites or mixing other things, It's all to answer the inevitable question, "Does this product solve my problem?"
Spec sheets
Informed customers, like contractors and enterprise companies, require complete, detailed information. Knowing the exact specifications of your products empowers them to make informed buying decisions. To deliver this, spec sheets are PDF documents with a list of all product information, like dimensions, materials, and hardware.
Group images
Showing customers how your products work in relation to the other products you sell not only explains their functionality. Displaying products in groups images helps with cross-selling as well.
This is more relevant to your personal website, or enhanced content pages. Group images show how your products work in relation to one another, usually grouped together by a common marketing attribute or category. Doing so is great for cross-selling, and improves product experience by showing a theme or brand consistency across products. Think of furniture with a large, high-quality image of all its pieces put together in a beautifully furnished room. The effect is much more powerful than each piece separately.
360-spin or -degree images
Product sales often hinge on minute features that provide tremendous benefits to your customers. Ensuring your customers connect with a virtual representation of your products is the next best thing to them experiencing them in person.
Product sales often depend on minute features that provide tremendous value to your customers. A great way to ensure your customers connect with a virtual representation of your product, like 360-spin images.
Because ecommerce lacks the 3D experience of retail, 360 spin images are the next best thing. 360 spin images are a compilation of product photos taken from multiple views. When combined, they create the effect of turning a product around in one's hands, through the screen. More importantly, 360-spin images improve sales by giving an interactive and visually detailed depiction of the product. It shows all sides of it, with each click of the mouse.
Videos
Today, video is dominating even product photography. The only thing better than an image is a moving image. Videos combine visuals with sound to present a rich product experience. Exceptional for enhancing the perception of a product in its fullest capacity (next to seeing it in real life), videos drive hopeful customer expectations. It's the closest to bridging the gap between expectation and experience, reducing doubt in one's buying decision.
Managing your Digital Assets for Sales Success
The trouble with digital assets is not in how they impact sales, but in how overwhelming it can be to manage them. As the number of assets grows, this becomes a common challenge. Unfortunately, it's not one you can afford to leave on the backburner.
Addressing how you manage digital assets will certainly affect the success of your products. An abundance of products, images, and other files, combined with inefficient systems, leads to slow market time and reduced productivity – all of which are avoidable.
A thought exercise:
You are selling 20 products on 10 different sites.
Ideally, your goal is to double your product number to gain some business traction.
Selling each product requires at least 5 images.
To roll out 20 new products, you're going to have to create at least 100 images per channel. Introducing 20 more products on top of your current number requires about 100 images (total) per channel – of which there are 10.
Do the math and you'll quickly find yourself looking at an astounding one thousand images.
Perhaps even more tragic is the fact that each channel has specific image requirements – all of which you must adhere to. Each channel may have certain sizes and aspect ratios that you need to consider. To top it all off, each image will most likely have different sized copies, even for a single channel.
The reality: Many businesses deal with this. And they think it's normal.
But it doesn't have to take weeks or months just to create all the images you need.
Organization doesn't have to be worse than spring-cleaning your garage.
There's absolutely no need to deal with lost images or assets sent to the wrong site. In the worst-case scenario, businesses might find themselves dealing with incorrectly sized images or misplaced files. But it would be ridiculous not to expect errors when you have hundreds of repetitive, tedious tasks to do.
Certainly, we dramatize the experience of product managers here, In actuality, it might be less exciting, but costly nonetheless.
With a solution like PIM that incorporates DAM functionality, you kill two birds with one stone. It simplifies the process of getting digital assets set-up for compelling product pages.
How are you managing your digital assets?
Many solutions exist for managing digital assets. But considering whether a DAM solution is specialized for the complexity of eCommerce. Regardless of what system you might be using or considering, a DAM must work in tandem with PIM, bridging the gap between content and visual elements. To really maximize the potential of DAM, you need a solution fine-tuned for selling online. Digital assets alone lack the detail necessary to delight and compel customers to buy.
The solution is simple: store your digital assets and product information together in one system.
In this blog, we take a look at several ways that using DAM integrated with your PIM helps upgrade your sales by solving many common eCommerce problems associated with managing your digital assets.
Want to know more about choosing the right PIM system for you? Read everything you need to consider to make the perfect PIM decision for your ecommerce business in the featured blog.
Boost Sales with PIM & DAM: 9 Ways a DAM Helps You Sell More
1. Improves findability
If you're using folders to organize images, you're probably spending way too much time looking for that one image you know you have, but just can't locate. Worse yet, if you can't find the file on a shared drive, is it stored on your computer or someone else's? If so, whose?
We all know how easy it is for individuals to become set in their ways. Someone takes a liking to a specific image and starts using it as a backup, even after the decision has been made to discontinue using it. How do you ensure outdated images aren't loaded for use when you roll out new sales platforms?
A good DAM creates the digital foundation to make your images more findable, and thus the associated products, too.
DAM solves these problems with metadata tagging.
First of all, the DAM provides you the ability to attach specific, searchable metadata to each digital asset. What is metadata, and how does it streamline search? Metadata is the internal information that describes an image or file, such as its creation date, file type, size, dimensions, file name, and so on.
Second, you can use levels of categorization to narrow the scope of your search before you even initiate it. In other words, it drives a faceted search where you specify the exact features for which you are searching.
Finally, and most simply, DAM includes the ability to transform your digital assets. So you can let go of the need to hold onto multiple versions of assets. Furthermore, you no longer need to search through hundreds of identical files to find what you're looking for. There are more free storage space and a better way of locating files – both of which vastly improve efficiency.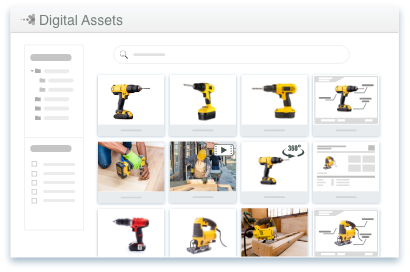 2. Organization reduces turnaround time
Great content organization dramatically improves the response time of sales reps and dealers.
Without centralized storage of digital assets, companies often end up with one of two organization scenarios playing out: a highly complex naming convention or less organization than is necessary. Let's be honest, neither method really works all that well most of the time.
Few people are naturally fastidious enough to create and properly name each image file. All while following their company's organization system properly. More often than not, shared drives become spaces where a solid organization only exists in the places where someone takes the time to ensure it does.
Sophisticated file organization for products, product lines, and categories on PIM DAM boosts sales.
With DAM, you can categorize digital assets by types, such as product photos, videos, logos, icons, banners, brochures, or datasheets. You can also organize them by file type, size, and aspect ratio. You can even cross-reference any of these criteria. In other words, it's possible to use the faceted search with the exact characteristics you need. Are you looking for product category banners of a specific aspect ratio? Done.
The bottom line is DAM makes locating digital assets far simpler.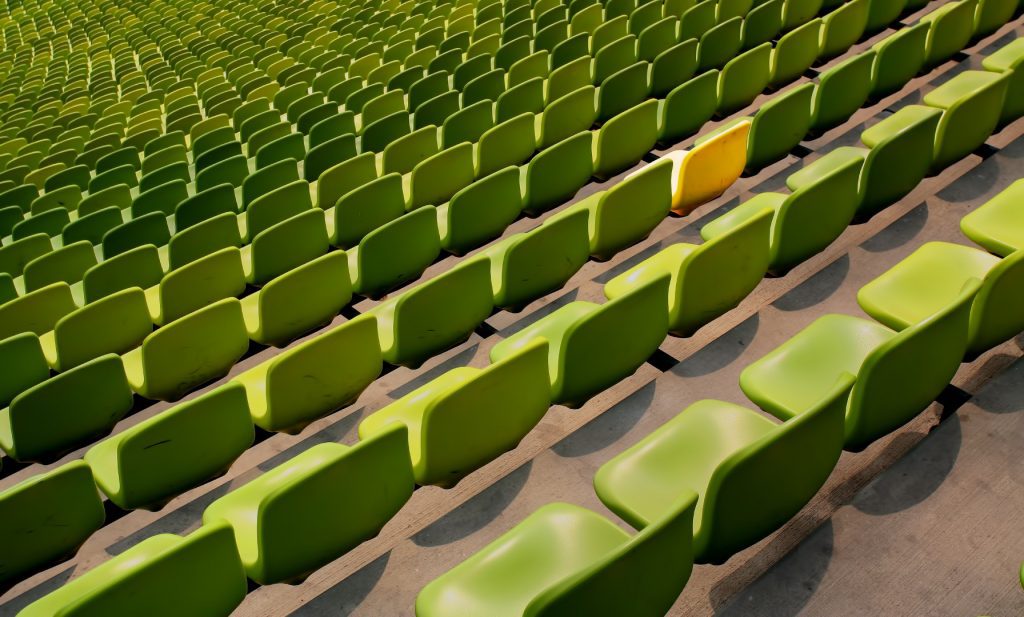 3. Identify missing images quickly
Since the online shopping experience is incredibly visual, unlike the tactile sales experience of in-store shopping, you can't risk leaving any image out.
For optimal richness, you must furnish your product pages with an abundance of images. Shoppers can't pick up and feel your products. So the goal is to come as close as possible to providing that. Only then can you hope to maximize your conversion rate.
And it all starts with ensuring you have all the product images required.
In line with standard industry practice, a product page may have 5-7 images, minimum. As we considered before, it adds up to myriad images when you're selling many products – makes sense. Now, how can you identify missing images on each product page? The only way is to sift through each image, one by one, checking and double-checking.
DAM functionality built into your PIM means the interface will show you exactly which pages require attention.
PIM's color-coded completeness scoring functionality runs on an easy-to-use interface. Thus, you always know precisely where you must focus effort – in a split-second. Additionally, the content grading functionality compares your product pages to the industry standard. Overall, such PIM and DAM features maximize optimization, and subsequently, product sales.
4. Manage multiple images with ease
Presenting multiple images helps customers make informed decisions. Having between 5 and 7 images on every product page is a good rule of thumb. The more images, the more value it gives buyers.
Today, there's a major internet trend change happening. It's the inevitable shift to mobile devices. Most individuals' primary means of accessing the Internet is by smartphone. In the eCommerce space, this means to fully optimize product pages will require multiple versions of each image – to address mobile-friendliness.
To delight and convert customers, a product page must have a dynamic display. This is the feature of configuring images to shift sizes according to the size of the device screen. This goes for the site specifications as well – all aspects of the site's display must be ready to adhere to all mobile screens.
If on mobile, product pages appear messy with optimal user experience, shoppers will bounce off immediately. No reconsiderations, no questions asked.
With DAM, you can easily retrieve all products that reuse an asset.
Renaming multiple digital assets becomes unnecessary. because there is no longer any reason to store multiple different sizes of images. Instead, each unique image gets a distinctive name. Immediately, this eliminates confusion – and the headache of finding the right version of a certain file.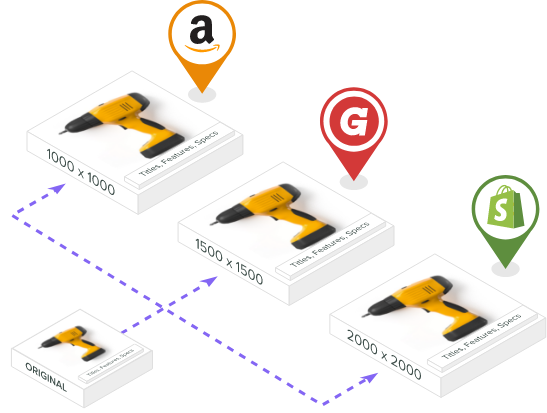 5. Automatically size images for different channels
Remember, with the rise of mobile dominance in the ecommerce space, images have to change to fit any device a potential customer is using to view your product pages. Resizing hundreds or thousands of images for multiple devices and sales platforms is a job that can seem insurmountable.
It's rare to find a digital asset management solution that takes image size transformation into consideration. Even if you have a system in place, without PIM and DAM functionality, the inability to automatically size according to the channel will lose sales. Usually, this means you must do the resizing yourself. In that case, what time and costs are you really saving?
Rather, automatic resizing is a critical feature when optimizing how you manage digital assets.
DAM automatically adjusts digital asset size.
With DAM, you can simply upload a high-resolution image, and the software will resize it to fit the specification of every platform you sell across. This process happens automatically when you share individual or multiple assets at the same time. What once was the work of days and weeks, happens automatically in seconds.
6. Reduce time-to-market
We value the importance of time to market. A DAM system, when integrated into a PIM, has a productive impact on time to market. Most prominently, with PIM's workflow features, this system streamlines processes regarding digital assets. That way, your teams can get new products to market more quickly. Consequently, you avoid losing the investment you put into onboarding new products and on-target product launches.
Role-based tasks and approval workflow on DAM unifies art and photography departments.
Workflow administers role-based assignments. So you can assign each member of your team tasks relevant to their responsibilities. Alternatively, you can create automated workflows that do it immediately upon a trigger.
For example, when a new product SKU is input into PIM from, say, an ERP, the process for a New Product Workflow begins. That prompts all necessary task assignments to everyone on the product management team, design team, marketing team, photography, and so on.
Because it is role-based, PIM with DAM-functionality maintains security. It's possible to configure your DAM with roles assigned to specific personnel. This ensures changes made to any asset are made by someone with the authority to make changes or approved by that person. Also, you can set automated tasks that trigger when scheduled work is complete. All these steps get you to the finish line more quickly.
Together, workflow on PIM and DAM grows sales by helping your departments work in unison.

7. Image Tags for SEO
Image tagging is a major contributor to excellent SEO. Not only do images and other visual content drive conversion and improve user engagement, but their metadata also helps bring more traffic.
When you stamp images with the keywords you've employed in your SEO strategy, your images will rank higher. This, of course, saves you time, but it comes with two other benefits.
First, your internal teams will be able to find assets by searching tags, when search engines index your product pages.
Second, your product pages will rank high in organic search results according to the keywords in your tags.
DAM allows you to find assets quickly and easily with image tags.
When companies sell a large number of similar products, it's hard to internally find product information. A digital asset file with a simple name, like category, then product, and most obvious characteristics, doesn't help when you've got hundreds in that category.
On DAM, attaching tags to digital assets based on their detailed product attributes improves efficiency. Tagging lets you find assets by searching for the exact data. Whether you need the most recent photos or assets of a specific aspect ratio, you can find those across product categories.
Image metadata helps direct web traffic to your eCommerce sites.
Finally, populating your digital assets with descriptive metadata start SEO off right. Image and video tags are incredible for drawing in traffic. Their ability to improve technical SEO and be visible to web crawlers allows for a boost in your product pages' visibility. Images make up about ¼ of all Google searches. So elements like file name, alt attributes, and even the image's URL can be helpful to your overall SEO strategy.
8. 360-degree Images for Robust Product Pages
360-degree images are quickly becoming the industry standard for optimized product pages. They allow customers to see every angle of a product. Complex products often offer a variety of features, which companies would benefit from highlighting. With 360-spin images, they can present these selling points in the best way.
Putting shoppers in control, 360-degree images improve their shopping experience. These images ensure that they can experience more of the product feel in a virtual way, helping them connect more closely to your product.
Above all, 360-images make for excellent, robust product pages. What are robust product pages? A product page has its essential requirements, right? But in today's oversaturated, competitive world, with thousands of product options that can offer similar functions, it's more valuable to create robust product pages. These highly detailed, enriched, above-and-beyond pages that overperform in their information and design. Hence, it makes sense why 360-spin images would amplify the power of a page.
Unfortunately, companies don't use 360-spin enough. After all, to say that they are difficult to manage would be an understatement.
DAM dramatically simplifies management of 360-degree images.
360-degree images are composed of dozens of individual images. The more individual images they're made up of, the smoother the rotation will be. Thus, the better an image is, the tougher it is to manage.
Some companies opt for 360-degree views made up of 24 images. More commonly, using 48 images adds both the top-view and flipped-view, allowing visitors to view the bottom of the product. Some 360-degree images incorporate as many as 96 individual shots. While difficult to perform otherwise, DAM pulls all needed photos together, no matter the quantity, into one easily manageable file.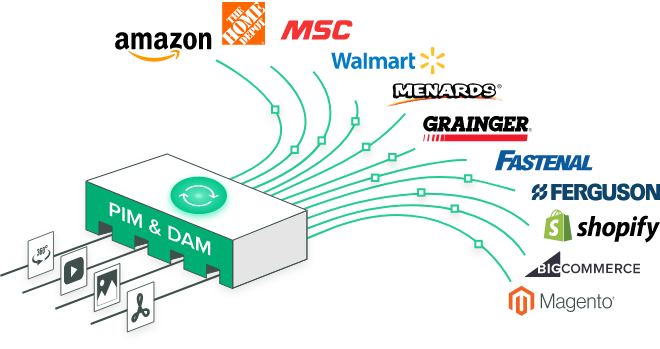 9. Increased channel coverage
Going multichannel requires the right tools that can actually support channel coverage. What this entails is the capability to meet the specific needs of each platform on which you sell.
Unless you meet channel-specific requirements for images, you cannot sell your products on marketplaces. Here's where the beauty of DAM comes in. A DAM helps quickly meet the right specifications. No matter the size, quality, aspect ratio, or image file type, you can do it all – and thus sell on more channels. The more channels, the more sales you can capture. It's that simple.
Let's say you've solved the problems laid out above and successfully found the exact image you need. Now you want to export your assets to a retailer, ecommerce marketplace, or just your own D2C website.
Chances are you've already spent way too much time searching for the image. And you still have to confirm it meets the size and aspect ratio requirements of the site you're sending it to. How can you be sure the asset is going to meet the requirements of any site you're sending it to? Wouldn't it be easier to send multiple assets to multiple channels all at once?
Wouldn't it be amazing to perform all of these functions simultaneously? With the added bonus of peace in knowing everything is completed properly the first time?
DAM solves these problems by merging functions.
DAM combines the renaming, resizing, and syndication functions. This ensures you're completing all required steps before you push digital assets out to wherever they need to go.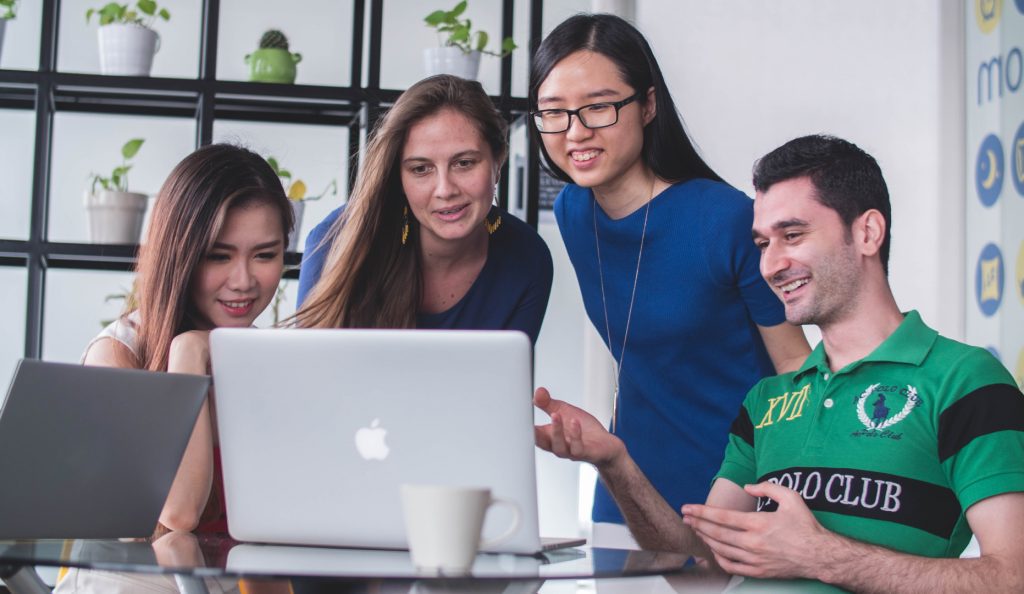 Optimization is the fundamental feature of DAM
Ultimately, the function of a DAM is optimization. What this means is that you configure the exact digital asset you need to meet the specific requirements of a given sales channel. Subsequently, optimization simplifies the process of delivering a strong brand message, engaging visitors, and transforming them into customers.
Optimizing your digital assets is quite arduous if we haven't emphasized that enough. Hence, the DAM is built to take over the heavy lifting for you. WIth DAM combined with a robust PIM, you can grow sales from successful product pages.
Let's summarize the many benefits of DAM:
A DAM system joins all your product content together. All of this culminates into a single source of truth, a union connecting product information to its relevant digital assets. On the product page, this translates to high enriched, streamlined publishing, and informative content.
With DAM, you guarantee the correct establishment of your digital assets to create beautiful, captivating product pages. The right size, type, and aspect ratio for the right channel.
Finally, and perhaps most important to note, about half of the advantage that the DAM provides is due to its amalgamation with a PIM like Catsy. For proper syndication of all your product content to drive sales, a PIM with DAM functionality is the most effortless way to go.
Focus on increasing your revenue. Direct your energy into a growing market share. Empower yourself to fearlessly scale and sell more products – and it all starts by letting DAM do the work for you.