Returns, declining sales, bad reviews; it would be over-optimistic not to expect any of these when it comes to business. Funnily enough, these "problems" are not the real concern. They are symptoms of the much more pervasive problem of poor data quality. Selling online requires a strong grasp of your data, especially with the volumes that businesses incur. Although no one is safe from data quality issues, tools like PIM software make a massive difference between barely meeting quality standards and exceeding expectations. 
Product information management software boosts data quality up several notches, enough to reduce all the "side effects" and encourage a slew of advantages. In a sense, businesses can transition from surviving to thriving. If 80% of organizations don't trust the state of their product data, how can one expect customers to trust a brand?
As we'll discuss in this post, PIM addresses a multitude of common data quality issues for your business.
First, let's brush-up on what data quality means, especially in terms of product data.
Product Data Quality 101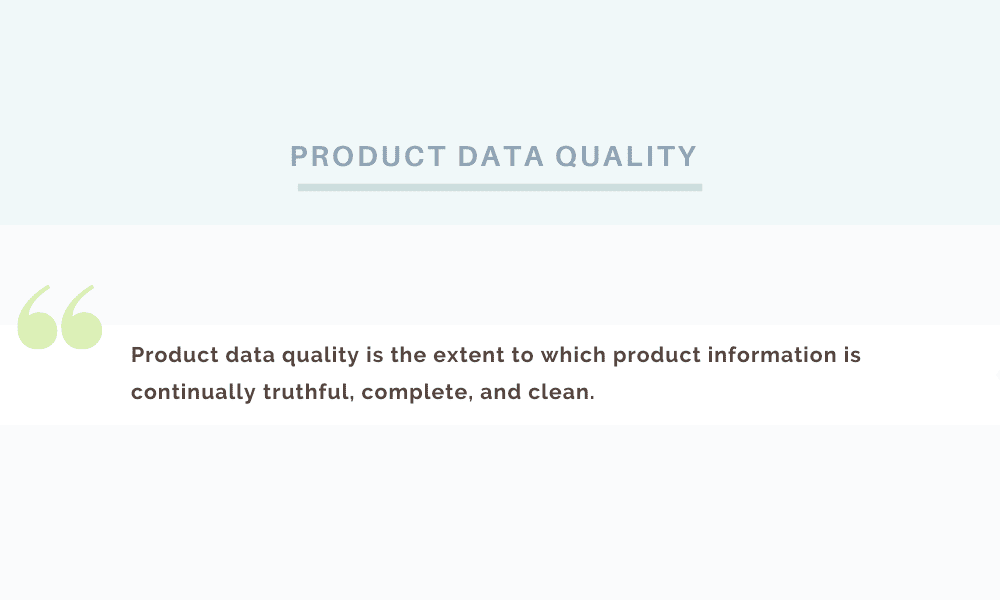 Data quality refers to the standard of data regarding its consistency, accuracy, and timeliness. With Big Data sweeping the technological world, data quality is necessary to reign it all in.
The purpose of data is to inform and help with planning and decision-making. That's impossible if the data isn't standardized to a quality level that makes reading and understanding it easy.
Similarly, product data should be easy to understand and utilize both internal departments and customers. Every ecommerce business has a set of attributes, specifications, and other schemas that define each product. These data points describe it fully, from color to dimension, material to size, and even down to packaging attributes and metadata.
Product data quality is the extent to which product information is continually truthful, complete, and clean.
It's more important than ever since such product information comes from multiple sources. Unfortunately, many businesses struggle with disparate systems, which further creates chaos. Maintaining data quality is impossible amid disarray. It has lead to annual losses between $1.2 million to $16.5 million for businesses of all sizes.
Product data represents the vitality of an online business. One could argue that it's the foundation, it's the selling point of your products. Accordingly, maintaining excellent product data quality is crucial.
When it comes to internal management, a business requires a clear way of handling their data. To showcase it compellingly on online channels, all product information must first be top-notch. Otherwise, your product pages will reveal the cracks in the structure.
Annually, businesses lose 15 to 25% of their revenue just to fix their data errors.
In the U.S. alone, businesses experienced a $3.1 trillion loss due to poor data quality. Now, this is for the general scope of data, coming in and out, like analytics and order processing. For instance, incomplete data about an order could lead to shipping it to the wrong place. When even business executives cannot trust their data to provide analytical forecasting, how can customers trust a product's information to address their needs?
What can we learn from this mass mismanagement of data?
First of all, all organizations have tons of data in their hands at all stages. Businesses track data from sites, transactions, catalogs, customers, and so on. 
Secondly, if businesses struggle with filing and organizing all these data types, the same goes for product data. While it doesn't change as frequently as real-time analytics, it is what drives your entire business. Let's not forget that all data are inextricably connected.
If 40% of buyers return a product due to insufficient product information, what does that say?
Well, other than the obvious, it means that businesses must tend to both their analytics and their product data. The analytics can inform the state of their product data: its performance, how it's impacting sales, etc. It prompts regular assessment of product data, which is why you must ensure all your data is under close watch.
When the internal elements work like a well-oiled machine, so do the external. Product data quality transfers into detailed, informative product pages. Customers see that you provide all the information they need to make a buying decision. Thus, high-quality data nurtures loyalty and trust.
Data Quality Assessment: From clean data to high-quality data
When assessing data, high-quality data begins with clean data. What data cleansing does is point out the flaws and corrects them.
However, clean data is not enough.
In ecommerce, your product data must fulfill and surpass the benchmarks for robust, enhanced, descriptive data. In other words, it must be ready for the customer's eye. It's the difference between reactive and proactive processing.
If you're only ever reacting to errors as they come to your attention, it's far too costly. In a year, businesses spend 84% more time on cleaning data per product SKU than if they had automated the task, according to PIM expert Abraham Jorij.
It's almost like buying groceries as you need them. Although it may seem cost-effective, in the long-run, you'll find yourself wasting time on everyday grocery shopping. Instead, you could have bought a month's worth of groceries in bulk. So you rest easy knowing you have everything you need.
Don't settle for clean data. Not when you can cultivate high-quality data right from the start.
So what defines high-quality data?
More than just correct specifications, the high-quality product information must be relevant, accurate, and unfailingly up-to-date.
Product data must be good enough to support the daily inner workings of the business. In terms of product data, it has to be accurate enough to allow all business shareholders and departments to use it successfully. For all other data coming in, it must provide accurate insight.
Consequently, that data becomes actionable. Businesses can enrich product data into content, and use it across marketing channels.
To assess the state of their data, businesses conduct a data inventory.
An inventory can assess how close or far they are to their baseline standards. These baseline standards depend on a business's goals regarding their processing. In other words, data must be good enough to support the daily inner workings of the business. In terms of product data, it has to be accurate enough to allow all business shareholders and departments to use it successfully, providing the insight they can leverage.
Unfortunately, 75% of businesses struggle to even agree on standards. Internally, there must be a benchmark for data health. But yet still there are specific requirements for online platforms, e-retailers, and marketplaces. Naturally, this conceives of many challenges to maintaining product data quality.
Top Challenges to Data Quality
Many issues arise in a mismanaged data environment. Here are a few of them.
Errors and Inaccuracies
Many errors are largely due to the inefficient process of manually filling out data fields. Such a tedious task leads to entering data incorrectly or adding erroneous changes during updates. Excel spreadsheets are known for fostering this sort of environment. Considering how many fields might exist on a sheet, it can be easy to put an attribute in the wrong place or accidentally paste the wrong thing.
Errors are a broad category, so they are much harder to pinpoint. They could be anything from incorrect numbers, wrong units, vague specifications, misspellings, and so on. For example, failing to follow the character limit for product titles, like exceeding the character limit, is a notable error, such that it can knock a listing out of marketplaces.
Inconsistencies
When data does not conform to a constant standard, it leads to inconsistencies.
For example, for units, some products might use "ounces" while others might use "oz." To customers, this presents as unprofessional, leading to reduced customer satisfaction. 
Inconsistencies point to a few chinks in the armor.
Firstly, the business might not have a set standard for conforming data, forcing each team or source of product data to type in whatever. Second, it also hints at silos between departments. If each team follows their preferred data format, it leads to discontinuous brand messaging.
Duplications
When a piece of product data or information appears more than once, it's a duplication. Usually, this type of error is a result of different working with their own versions of product data. With many different files and copies, there are bound to be overlaps or multiple iterations of data.
When you have duplicate data or content, it can cause many prospects to turn away and even undermines your SEO efforts.
Missing Data
Neglecting to fill in fields leads to missing data or information.
In many cases, a marketplace will not allow your product listing if any information is missing. In even worse scenarios, missing data on your ecommerce stores might decline your search ranking.
More importantly, prospective buyers cannot find the information they need to make a purchase. It leaves product pages scarce and empty, the opposite of robust, elaborate product pages.
Out-of-date information
Data quality degrades over time, which is a simple result of data that goes out-of-date.
With products, attributes can remain relatively stable for some time. However, when there are new updates to the materials, parts, or design, slow updates can quickly eradicate sales, and, eventually, customer trust. Just think of the many Amazon product listings with out-of-date ingredients. They're filled with numerous reviews of unhappy customers who received a different product than they originally expected.
Failing to integrate systems is one of the main causes of slow updates.
For example, when your ERP, product information, and syndication channels are disconnected, it simply leads to a lag before an update appears on all sites. Naturally, this applies to the pricing, inventory, and order data from the ERP. But also, without a data and content management system, it applies to product descriptions, features, and specs.
What are the Effects of Bad Product Data Quality?
Inadequate product data translates to a suboptimal product listing. As a results, it opens the Pandora's Box of potential negative consequences that trickle into every part your business.
Operational costs
Misdirected productivity
Bad reputation & reviews
Increased returns
Poor ranking on search engines
Insufficient omnichannel experience
Reduced revenue
Worse customer satisfaction
Lower conversions
Negative brand image
The list could go on. Without PIM to settle the waters, bad product data can trigger a domino effect across all key performance indicators.
Having gone over all the ins-and-outs of data quality issues, how can you improve them?
How PIM Addresses Data Quality Issues
The goal is not just to fix your data quality issues. A PIM solution converts your management from reactive to proactive. Don't just address mistakes as they come up. Instead, work to prevent them, eliminating any chances of them.
Here's how PIM goes about cleaning, improving, and enhancing that data systematically.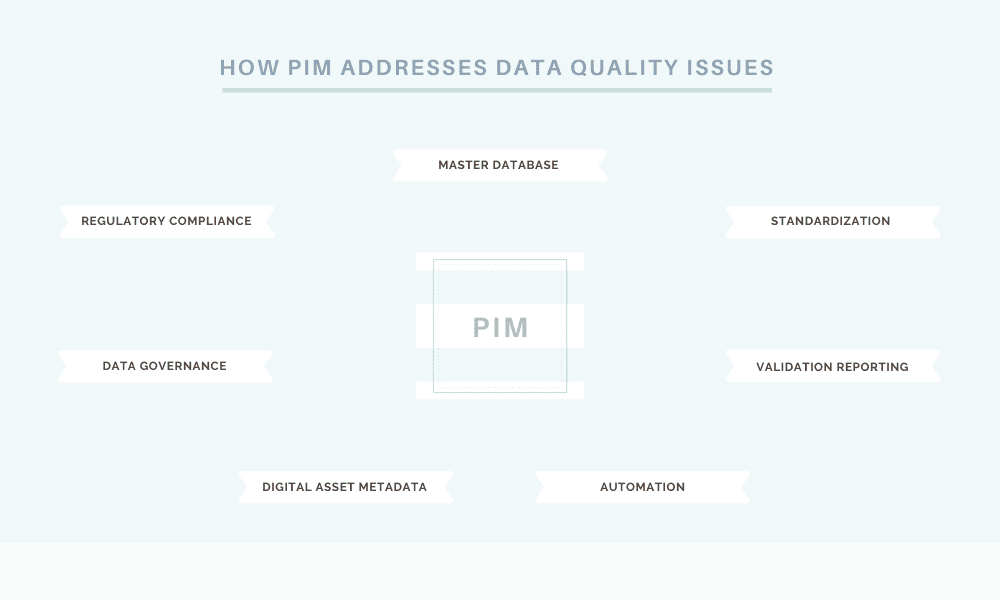 One Master Database
First, PIM collects all existing data. To gather that data, PIM integrates with many different sources like ERP, suppliers, manufacturers, and various teams. Obviously, due to being from disparate places, this product information will probably look different. For example, a product's height could be 3 inches or 3in or 3″.
To that end, PIM automatically standardizes it to the same format. Once clean, you can use data validation to author product content, ensuring that you fill out all fields before exporting.
Organizing products demands a system of tagging that creates family and attribute groups. You can assign similar products or related under the attributes they share, making for better searching on the system and merchandising on online platforms for upselling. 
In other words, the organization structure transfers when product content publishes onto your desired platforms. Even the most well-organized ecommerce site may have issues with product categories; a problem that PIM solves from the inception.
All-in-all, PIM stands as a master database that fuels ecommerce success. PIM addresses data quality issues by being a landing place for all data collection. First, gathering all existing product data and storing it on PIM.
Regulatory Compliance
According to the official, all-encompassing definition of regulatory compliance:
When you gather data onto the PIM system, it makes sure your data complies with all legal guidelines regarding your industry.
In e-commerce, it's incredibly important that data is not only in compliance with federal and state laws, but also secure. To prevent leaking, unauthorized changes, and lost data records, PIM has a strong security foundation as a cloud-based server. For example, businesses can define user roles and designate levels of access to employees and external users. The auditing feature allows not a single modification to pass you by.
Data Governance
With the ability to draw all data to the PIM system, it gives you governance over all the products. Data governance refers to the ability to oversee all product data and manage them. It's a direct result of centralization. Hence, data governance allows a business to be in control of their data to successfully enrich it for product pages.
PIM boosts data quality by having one space from where you authorize consistent publishing across all your channels.
Data governance features allow a business to configure their desired product hierarchies. In other words, it encourages compliance with data quality requirements.
Governance also means security. Businesses choose the users allowed access to product data – who can edit or edit, and what tasks to delegate.
Standardization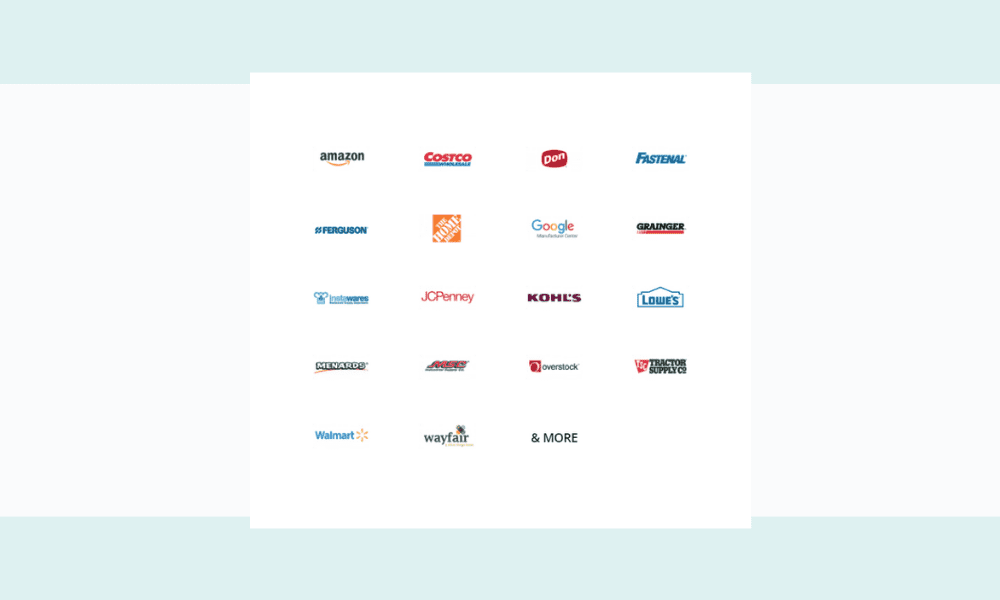 PIM improves the consistency of your product data with its channel standardization features. Every product data that enters the database is formatted to the overall standard – meaning the same units, the same language used, same tags, etc.
Furthermore, it standardizes product information to the channel. In essence, this optimizes your content for each platform, preventing any barring from marketplaces like Amazon, which refrains from listing your product if any data is missing or unsuitable to requirements.
All data is validated, so essentially, you are catching the errors before they happen. Every product attribute conforms to the same standard. If a color is RED on one product, it will not be R or red or Vermillion on another. We called this field consistency, wherein you set up a limited option list of variables to improve the organization of your products.
The better the grip you have on your options, the easier it is to categorize products. That way, you can distribute content at the freedom of knowing all will remain uniform across channels.
Validation Reporting
How will you know if you have a problem without checking?
Manually checking can be a monotonous process, rife with human error. By reporting any data issues, PIM keeps you on top of what content needs work or lacks information. Subsequently, this leads to a reduced risk of publishing unfinished or unoptimized product listings.
What is data validation?
It's the automatic process of determining the completeness of your data. For every field name – product ID, Case volume, case net weight, title, description, pack count, and image name – the PIM heightens data quality by reporting a percentage for what's done and what needs further improvement. This vastly improves the efficiency of authoring and creating content. It ensures that all fields are set, prioritizing the data you want by delegating what fields are "required" or "optional."
To go even further, here at Catsy, we value the ability to provide businesses a way to surpass expectations with absolutely robust product pages that outshine competitors.
Anyone can provide complete product information and data quality, right?
But a good PIM automates all the bottom-line criteria, freeing your time to go above and beyond in enhanced content, beautiful digital assets. and content marketing material, and maximize all the optimization tactics.
Automation
First of all, there no need to manually check for errors. PIM takes each nugget of product information as it enters the systems and automatically cleans it up, standardizes it, so on, as we mentioned before.
Furthermore, PIM's workflow feature automates the process of preparing product content with absolute data quality.
This is remarkable for two things. Firstly, team members can work together using the same data – no inconsistencies there. Second, there's more productivity abound due to being connected by an automated workflow on PIM, which maintains data quality, easy collaboration, and transforms into high-quality product content.
Digital Asset Metadata
When paying attention to product data, never leave out your digital assets. The metadata of your digital is equally important to manage.
In many cases, overseeing digital asset data can be even more challenging. Companies tend to manage assets separately from other product information. In effect, the silo leads to inefficiencies when uniting them on the product page.
If this sounds like you, you could be missing out on the benefits of high-quality digital asset metadata organization.
PIM's included DAM features ensure excellent data quality when it comes to digital assets.
By organizing digital assets by tags, PIM groups them by related keywords. Internal users can find assets quickly with tags and metadata. For example, they can filter and search for digital assets by location, time created, product type or collection, type of asset, and creation information.
The availability of this data empowers team members.
Digital assets are tricky because they can add up quickly and departments may mix them up or lose sight of them. by managing metadata on PIM, you optimize for high search engine rankings, improve the findability of assets, and propel teams into efficient work with automatic media transformation. Image size, type, and aspect ratios are all data that PIM organizes.
PIM Destroys Silos
The dreaded data siloing. It's perhaps the most elusive of threats to your product data.
Every company starts fine. Things go smoothly when sending information and assets between departments and external partners. Perhaps there are initially only a few employees, and the business is just gaining traction.
However, dare to scale, dare to fail (or at least, blow off your potential).
When businesses don't address the divisions between their many parts from the very beginning, it falls apart eventually. Once you get to a place where you're managing tens or hundreds of products, executives are busy with orders, and managers are attempting to streamline product content. Maintaining raw data quality becomes a challenge.
Different departments have access only to their respective set of data. Over time, product informed becomes rife with inconsistencies, data errors here and there, reused data that's out-of-date, and so on. Who knows if all teams have access to the right, latest information? Across-the-board, data siloing is the enemy of productivity.
A simple fix: Consolidate. Just like you must join together all product data into one cloud system, so must you do with the departments. To that end, PIM is like a reservoir of ever-updating, ever-clean data that all necessary parties have access to fulfill their roles.
Up-to-date data
Data naturally decays over time – that's a simple truth. Whether you update ASAP or not, dealing with a lot of data leaves much out of our awareness.
Having multiple channels can slow down the updating process. PIM maintains data quality by keeping all product information up-to-date. The cloud-based server feeds data directly to your desired platforms. The latest information and product updates are always immediately available to shoppers across channels, avoiding any customer dissatisfaction from old information.
With PIM's integration with ERP, you can track SKU availability live. You can ensure the stock levels are consistent across channels. That way, you avoid any problems like customers buying an out-of-stock product. Additionally, any suppliers and manufacturers connected to the ERP can simply send SKU data through to PIM.
Impact of PIM's Data Quality Features
Customer Satisfaction
When customers see that all product data is complete and accurate, there's higher satisfaction. Let's take returns for instance. Data from Heiler shows that PIM can provide a 23% reduction in product returns. From this, we can gather that PIM's implication on data quality can tremendously improve customer loyalty. Furthermore, customer service teams can better help customers with accurate data quickly with PIM's self-service hub.
Productivity
When you don't waste time fixing and redoing all the data errors, you open up time to be more productive in what matters. Like turning that data into actionable content. Or working on the next new product to get it to market quicker. Even using PIM to automate tasks takes the load off for many, while simultaneously repairing and exceeding data quality standards.
Operational Efficiency
Large companies like Johnson & Johnson have found that a PIM alleviated the effects of its inaccurate product data – which took 2.5% out of stock on Walmart. And that's on a large scale. The same occurs with small to medium businesses.
When your business has optimal management of data quality on PIM, all your operations run smoothly. PIM removes all barriers between sources and parts which create and require product data.
Higher Return-on-investment
According to the Yankee Group senior analyst, businesses that use PIM improve by 25%. That'S an outstanding return-on-investment, one which can last for the long-term. Add up all the benefits of PIM and remove all the costs associated with data errors, and it makes a beneficial difference. Any issues with a low conversion rate and returns are alleviated. In the long-term, PIM helps businesses maximize all avenues to success.
How is your product data quality?
Find out more about how CATSY can help you fulfill your business goals with a multifaceted PIM tool.
ABOUT CATSY
Catsy has been providing unique value to the product information industry since 2003, allowing businesses a way to achieve high-quality product content. Our product information management (PIM) software centralizes all product data, so you can manage and share data with internal teams, retailers, and multiple platforms. Revolutionize your business with Catsy's accuracy, automation, and optimization. To learn more, visit us at https://catsy.com.