In recent years, B2B eCommerce marketers have prioritized product content. It has become clear that it plays a crucial role in sales growth. A good product page can only bring you gains, and that is why it is essential to your eCommerce PDP success.
Giving your customers all the information they need is critical to your sales. According to a study, 98% of shoppers do not complete a purchase because the information provided is either incomplete or inaccurate. Since your customers can't assess the product physically yet, your product detail page is the only way they can get a feel of it.
Essentially, customers want to know precisely what they are buying: what it is made of, what it looks like, if it meets their needs, and what others are saying about the product. Yet, despite its incredible benefits, Baymard Institute reports that product detail pages are still underperforming because eCommerce marketers are not taking full advantage of it.
So, what is a PDP used for in eCommerce, and why are they important? But, first, let's take a look at some of its uses.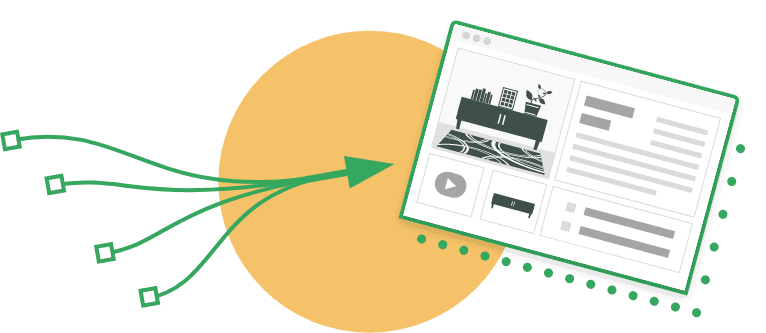 What is a product detail page (PDP) used for in eCommerce?
What's the fuss about PDPs? Why should you care? In this section of the article, we will discuss the benefits of PDPs to your eCommerce and why it is important to invest in them.
Strengthen brand integrity.
Imagine a customer researching for a product, and they are comparing products from several vendors. When they find your product page, they are met with specific product details they didn't find anywhere else and are convinced to buy from you. Apart from showing them what they wanted, you have also demonstrated that you are a brand they can rely on.
Rich, unique, and descriptive product pages can hold your customers' sway and give you the upper hand over your competitors. When customers see that you have something different to offer, they will trust your brand more.
By creating captivating PDPs, you are on your way to increasing your brand integrity.
Attract new customers.
A compelling product page will get you more customers. When you factor in that 81% of potential eCommerce buyers research online before making a purchase, it becomes imperative to have product pages that persuade them to make that purchase from you.
Your product page is where visitors of your site are more likely to spend most of their time. If you have comprehensive information about a product and it satisfies their needs, getting them to make a purchase becomes easier. You will also get them to visit your site because you have earned their trust. This, of course, means they are more likely to buy from you.
A product page is only successful when it converts your site visitors to customers. Therefore, it is only right as an eCommerce owner that you invest in delivering excellent product pages. Ensure that you have all the core elements of a PDP, as discussed in the next section of this article.
As mentioned earlier, PDPs are the lifeblood of eCommerce, and customers always rely on them to make informed decisions. However, there have been instances where customers returned a product because it didn't match what the product description said. You never want that to happen. It would be a fatal blow on your brand.
When people need a product, they are usually unsure of where they can get them. So their first step is to go online and search for it through search engines. Search engines results are based on the quality of your website content and how useful it is to the search query. So, in essence, if you want your business to be found through such searches, you have to optimize your eCommerce site to appear in the results.
Optimizing your website means you have to include relevant keywords or phrases in your website content. The best place to achieve that is on your product page. Your product pages contain comprehensive descriptions, titles, images, and metadata that will help your eCommerce site rank if adequately optimized. In a nutshell, creating an SEO-friendly product page is a surefire way to rank well in search engines. By embedding the relevant keywords in the core elements of your PDP, such as descriptions, titles, and alt-texts for the images, your page is on the path of gaining more visibility from search engines.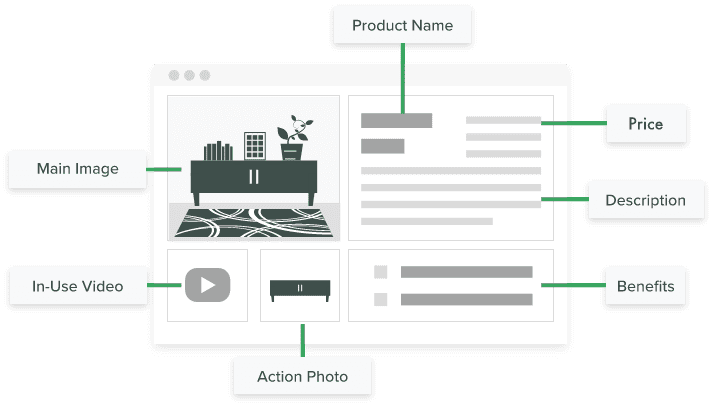 Core elements every eCommerce PDP must have.
There are core components that eCommerce PDPs must have. Without these core elements, your eCommerce PDP will not have the impact it should.
a. Title
This is very important, especially for SEO ranking. It has to be clear, concise, and descriptive. You should target keywords that make it easy for your customers to find the product.
b. Description
Another core element your PDP must have is the product description. This is where you will have a comprehensive description of the product. While capturing all the relevant information is essential because it is like your sales pitch to the customer, you must equally remember that it must be SEO-friendly. Ensure that you identify the relevant keywords for the product and embed them naturally in the text.
Your PDP must contain digital assets such as product images and videos. For example, images let users know how what they are buying looks like. You want to make sure these images show multiple angles or even a 360 view of the product. Another thing to consider is to show close-up shots of specific product features.
In addition to images, videos help you enhance the visual aspect of your product page. While videos are good, only consider them if it is helpful for the product.
d. Dimensions
Your PDP would be incomplete without having details of product dimensions. Many customers rely on the product information you give them, such as dimension, to determine if a product is a good fit for them. By providing accurate dimensions on your PDP, you significantly increase your chances of making a sale, reduce returns, and ultimately convince the buyer that you can be trusted.
e. Bullet Points
The primary goal of bullet points is to improve readability and help customers make a buying decision. Ideally, your bullet point will first contain the product feature and then, the benefits of the feature. Well-written bullet points also contain relevant keywords.
Brief, precise bullet points help customers to quickly identify product benefits. It is an opportunity for you to highlight the unique selling point of a product, which is what will convince the customer.
Good bullet points also improve your SEO ranking. You can infuse the most effective keywords in your bullet points, and search engines will find them. This also means an increase in your PDP visibility.
f. Price
What is a product page without displaying the price of the product? It is essential to show the price and the availability status. However, if your eCommerce is B2B or the product has a custom price, the price can be hidden.
g. Call to Action
The end goal of a PDP is to make a sale. Ensuring that you have a call to action (CTA) is a way to trigger that action. A CTA guides the customer to make the purchase decision after reading through your product page.
So, don't hesitate to ask your site visitors to make a purchase.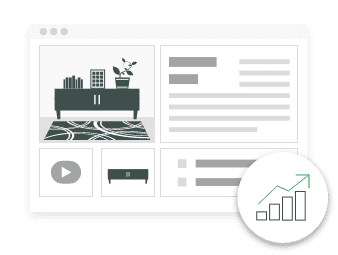 PDPs can dramatically boost SEO for your eCommerce site. Here's how.
The success of your eCommerce is tied to your online visibility, and this is why SEO is crucial. PDPs are where the sales conversion happens, so it makes sense to make them visible to potential customers.
Without an SEO-friendly PDP, you will not get the attention of the search engines, which means no ranking. In this section, we will analyze how you can optimize your eCommerce site for SEO success.
a. Digital Assets – Meta Tags, keyword file names, captions
When it comes to optimizing for SEO, everything counts. Your digital assets are not just digital assets; they have to be SEO tailored.
Meta tags
These are snippets that describe a page's content. Think of meta tags as content descriptors that tell the search engine what your page stands for. Here, you will insert the most effective keywords for the specific product page in your site's meta tags.
Keyword file names
When you upload a file, whether an image or a video, your file names contain product keywords that best describe the file's content. So, for example, instead of uploading a photo with a name like "001cts.jpg", you can have something like "mountain bikes- full suspension."
b. Rich Product Descriptions for eCommerce PDPs.
A well-written, keyword-rich product description requires a lot of time and effort, which is why many marketers don't invest in it as much as they should. But on the contrary, apart from using it to persuade the buyer, it can also be the difference for you to gain the SEO advantage.
Writing a keyword-rich product description means integrating essential information in your copy, such as product name, as well as its variations. In addition, you should also include product-related keywords such as catalog numbers, SKU numbers, etc.
c. Unique URLs / Product Variations
Product variations can occur when you have a product with the same attributes but distinguished by a specific feature such as color. This means that each product description would be similar.
This can be a challenge for the search engine to generate tailored results for users. However, you can use unique URLs to solve this problem. This will require you to have unique URLs for each product variation.
By using unique URLs for each variation, the search can identify each page separately, making it easy to rank.
d. Title Tags specifically for eCommerce PDP.
According to a Google internal analysis, it was discovered that over 90% of its product pages could perform better with SEO if they optimized the title tag.
Title tags are essential for SEO ranking. This is because the title tag content is usually displayed in the search engine results. Therefore, they should represent the page content accurately.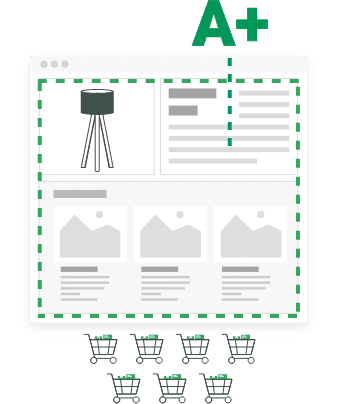 Close deals with common eCommerce PDP conversion tactics.
There are about 5 million eCommerce sites in the world, and about 1.8 million of that number are in the US alone. So to compete in this market of millions, you have to stand out. By 2040, it is estimated that 95% of online purchases will be through eCommerce. So when do you think is the best time to plan ahead of the boom? Now, of course.
Getting people to find you, engage and buy from you is not a simple task, but it can be achieved if you adopt the right tactics. There are several ways you can close deals but let's examine three eCommerce conversion tactics you can quickly follow.
a. Add reviews as social proof
Social proof has a positive influence on your potential customers. It tells them that you are not just telling; you are showing. This is why adding reviews to your PDP can convince your customers to make a choice and be confident about their decision.
For example, 81% of eCommerce customers trust the advice of friends and family over businesses. They believe that people who have patronized a business or used a product are in the best place to recommend whether or not the product is worth it.
Social proof in the form of reviews, if properly harnessed, can help you close deals and shoot up your sales significantly.
b. Use stock levels to invoke scarcity
In the principles of persuasion, scarcity is a tactic used to get people to act urgently. When people feel less of something available, it sparks their interests and creates a sense of urgency.
You can lower your stock levels to invoke scarcity, leading to an increased desire for what you have to offer. Adding that there is also a limited time to get the product may also position it as an exclusive product they would not want to miss out on.
c. Enable cross-selling on your eCommerce PDP.
While trying to purchase big eCommerce stores like Amazon, you must have seen something like "others are also buying" or "you may also like" with a display of products closely related to the product you are about to buy. That's cross-selling.
It is a proven tactic that has increased conversion. According to McKinsey, cross-selling can increase eCommerce sales by 20% and profits by 30%. In addition, Cross-selling helps you build customer satisfaction, give customers variety in terms of products, and stimulate sales of low-margin products.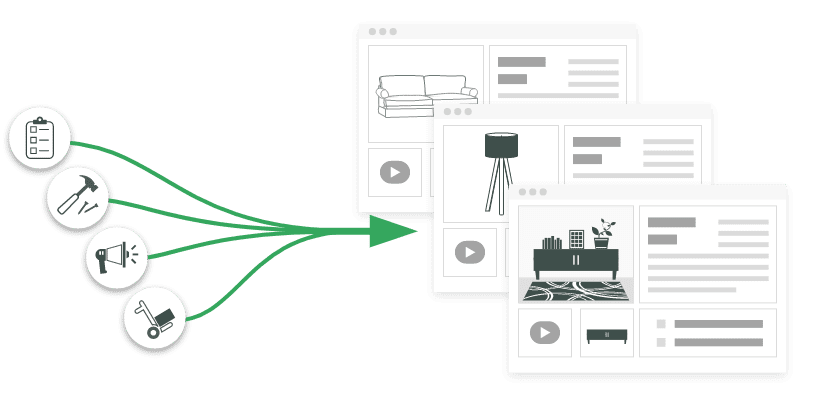 Use PDPs as an opportunity to be upfront with customers in an eCommerce space:
Being upfront with customers can help them make quick purchasing decisions.
Your product detail page is an excellent place to achieve this. In addition, providing the potential customer with relevant information such as warranty and guarantee details, shipping costs, and sales tax can help you answer questions customers may already have in mind.
It is also a good place for you to highlight the credibility of your brand through reference to trusted sources and partners. 
a. Disclose that shipping and taxes may impact the final price of the product.
eCommerce customers are familiar with free shipping options. A study by Oberlo revealed that is the number one reason why people shop online. However, there are situations where you can't offer free shipping options. This is why you should disclose it upfront in your PDP.
Stating additional costs such as shipping costs and sales tax will help you cases of cart abandonment early. This is because 50% of people who abandon their cart do so due to unexpected shipping costs. So, being upfront on this can greatly influence purchasing decisions.
b. List warranties and guarantees.
Potential customers probably have had an unpleasant buying experience at one point in their online buying journey. So, naturally, they would always want to try their best to avoid another.
One way to help them get rid of this worry when trying to buy from you is to display a detailed list of your warranties and guarantees. This will assure your customers that they are covered even when they have any issue with a product they purchase from you.
c. Highlight trust badges or seals to promote trust
Credibility has become a scarce commodity as a result of increased online fraud. This has made customers warier in sharing their personal information online, especially with an unfamiliar brand.
Establishing credibility through trusted badges or seals can remove this barrier.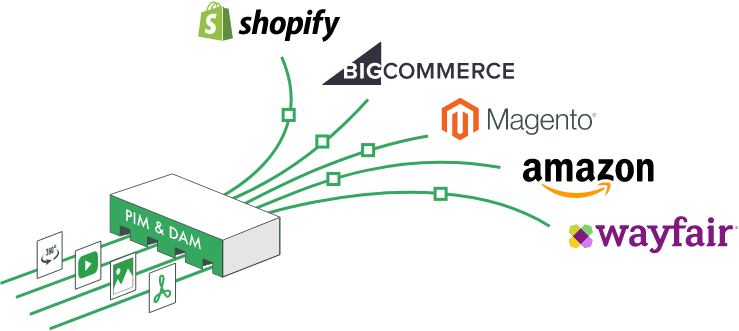 Product Information Management is the "easy button" for creating eCommerce PDP.
The foundation of a fantastic PDP is a good Product Information Management (PIM). PDPs rely on data and the only way to maintain and enrich product data is to leverage the various functions of the PIM.
Accordingly, as market trends change and you acquire new data to improve customer experience, PIM will enable you to make adequate changes or modifications without losing data and sending out inaccurate product information.
In this section, we will take a look at some of the ways PIM can help you deliver perfect PDPs.
1. Create a single product view.
Setting up a product detail page has never been easier. You can use Catsy PIM to create a single product view. All you need is to harvest all the relevant product data that you already stored on PIM.
You can create all your product pages within Catsy and automatically publish them on your eCommerce site. In addition, since you have all your data on a central platform, you can easily create customer-facing content.
2. Ensure accuracy
Maintaining data accuracy is essential for your brand's integrity. Having a PIM means all your product data would be consistent, which helps you deliver accurate product information to your customers.
Catsy PIM has some valuable tools such as the PIM validation tool that helps you validate product specs and ensure that they are accurate. This means that you will never publish wrong specifications.
Another tool is the PIM content grading tool. Let's say that you want to sell a product to a group of customers who have specific requirements. To ensure that you deliver exactly what they want, this does a completeness score that assesses all the requirements and tells you whatever is missing before you publish. It is an excellent way to ensure accuracy of product data across the board.
3. Connect product information in a single platform
Your product information is an asset that helps you create compelling PDPs. Information such as Short-Form Descriptions, Bullet Point Descriptions, Data specifications, categories, etc., are attributes you can link to products in PIM and digital assets in DAM.
The attribute mapping feature in PIM makes it super easy for you to create eCommerce PDP for your eCommerce website. This mapping feature takes content and maps it to a channel format. Then, it transforms the data into a customer use case that is tailored to the different requirements of the channel you are publishing.
4. Prepare multiple persona attributes for a single product
Creating multiple persona PDPs can be complicated. However, with Catsy PIM, you can personalize PDPs for different customer personas.
For example, you can have different channels or Shopify stores you want to publish to. In this case, each target audience may have different expectations and you will have to describe your products to them according to their persona.
Catsy has an excellent feature that allows you to link multiple attributes to the same product. So when you have to publish to a store, you can select specific product attributes that fits the store you are publishing to. This allows you to sell your products to multiple across different channels while providing a personalized experience.
Conclusion
A product detail page is an essential aspect of an eCommerce site that helps improve SEO ranking. Through the use of product descriptions, title tags, unique URLs, and integration of digital assets like keyword file names, captions, meta tags, you can take your SEO game to the next level.
You can use eCommerce PDP to demonstrate social proof, enable cross-selling, highlight trust badges or seals to promote trust in your brand.
Finally, Product Information Management (PIM) helps you create eCommerce PDP with ease without worrying about inaccurate data, lack of metadata tags, etc. You can conveniently create single product views and multiple persona PDPs for a single product.
Ceejay Teku is the Founder of Catsy, a product information management and digital asset management software. He started in the trenches of eCommerce as a software developer and was soon challenged with the complexities of product content that powers eCommerce. This led to the development of Catsy as a product information management system: purpose-built for brands that sell through distributors, retailers, direct-to-customer channels.
To learn more about Catsy PIM, schedule a demo and visit our website at www.catsy.com.