How to Create Compelling Product Videos for BigCommerce (Tips + Examples)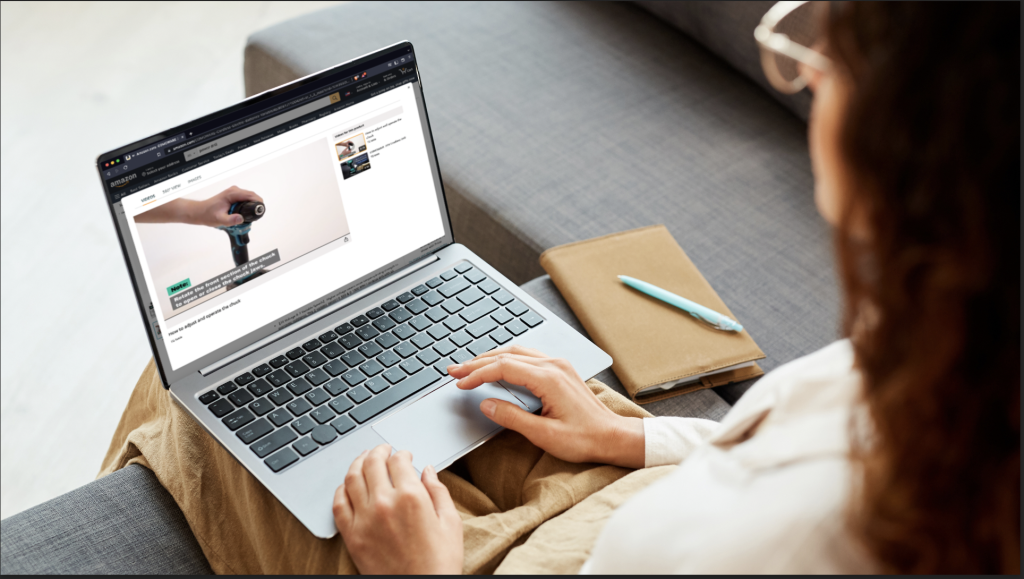 As organizations strive for growth on BigCommerce and other channels, a keen understanding of how to promote products on online platforms will be a key factor to success. Billions of dollars are spent on marketing and sales strategies to bring customers to the doorstep of a transaction.
The best marketing strategies highlight product information and attributes in creative, imaginative, relevant, and interactive ways. If you happen to visit a product page on a BigCommerce-hosted website, you will notice that most pages consist of the following key features: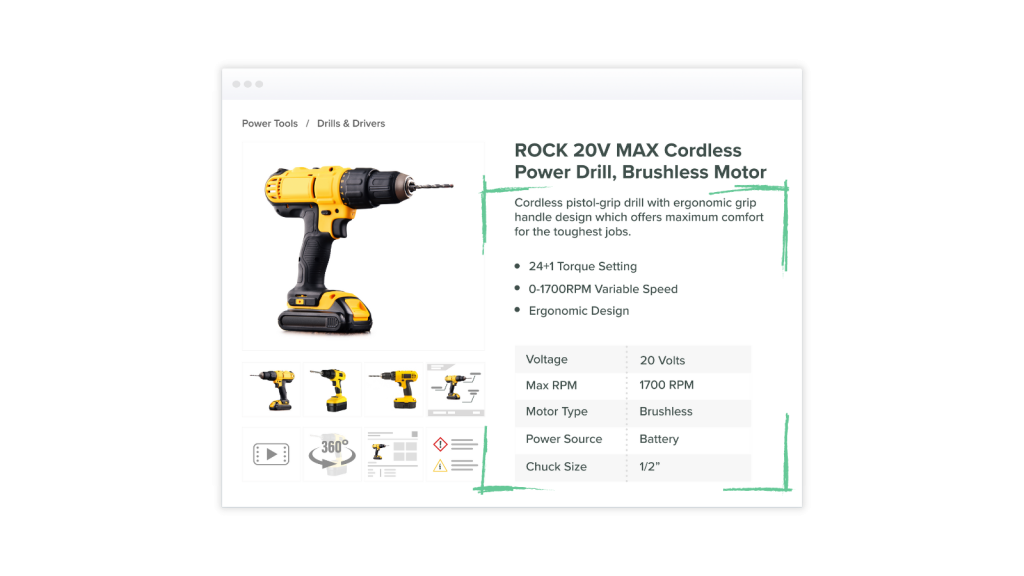 Product Title
Several Product Photos (Product Images)
Brief Product Description / Overview
Bulleted Product Details
Product Reviews
Product videos
Shipping Costs
Product videos for BigCommerce demonstrate a product's features, attributes, relevance, and, most importantly, function. Product videos have proven to be a core marketing strategy because the prospective consumer is allowed to see the product come to life before they purchase the product.
Created for the purpose of converting potential customers, eCommerce landing pages feature content that is clear and concise so the value proposition is easy to understand.
Why use product videos for BigCommerce?
Aside from operating as an aspect of sales and marketing strategies, product videos go above and beyond a normal product description found on a PDP. Compared to the information in a user guide, product videos are more interactive, visual, and therefore easier to apply in the customer's situation.
For example, imagine if you had to assemble a sofa from scratch by reading a product manual versus assembling the couch while watching a video of a staff member assembling the same sofa.
One may argue that the easier option is subjective. Still, in most cases, we see that it is a lot easier to assemble a product while watching a video because it is almost as if another person is building the same product right next to the customer. In addition to the visual aspect of videos, product videos for BigCommerce can convey more detail than images and descriptions. For example, a product video can:
Show product parts in 3D
Demonstrate how parts fit together
Provide voice-guided assembly instructions
Improve bounce rate
Optimize search engine results
Product videos promote the credibility of a product and allow the organization to provide context for products. Presenting content through text versus video leaves some of the ideas open to interpretation, which may not always be accurate. Product videos allow your brand to target your ideal customer more accurately.
How can you use product videos to increase conversions on BigCommerce?
Use Case – How it Works
Let's say an organization that manufactures a specific type of wheelchair for paralympic athletes may get most of their leads from the older population because they advertise only through brochures and pamphlets (i.e., text). Since this wheelchair has very similar features to regular wheelchairs, such as large wheel frames, sharp breaks, and smooth turn systems, this information could be misinterpreted, and details could be over read when the wheelchair is advertised with plain text.
If the manufacturer started promoting through video, they would now have the opportunity to present the wheelchair as a 'paralympic wheelchair' by portraying a paralympic athlete using the wheelchair for their sport. With the advent and popularity of technology, product videos are much more accessible than text and documents. This means that product information can be made accessible to a large population for a low cost.
Product demo videos are not just limited to assembly videos, such as the wheelchair example above. They serve as a resource for customers on the fence to create a more educated buying decisions process for customers. In addition, product videos can convert all the product information in guides and manuals to video format, thus creating a higher conversion rate via BigCommerce PDPs.
Content Tip:

Use high-quality footage. The closer the camera is to your product, the better the video will perform.
Examples & Tips – Product Videos for BigCommerce
In this blog post, we will look at different types of product videos and the various content formats that have been successful for other BigCommerce users. Here are six types of product videos your organization can create for your products to increase sales and customer satisfaction:
Product demonstration videos
Installations and set-up videos
Repair and troubleshoot videos
Maintenance videos
Testimonial videos
Sales and marketing videos
Without further ado, let's get to the video content examples!
1. Product demonstration videos
The most straightforward method of explaining a process or a function is by 'showing' how it works. Product demonstration videos (commonly known as product demos) are one of the most sought-after videos because everybody wants to see the product in ACTION.
'Seeing' the product in action instills confidence and trust in it because the buyer now has a clear idea of what the product can do and how well it does the job. Product demos demonstrate and highlight various product features.
As with the video example above, BigCommerce customer Arris creates beautiful product demonstration videos that go beyond a "show and tell" experience. Here are several focus points you can use to draw the audience in and promote your products with beautiful product videos.
Introduce physical attributes
Videos enable you to bring numerical measurements to life. Through these videos, the viewer has a clear visual representation of how great the product is, what colors it comes in, and how it would look on them, with them, or in their environment. This aids in the buying process.
Show multiple functions
Product demos show how easy the product is to use and what contexts they may be used in. For example, a vacuum cleaner that comes with several modes can be demonstrated in a video. Each of these modes can be shown separately in their respective setting. 'Carpet mode' can be presented on a floor carpet, and 'Floor mode' can be displayed on a wooden floor.
Insinuate relevance
Prospective customers want a product they can use in their situation or environment. A product's function can be demonstrated through brief product demos in various contexts and settings.
Content Tip:

Let's say you're selling a low-powered electronic scooter. Your team can show the product used by school children, office employees, delivery personnel, and tourists – this list goes on.
Demonstrating the use of the product in multiple contexts improves its chances of catching the attention of a variety of potential customers.
Promote compatibility
Often, especially on BigCommerce, products are sold via product kits. Product kits usually make up tools or accessories that are compatible with each other to complete a task or project.
Let's return to the electric scooter example. The scooter could be paired with various accessories such as helmets, gloves, elbow guards, knee guards, an attachable light, and disc brakes.
Content Tip:

Film the product (in this case, scooter) in different terrains or locations.
2. Installations and set-up videos
Another critical aspect of product videos is that they can be used to enhance the consumer experience by producing various videos that deal with stages that a customer goes through after the product is purchased.
One such variety is installation or set-up videos, where a member of the brand or manufacturer (preferably a technician) demonstrates the product's installation or set-up. Installation and set-up procedures can be intimidating and tricky, primarily when delivered as written instructions.
Uplift Desk Use-Case
Imagine assembling a sophisticated piece of furniture, such as the UPLIFT Standing Desk (above), with written instructions and images that capture the details of the product with difficulty. Uplift Desk is a BigCommerce customer, by the way.
On the other hand, think of how much easier it would be to have a trained individual assemble the chair while you do it. Assembly and installation videos remove the intimidation factor from setting up a product and provide a method of instruction that is clear, detailed, and repeatable, as the video can be played back as many times as the user needs.
A great example is setting up software and applications. Installing operating systems, pieces of software, and applications which have various prerequisites and instructions can be demonstrated through a 'screencast,' which is essentially a screen share of the installation process. This alleviates the fear that some users have while using software products.
3. Repair and troubleshooting videos
If the product fails to work as expected or has been damaged, the user would understandably be frustrated and worried. Reading lengthy (and often technical and complicated) text from a troubleshooting and repair manual may not always be the best way to solve the issue.
The user may easily overlook several details due to stress from a broken product, which may lead to further issues and dissatisfaction with your product and brand. Repair and troubleshooting videos offer an effective and reliable source of assistance during these situations.
Content tip:

Utilize a trained manufacturer or brand member to test various scenarios while demonstrating how to troubleshoot them. Having a person show these instructions gives the impression that the user is not alone and they have assistance from another individual.
Information from these videos is also much easier to absorb, which is necessary for a scenario where the user is stressed and may not have the cognitive capability to absorb complex information.
In the context of the REI "care and repair" video above, a brand member demonstrates step-by-step how to find and fix holes in a sleeping pad. Rather than a customer searching YouTube for a DIY repair video, REI takes command as the authoritative source on how to care for and fix their problems.
Rather than keeping the information secret to boost re-purchase sales, REI becomes not only a product provider but a helpful service, creating a loyal band of customers along the way.
Users can save money using repair and troubleshooting videos and prevent going to third-party services for minor repair jobs. In more severe scenarios, the information in these videos can at least aid in diagnosing the problem and identifying resources or personnel to deal with the issue.
4. Maintenance videos
As mentioned previously, brands can use product videos on BigCommerce to enhance the product utilization experience with videos that can be viewed after purchasing the individual product.
Maintenance videos contain content that aids in the maintenance or sustaining of the life and the quality of the product. These videos suggest strategies and tips for the product after its purchase.
In the example above, BigCommerce customer Oral B provides tips on how to clean one of their products, an Oral B toothbrush. The video is short and simple, yet provides helpful customer experience tips on how to care for their product.
Content Tip:

Use voiceover and provide as detailed instructions as possible. The more information you can pack into a short video, the better.
The more complex a product is, the longer and more detailed a maintenance video will need to be. For B2B industrial products, such as HVAC or complex building materials, safety hazards, warning labels and in-depth maintenance instructions may be required.
Even for products that are consumer based, safety hazards and extensive maintenance tips are important to the end-user. Let's take a look at the kind of safety hazards and maintenance tips that may be helpful for users of electric scooters:
Safety hazards
Safety hazards alert buyers of objects and activities to which the product should not be subjected. In the case of the scooter, suggestions may be as simple as: 'Keep away from water and rain,' 'do not perform stunts', and 'keep away from children under 12'. Safety hazards also include features of the scooter that may hurt the user.
One such feature may be overheating the wheel bearings after the breaks are applied, overheating the battery after being overcharged, and parts of the scooter that may be sharp or jagged.
Maintenance tips
This would include suggestions that sustain the life and quality of the product. Suggestions such as lubricating the brakes every month, filling up air in the tires when necessary, and replacing the battery every year, are applicable in the case of the electronic scooter.
Other precautions would include suggestions such as wearing a helmet, knee and elbow pads, and other protective gear while riding the bike. In this section, manufacturers can also suggest accessory devices and products that will aid in the safekeeping of the user. Examples are a flashlight during the dark, a bell, a lock, and a scooter stand.
5. Testimonial videos
Testimonial videos may be one of the most powerful eCommerce product video formats due to the trust and credibility they build for the product. A testimonial refers to a message from a product's current user. In testimonials, users describe their experiences with the product and promote the difference it has made in their context.
Good customer testimonials from other customers highlight various aspects of the product's attributes and features that they found valuable and attractive. When these appraisals come from another customer, any 'hidden' marketing and sales intentions a prospective buyer thinks the brand is putting forth are eliminated.
One idea is to contact someone who has left a positive customer review on your website. Because they like your product already, they may have some insight to your product that your marketing team may overlook or miss, and can speak more candidly about the product.
In the testimonial video above from BigCommerce user Gerard Cosmetics, the user admits to not having used the cosmetic brand before. This allows the audience to experience the brand for the first time along with someone else. Though the testimonial was more than likely a paid partnership, this exercise feels un-scripted and thus a bit more honest.
Testimonial videos build trust because the product seems to work for another individual and builds credibility. After all, if it works well for someone else, it may work well for you too.
Content tip:

Use an unscripted method to showcase your product through an influencer or someone who has never tried your product before. This creates a shared experience for the audience, and can serve as an unprompted "how to use" video.
6. Sales and marketing videos
Sales and marketing videos are used by eCommerce to sell a product by highlighting its benefits and advantages. They are usually short and concise, but have an important role in building trust between the manufacturer and potential buyers. The main purpose of these videos is to persuade potential buyers to buy the product.
In the example of BigCommerce user Avery Dennison, AD takes an opportunity to highlight longevity of the company, and invite prospective customers behind the scenes.
The video strategy not only provides elements of brand trust for the target audience, but also showcases various products and many scenarios in which the products can be used.
Where can I publish product videos outside of BigCommerce?
Understanding the various videos used to describe and highlight product information allows for converting guides and manuals to more absorbable video formats. Each video format can cater to a specific audience through different platforms.
For example, product demonstration videos are generally shown to prospective leads who are indecisive about the purchase of the product since these demos are more direct and go straight to the product's function.
On the other hand, marketing and sales videos are directed toward an audience that presumably does not know the product. And finally, maintenance, troubleshooting, and repair videos are generally viewed by customers who already have the product.
Audiences can also be classified by age group, profession, nationality, language, and hundreds of other categories, but understanding the mode of delivery of these eCommerce product videos can help us reach some of these audiences. Let's look at some of the platforms your organization can use to share product information videos:
YouTube
Instagram, Tik-Tok, Snapchat, and other forms of social media

YouTube
Nowadays, if someone wants to watch a video of how a product works, they will go straight to the largest video hosting platform – YouTube. You can find a video of almost anything on YouTube, which is why organizations and brands have libraries of their products' videos on YouTube in addition to their website.
The content found on YouTube can either originate from the brand's channel or from other 'YouTubers' (independent video creators on YouTube), which tend to be product reviews, unboxings, demonstrations, and a few repair and troubleshooting videos.
While these videos made by other YouTubers may not be entirely authentic and accurate, a brand can sponsor a YouTuber to perform a review or demonstrate one of the brand's products on their channel, user-generated content.
This way, the product reaches the audience of the YouTuber. Let's say, for instance, that there is a reasonably famous YouTuber with five hundred thousand subscribers who does tech reviews and demonstrations on her channel.
An electronic scooter brand could reach out to this YouTuber and ask her to do a review or a demo of their product, which they would sponsor. The video would involve the YouTuber connecting with her audience while talking about the product, its features, and why she likes it. The viewers would get a taste of the product from the perspective of someone they like and regularly watch (the YouTuber). YouTube is a platform to reach more extensive and more diverse populations of individuals across the world.
YouTube Shorts
YouTube has recently introduced the new feature called "Shorts". This feature allows users to create short videos up to two minutes long. These videos are available only on mobile devices and are meant to be shared via social networks such as Facebook, Twitter, Instagram, etc., and also embedded into websites.
These videos are very useful when you want to promote a product to a younger demographic. For example, if you sell children's toys, you can upload a toy-related short video to YouTube and post it on Facebook and Instagram. It is a great way to engage with young people and get them interested in your products.
Another benefit of using YouTube Shorts is that they allow you to include links to your website within the description field. So, if you make a video about a particular product, you can add a link to your website where customers can learn more about the product.
If you are looking for ways to increase sales through online marketing, then YouTube Shorts is an excellent tool. They are easy to create and distribute, so you don't need any special skills to make a video that leaves a lasting impression.
Instagram, Tik-Tok, and Snapchat are some of the biggest social media platforms on the internet. These platforms are often dominated by 'influencers,' like YouTubers, because they have a large following due to the content they share on their pages.
Similar to the concept of subscribers on YouTube, individuals can 'follow' these pages and would be able to view their posts on their page daily. These sites expose viewers to a LOT of information regularly through different formats:
Posts
Posts on Instagram are short messages with a picture(s) or video(s) about a specific topic. This format can be used to lightly introduce or present a product, as it does not provide too much detail about the product, but it has the potential to pique the interest of viewers.
Reels & Instagram Live
As the name implies, these are concise videos (often less than one minute in length) that can share by content creators or influencers. Reels, on the other hand, are longer videos based on a particular topic.
These video formats are great for testing the waters with different audience groups by sponsoring posts, shorts, and reels of products. Going back to our example of the electronic scooter, an influencer could post a short ten-second video of themselves riding around their neighborhood on the scooter.
Despite the seemingly small video size, this content can go viral in a short time and is a lot more effective than it seems.
Paid Ads on Social Media Sites
Advertisements on these sites can range from photos to videos. The original brand of the product produces this content, and these posts are tailored to specific viewers based on their search history. This allows the brand to reach an audience that may be more likely to respond to these posts.
Conclusion
Product videos for eCommerce go beyond simple marketing strategies, as they can potentially enhance a user's experience with the product drastically. With the knowledge of what kind of videos your product needs, the methods you can use to convey this content, and the audience you need to target, everyone can get a chance to hear about the great work that your organization does!
Catsy is a Product Information Management (PIM) and Digital Asset Management (DAM) solution. Using a single source of truth, product marketers are able to automate the process of preparing products for the market with Catsy PIM & DAM. See how Catsy can help your business win on category pages, convert on PDPs and drive revenue: sign up for a demo.
FAQs
Where can I use product videos?
Product videos are used for different purposes such as promoting new products, demonstrating how to use a product, or showing off a product's features.
What should be included in a product video?
A product video should include a clear call-to-action at the end of the video, such as "Buy now" or "Sign up for a demo."
How do I find product videos?
In addition to blog posts like this, you can find product videos on YouTube, Vimeo, and other video hosting sites to use as inspiration for creating your own product videos for sites like BigCommerce.
How do I make a video to sell my product?
Make sure you use a camera that can capture your product in high-quality. If you want to keep your video creation in-house, there are many apps you can use to create a decent product video. Otherwise, consider outsourcing your video compilation to a third-party media company.
What is eCommerce video?
eCommerce video is an online video that promotes a product or service for sale. This can be done through a variety of mediums such as YouTube, Facebook Live, Instagram, etc.
How long should a product video be?
A product video should be between 1-2 minutes. If it's longer than 2 minutes, then it might seem like too much information for someone who is just browsing through your website.