Optimizing B2B Product Pages for Shopify: A Guide to Reaching Customers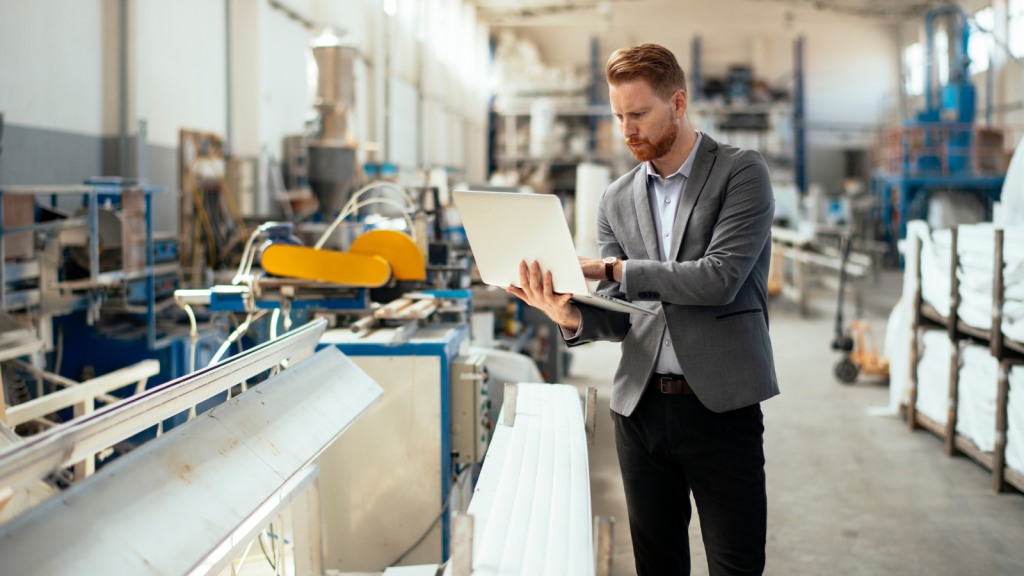 Clyde (now part of Cover Genius) explored what shoppers look for when buying online and ranked them. Among the top 15 were free shipping, coupons and discounts, customer reviews, easy return policy details, and knowing that the product is environmentally friendly. While the analysis used data from a survey of individual consumers, the shopping behavior is similar when the focus shifts to the business-to-business (B2B) space. The main reason is that the B2B buying process is done by humans, who behave like people purchasing items for personal consumption.
But consumer behavior is not the subject of this post. Instead, most items in the top fifteen list often appear on online store product detail pages (PDPs), whether B2B or business-to-consumer (B2C). In fact, one can rephrase the study's findings and state that all shoppers focus on product pages when buying online. So, product pages are the most critical part of any eCommerce website primarily because they make the first impression on the visitor.
However, industrial brands may find creating high-converting product pages on Shopify challenging because they must appeal to meticulous procurement teams while conveying technical capabilities. It requires balancing compelling copy and visuals with the in-depth information B2B buyers need to make informed decisions. In this light, this guide provides the techniques for brands to make the right tradeoffs to ensure they grab buyers' attention and stay aware of search engine crawlers.
In this article you'll learn:
Overview of Shopify Product Pages
Shopify product pages are the individual web pages on a Shopify store that showcase each available product. These pages are the central hub for customers to view photos/videos, read descriptions, see prices, select options, add to a cart, and ultimately, buy the product.
Technically, B2B Shopify product pages are built using Sections – customizable blocks that store owners can drag and drop to construct the layout. For example, the Image Gallery section displays product photos, while the Description section shows information about the product. Shopify offers prebuilt sections like these but allows users to create custom sections for additional flexibility.
A typical product detail page on eCommerce platforms like Shopify may contain up to 30 different elements (sections). However, you are most likely to see the following:
Product title

: It provides a high-level description of the showcased product.

Product images

: Often provided in plenty so customers can view the product from different angles. Shopify provides the functionality that enables viewers to zoom the pictures in and out.

 

Product description

: Finer product details (low-level description), including features, specifications, and benefits.

Product reviews

: Feedback and ratings from previous customers can help build trust and provide social proof.

Pricing information

: Includes details like the current selling price, special offers (discounts), and applicable taxes.

Shipping information

: Includes specifics such as shipping options, delivery costs, time frame, etc.

Return policy

: Details about any conditions or restrictions that govern cases where customers may want to return a purchased item.

Related products

: Provides suggestions for products that may complement the showcased item.

Product tags

: Tags or categories that help customers find similar products or explore specific collections.

Buyer options

: Customers can choose between purchasing, adding to a wish list, or comparing products.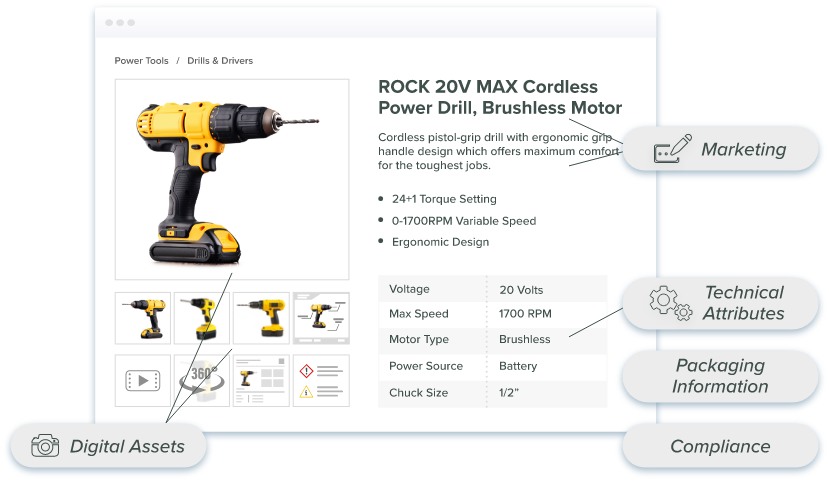 >> Having trouble enriching your product content? Book a demo with Catsy.
Shopify users have many sections to add to the product pages. In addition to the typical choices highlighted above, you may add the following areas: product variants, product customization, product availability, quantity selection, and call-to-action buttons. The appearance of the PDPs will often vary, but you'll find specific sections across all stores.
For B2B brands, product pages hold even greater importance as they often represent a potential business customer's first detailed exposure to your offerings. There is no better reason why product pages are also known as product display pages (PDPs). Procurement teams will scrutinize your store's PDPs when evaluating suppliers. The pages must convince the buyers that your products deliver the right capabilities, durability, and value for their business needs.
Most Shopify users who use sections strategically often obtain the best results. For example, highlight product specifications in a table section, customer reviews in a testimonials section, and guides for safe operation in a FAQ section. But you shouldn't worry too much about the strategies because you'll learn plenty in a dedicated section later. For now, understand that optimized product pages distill the essence of your products for buying teams efficiently.
Why B2B brands should optimize Shopify product pages
If PDPs are the window through which prospective customers sample your products and possibly choose them over other options, then ensuring they are fully optimized makes sense. This way, you can achieve the following:
A Databox analysis shows that well-designed product pages directly translate to higher conversions and revenue for online sellers. The pages communicate product value propositions clearly and business benefits, priming buyers to purchase. They include optimized search engine optimization (SEO) and layouts to enhance findability and on-page navigation, driving more qualified traffic. More importantly, well-designed PDPs have frictionless flows that remove barriers to completing transactions.
2. Create better buyer experiences
Optimized pages keep shoppers engaged as they evaluate your products. They achieve this goal by compellingly showing relevant content that shapes positive perceptions of your brand. Product pages should be able to anticipate and answer buyers' questions to build trust and credibility. This means using relevant images, videos, and copy tailored to business needs to create engagement as teams evaluate offerings. Also, smooth layouts and clear calls-to-action streamline purchasing.
3. Stand out from competitors
Given most B2B purchases involve comparing suppliers, product pages must differentiate offerings. Your PDPs should allow you to showcase your unique value proposition compared to rivals. For example, a construction materials manufacturer could highlight certified sustainability. Distinctive and enticing pages make your offering more memorable.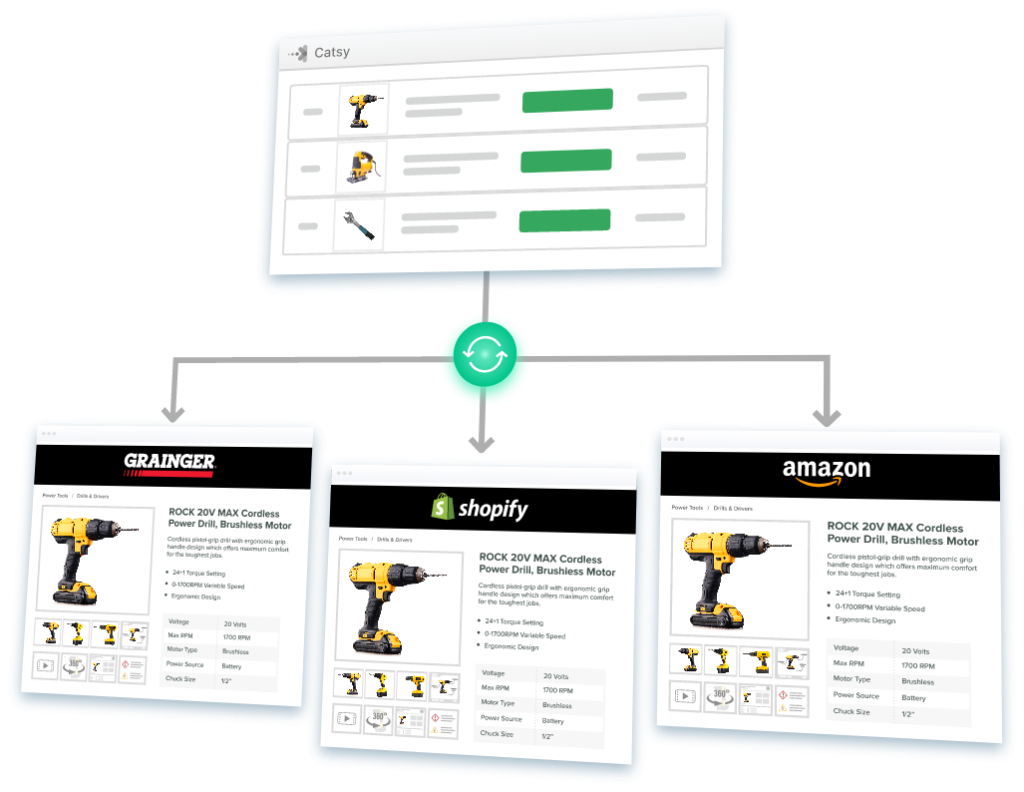 Challenges with Optimizing B2B Product Pages
Appealing to both human buyers and search algorithms
Product pages serve two masters: human visitors and search engine crawlers. Appealing to both presents a multifaceted challenge. On the one hand, the content must resonate with buyers through compelling messaging and visuals. For example, if your online store sells industrial power tools, procurement teams want to grasp how your offerings can address their needs quickly. They will likely consider your store if the PDP offers sufficient reason for choosing you.
On the other hand, product pages must cater to the search engine crawlers scouring them for optimization elements like title tags, meta descriptions, alt text, and technical schemas. These factors influence your store's ranking on search engine results pages (SERPs), which impact traffic.
Reconciling these competing demands is possible but a towering challenge. For example, copy, headlines, and images tailored to engage human visitors may only optimize for SEO if carefully engineered. Technical optimizations like keyword-laden descriptions can feel spammy rather than helpful for human readers.
This balance is even more challenging for industrial brands with complex and wide-ranging products. Their inherent technical intricacy makes it difficult to inform buyers while also ticking all the right boxes for algorithms. Doing both well requires mapping out a thoughtful strategy and execution.
Conveying complex product benefits
Most industrial products have sophisticated capabilities and technical nuances; distilling them into compelling messaging can be exacting. Simply detailing every specification and feature creates information overload, overwhelming shoppers. Yet, being too vague risks failing to communicate the core benefits of the showcased products. Again, you are faced with the critical task of balancing benefit-oriented messaging and adequate technical depth.
B2B buyers rely on understanding the specific capabilities of the items they want and how they address business needs to facilitate supplier evaluations. However, they may not engage your online store if they encounter walls of dense text. Instead, sellers who can artfully translate tech-speak into clear language will convert all the browsing shoppers.
The problem is that even clever copywriting needs help to overcome overly intricate products. Some B2B products have such engineering complexity that marketers may need help to curate product pages that make benefits easily digestible. In short, the inherent complexity of industrial products poses a constant challenge for product page optimization.
Building trust and credibility
Business buyers are wary of empty marketing claims and want evidence that a supplier's products deliver real value. A CMO Council survey shows that only 9% of B2B buyers trust vendors' marketing claims. Interestingly, the same study established that 88% of business buyers make purchase decisions based on the online content that vendors put out, including product detail pages. The survey validates the claim that industrial brands face many hurdles in building trust and credibility.
Tailoring pages for different buyer journeys
The business purchasing process is complex and involves plenty of variability. This makes it defy a one-size-fits-all product page strategy. As such, tailoring product pages for different buyer journeys becomes a monumental challenge that requires accepting tradeoffs, winging some customization, and staying nimble to adjust as needed. Even then, some buyers' needs will still need to be met.
Business buyers follow winding paths depending on their role, industry, company, urgency, stage in the process, and other factors, meaning pages optimized for one user may frustrate another. For example, engineers want technical specs instantly visible, while executives prefer ROI calculators showing cost savings. On the other hand, procurement managers need category browsing and filtering to compare alternatives efficiently.
One may circumvent the challenge by prioritizing high-value buyer journeys, but this risks neglecting less common paths still representing meaningful revenue. So, B2B marketers should develop approaches to walk the tightrope that adapts the product pages to every customer scenario.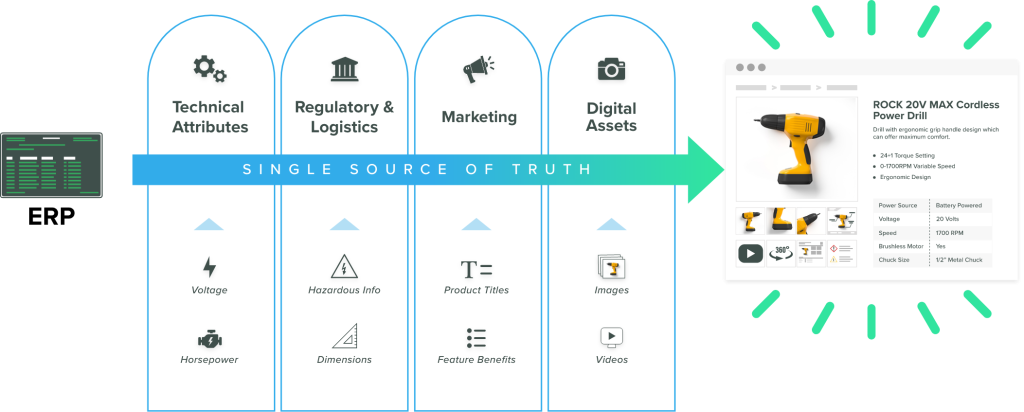 Resource limitations for optimization
Creating effective PDPs requires extensive ongoing effort across design, copywriting, technical SEO, analytics, and more. This strains budgets and staffing for many companies.
Optimizing for B2B buyers demands even more significant investment than consumer product pages. The added complexity of conveying technical capabilities and business value multiplied across an extensive product catalog creates challenges. Frequent product updates and specification changes add workload to keep pages current.
Industrial brands with limited budgets struggle to get top talent to execute each product page element well. And even large marketing teams have constrained time, given the demands of other programs. Ongoing testing and iteration are ideal but may be forced to take a backseat.
In essence, most B2B brands face resource constraints that hinder their ability to fully optimize Shopify product pages to their highest potential. Difficult tradeoffs are unavoidable, but focusing resources on the products and pages that drive the most business value helps mitigate this omnipresent challenge.
Managing potentially 100s of attributes for each product page
If there is a fact that B2B marketers understand all too well, it is that a typical industrial brand handles a vast catalog of products. Each product often has hundreds of attributes covering SKUs, options, and specifications that must be reflected accurately on each PDP. It is a strain on any company's resources to keep this massive volume of details organized and up-to-date.
Everything from product titles, descriptions, images, and inventory must synchronize across all channels, including eCommerce platforms, CRMs, and databases. Falling out of sync risks incorrect information, jeopardizing customer trust and sales. But constant vigilance has huge staffing implications.
With so many moving pieces, details inevitably slip through the cracks. For example, a spec update on one backend system gets missed on a product page. The worst part is that ignoring even minor product variations like colors risks losing sales.
Prioritizing attributes for mission-critical products can focus efforts. But less popular items still deserve accurate pages, and relying on customers to flag errors is bad practice. With no shortcuts, managing numerous attributes at scale remains a stubborn challenge.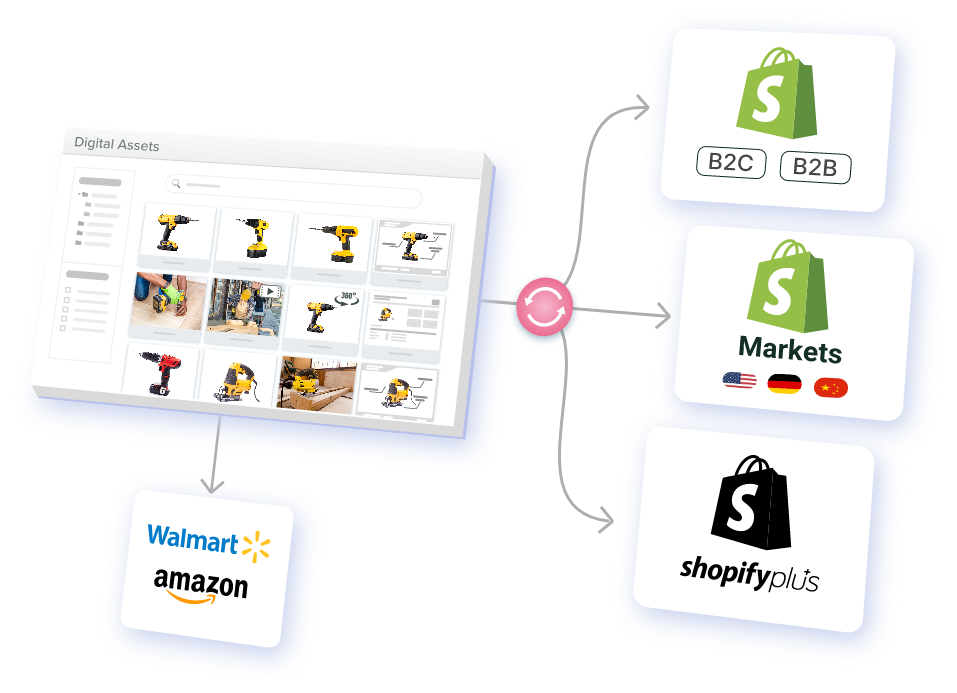 Tips for Optimizing B2B Product Pages on Shopify
Align product names with your keyword strategy
The best approach to optimize product pages for search engine crawlers involves getting SEO right. Using product titles and descriptions directly supporting keyword targeting is an excellent place to start. Research target search terms B2B buyers use when searching for your products, then select names that maximize relevance.
For example, a specialty drill could be called "Ultra-Max Industrial Strength Diamond Drill Bit Set" rather than "Diamond Drill." The longer name incorporates popular related keywords, helping pages rank for those terms.
This technique also facilitates on-site search for self-service buyers. Names that mirror their search queries, like "commercial stainless steel bolts," facilitate discovery. Use concise but keyword-rich titles to balance human-friendliness with SEO strength.
Meta information is another valuable tactic to appeal to both humans and search engine crawlers. Using meta tags is one of the most essential aspects of optimizing product pages for search engines. Meta tags give search engines details about your product page, influencing its ranking on SERPs. Search Engine Journal recommends writing compelling meta descriptions that can significantly impact click-through rates from SERPs. Similarly, Brax suggests optimizing meta tags is one of the best ways to achieve the same result.
Optimized title tags and meta descriptions are vital for on-page SEO. In particular, the Search Engine Journal confirms that title tags carry substantial weight in search algorithm ranking factors. A compelling B2B product page title could be "PowerXYZ Industrial Strength Carbide Circular Saw Blade – Ultra-Precise Cuts in Hard Materials." It leads with the brand name and product, followed by keywords like "industrial strength" and the specific blade type.
The meta description would then expand on the critical benefit promised in the title: "The PowerXYZ carbide circular saw blade delivers ultra-precise cuts through the hardest construction materials with its diamond-ground teeth and patented alloy body." Well-written descriptions act as ad copy, enticing shoppers to click rather than skip over your listing. Emotional and benefit-focused language performs better than dry technical descriptions.
Title tags and meta descriptions present another balancing act between search visibility and appeal to human visitors. Optimizing these two critical elements lays a strong SEO foundation for product pages.
Besides the meta information, headings carry critical SEO value, which makes optimizing them doubly important. Headers are also vital for structuring complex product information into easily digestible sections for shoppers.
Furthermore, ideal B2B headings are factual and often packed with relevant attributes. For example, an industrial pump page could have titles like:
2 HP Cast Iron Centrifugal Pump – Single Phase

Maximum Flow Rate: 150 GPM

Automatic Overload Protection

UL-Listed for Hazardous Locations
These headings allow buyers to quickly scan for the specifications that matter most to their needs. The plain language communicates capabilities clearly without hype, allowing shoppers to browse swiftly when skimming the PDP.
From an SEO standpoint, headings tagged with H2, H3, etc., properly outline content architecture. Also, weaving relevant target keywords into the titles boosts ranking potential. Most importantly, you should aim for balance – technical headings must intrigue business buyers, not just search engines. For example, "Cut costs up to 30% with eco-friendly operation" is more compelling while still describing the product benefit. Headings have much power to optimize for both humans and algorithms.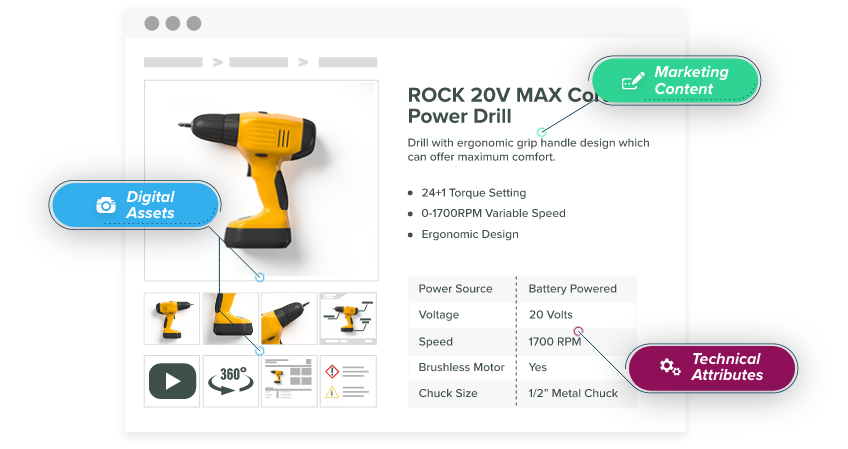 Include high-quality images
The product detail page showcases a range of information about your offerings, and images are a critical component because visually demonstrating products in action is vital for B2B buyers evaluating expensive equipment or materials purchases. High-resolution photos and videos build confidence that your offerings can deliver promised capabilities and business value. Even if confidence weren't the issue, you'd need to use high-quality images anyway because this is Shopify's standard requirement.
Besides the resolution, the images should showcase products in real-world professional settings—for example, an electrician using a conduit bender on a job site. Also, you could zoom in on essential features and details like power gauges or material quality.
You may wonder how to ensure such high standards for all product images across the organization and channels. Most marketers with long experience in product content management know that tools like Digital Asset Management (DAM) platforms are invaluable.
Above all else, a DAM tool like Catsy provides a central location for storing and organizing digital assets. The platform offers the following benefits:
Maintains image quality standards, with automated compression and cropping to multiple sizes

Enforces brand visual guidelines across channels

Makes assets easy to search and reuse, saving production time/costs

Integrates with eCommerce platforms like Shopify to sync photos directly to product pages

Optimizes images with descriptions in alt text for SEO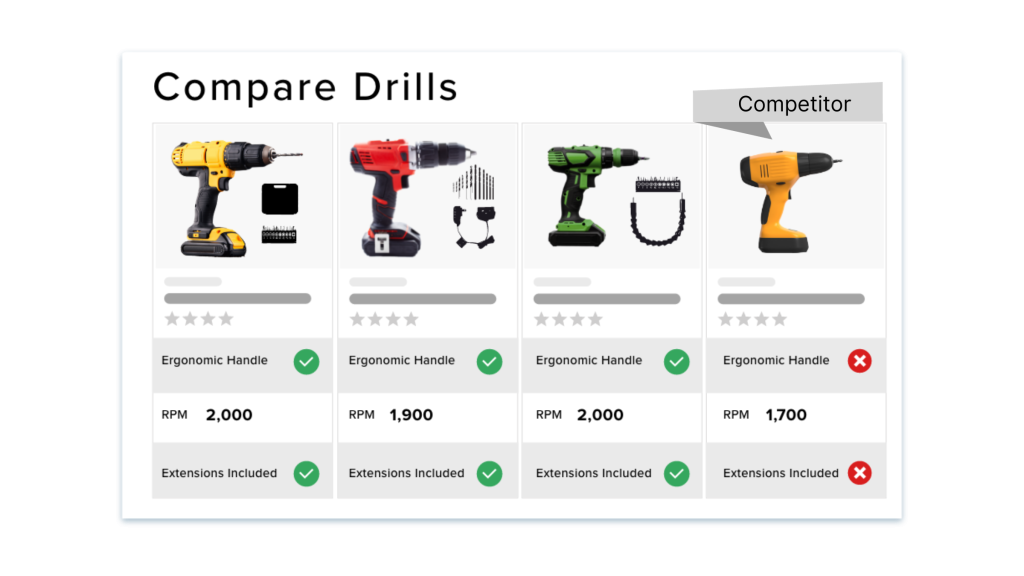 Use product comparison tables for similar products to aid with decision-making
Comparison tables are incredibly effective for helping B2B buyers evaluate alternatives when making purchasing decisions. They help speed up decision-making, encouraging prospective shoppers to select your offerings. However, the comparison tables should make the shoppers' evaluation process as easy as possible. This means you should display key specifications side-by-side, allowing easy analysis of which option best fits their needs.
For example, see the table below comparing three models of power drills. It allows business buyers to evaluate the three models based on critical features like power rating, maximum torque, battery life, and weight. The side-by-side view simplifies weighing critical factors, providing an optimized decision-making aid on B2B product pages.
| | | | | |
| --- | --- | --- | --- | --- |
| Drill Model | Power Rating | Max Torque | Battery Life | Weight |
| PowerXYZ Drive Pro 750 | 750 Watts | 75 Nm | 4 hours | 4 lbs. |
| PowerXYZ Drive Pro 900 | 900 Watts | 90 Nm | 5 hours | 5 lbs. |
| PowerXYZ Drive Pro 1200 | 1200 Watts | 120 Nm | 6 hours | 6 lbs. |
Importantly:
Prioritize comparing within your product lines first

. This showcases your range while subtly guiding visitors to your offerings. You can also contrast versus competitive models to credibly demonstrate advantages.

Make tables skimmable with bold attribute headings and concise text

. Charts or graphs can further visualize differences like cost savings over time. Link out from tables to individual product pages for details.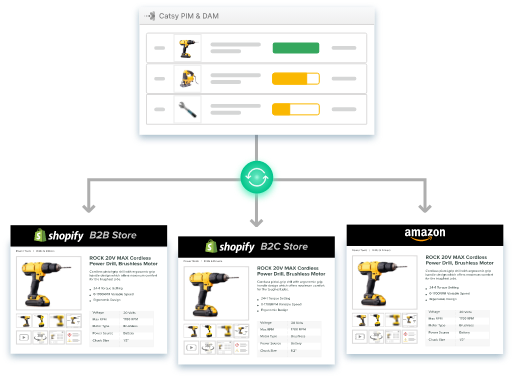 How to Manage B2B PDPs for Shopify with DAM and PIM
Previously, you learned that DAM platforms can be invaluable for enforcing high standards across the organization and channels when handling product images. You should know that the tool works best with a product information management (PIM) platform. Although they serve different purposes, the tools form an incredible duo when used as the foundation of a product content management strategy.
On the one hand, PIM consolidates product information creation and management. On the other hand, DAM brings together all digital assets related to all products in an industrial brand's catalog. And the best part is that you can link the information in PIM to assets in DAM. Some vendors like Catsy offer PIM and DAM as a unified product, meaning you get the best of both worlds in a single platform. The integrated solution enables businesses to create a centralized repository for all their product information and digital assets, making managing and distributing content across multiple channels easier. But how does this platform help manage PDPs on eCommerce platforms like Shopify?
1. Upload data and assets to a single source of truth
A unified PIM and DAM platform provides a single source of truth for product data and visual assets across the organization. Rather than managing data across siloed documents and folders, everything is synchronized in connected PIM and DAM repositories. This benefits both workflow and data quality for cross-functional teams. Marketers, product managers, and customer service all access the same up-to-date information, and changes propagate across systems to avoid conflicting product details. This orderly, centralized approach is critical when optimizing hundreds of B2B product pages across channels.
2. Automatically add meta tags to images
Most DAM platforms automatically append metadata like titles, alt text, captions, and keywords to product images and other visual assets. This happens behind the scenes but is invaluable for on-page SEO. For example, a DAM could take a generic filename like "cnc-machine-blue.jpg" and populate it with "SuperSaw model 9000 computer numeric control (CNC) machine in factory with blue accents" to describe the image in detail for SEO and accessibility.
3. Categorize and curate products and assets
PIM and DAM allow users to tag product information and digital assets with hierarchical categories, taxonomies, and granular keywords. This enables easy filtering and dynamic segmentation and allows industrial brands to create tailored product page experiences while ensuring assets are fully optimized before publishing.
PIM has several features that enable the localization of the details in PDPs, and one of them is the measurement conversion feature. The tool can automatically convert product measurements between imperial and metric units. For example, an American manufacturer could sell the same heavy equipment in Canada with dimensions displayed in meters/cm rather than feet/inches.
5. Generate collateral from PIM data
Some PIM platforms like Catsy can generate PDFs of product information on the fly. The fact the details captured in the marketing collateral come from the PIM's repository ensures that the PDF has accurate and complete product information. You can use this feature to auto-generate PDFs of the PDP when a visitor clicks on the "Generate PDF" button placed strategically on the page.
6. Sync to multiple Shopify stores
It is common for industrial brands to find themselves opening more than one Shopify store. They may need the extra storefronts to target a different customer base or localize shopping experiences after expanding to a new country or region. For example, an American power tools company could have one Shopify store for the US, presenting products in imperial units and English product names. A second Spanish-language store with metric units targets buyers in Spain and Latin America. However, localizing a store for the Indian market might include translating product descriptions into Hindi, adjusting prices for purchasing power, and accepting local payment methods.
While managing multiple stores creates an added workload, the benefits are unmatched. For instance, you can align the PDPs with local preferences, optimizing engagements and improving conversion rates. Even better, you can link a PIM like Catsy to up to five different Shopify stores so the same repository can feed product data to each store while tailoring it for relevant attributes.
So, the American power tools company would use Catsy PIM as the master product catalog manager and the single source of truth and connect it to its Spanish and Hindi stores. But only English-language content would reach the separate US Shopify store.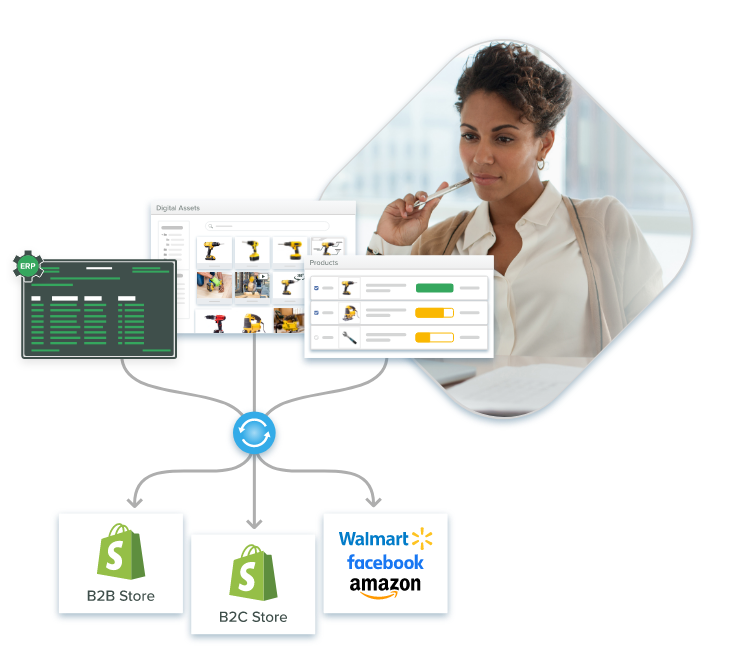 Product detail pages are the make-or-break first impression for B2B buyers evaluating an industrial supplier's offerings. For this reason, brands must ensure their Shopify PDPs make the best possible case to earn business. The pages should provide a transparent view of product capabilities and benefits while remaining scannable. Most critically, the PDPs should be optimized for human shoppers and search algorithms. While achievable, the optimization requires thoughtful strategy and diligent execution. There are no shortcuts to balancing compelling messaging with technical depth across hundreds of products.
Thankfully, PIM and DAM provide indispensable foundations for managing product content at scale. The tools provide a central repository for storing and managing product data and digital assets, establishing a single source of truth. An integrated PIM and DAM platform provides unmatched synchronization capabilities that power workflows to keep product pages fully up-to-date across channels. It also offers automation and built-in SEO optimization to offload tedious tasks that strain budget and staffing resources.
Ultimately, PDP optimization should reduce friction in the B2B buyer journey by anticipating needs and questions. Pages must inform procurement teams just enough to advance their evaluation while compelling them to engage further. Improvements always exist, but perfecting product pages is an iterative process. With the right tools, B2B brands can pull more qualified traffic into their Shopify storefronts to drive revenue.