Ultimate Guide to Catalog Management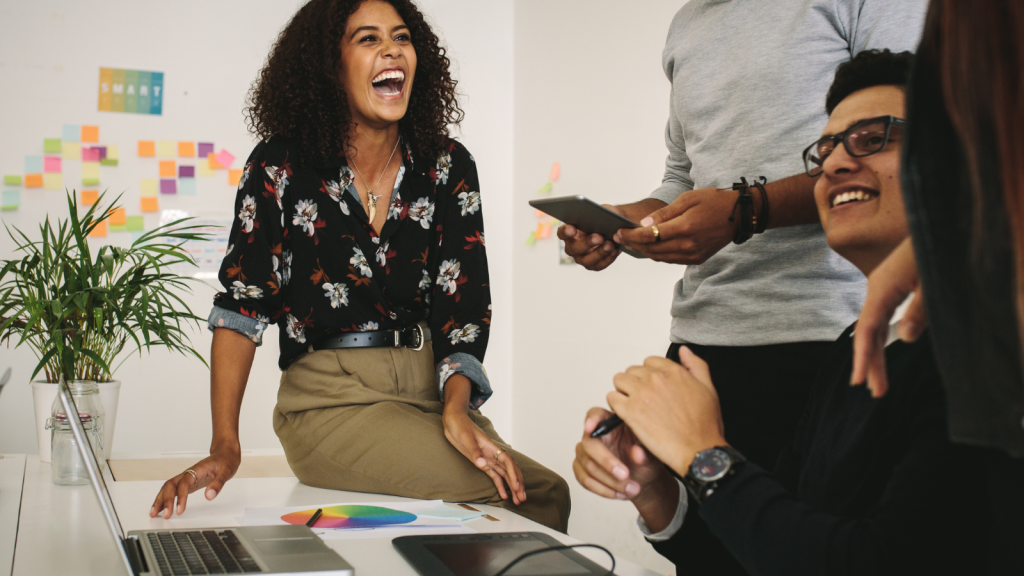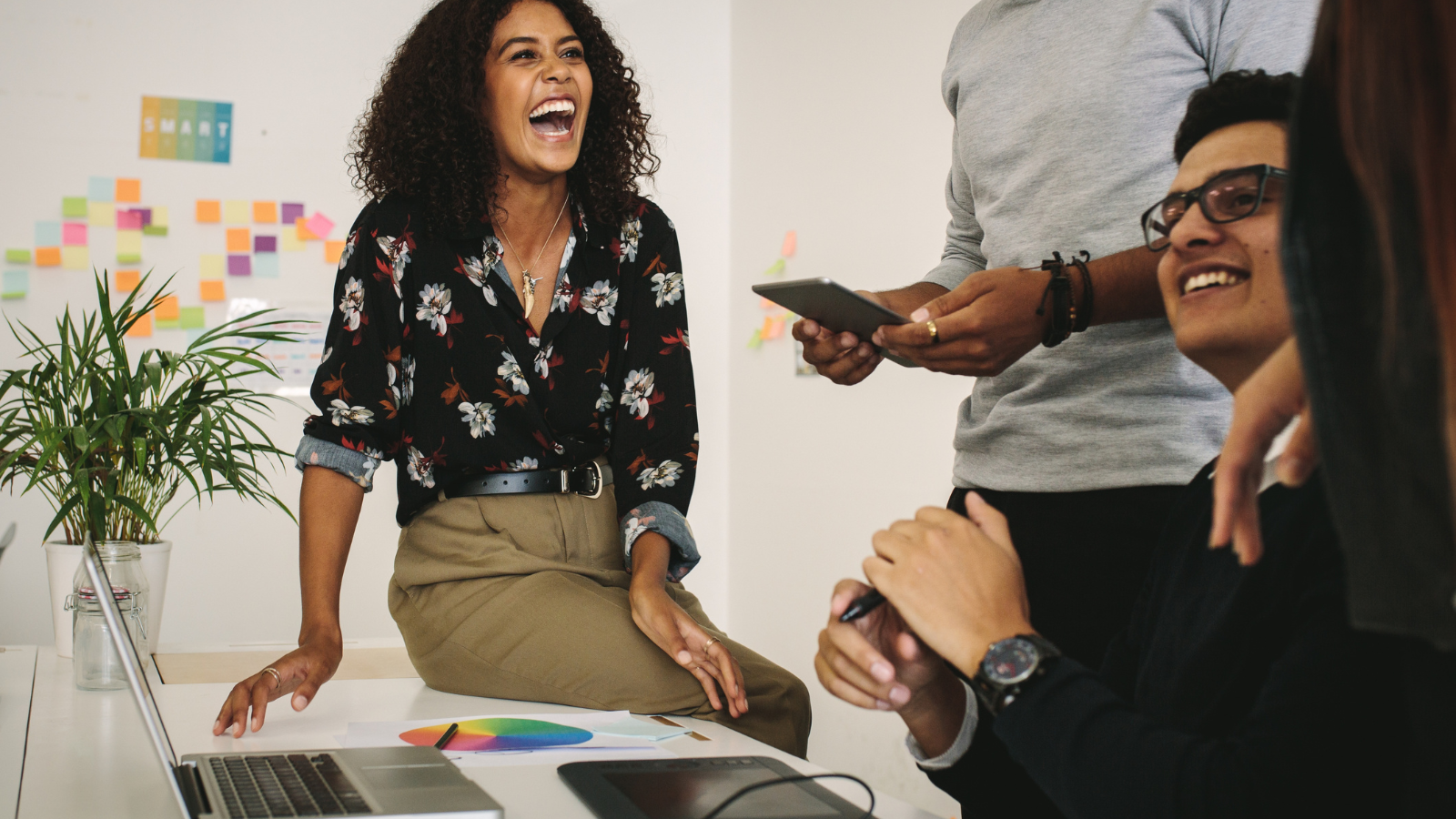 What is catalog management?
Catalog management includes preparing new products and product updates for the marketplace, whether digital (eCommerce) or sales-related (print catalogs).
For brands especially, effective catalog management is critical to building a solid foundational catalog for eCommerce. Along with organized methods for updating and releasing new products, product catalog management effectively enhances search on eCommerce category pages.
Product catalogs include all information related to a product, including pricing, sizing, country of origin, specs, product names, descriptions, care instructions, etc.
For e-commerce catalog management, it is critical to focus on organizing, structuring, and updating your product database across all online sales channels—including your website, mobile apps, social media accounts, email marketing campaigns, and more. This ensures that you provide consistent customer experiences across all platforms and online catalogs, helping shoppers make purchases without looking around for the best deal.
E-commerce catalog management is a vital component in building an online brand because it helps customers find what they're looking for and feel comfortable making a purchase based on the information provided. And, for eCommerce logistics purposes, catalog management helps merchants manage product catalog data for different audiences and track inventories across multiple channels.
Product catalogs for online stores typically contain information about products' colors, sizes, prices, countries of origin, materials, etc., but each product type requires different details and information. Some basic examples are:
A clothing store might want to list the size, price, material, and country of

origin

for shirts;
An electronics store might want to list colors, models, and brands for TVs; and
A furniture store might want to list couches' dimensions, styles, and prices.
Product catalog management systems improve the way brands effectively utilize e-commerce catalog management. In this article, we'll talk about what's new in product catalog management software and why brands should consider making the switch as soon as possible.
In this article you'll learn: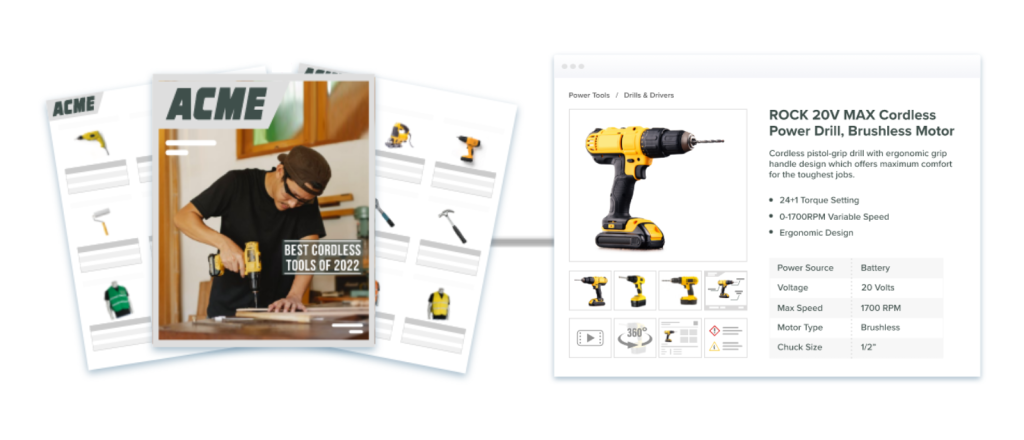 Is there a difference between eCatalog and print catalog management?
While eCatalog management and print catalog management have two different end channels, both management processes and product content are essentially the same. Because of this notion, catalog management software can be used for both simultaneously, acting as a single source of truth for all channels, both print and digital.
Product catalog management systems improve the way brands effectively utilize e-commerce catalog management. In this article, we'll talk about what's new in catalog management and why brands should consider making the switch as soon as possible.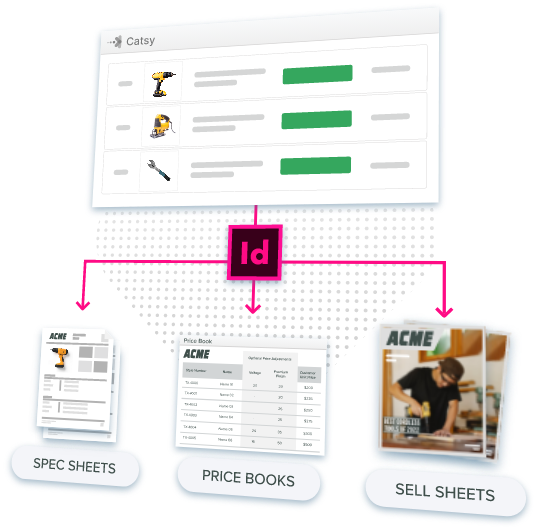 Why is catalog management software critical?
Online retailing continues to gain popularity among consumers. In fact, according to the National Retail Federation, eCommerce sales rose 13% in 2017 compared to 2016. And according to Statista, global online retail sales reached $2.5 trillion in 2018. While this growth is excellent news for retailers, it can challenge managing inventory.
Catalog management tools help you keep track of your inventory and provide detailed reports about how well it is performing. They allow you to view your stock levels, determine what products are selling best, and even perform basic calculations such as average days to sell and profit margins.
If you're looking to manage your inventory better, here are two reasons why you should consider implementing a catalog management tool:
1. Increase Product Visibility
When you use a catalog management system, you'll see exactly where each item is located within your warehouse. This allows you to quickly identify which products aren't moving fast enough and take action accordingly. You'll know where to find high-demand items and those out of stock. By keeping tabs on your inventory, you'll be able to avoid overstocking certain products and missing out on potential sales.
2. Improve Customer Service
A good customer experience starts with accurate product information. If your customers don't have access to the same level of product information that you do, they won't know whether or not they want to buy something. With a catalog management tool, you can easily update your product listings, and add images, descriptions, and other relevant information. Customers will appreciate having easy access to accurate product information, and they'll come back again and again.
In addition, catalog management software reduces amount of fractured data throughout a brand's organization by consolidating everything into one single source of truth, including:
List of tags associated
List of features associated
List of audit records
List of keywords associated
List of inputs
List of target namespaces
Object access list
Metadata values
Default names
Unique, display-friendly name
Image files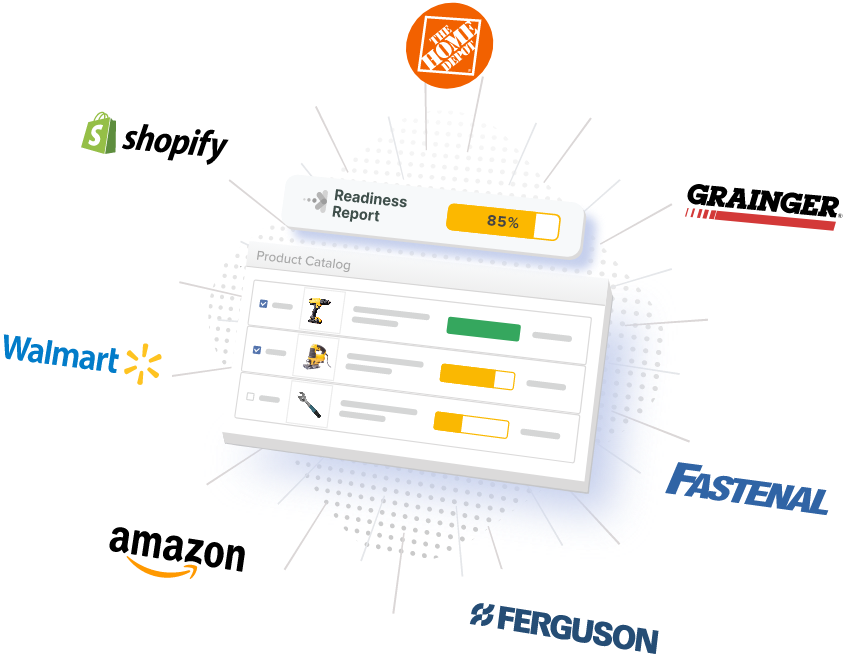 Ultimate Guide to Catalog Management
In the past, catalog management software was tailored to larger businesses. With many products or SKU counts, it makes sense to implement software to organize it all. However, organizations with a lower SKU quantity may have hesitated before investing in long-term catalog management software… At least, not until more products are added.
Now, the environment has changed. We are finding that even smaller businesses can receive a substantial return on investment with catalog management software in today's market. Even organizations with a few hundred products utilize and benefit from catalog management software.
1. eCatalogs Now PromoteSales and Customer Relationships
An eCatalog, a digital catalog, is an electronic source that captures all items and their descriptions, specifications, and prices. The demand for digital catalogs by sales teams is multiplying due to their advantages. These include improved speed and efficiency for both sales and customer service teams.
The most significant benefit of digital catalogs for sales and customer service teams is the ability to share product details quickly and efficiently. For example, if customers need additional information about a particular item, they can email the item's description. Digital catalogs help improve communication between sales and customer service teams, allowing them to communicate pricing, share digital assets, and send emails to customers and prospects.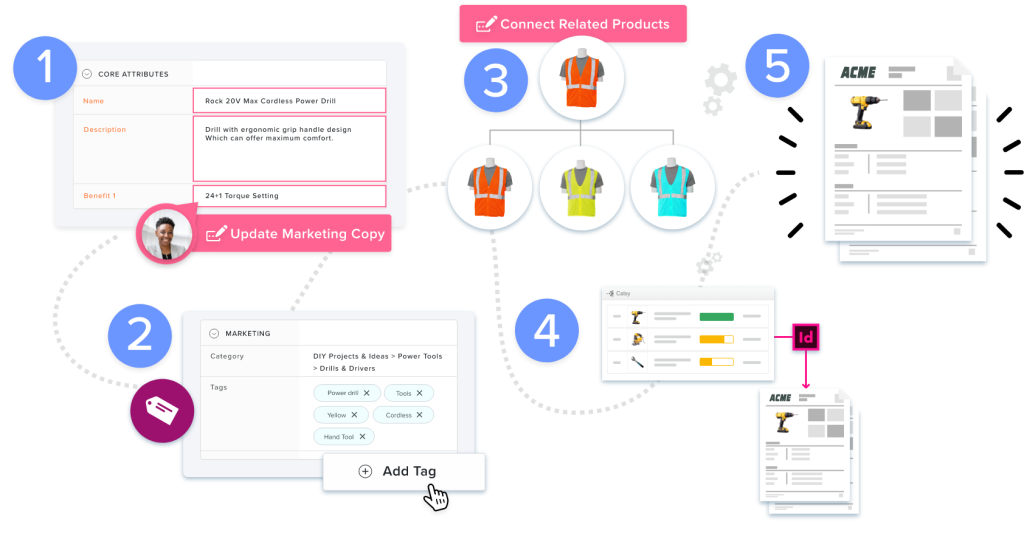 2. Inclusivity to More Businesses
A few years ago, catalog management software didn't support any business type. In reality, it was only logical for companies that had to handle many channels. For instance, brand manufacturers and distributors are the only two kinds that require catalog management. These company types should send item information to many endpoints to provide a brief response.
Today, eCommerce has opened up the opportunity for direct selling. Thus, catalog management software can also cater to sellers and direct-to-consumer businesses.
First, we'll discuss the main business models.
Types of Businesses
Brand Manufacturer
A brand is an organization that manufactures a product. Brands were previously known for their names or identities. They were businesses that had distinct characteristics from other similar companies. Usually, they only sold products to distributors, who continued the supply chain by selling them to wholesalers, stores, and other sellers.
Typically, brands did not sell directly to customers. To manage all these relationships, brands needed to utilize a system that could help them keep track of all their distributors and retail partners. Catalog management software was an ideal fit for brands.
Distributors
A distributor sells to various wholesalers and retailers. They purchase goods from multiple brands' manufacturers in bulk and then create inventories to sell to retailers. Essentially, they are a critical intermediary between brand manufacturers and retailers.
Sellers
A seller is another business entity that purchases goods from suppliers and then sells those goods on online marketplaces. They typically set prices and market the item themselves. Because they often buy from manufacturers, sellers can offer discounts and promotions that brands cannot. In addition, because they purchase directly from the supplier, they may receive better pricing and faster delivery times than if they bought through an intermediary such as Amazon.com.
DTC Organizations
A DTC (Direct To Consumer) organization is an organization that sells products directly to customers rather than through retailers. For example, a car company could create a website where people can buy cars online. Or a clothing store might offer a website where people can browse clothes online.
Support for More Data Types to Enrich Product Content
Today, companies need to manage an increasing number of data types. They also require richer information about their products and services. Catalog management software needs to support new types of products and services. These include customized data such as images, videos, and descriptions. In addition, they should provide rich metadata about these items.
Readiness Reporting for Easy Channel Syndication
To keep track of your products' content, you'll need to store all relevant information about each item. When you're ready to publish your site, ensure you've got everything you need. You may find that having all the correct information stored in one place helps prevent mistakes from happening in the future.
Catalog management software should provide content readiness scoring across multiple departments and teams. Content managers can then review these scores and make changes accordingly. Additionally, content completeness scores should also be provided so that content creators can see where they may need to improve.
Retailer & Distributor-specific content
Department-specific content
All retailers, distributors, and eCommerce platforms have specific business requirements.
Readiness reporting is an automatic tool that enables brands to meet specific business requirements without keeping ongoing tabs on changes in requirements, etc.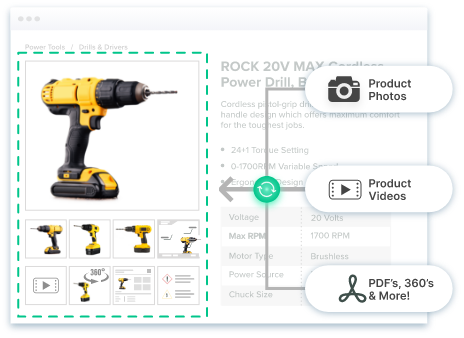 3. Rich Digital Asset Support to Propel Engagement
Marketing has evolved, with it, the need for a wide variety of visuals. As such, catalog management in 2021 supports a broad spectrum of digital assets. The trend has leaned towards highly enriched digital assets for engaging product content. Competition has increased the number of options from video to multiple types of photography.
Recognizing the need for businesses to leverage digital assets, catalog management software has risen to the occasion. Considering the cloud-based infrastructure of catalog management software, this is perfect for digital asset management. The secure storage system keeps all digital asset files safe and unified in a central repository.
Types of Digital Assets:
Original Art Files: PSD, AI, etc.
Web Images: JPG, PNG, Web 2000
PDF Installation Guides, User Manuals & Spec Sheets
Spin Photography
Videos for In Use or Installation
Why is support for more digital asset tags necessary?
There are two significant benefits of a robust tagging system:
Search-ability
Search Engine Optimization
Product Search-ability
The more tagging allowed, the most specific users can get with their searches. It allows for fewer products per search results to easily find products quickly. As a result, all users on the catalog management system can quickly search for specs and data.
Search Engine Optimization
A robust metadata tagging system makes it easier to boost SEO. With any search query, web crawlers pick out relevant metadata, including that digital assets. Image optimization is a massive factor in higher search rankings on eCommerce sites. Detailed metadata improves SEO for product pages automatically.
Overall, a product catalog management software tool will comprehensively tackle digital asset organization for catalog creation. A rich tagging system enables opportunities for high-quality SEO and reduces the time, cost, and inefficiency of searching for products on the user's end.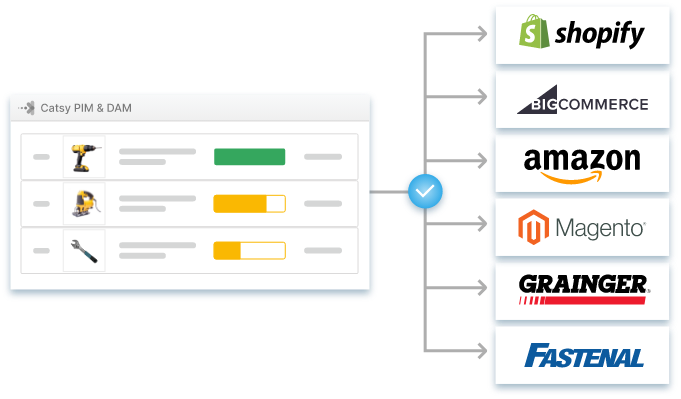 4. Omnichannel Support (Print & Digital) to Boost Sales
Although digital catalogs have taken the forefront of product information management, print is still an option. With digital, businesses like Pennsylvania's Fine Wine & Good Spirits can quickly expand their catalog to offer more products and order sizes online.
Businesses still find print catalogs valuable depending on their specific goals. Interestingly, many brands today have gotten attention for revitalizing the usage of print catalogs, like Ikea and H&M. Furthermore; consumers still are spending on catalog purchases – about $850 a year. So don't be quick to write print collateral off yet.
Luckily, choosing between digital and print is not necessary. With catalog management software, it's beneficial to have both capabilities built-in. To see the value in the recent "counter-trend" of print catalogs, let's look at the types of collateral and when to use them.
Types of Print Collateral
The following are possible forms of print catalog materials that a catalog management software is built to generate.
Catalog
Flyer
Spec sheets
Pricebook
General Catalog
This is a standard, physical publication of product information, usually in book or magazine form. An organization may publish a catalog annually or seasonally. Catalogs tend to target an organization's primary buyer persona or audience.
Flyer or Custom Catalog
This sort of catalog is more specific, focused on only a subsection of products. Usually, the focus can be a collection of relevant products for a specific topic. But it can also be about a subject unrelated to the products themselves. For example, don.com published a new COVID-specific catalog regarding keeping their staff and customers safe.
Spec Sheets for Brand Manufacturers
Spec sheets organize all the technical specifications of a single product. Usually, one or two pages, the purpose of a print spec sheet is to completely answer the technical questions a customer has on a specific product. Spec sheets are at the product level, meaning they focus on a single product at a time. However, they may contain a chart with all the product variations or variants.
Price-books for the Sales Team
A price book will include up-to-date pricing information of an organization. Recently, price books also have a small picture of the primary product. Price lists are usually at the SKU level, so they typically hold information about the current inventory.
Why should businesses use print catalogs?
Digital catalogs make things a lot easier in the fast-paced eCommerce environment. However, there remains to be value in publishing tangible print catalogs or collateral. For one, customers still appreciate the sensory experience of a catalog in their hands. Secondly, it presents another opportunity to receive customers.
There is a significant trend in bridging the gap between digital and print marketing efforts. Frequently, consumers are inspired by print catalogs, whether they realize it or not, to check out the brand further online or in-store. Significantly, those who browse print catalogs find their way to digital touch points to make a purchase. Print simply adds a second channel or touchpoint to reach consumers. Using both to enhance each other can be a decisive move.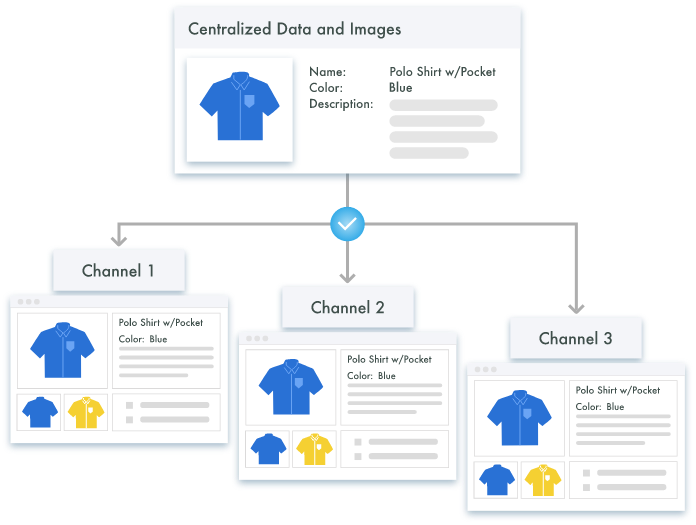 5. Accessible from Multiple Devices for Efficiency
A significant trend in catalog management software has been making the interface accessible across different devices. Mobile-friendly technology is critical to all organizations today.
Usually, we think about mobile-friendliness as necessary for user experience. Generally, mobile-friendliness is critical for searchable, easy-to-navigate customer-facing apps. In other words, we assume that making an app adaptable to any screen size is more relevant to what customers will see and not internal teams.
Instead, behind-the-scenes applications also need to cater to certain use cases or specific instances where a mobile-friendly interface will improve processes.
In what instances would mobile friendliness be necessary?
Within catalog management software, there are many roles that department employees take on. User roles include the following (non-comprehensive) list:
Marketing users
Designers
Supply chain users
Dealers
Although not all users require mobile access, the feature is critical for Sales Reps and the Executive Team. Notice – these two user roles are vital to the final steps of the product cycle. Sales teams overlook the process of converting a lead into a customer. The executive team oversees the overall management of product deployment. Let's take a detailed look into why these teams necessitate a mobile-access use case.
Why is mobile access important for sales and executive teams?
Recently, it has become common to find many employees working on mobile. In fact, 91% of employees use smartphones for work-related tasks, even in their free time. Be it remotely, on-site, or after work hours, smartphones have gained traction as a work tool.
Gone are the days of no-phone policies at work. We see this increased smartphone usage maximizing sales. An efficient catalog management software considers mobile use cases. That way, it streamlines the creation of sales teams.
Here are the main ways that a catalog management software can do that:
Rapid product search
Real-time communication
Workflow and data are unified
Sales and executives can quickly search and find products in the catalog.
Both external and field sales reps can utilize their mobiles to search for products as needed quickly. After all, sales reps are the drivers of business growth. They fill the gap between your organization's goals and customers. In other words, they find and guide leads down the critical sales funnel. However, the journey to a successful product purchase relies heavily on efficiency.
Additionally, the executive teams will be on their mobile devices on the go or after hours. As the decision-makers, they have to be aware of all updates. So any notification, change, or task waiting for approval on the catalog management software must reach them immediately. As such, this quick access to the interface speeds up approval. What this does is solve the inefficiency of teams waiting for feedback. Instead, executives can assess and approve (or reject) quickly. So all departments can get on with their following tasks promptly.
Built-in Workflow Speeds Time-to-Market
A decade or so ago, eCommerce was gradually revving up. But while time-to-market (TTM) was critical, it was not until the massive competition of recent years made it was critical.
To make creating a new catalog faster, companies started implementing workflows into their catalog management systems. Workflow automation allows users to create a series of steps that can be performed automatically. These steps include uploading images, updating pricing information, and sending out emails. With these features, companies were able to increase productivity and reduce costs.
To launch a new product, several steps must be taken. These include the supply chain, marketing, and the design team, among others. Once these processes begin, they continue through various stages until the final product is ready to ship. During this entire process, there is constant improvement and iteration.
Because the pressure is high when introducing a new product, an organization must go about it carefully. Unfortunately, this can take a lot of time. Even more, there's always a risk of finishing the process late, which has disastrous implications for revenue.
What is an NPI workflow?
Workflow on a catalog management software unites the process with the data. Since all product information is already in one place, it makes sense to set up a workflow in the same place. Doing so reduces the inefficiency of gathering data from various locations.
A New Product Introduction workflow is a systematic way of doing all the tasks necessary to complete the process of creating and marketing a new product.
In other words, workflow brings together all the teams included in the project. Then, it propels productivity by keeping everyone on task. So all sequential tasks move from one user to the other. For example, the design team sends a blueprint or plan to the supply chain, which uploads parts data onto the software. When one task is complete, everyone is notified.
Smooth communication is key to a quick time-to-market.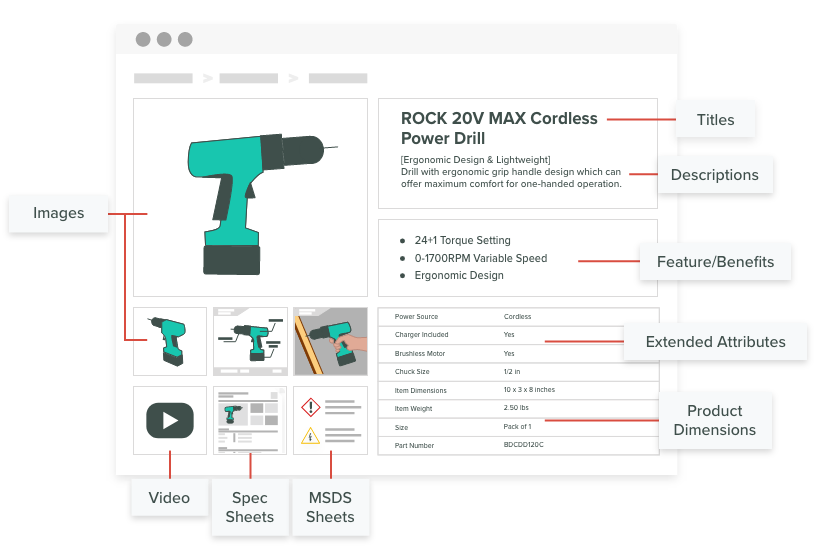 6. Time-saving Automatic Item Setup Sheets
To make selling to retailers more accessible, creating load sheets is essential. Creating these load sheets is the first thing before shipping your products to various channels, such as Amazon, eBay, Etsy, Walmart, and others. Unfortunately, manually creating load sheets can take hours, if not days, to complete. Luckily, there are tools out there that automate the entire process. Catalog machine tools allow you to import product information into an Excel sheet, saving countless work hours.
Yet, it doesn't end there. Depending on the number of retailers you want to sell, it could mean setting up various sheets with specific standards for each retailer.
To make an item setup sheet, we must start with a list of items. We can then create a template based on that list. Once we have our template, we can add any number of fields to it, including price, quantity, weight, size, color, material, and so forth. Finally, we can save the template and apply it to any new products we wish to import.
How do automatic item setup sheets eliminate inefficiency?
With so many channels, it's more important than ever to keep an eye on the time.
However, our attention can get divided between setting up products for each and every retailer. Teams have to be careful about ensuring product data fits the requirements. On top of that, surveying the sheets for errors is so necessary. Yet, no matter how often you double-check, there is always a chance for human error.
Hence, this is why adding item setup sheets on catalog management software is a significant feature. Instead of manually filling in all those retailer load sheets, it's possible to complete the task automatically. And in less time too.
Benefits of ready-to-go item setup sheets:
Easier to import and export in-bulk
Conform to retailer requirements with little effort
Automatically send to retailers with one click
Only update product data once
How does it work on catalog management software?
Catalog management software acts as a hub from which you can complete item setup sheets for each retailer. That means all product data is already stored in one place. So, all the information is available when you want to push your products to a retail partner.
A catalog management software with item setup sheet templates provides the tools to send data to retailers.
Are you sending product information to Amazon? There's an Amazon item set-up sheet. Selling to Target? There's an item setup sheet for Target. The list goes on. In general, this system eliminates inefficiencies in trying to cater to each and every retailer.
Finally, updating product data is simply stress-free. Once an edit is made to your master product information on the hub, it automatically updates. Across all channels and retailers, the data remains consistent. No more multiple spreadsheets and out-of-date copies. Additionally, there's no need to update each retailer item sheet manually when using a catalog machine.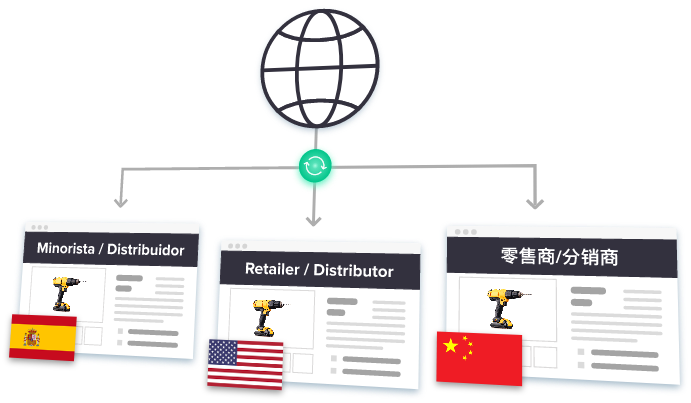 7. Product Catalog Management Software Enables Global Selling
It's no secret that selling on a global scale has significant implications for revenue.
After all, the Internet of Things has made it possible to enter markets in many other countries. Global scalability is a fundamental goal for many organizations, considering the estimated outlook of $190.79 billion for global sales for 2021. Although COVID-19 contributed to a decrease compared to the original estimate (due to India and China's markets), global eCommerce is still your playing field. Especially for smaller eCommerce businesses, new or ongoing.
That being said, selling globally is quite an undertaking.
Businesses must consider a lot of factors. For example, what global markets hold promise for their niche? What languages can their store support and how? Where do you start with currency? How do you choose a reliable supplier in another country?
Of course, the complexity depends on your retail partners, sales channels, and shopping cart applications. Some software can facilitate globalization easier than others.
Fortunately, you can consolidate this process with catalog management software. Because of global eCommerce demands, such software has stepped up to support localization-friendly features.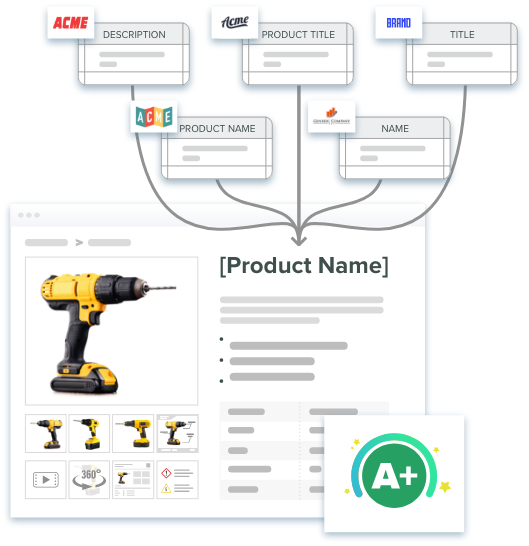 8. Supports App Integrations for Consistent Data
Behind a modern catalog management software's rich syndication network is API integration.
An API, or an application programming interface, connects one software to another. This connection transfers data easily. Usually, an organization would manually add or update data to each relevant tool they use.
For example, if there are new product data from the supplier, they would have to manually add it to any retail spec sheets, marketplaces, or perhaps their ERP. Instead, APIs send data wherever an organization chooses, even automatically.
Why should catalog management software include APIs?
Consistency is essential for an eCommerce organization. Integrating with other apps is big for catalog management software today.
With APIs, there is an elimination of inconsistent or missing data. As we all know, manual work can lead to human error. In contrast, the automation of APIs updates product information immediately. This drives syndication to retailers, marketplaces, and other sales channels.
Even more than that, integrations fuel consistency in work across departments. In other words, it brings together the different parts of an organization. The enterprise management, inventory, sales, customer service, and other areas are all on the same page. External sources, like suppliers and retailers, can receive information via APIs. Sending data to any of these outlets is faster. In turn, this improves productivity and allows all parties to save time.
What integrations can catalog management software support?
Each catalog management software differs in the applications it connects to. But generally, the following are some standard integrations an organization can benefit from in 2021.
Shopping Cart Integrations
In addition to retailers, organizations might sell on shopping cart sites like the following.
BigCommerce
Magento
PrestaShop
Shopify
Umbraco
WooCommerce
These web-based applications allow businesses to have their independent storefront (meaning without a third-party retailer or marketplace). As per the name, they are built to streamline the customer shopping process. To do this, they offer a way to save all products a user adds to their cart while they browse the site.
Back-end Integrations
The process behind an organization is the foundation of a store's performance. That's why so many applications exist to support each facet. Many departments, teams, and external sources must collaborate for streamlined work. The following integrations are valuable components to connect to your catalog management software.
Enterprise Resource Management: This software compiles an organization's data from all its parts. The goal is to improve your processes based on the data and keep track of all resources. For example, you have a bird's eye view of manufacturing, supply chain, or a compilation of all analytics.
Customer relationship management (CRM) systems: help companies manage customer relationships. They can be used to automate marketing campaigns, such as emailing customers about new products or services. A CRM system may include tools to create automated emails, track responses, send out reminders, and analyze results. Some CRMs allow users to add notes to contacts to remember who they spoke to last week and what was said during the conversation. Other features include contact tracking, call logging, order processing, invoicing, and payment processing.
Inventory Management Software: When you have a tight connection between your catalog management software and inventory, it increases the quality and value your customer service teams can provide. With data about stock levels and order and tracking information, customer service reps with access to the catalog database can quickly relay this information to customers.
Other integrations
Catalog management software may also support linking to external storage, file-sharing services, and design software.
Dropbox
Box
Egnyte
Adobe InDesign
Such integrations make it easy to upload new files or package the catalog management software's product data in a neat folder via these file-sharing services.
Overall, businesses value the ability to integrate all their systems. That's why in today's market, catalog management software must be able to support all these connections.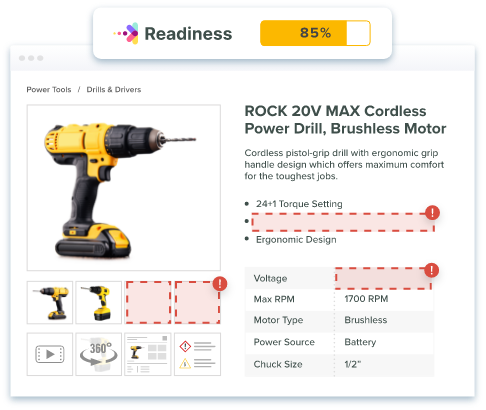 9. Promotes Accurate Content for Reduced Returns
Today, publishing unfinished or lacking information is risky. About 99% of people avoid incomplete products. Unsurprisingly, making an informed purchasing decision is insufficient if not all relevant data about a product is available. In worst case scenario, companies will see a high return ratio. Despite sales, clients will be disappointed if the product doesn't match its description. Ultimately, higher returns outweigh sales growth.
Recognizing the importance of content completeness, catalog management software must provide a way to assess product pages.
What is content completeness?
A complete product page has to be robust. In other words, it must be rich with the utmost descriptive copy, features, benefits, and all relevant specs. Additionally, there must be many rich images, graphics, or videos.
A catalog management software needed to include completeness scoring capabilities in 2021. For each item, the software can generate an overall score for how comprehensive it appears. For example, you'll know if every feature seems present but two are missing. You'll know if a product's page lacks certain tags and metadata. In short, the interface notifies users if something is missing. It does so with a completeness score (also known as a completion percentage).
How does catalog management software do this?
Completeness scoring will display how far along your product content is. Are there any elements missing? Do you have all tags and keywords filled in? Are titles optimized? Are digital assets linked and tagged correctly? Every part of your product page is analyzed to avoid missing critical details before publishing.
Benefits of Completeness Scoring
Assessing how complete your content is eliminated a lot of inefficiencies. Ultimately, it leads to customer satisfaction. With the following significant advantages, you can ensure
Reduce returns: When content is complete, subsequently customers have all the information they need. Hence, they can make an informed buying decision. The product they receive will match the content perfectly, leading to reduced returns.
Save time: No longer is there a need to survey every single product. A catalog management dashboard gives an overview of what products require more content. That way, you save time searching and focus more effort on satisfying content requirements.
Customizable – Choose what features you want to prioritize for completeness.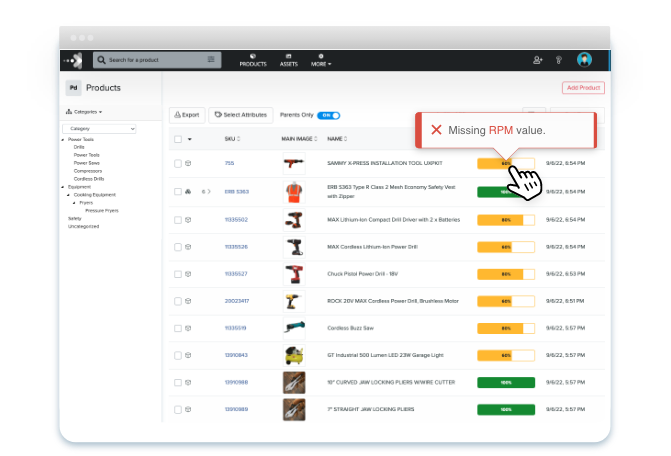 10. Content Grading Functionality for Higher Conversions
Businesses are finding that, in today's market, the stakes are much higher. With new eCommerce stores popping up left and right, you must prove your store's value. To do so, content is what you have the most control over. There could be thousands of the same product, but excellent content quality helps put you ahead of the competition.
Content grading is a system for assessing the quality of a product page. In contrast with completeness, which checks if all elements have been completed, content grading is subjective. It essentially compares how optimal a product page is.
How does content grading work?
A catalog management system should allow users to customize the criteria used to evaluate products. Companies can then choose important features and assign them grades accordingly.
For example, you can set a grade of A+ for content that includes at least 5five bullets and features, 5 product photos, maybe a video, and at least three main keywords in the description. A score of B might mean only four bullets and no video. You get the picture.
Because it is dependent on the business, this feature is totally customizable. Although it may feel disconcerting to "grade content" without a standard level of quality, think about it another way. Content grading leaves you open to explore what best works for your business.
You can also gain insight from industry comparisons – looking at similar content in a related business niche. But ultimately, what really matters is constantly improving upon your own performance. With content grading, you can set parameters to measure just how well your content is performing. And you can always check out different content standards and see if they work for you. Ultimately, you'll have complete control over your creative process and the results you get.
Why is content grading necessary? 
Content grading is essential for conversion rates. It helps optimize your efforts for maximum product pages. To get more action, content should always be A+.
Usually, an organization may go in this blind. They create content and meet their qualifications as well as possible while hoping for the best outcome, which allows for defining definable characteristics that indicate the level of quality. No matter the status quo of your business, there's often an unexpected way to set yourself apart. So content grading makes the task more grounded because content can really go in any direction.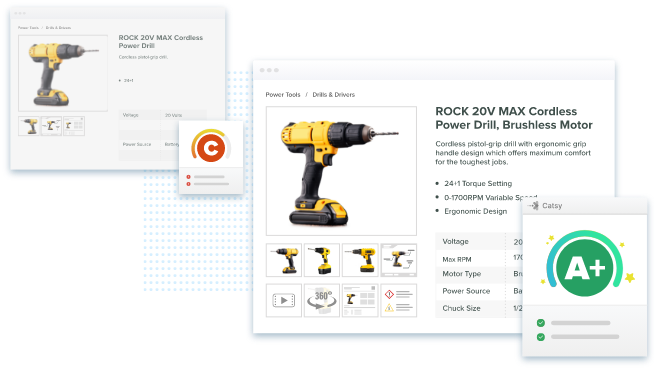 11. Enhanced Content Pages to Reduce Bounce-offs
In marketing, there's content, which is the basis of modern advertising online. And then there's enhanced content.
Enhanced content generally refers to a product page with original brand elements using next-level visuals and copy. Like a digital magazine spread, enhanced content may follow a specific artistic structure. It showcases detailed product images that are richer than traditional product photography.
Additionally, it tells a story with a highly intriguing product description, features, and benefits displayed creatively. Although not necessary, enhanced content offers an advantage over competitors.
Enhanced content keeps visitors on the page.
Enhanced content is known for its tremendous impact on delighting visitors.
According to Walmart's partner RichContext, enhanced content can improve conversions by 10-20%. If anything, it definitely reduces bounce-offs.
We all know that rich digital assets are engaging, so we don't need statistics to know that a product page with an exciting design will draw visitors into it. An excellent example of such a page would be one with enhanced content.
After all, humans digest visuals much easier than text, especially when it's compelling and includes valuable details.
Benefits of enhanced content:
Promote a consistent brand message
Stand out from competitors
Better Search Engine Optimization
Provide informative product details
How does catalog management software support enhanced content?
Why separate the creative process from the product data truth?
All the marketing content you need is already on the software. So there's no time wasted compiling all your digital assets, descriptions, bullets, and specs.
A significant trend for catalog software is to provide retailer-specific templates.
For example, the A+ Pages template for Amazon is ready for you to input your desired copy and digital assets simply.
Some retailers require an approval process for enhanced content. Although it may take some time to get through the process, you can ensure that you follow the retailer's guidelines before wasting your time. Templates provide that they follow the retailer's policies before wasting your time. Overall, it maximizes your ROI because there's minimal effort and faster publishing.
This trend is gradually gaining traction. Catsy's PIM software is currently in the works for supporting high-quality enhanced content.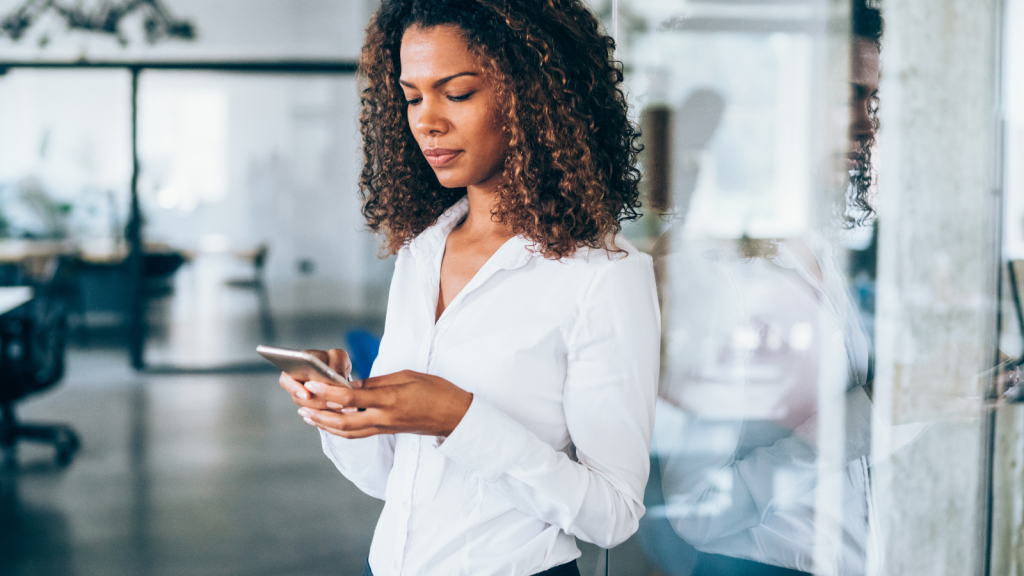 Catalog Management Dont's
Don't create too many versions of an attribute.
Let's say you are selling your product to consumers and tradespeople. Having two versions of features is necessary because there might be different value propositions on the same product. It's essential to keep attribute versions separate to appeal to different audiences, however focusing on attributes that are relevant to any target audience can save a lot of time and confusion for your brand.
Don't create channel-specific digital assets.
While many channels have different size and format requirements, that doesn't mean your brand needs to keep channel-specific digital assets on hand at all times. If your brand is doing that, you most likely suffer from scattered assets throughout dropbox files and face impossibilities when searching for exact product-specific assets. Instead, invest in catalog management software like Catsy DAM that can provide a master copy for every product photo that you can continuously reuse to format or channels as you need.
Don't manage too much content at the channel level.
Just as creating too many audience-specific attributes can put your catalog management in the danger zone, so can managing too much content at the channel level. It's important to service catalog management product data from the general product information important to every channel and then tailor it to specific channels. For B2B customers, this can look like preparing power drill product content generalized, specifically for channels such as Grainger. Using catalog identifiers in catalog management software can help you tailor content per channel or audience.
If you have an extensive catalog, don't sync the whole catalog every time.
For large catalogs (we're talking 1,000+ SKUs), Delta-based sync works best. Cutting out a wide range of data to sync can make your catalogs syncs faster and more effective.
Don't duplicate digital assets by renaming them to part numbers.
Duplicating digital assets and renaming them as part numbers may seem like a good idea, but as your catalog grows and you begin to offer a wide range of products, this strategy will become useless and confusing. Investing in catalog management software that includes a digital asset management system will provide your team with a single-platform catalog management system.
Don't create from scratch. Just refresh.
In your catalog management process, there's no need to start from scratch. Simply refresh your product content with product catalog management software that will help you understand the gaps in your product content and improve it.
Don't expose your whole catalog across all channels
In the same sense that you shouldn't tailor product content too much, you still need to tailor product content just enough for specific channels. This is especially true if you're using multiple stores on a given eCommerce platform. It's critical that your products aren't competing against each other for SEO.
Historically, catalogs have been vital in driving offline and online revenue. We've come a long way from the initial mail-order sales catalogs. Yet, aspects of modern commerce will still find a way to utilize both print and digital.
With a robust catalog management system, businesses can speed up various processes with minimal product content mistakes. Even further, elements of catalog management software in 2021 will enhance and enrich any catalog.
Overall, it makes for a better experience on all accounts.
Catalog management solutions support business models, channel syndication, eCommerce material, robust digital assets, and product descriptions. At Catsy, our PIM software offers catalog management tools that deliver all the advantages. We work with businesses to streamline product data storage and catalog creation.
Catalog management improves the work of all teams for bigger, better, and faster processes.
Summary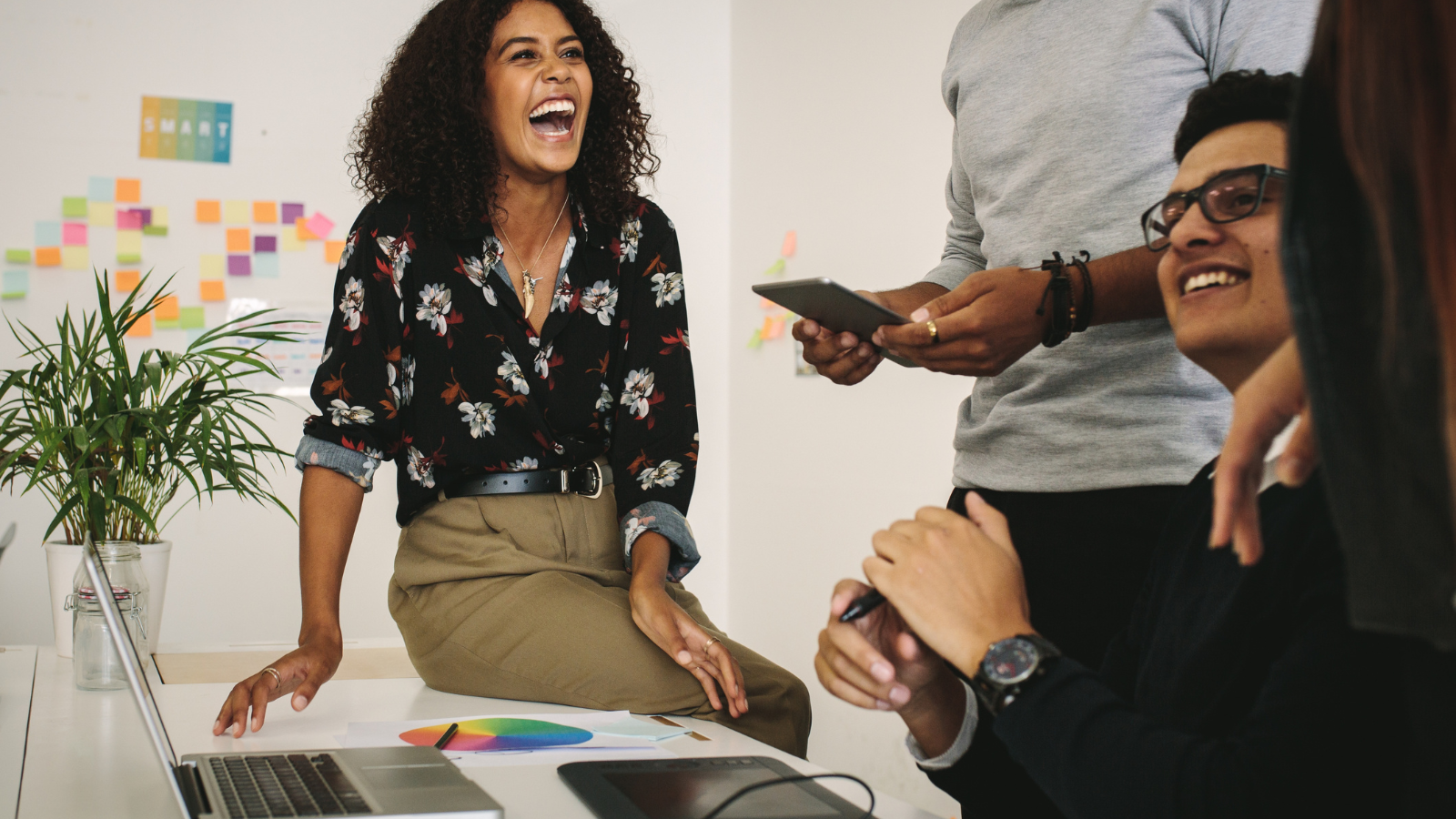 Article Name
Ultimate Guide to Catalog Management
Description
Automated catalog management is critical to growing a business at scale. Here's our guide to optimizing catalog management.
Author
Publisher Name
Publisher Logo