Answering the Question: Can You Make Multiple Shopify Stores on One Account?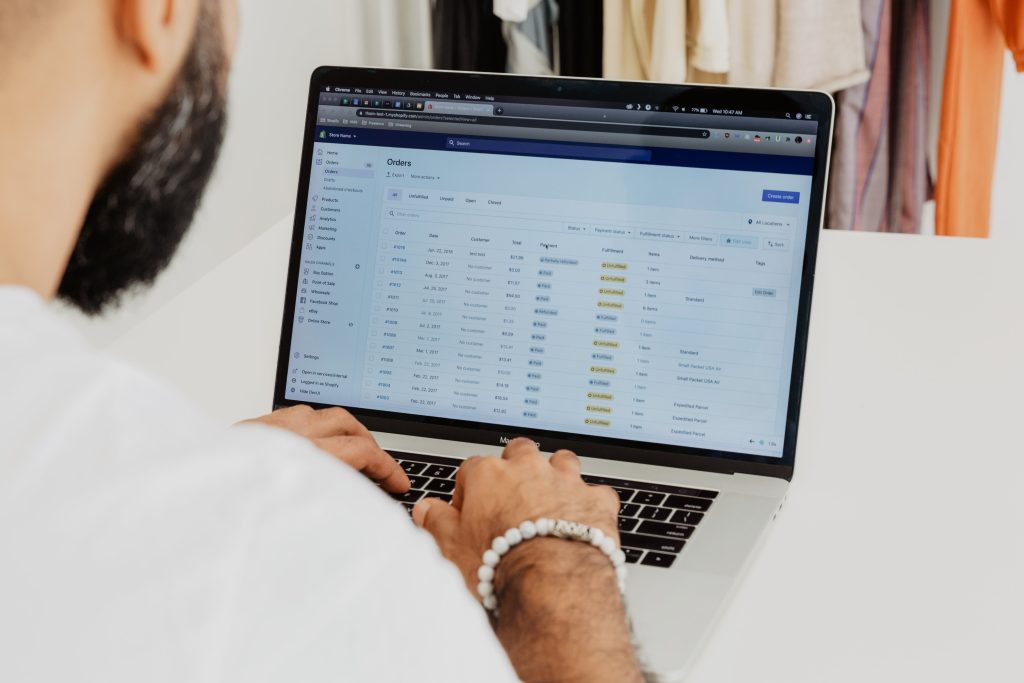 What is common among Kylie Cosmetics, Skims, and Red Bull? Of course, these brands are famous for their celebrity founders – Kylie Jenner (Kylie Cosmetics), Skims (Kim Kardashian), and Dietrich Mateschitz (Red Bull) – but they are far from the common denominator. Instead, these brands run online stores built on Shopify and operate multiple Shopify stores – for example, Red Bull has the official Red Bull online shop, which operates within Europe and internationally, the Red Bull shop in the UK, and the offizieller Red Bull online shop, for German shoppers.
Merchants and brands are continuously drawn towards multiple stores for want of greater segmentation, increased revenue channels, and the ability to test new markets. Industrial enterprises with a global clientele may want different stores for specific regions to move closer to the customer. However, can they operate more than one storefront on Shopify? The short answer is no; Shopify's setup enables one connected store, forcing merchants to create completely separate Shopify accounts for each additional storefront, leading to disjointed operations.
And yet, the allure of multiple eCommerce sites built on Shopify continues to grow. The good news is there are workarounds. Savvy merchants can overcome the limitations of the underlying software and run smooth operations and workflows across multiple separate Shopify stores. This article explores these workarounds in more detail, providing actionable insights for merchants wanting to operate multiple Shopify-powered stores as seamlessly as possible.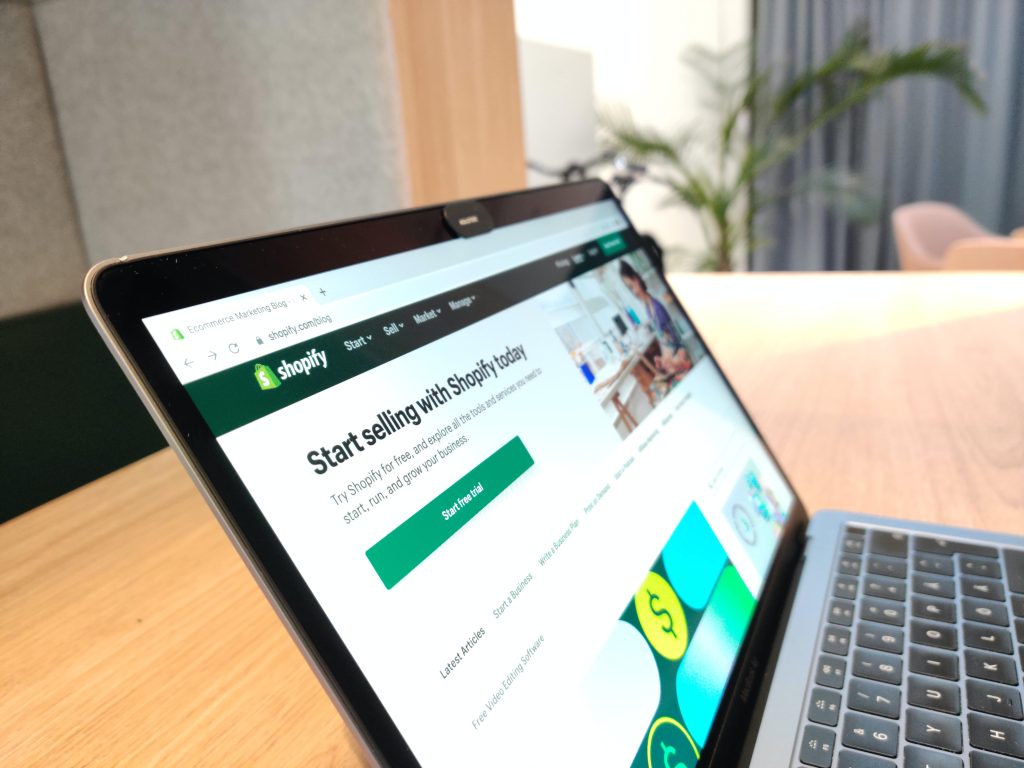 Benefits of Having Multiple Shopify Stores
It is not a matter of choice for enterprise brands to operate more than one online store, especially when their products line shelves and retail shops globally. Multiple stores provide the brands with several critical strategic benefits:
A manufacturer can create unique online stores for each of their brands. For example, a power tools manufacturer can have a store for each line of products. Each store can be associated with a distinct brand identity and product type tailored to each customer segment.
Audience targeting involves identifying and segmenting potential customers according to factors like the size of the business and specific business needs. When deployed in industrial marketing, this approach helps companies to achieve the following:
 It allows marketers to understand the specific needs, interests, and challenges of different customer segments, enabling the creation of more personalized and relevant marketing messages.
 Marketers can focus on the most relevant audiences, avoiding resource wastage.
With the insights gained from audience knowledge, companies can better design products that meet their target customers' needs.
Of course, a better understanding of your

customers

gives you an edge against rivals. The knowledge helps you meet unique customer needs and build stronger relationships.
For example, an electrical equipment manufacturer can operate separate Shopify stores targeting their distinct customer segments – electrical contractors vs. distributors/resellers.
The contractor store could focus on individual wiring sales, circuit breakers, and outlets for specific jobs. The store may feature consumer-friendly navigation, small order quantities, and a streamlined purchasing process. Marketing focuses on product features and quality.
For the distributor store, the focus could be on bulk orders that this segment purchases to resell. This store may feature volume pricing, separate logins for distributors, and the ability to place large inventory orders. Marketing emphasizes business partnerships and wholesale discounts.
The separate stores enable the manufacturer to optimize each store's design, pricing, and messaging for their respective audiences. This avoids channel conflict between individual purchases and bulk orders. In short, separate stores allow precise segmentation between end users and distributor partners.
The online space is new for most enterprise brands – most companies rely on offline customer relationships to conduct their business. However, with eCommerce presenting unmissable opportunities to discover new customers and grow the brand, operating a virtual store is no longer a choice.
But, unlike the retail sector, enterprise brands are more cautious and would instead wind through many hoops to ensure all downsides are covered before taking a new direction. And testing is the most reliable approach. Regarding online stores, testing involves evaluating changes to the site before rolling them out more broadly.
For example, consider an industrial shelving manufacturer that wants to experiment with a fresh look without impeding the operation of the existing site. In that case, the manufacturer might create a secondary "test" Shopify store identical to their primary site. On this test store, they can experiment with a significant site redesign, new page layouts, different navigation, new apps, integrations, etc., without impacting their live production store.
Once they confirm the new site design achieves their goals – such as higher conversions – they can quickly replicate the changes to their primary store with minimal risk. This testing isolation protects against unintended impacts on revenue.
The manufacturer can also test smaller changes like new product descriptions, alternative images, pricing adjustments, promotions, and sales funnel optimizations on the secondary store first. Successful tweaks can then roll out across other stores.
An industrial equipment supplier that sells to government entities can create an isolated Shopify store solely for these public sector sales. Doing so allows them to configure this store to meet strict government security standards without impacting their commercial sales stores. For example, they can:
Install advanced user

authentication

like CAC/PIV card login required for access.
 Enable highest-grade TLS encryption protocols.
 Configure IP safe-listing to restrict access.
Integrate advanced security and permission controls on data.
Undergo certification like FedRAMP or meet other compliance requirements.
 Provide isolated payment processing to avoid commercial payment data co-mingling.
This approach enables the brand to limit security risks, restrict access to sensitive data, and demonstrate compliance with public sector requirements. In other words, the isolation allows the company greater operational control, risk segmentation, and compliance demonstration.
When a materials manufacturer wants to expand sales into new countries, creating local Shopify stores helps them localize the customer experience. For example, when expanding into France, the manufacturer can set up a dedicated French Shopify store with:
Translated product detail pages and descriptions into French.
 Localized homepage and navigation menus using French terminology.
Integrated local payment methods like Carte Bleue credit cards.
Calculated pricing in Euros.
Set up local shipping, taxes, and duties specific to France.
Provide French customer service, marketing, and support.
This creates a localized experience that caters to French customers and complies with French regulations. The same approach can be replicated when expanding into any new country, and it is crucial because it allows the manufacturer to customize and tailor the eCommerce experience for each new market they grow into. It removes language and operational barriers to cross-border sales.
When a manufacturer acquires another company that already operates an online store, migrating the acquired store to Shopify allows it to retain its current customer experience intact. For example, suppose an established power tool maker purchases a competitor that has been selling online for years. In that case, they can set up a separate Shopify account and move the acquired store over on a 1-to-1 basis, preserving its look, feel, and functionality. This avoids disrupting the acquired business' customers with a new store overhaul. Their existing site design, product catalog, order history, and branding familiarity remain unchanged.
Nevertheless, companies may want more than one store for various reasons, most of which have been discussed. It emerges that no matter the reason or objective, enterprises want multiple Shopify stores for the versatility and flexibility they offer. Without the ability for one store to provide a one-size-fits-all solution, one cannot help but expect more businesses to adopt the multi-store model. But this model brings many challenges.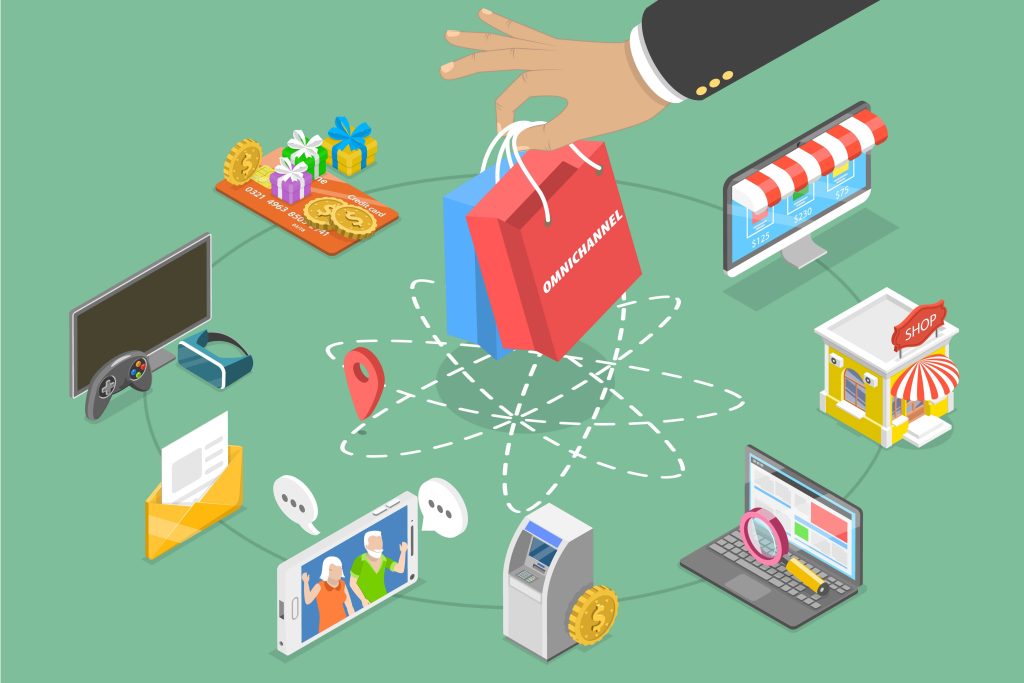 Challenges of Separate Stores in Different Accounts
A recent BuiltWith analysis (as of September 12, 2023) indicates that of the top one million eCommerce sites worldwide, most (21%) use Shopify as the core technology. This means Shopify accounts are in high demand all over the world. Competitors like WooCommerce are hot on Shopify's heels because they allow one account to open several stores.
Contrariwise, Shopify designed its accounts to only power a single online storefront. With the account ready, you can build out your connected storefront – adding products, customizing the design, installing apps, configuring shipping and payments, etc. Your store's operations and settings are tied to that Shopify account. The user also gets a dashboard to manage orders, customers, and revenue. You can scale up the subscription plan as your store grows, but to reiterate, each Shopify account can only have one active store connected to it.
Shopify offers a reprieve by way of allowing users to open multiple stores with the same email credentials. This lets you receive important communication about each store in a single inbox. Nonetheless, each store has a different admin, which implies siloed operations. The walled-off nature of the multiple-store model has several downsides, including:
With stores completely siloed, there's no easy way to get a unified view of product information across all stores. This makes tracking inventory status, managing product catalog changes, and analyzing product performance extremely difficult.
Duplicative Shipping/Fulfillment
Merchants have to manage order fulfillment separately for each isolated store. This prevents leveraging shared inventory or centralizing shipping for efficiency. It also causes issues with returns and exchanges across stores.
Inventory gets trapped within each separate store structure. For example, if one store has excess stock, but another has inventory shortages on the same SKU, there's no easy way to re-allocate it. This causes operational inefficiencies.
Separate Marketing Efforts
Marketing has to happen distinctly for each store, preventing optimizing campaigns across all stores based on shared customer data. It also leads to duplicated work.
No Replication of Quick Improvements
If a merchant improves store design or functionality in one store, there's no simple way to replicate those changes across other stores. Each store has to be updated manually.
With stores completely separate, all financial reporting and analysis are isolated, complicating getting a big-picture view of the entire business' health and performance.
Individual Security Protocols
Every store requires implementing security practices individually instead of unified policies applied centrally. This both weakens security and creates duplicated work.
Merchants cannot leverage purchase history, preferences, and engagement across stores to personalize the experience. Customers essentially get treated like strangers when engaging other stores.
Maintaining a consistent brand experience across separate stores owned by the same company becomes extremely difficult.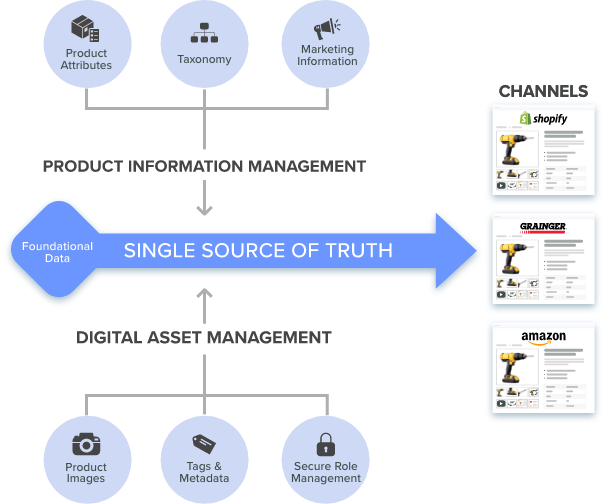 Workaround for Creating Multiple Stores
The good news is that you can work within Shopify's restrictions and utilize a single source of truth for product content. 
Let's consider VoltCorp, a leading electrical equipment and tools manufacturer for commercial, industrial, and home use. Its main products include:
Wire and cabling
Breaker boxes and fuse panels
Switches, receptacles, and outlets
Lighting fixtures and many others
The management unveiled a new strategic plan that splits the online offering to focus on three audience types. They are:
VoltCorp Retail – sells consumer-focused products and small orders directly to home users.
VoltCorp Pro – focuses on commercial sales of larger volumes to contractors and electricians.
VoltCorp Distributors – targets bulk orders to resellers and distributors.
This means the company must create three separate stores, and without integration, managing them across individual Shopify accounts would be highly siloed. Thankfully, the management has learned about a DAM & PIM platform, Catsy, with which they can connect the stores. The relevant teams use Catsy to achieve the following:
Sync product data – As the company adds or updates products in one store catalog, Catsy automatically pushes those changes to the other catalogs, keeping product info consistent.
Centralize assets – All VoltCorp product images, videos, and spec sheets are stored in Catsy's DAM solution. When teams upload assets, they can map assets to specific products and push them to become available in relevant stores.
Cross-store workflows – When VoltCorp releases a new product line, out-of-box workflows within Catsy can be used to ensure logistics, engineering, product

management

, marketing, eCommerce, and SEO teams can add data and assets to relevant product records. 
Cross-store promotions – VoltCorp can use Catsy to quickly run integrated promotions across all their stores using timed price drops and product bundling options. 
PIM & DAM Are Essential Tools for Multi-Store Management
Operating multiple eCommerce stores without centralized management is an uphill task. However, PIM (Product Information Management) and DAM (Digital Asset Management) platforms can enable multi-store management from a single source of truth. While many vendors offer PIM and DAM solutions separately, few vendors, such as Catsy, offer an integrated solution. Even better, Catsy has an industry-leading Native API Integration with Shopify, making it one of the best solutions for multi-store operations.
But precisely what makes a PIM/DAM platform critical in managing multiple Shopify stores? For starters, the PIM consolidates all product data – titles, descriptions, pricing, inventory, etc. – in one centralized location. It provides a "single source of truth" that syncs product information across integrated stores. This avoids manually duplicating data entry and ensures consistency.
Similarly, a DAM centralizes all digital assets associated with products and branding – product images, videos, logos, and other media. It makes these assets accessible from all connected stores and allows for automated bulk re-sizing and re-naming for Shopify's requirements. This maintains brand consistency across channels and facilitates quick asset sharing.
A unified PIM and DAM provide the product data and digital asset foundation needed to efficiently run multiple eCommerce stores as if they were a single entity. They eliminate the headaches of manual data duplication and fragmentation. So, users get the best value when they select an integrated PIM/DAM platform, avoiding the extra expenses and hours required to obtain and integrate a separate DAM software.
A consolidated PIM/DAM solution like Catsy enables:
Centralized product data and asset

management

are distributed across all connected stores automatically.
New products are added once and published everywhere seamlessly. Updates also sync globally.
Storing images, videos, and media in one place reduces duplicates.
Preset automation rules can trigger workflows when data changes – update listings, send promotions, etc.
Apps and custom integrations are set up once and work globally.
Central

management

of user

permissions

, roles, and access across all stores.
With a unified data and digital asset foundation powering all stores, duplication of effort is eliminated. Changes made anywhere sync globally. Workflows and apps integrate seamlessly, and users leverage a single dashboard to manage access rights across stores.
Ultimately, a consolidated PIM/DAM platform is the connective tissue that binds multiple Shopify stores together. It provides the critical data and asset foundation that enables operating disparate stores as a unified business. Rather than siloed data and fractured processes, the tool gives merchants a central nervous system for orchestrating organization-wide processes integrated with Shopify software and your ERP data.
This unified data backbone harmonizes information, digital assets, apps, workflows, and users across all integrated stores. Products, pricing, media, permissions, changes, etc., sync seamlessly everywhere. With this single source of truth powering the ecosystem, multi-store Shopify users can deliver consistent brand experiences across channels. On the other hand, customers get a streamlined shopping journey no matter which storefront they use.
Internally, teams can manage stores holistically rather than individually. Operations are optimized globally, and duplicated effort is eliminated. Simply put, merchants who want the flexibility of multiple storefronts without the attendant fragmentation must implement a consolidated PIM/DAM as the essential first step. This connective tissue binds stores together for streamlined operation and optimized customer experiences.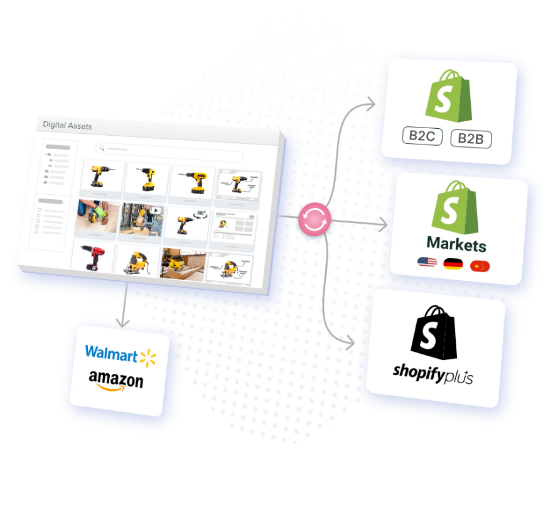 Shopify's one store per account limitation poses challenges for merchants wanting multiple storefronts. It exposes them to data fragmentation, duplicated efforts, and inconsistent experiences. You can circumvent the hurdles by deploying a management platform like Catsy to unify data and operations and achieve centralized control.
However, it helps to understand that the ideal setup depends on the business. Brands wanting a unified brand experience benefit from centralized data and assets via a PIM/DAM, while those fulfilling orders globally gain from integrating with ERP inventory and Catsy's workflows.
In short, while Shopify does not directly enable multi-store management, savvy merchants use tools like Catsy to fill the gaps. This delivers the flexibility of separate segmented storefronts with the seamlessness of centralized operations.
Summary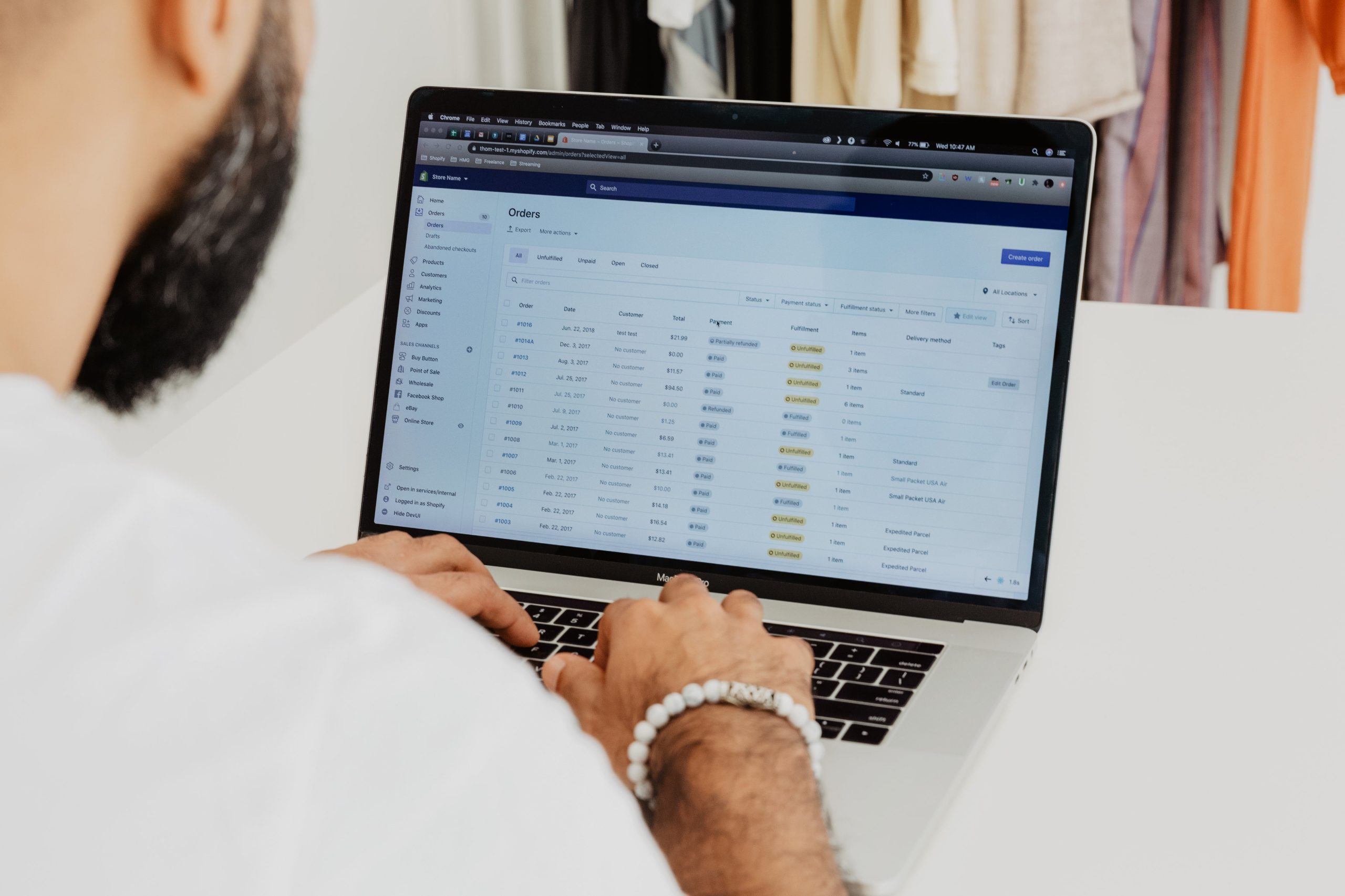 Article Name
Answering the Question: Can You Make Multiple Shopify Stores on One Account?