Operating an eCommerce business can be incredibly difficult. So many moving parts, lots of information, enormous product categories with varying attributes, different sales channels with unique requirements – the list goes on.
In addition, data management gets progressively harder with more SKUs, customers, vendors, and supply chain difficulties. Nine times out of ten, at the heart of an organization is an ERP system, that keeps the business running.
Enterprise Resource Planning (ERP) refers to a form of software that companies use to efficiently run the day-to-day activities of their business, regardless of which field they operate in.
ERP here is a "catch-all". Most often, it is the representation of the many systems a business relies on to get everything running in unison.
As more companies are using two, three or even four Shopify store to sell products, creating a strong engine to drive revenue on all stores is increasingly important. In addition to an ERP, many companies use a PIM (Product Information Management) system. PIM is used to aggregate and normalize product data for omni channel sales.
Check out the video (below) to see how ERP and PIM integration provide opportunities to drive revenue for businesses like yours.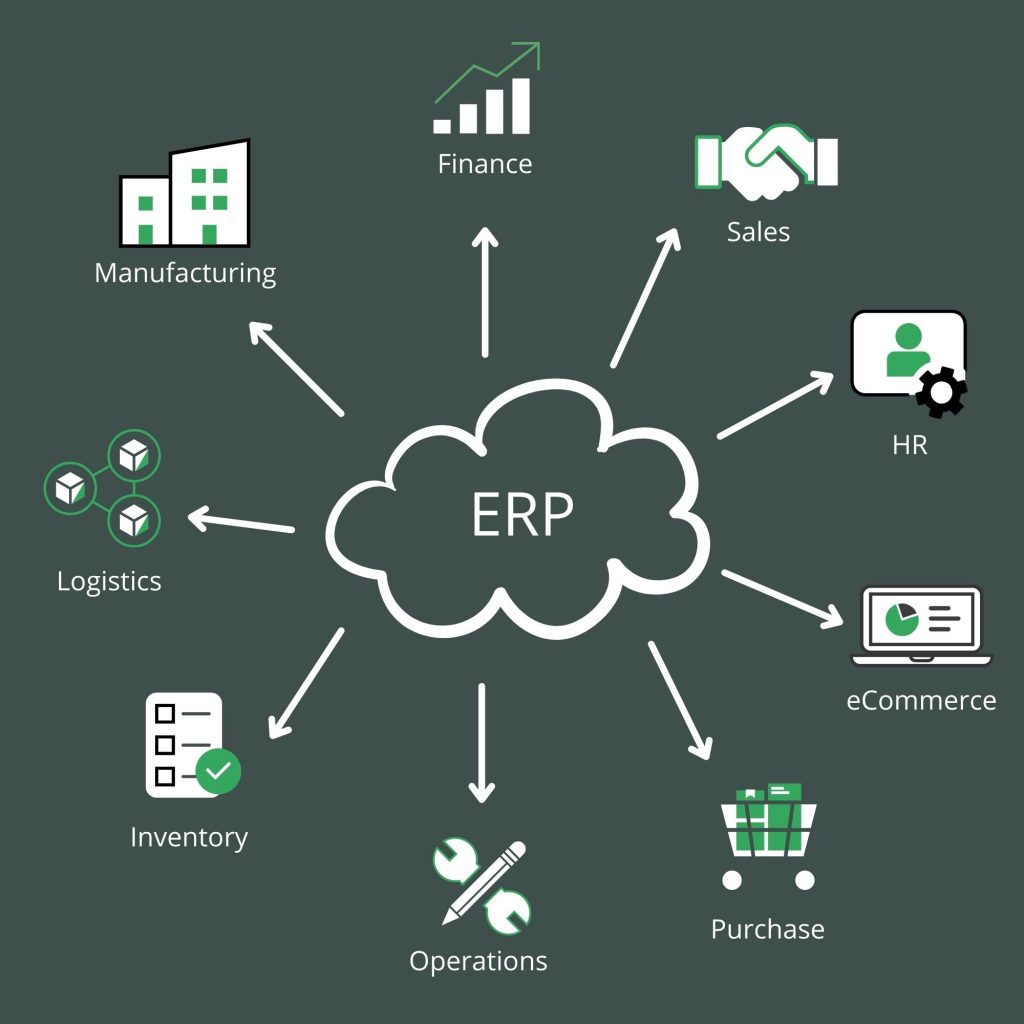 Understanding ERP
In order to understand ERP, let's talk about the different functions of an ERP system.
Activities can vary, but there are several common uses that most companies utilize ERP for. These include project management, accounting & finance, procurement, inventory management, vendor management, and compliance among others.
Some ERP include advanced features that focus on performance management and monitoring to help in planning, prediction, and reporting.
eCommerce businesses, in particular, can use ERP systems to help synchronize and automate certain aspects of the business. For example, inventory management, new product updates, vendor management, recording sales, quoting, financial tracking among others.
This detailed and powerful software offers you the basic catch-all solution to shape your eCommerce business into the business you dream it to be.
However, ERP systems can be archaic. Without a well thought out integration solution, ERP remains little more than a central hub for data storage.
To fully prepare products for Shopify, you'll need to utilize additional software solutions. This brings us to the key points of integration, plus the best ways to go about it.
What is ERP Integration?
ERP integration simply means connecting your company's ERP system to other systems. These other systems can be applications, eCommerce platforms, partner stores, important data sources for your business, etc.
ERP synchronizes your company's main activities with the 'outside world' so to speak, where you have your business assets. Connecting ERP with eCommerce is beneficial because it creates a simple, unified flow of information across the entire business. All in real-time.
Integration leads to increased efficiency and collaboration. This integration offers the benefit of seamless collaboration with ERP and eCommerce store (Shopify). The connection enables you to push changes faster while ensuring the accuracy of data.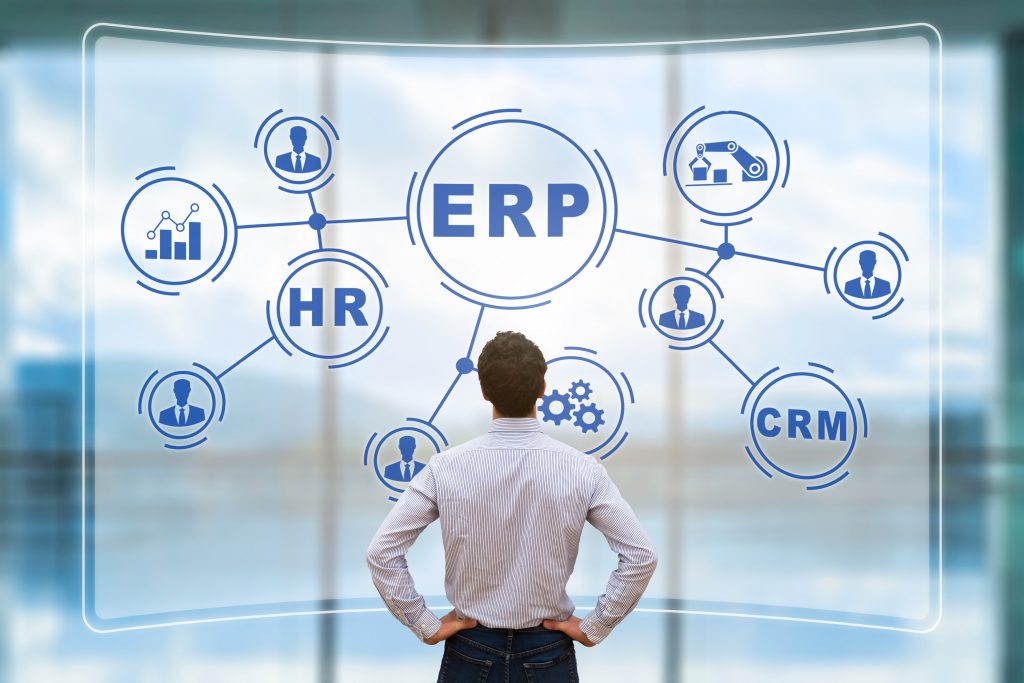 Execution is Everything
When executed the right way, ERP integration will ultimately help you deal with business operations with practically no issue. In addition, ERP provides you with easy-to-use connectors for many digital platforms, including Shopify.
This enables you to automate and more easily oversee your eCommerce business processes. You can deal with orders, transporting technicalities, available stock, new items, invoicing details, and clients, all thanks to this valuable integration.
How inventory works with Shopify-ERP integration:
With EPR-Shopify integration, there's no reason to manually oversee and change the stock of your products, for example. You are able to sell what is in stock, and all new products are automatically available on your store.
What is not in stock is automatically taken off of the store. This eliminates the all-familiar eCommerce pain of customers placing orders only to later be told "sorry, this product is unavailable."
If there is a challenge in the supply chain and certain products are not likely to arrive in time as per schedule, this update will be relayed from your ERP and since your ERP is already synched with your Shopify site, the necessary updates are scheduled and sent out to all sales channels in advance.
This is the beauty of ERP integration.
As a Shopify user, with unlimited information or complex administrative office processes, you will find an ERP Integration very convenient.
Indications or signs that you should to start thinking about ERP integration with Shopify:
Your order volume has constantly and significantly increased.
Delays in accounting, inventory, and budget reports.
Delays in deliveries and shipping of products or wrong delivery because of high volume.
Dealing with numerous suppliers.
Your products' inventories are complex or huge.
Dealing with numerous B2B client connections.
Your employees are insufficient or inadequate due to manual duties.
A feeling that you need to find ways to make your work a lot easier and improve customer service.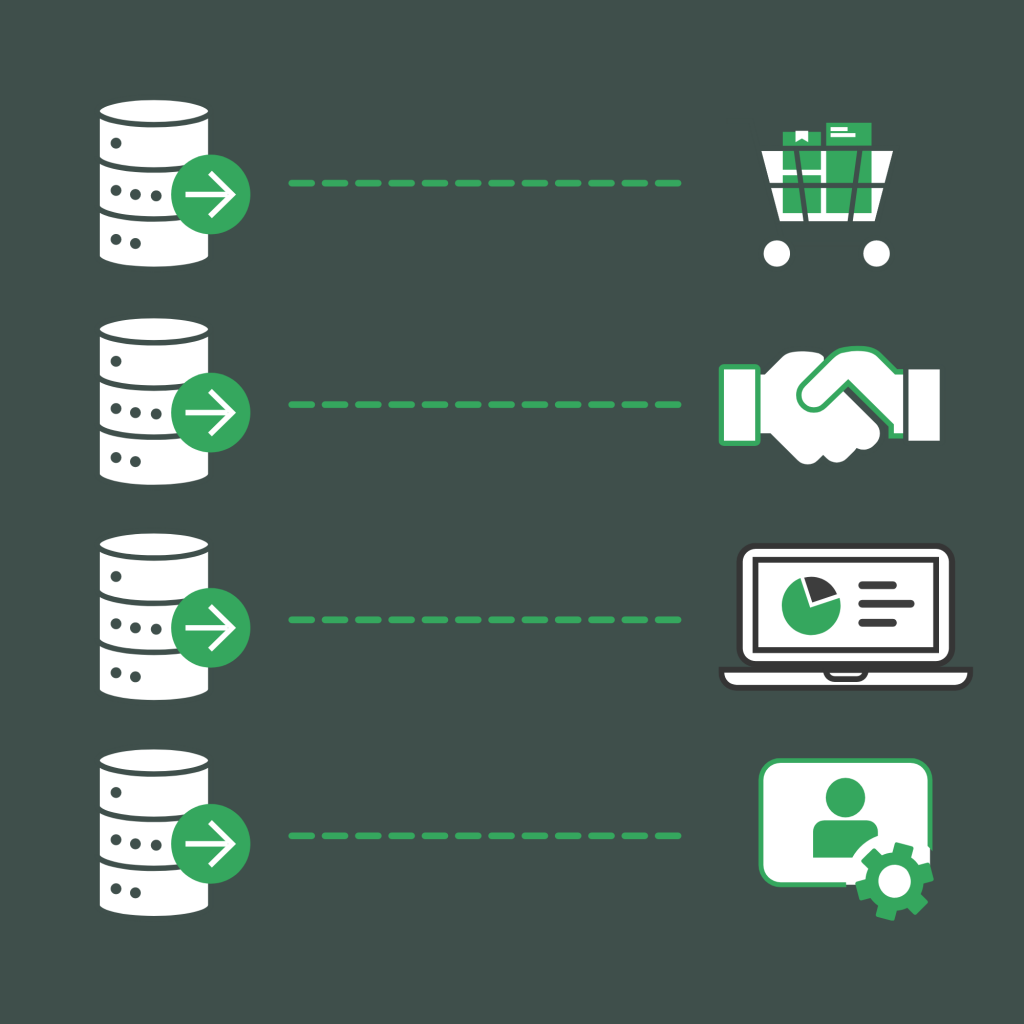 Common Examples of ERP Integration
Choosing the type of ERP Integration that will work best for your business is led by your precise business needs but equally important, the budget you are willing to allocate to this exercise. The main types of ERP integration include:
Ecommerce
This involves connecting your eCommerce store with an ERP solution which helps boost the shopping experience for clients and improves the store's effectiveness.
An Ecommerce ERP Integration helps you track all the information such as orders, customers, leads, customer services, taxes, delivery, and shipping times. This integration makes it possible for crucial information to be easily available to anyone in the company that deals with the eCommerce store.
Business Intelligence (BI)
This has rapidly turned into a standard in ERP management frameworks. The BI component of ERP collects data and performs assessments that give useful pieces of insights about business processes.
BI becomes vital as a business begins to depend on decisions supported by information. The most significant feature in BI is a decent reporting feature, so you can sort out the information it analyzes.
Project management
Some ERP systems incorporate project management solutions. With a project management module in your ERP, you will be able to decide on project costs, work with finance and HR offices, see project processes and updates, and see who's working on which project and its delivery time or date.
This motivates responsibilities across departments hence helping companies tackle minor project issues before they become major issues.
Customer relationship management (CRM)
Your business can't last and develop without customers. Therefore, dealing efficiently with your eCommerce clients and leads should be a critical priority.
A CRM module of ERP allows you to monitor and track all your clients and lead information inside your ERP solution.
Subsequently, the bits of knowledge you can acquire by integrating your CRM with your eCommerce store will help to enhance your advertising/marketing and sales activities.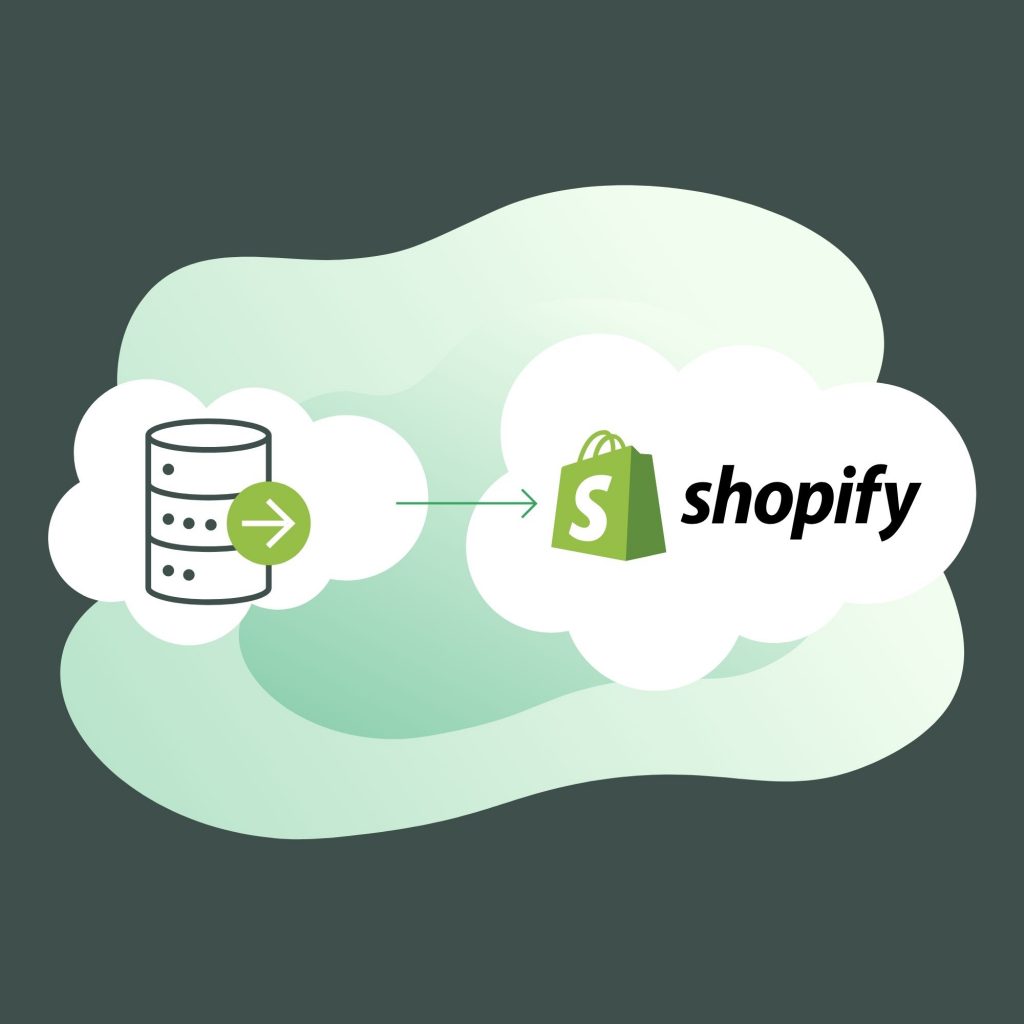 Shopify ERP Integration Benefits
An ERP REPORT by Panorama Consulting Solutions indicates that 95% of participants reported that the implementation of ERP solutions including integration boosted all or some of their business processes. ERP integration has evolved throughout the years and here are some of its benefits for your business:
Enhanced productivity
When each worker utilizes the integrated ERP system as the primary point of work, it enhances efficiency.
They are able to work flawlessly thanks to the automation of their duties including scrutinizing product information, tracking inventory deductions, shipments, and deliveries. This further enhances productivity.
Superior customer experience
Better client engagement equals better client experience. For example, an ERP-Shopify integration system can inform clients when the process of manufacturing starts, when the product is in packaging, and when it's being shipped and delivered.
According to an ERP Trends report by Accenture based on a survey of 122 CIOs, 38% concurred that ERP enhances their capacity to fulfill client needs. Moreover, 25% concurred that it improves the potential of their omnichannel management.
Cost effective
Perhaps the greatest value you will get out of an ERP-Shopify integration is the opportunity to save your company or organization costs in various ways.
By automating numerous basic, tedious errands between your ERP and Shopify operations, you limit mistakes and the need to add workers.
Cross-organization coordination makes it straightforward to detect shortcomings that are likely to increase expenses. It prompts better resource distribution, from work to stock to hardware.
Data security
Both your Shopify and ERP contain vital, delicate information that you must always strive to keep secure. In the absence of proper Shopify-ERP integration, some data will be at risk of compromise or loss.
This is why you need to integrate the two so that data from both sides is secured in a synchronized system where everyone can see what is happening and take action when there is a need to. This is crucial especially now that cyberattacks are on the rise.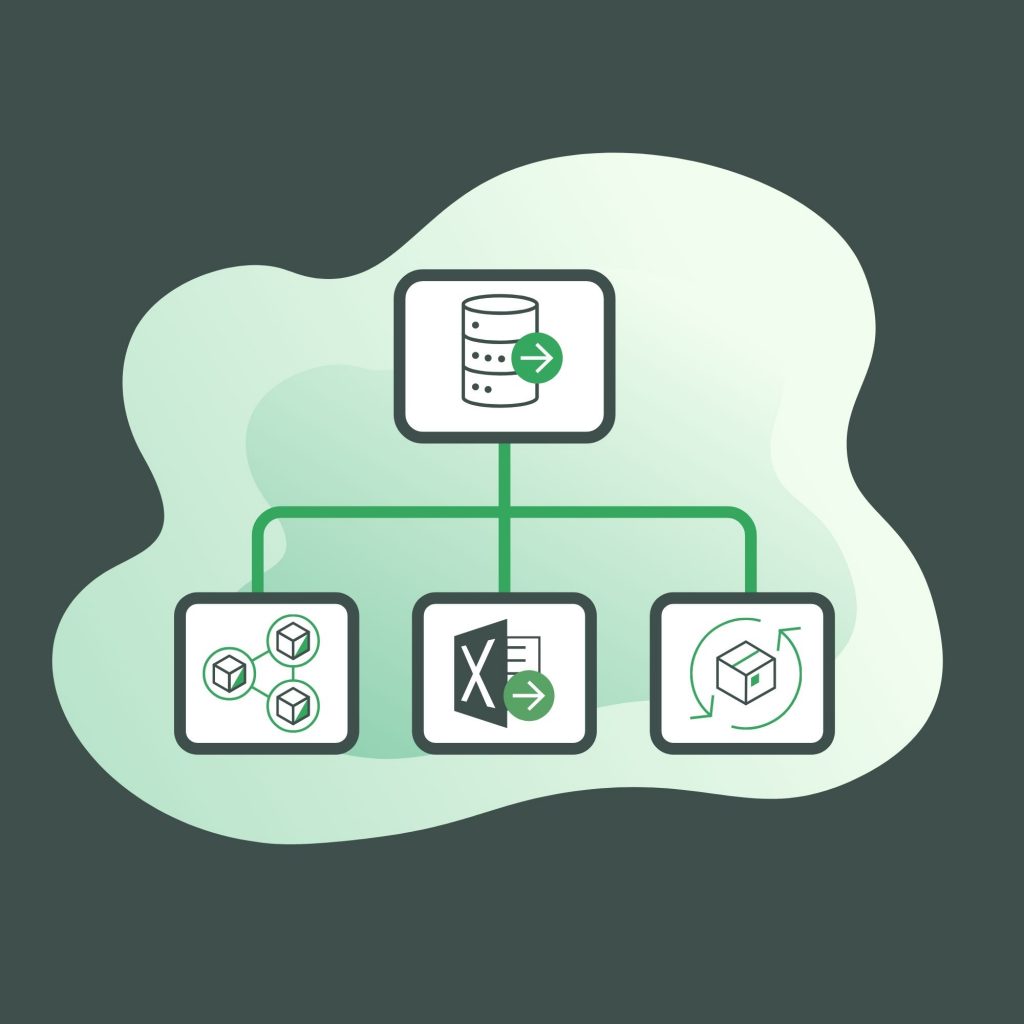 3 Ways to Integrate Shopify with ERP
You're probably selling on Shopify if you're reading this, or maybe thinking about it. In any case, it's essential to boost the capability of selling on Shopify by focusing on the aspects that burn through the most time, exertion, and cash.
Before we get into the elaborate details of each of these ways to best integrate ERP-Shopify in 2022, here is a nice comparison of the various ways.
Use this comparison to get a professional view of how the various methods we'll talk about compare across the board.
| | | | |
| --- | --- | --- | --- |
| | Inventory Sync | CSV Integration | PIM Driven Integration |
| Integration Frequency | | Nightly | Hourly |
| Integration Costs | | Moderate | Low |
| Limitations | High. Limited to inventory only | Moderate | Low. Many attributes including custom attributes and meta fields can be integrated |
| Cost of Integration | Moderate | Low | Reasonable |
| Cost of Ongoing Support | Moderate | Low | Reasonable |
The breakdown:
Inventory Sync
With an inventory sync, you'll be able to synchronize your eCommerce orders and POS (Point Of Sale) orders. You can synchronize them over to automatically eliminate from your retail store all items already sold on the web, or sync unfinished orders to identify and package in your distribution center.
To handle such data, eCommerce platforms like Shopify should be integrated with inventory frameworks. This makes it possible to easily get stock information from online stores and automatically update the ERP.
Additionally, it's a superb choice for Shopify stores that need to expand while keeping the activities productive. Furthermore, taking care of the Shopify stores with various dialects and currencies will be simpler.
Downside: only syncs inventory data.
CSV Integration
CSV Files are one of the most widely recognized formats that are supported with eCommerce shopping carts. CSVs are utilized to store tabular information.
Initially, this implies they can be imported and traded from programs that store information in tables such as Microsoft Excel or a spreadsheet program, to turn into a clear form. If you have a Shopify store, you can manually integrate it with your ERP via CVS.
Therefore, utilizing CVS means you make a manual record that assists you with observing what is available on Shopify, then using that to make updates via your ERP.
Assuming you observe that your store develops rapidly, you'll wind up jammed with delivery and dealing with those orders consistently. You'll see that you want a more remarkable delivery system, or even need to employ an outsider so you can focus on other things like promoting and selling your items.
If so, at that point, you'll need to integrate your Shopify CSV files with ERP. You'll likewise have to synchronize your inventory and request order tracking data so that your Shopify store is always updated.
CSV files are non-restrictive to a particular software dealer. Making and sharing a CSV is a common method of dealing with information, thus making them simple to interact with and divide between systems and individuals.
Downside: Takes more time as it includes manual labor with lots of room for error - no tools for optimizing content for eCommerce or checking for accuracy.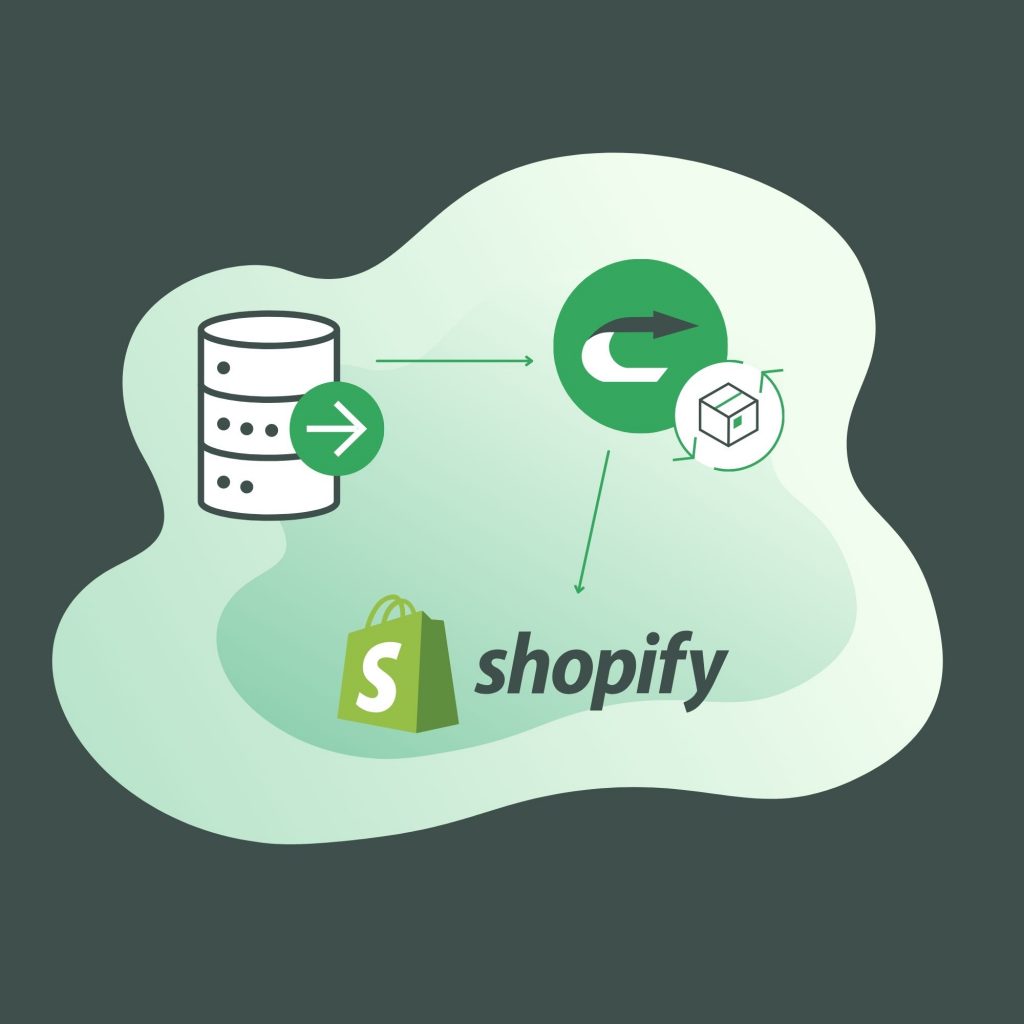 PIM integration with ERP and Shopify
A third option for integrating ERP with Shopify is via a PIM (Product Information Management) software. Utilizing a PIM allows product data, digital assets, product attributes, inventory and pricing data to come together in a central location.
In addition, a PIM enables your teams to quickly optimize product content, specifically for Shopify. PIM provides grading tools your team can use to set customized standards for product data and attributes. As a result, you can reduce product returns by eliminating inaccuracies in product attributes. No more keying in manually from ERP to sales channels.
Secondly, while Shopify limits the amount of attributes you can manually add to products on your website, PIM allows you to bypass that rule with unlimited attributes.
Here is a step-by-step of what happens when you connect a PIM system with your ERP and Shopify platforms:
ERP sends product data to PIM, where it centralized.
PIM enables workflows for fast team collaboration.
PIM grades content according to Shopify standards.
Your team can drive revenue with accurate attributes across multiple Shopify stores.
1. Centralize product data in a single source.
PIM use SKUs as the key identifier that it then uses to organize your products and sync them continuously in Shopify as well as marketplace distributors. Your product SKU data flows freely from ERP to PIM where it is optimized for Shopify.
While an ERP system is great for storing data and managing inventory, product data is rarely ready for Shopify. Thus, without a PIM, your team is most likely managing logistics data, product specs, inventory, digital assets and descriptions in an excel sheet.
In addition to excel sheet management being tedious and time-consuming, oftentimes product data is error-prone and incomplete. By integrating ERP with a PIM, you can solve gaps in product data immediately upon centralization using a recommended actions tool.
The recommended actions panel allows your team to quickly identify missing content. In turn, the function allows you to immediately resolve issues, rather than searching for gaps manually.
2. Enable workflows for fast team collaboration.
To further speed up the optimization process, various team members will need to be made aware of in product data issues in real time. This is where PIM automated workflow steps in.
PIM includes out-of-box workflow templates to aid in a multitude of scenarios. For instance, new product introduction workflows can be used to notify logistics and engineering teams to provide product data during the initial stages of product release.
Workflows allow teams to work together to speed products to market much faster than otherwise. Catsy PIM workflow has been known to speed up the review and approval process for product introductions by 60%. The benefit? Less time your team has to spend on a NPI, more time your product spends the market driving revenue for your company.
3. Grade content according to Shopify standards.
PIM introduces automated tools to your product optimization process that you wouldn't have in an ERP-Inventory-Shopify or ERP-CSV-Shopify integration.
As mentioned before, recommended actions in PIM inform your team of missing product data before you publish to Shopify. As a result, you're able to identify and fix the gaps instantly. You can now forget about creating schedules to manually look for gaps. From adding missing meta-tags to SKUs, every tiny gap is spotted and the fixing job completed in seconds.
Moreover, PIM includes templates that allow you to build product content according to Shopify's product page requirements. Using the Shopify store template, your business can map attributes from ERP to PIM and PIM to Shopify in several simple steps. If your product is lacking data important to Shopify, PIM will flag the SKU.
Automated grading tools in PIM not only ensure accuracy and promote work efficiency, they speed products to market. Of course, sales is the reason businesses are created in the first place.
You do all the work, all the iterations, all the marketing, and promotions name it, for the one and only purpose of making that sale. It is always a race towards closing the next sale, and PIM helps you get there faster.
4. Drive revenue with accurate attributes across multiple Shopify stores.
The Catsy Shopify-PIM software brings you the power to quickly manage your products across multiple Shopify stores, all from your integrated ERP-Shopify system.
Scaling optimized product data for use on multiple stores is easier with a PIM. For example, if you're selling in both USA and Canada, you can manage pricing in one location for the same SKU. When uploading products to your Canada store, you'd be sure to select the Canadian Dollar attribute. The same technique can be applied to multiple languages, B2B and B2C use-cases, and so on.
In addition, updating data for a product on all stores can be completed at one time in PIM.
For example, let's say you sell Persian Rugs on three different stores for USA, Canada and UK using Shopify. Your manufacturer has just notified you that the incoming shipment of rugs will be significantly thicker than previous rugs. As a result, they will be heavier.
In this case, your marketing team will need to adjust both the product weight and shipping cost of the product. Instead of manually updating all Shopify stores, you can update the weight and shipping cost in PIM. On the next hourly sync, all three stores will be updated with accurate product data according to locale. Remember all this gets done from one central point of truth, in a few clicks.
Based on the above analysis, in our opinion, integrating a PIM with ERP is the best way to drive revenue for your Shopify stores.
So if there is a tool that you can rely on to integrate your ERP with Shopify and achieve extraordinary sales improvement in Shopify, then the Catsy PIM integration software checks all the boxes.
How about bypassing all the backbreaking work of having to search for specific products and unique assets? The level of quality of data that will be available to your sales teams and indeed all other teams is unmatched. Whether you're managing category data or individual product data at any given point in time, data will always flow clean and fast.
Don't Forget
Integrating or connecting your ERP to Shopify can save you time and money while powering your Shopify sales to a higher level without expanding your teams' responsibilities.
The efficiency of key tasks will improve drastically, including automatic stock updates, optimizing product information, updating multiple stores at once, spotting gaps, and fixing them instantly.
Your customers on the other hand, will enjoy an enhanced customer experience because now your core operations engine (ERP) is continuously in sync with your eCommerce store (Shopify).
The Catsy PIM integration with Shopify Software is a high quality integration tool that you can comfortably rely on to reduce manual labor and optimize product data.
If you currently use excel or other manual means to manage your Shopify product attributes and distribution, then you are already losing a huge opportunity to increase revenues. Schedule a demo to see Catsy's ERP-PIM-Shopify in action.