Operating an eCommerce business is hard. Many moving parts contribute to bottlenecks in the go-to-market process, including lots enormous product categories with varying attributes, different sales channels with unique requirements, and so on.
At the heart of most organizations is a the monolith, often referred to as an ERP system. An abbreviation for an Enterprise Resource Planning system that evolved over the years to act as the central hub for inventory management, accounting, and manufacturing data.
For many businesses, SKUs originate in the ERP system. ERP holds data related to products, including SKU number, basic product data (such as specs), logistics data and inventory levels.
Data becomes progressively harder to manage with each new SKU added to a product catalog. Depending on your business model, you may sell SKUs on multiple channels with varying marketing titles, descriptions and bullet points.
Shopify makes it easy for brands to operate multiple eCommerce stores, by providing sellers with a platform to market products to their multiple ICPs.
But how can product managers get product data from an ERP system to multiple Shopify stores as accurately and efficiently as possible?
One word: Integration.
Today's article will discuss three forms of integrating Shopify with your ERP:
Inventory integration
CSV integration
PIM driven integration
Before get into ERP/Shopify integration, let's briefly touch on ERP/PIM integration and the two distinct revenue opportunities it can present:
Next, let's understand ERP a bit more.
As already indicated, Enterprise Resource Planning (ERP) refers to a form of software that companies use to efficiently run the day-to-day activities of their business, regardless of which field they operate in.
The activities can be as wide as the company might want to, but the common ones that most companies use ERP to manage include project management, accounting & finance, procurement, inventory management, vendor management,  and compliance among others.
Some ERP suites might include advanced features that focus on performance management and monitoring to help in planning, prediction, and reporting. 
eCommerce businesses, in particular, can use ERP systems to help synchronize and automate certain aspects of their eCommerce side of the business. For example, inventory management, new product updates, vendor management, recording sales, quoting, financial tracking among others.
This detailed and powerful software offers you the basic catch-all solution you need to shape your eCommerce business into the business you dream it to be. 
However, ERP systems can be archaic. Without a well thought out integration solution, ERP remains little more than a central hub for data storage. To fully prepare products for Shopify, you'll need to utilize additional software solutions. This brings us to the key points of integration, plus the best ways to go about it. Let's get started.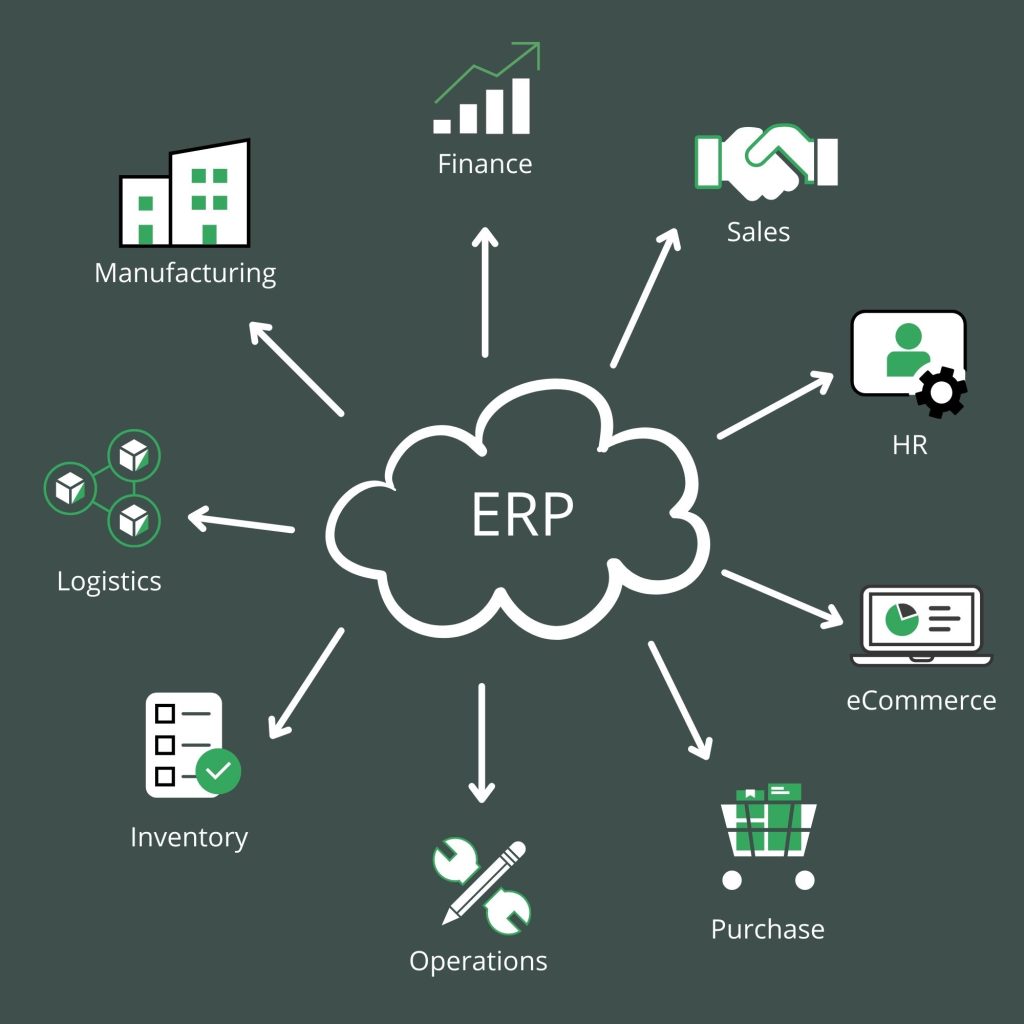 The intricacies of ERP Integration
As your business develops, you'll have to integrate your Shopify platform with core systems, like Enterprise Resource Planning (ERP), to guarantee efficiency. This integration offers the benefit of swiftly switching between your ERP and eCommerce store (Shopify), enabling you to push changes faster while ensuring the accuracy of data.
ERP integration simply means connecting your company's ERP system to other systems. These other systems can be applications, eCommerce platforms, partner stores, important data sources for your business, etc.
What this connection does is that it synchronizes your company's main activities with the 'outside world' so to speak, where you have your business assets. This connection is very important because it helps to give your team a simple unified view of the flow of information across the entire business in real time. This then leads to increased efficiency and collaboration. 
Stick to the essentials: execution is everything.
ERP integration will ultimately help you deal with all your business operations with practically no issue. It provides you with easy-to-use connectors for Shopify.
This enables you to automate and oversee your business processes. You can deal with orders, transporting technicalities, available stock, new items, invoicing details, and clients, all thanks to this valuable integration. 
With EPR-Shopify integration, there's no reason to manually oversee and change the stock of your products, for example. You just sell what is in stock, and all new products are automatically conveyed to your store.
As a Shopify user, with unlimited information or complex administrative office processes, you will find an ERP Integration very convenient. 
Here are indications or signs that you ought to start thinking about ERP integration with Shopify:
Your order volume has constantly and significantly increased.
Delays in accounting, inventory, and budget reports.
Delays in deliveries and shipping of products or wrong delivery because of high volume.
Dealing with numerous suppliers.
Your products' inventories are complex or huge.
Dealing with numerous B2B client connections.
Your employees are insufficient or inadequate due to manual duties.
A feeling that you need to find ways to make your work a lot easier and improve customer service.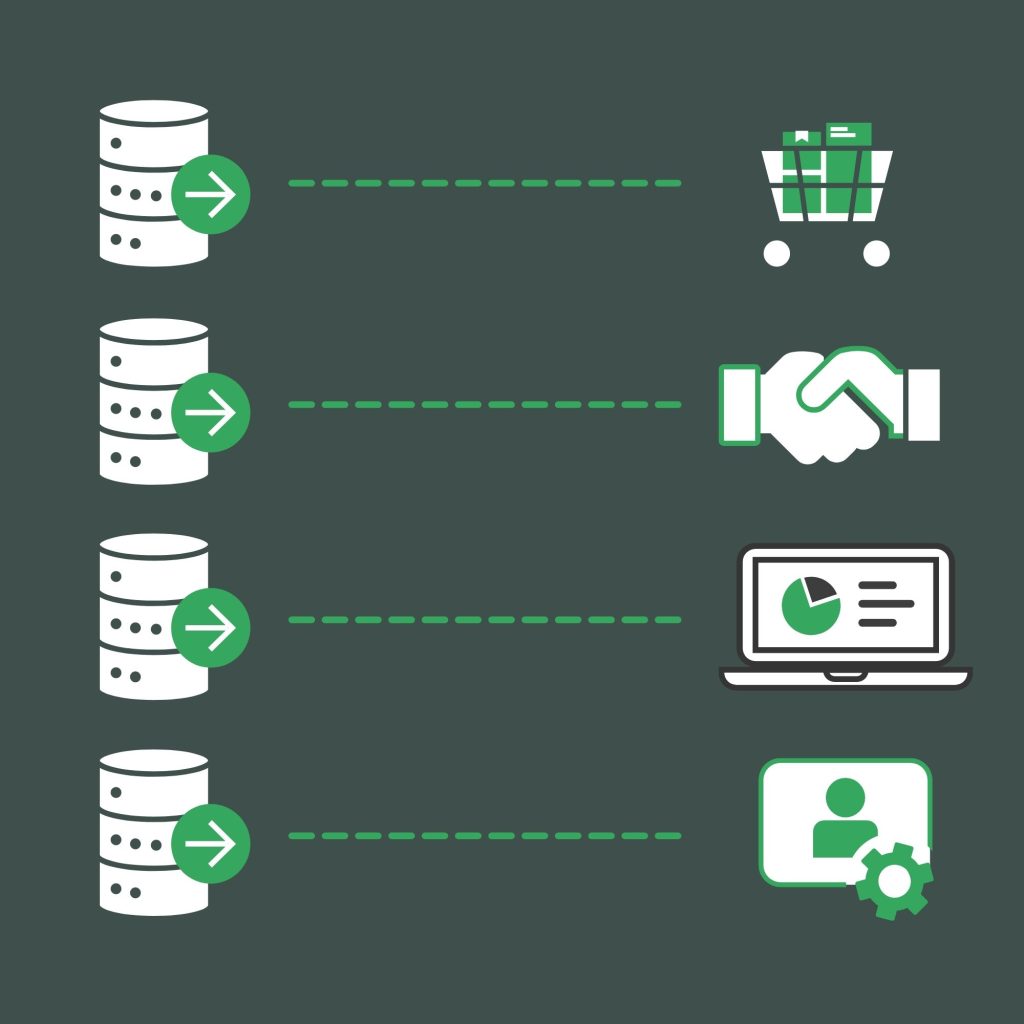 What are the main types of ERP integration?
Choosing the type of ERP Integration that will work best for your business will have to be informed by your precise business needs but equally important, the budget you are willing to allocate to this exercise. The main types of ERP integration include:
Ecommerce
This involves connecting your eCommerce store with an ERP solution which helps boost the shopping experience for clients and improves the store's effectiveness.
An Ecommerce ERP Integration helps you track all the information such as orders, customers, leads, customer services, taxes, delivery, and shipping times. This integration makes it possible for crucial information to be easily available to anyone in the company that deals with the eCommerce store.
Business Intelligence (BI)
This has rapidly turned into a standard in ERP management frameworks. The BI component of ERP collects data and performs assessments that give useful pieces of insights about business processes.
BI becomes vital as a business begins to depend on decisions supported by information. The most significant feature in BI is a decent reporting feature, so you can sort out the information it analyzes. 
Project management
Some ERP systems incorporate project management solutions. With a project management module in your ERP, you will be able to decide on project costs, work with finance and HR offices, see project processes and updates, and see who's working on which project and its delivery time or date.
This motivates responsibilities across departments hence helping companies tackle minor project issues before they become major issues.
Customer relationship management (CRM)
Your business can't last and develop without customers. Therefore, dealing efficiently with your eCommerce clients and leads should be a critical priority. A CRM module of ERP allows you to monitor and track all your clients and lead information inside your ERP solution. The bits of knowledge you can acquire by integrating your CRM with your eCommerce store will help to enhance your advertising/marketing and sales activities.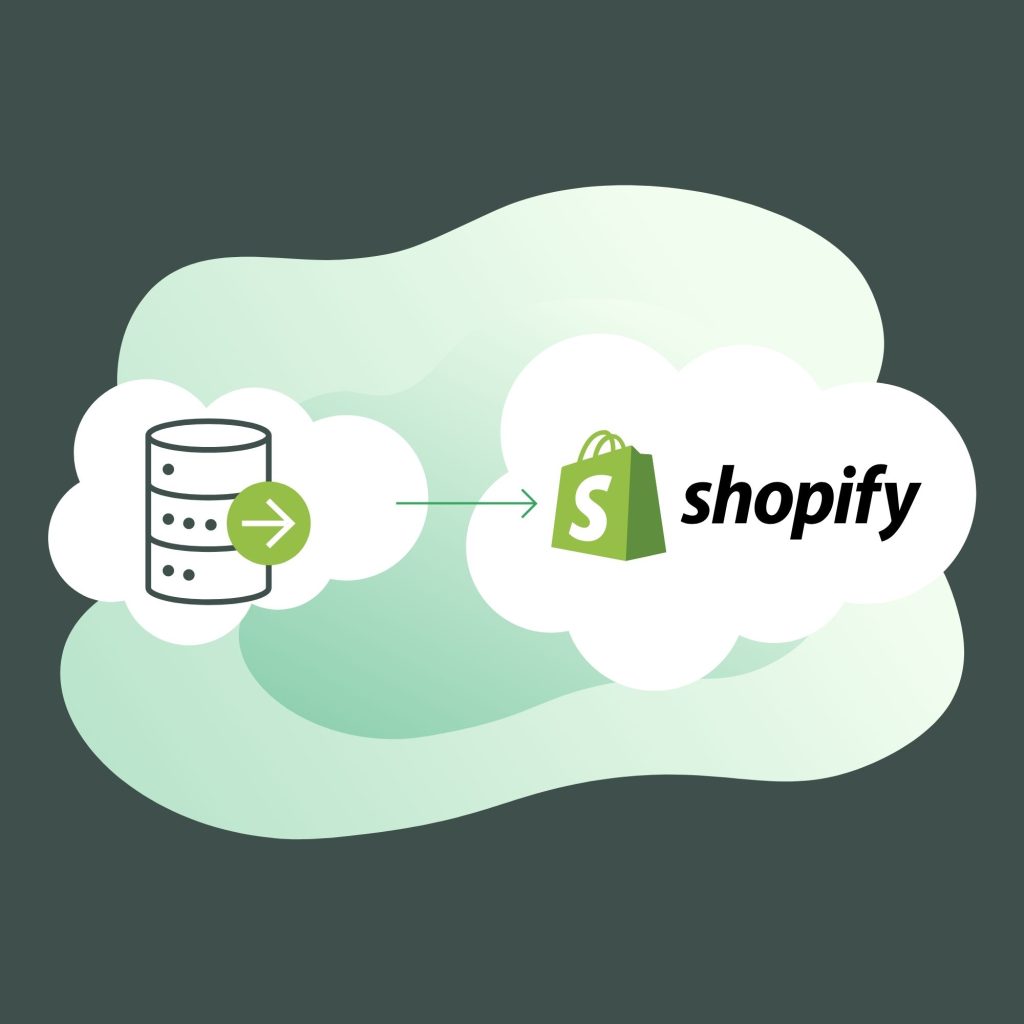 Shopify ERP Integration: Benefits for Your Business
An ERP REPORT by Panorama Consulting Solutions indicates that 95% of participants reported that the implementation of ERP solutions including integration boosted all or some of their business processes. ERP integration has evolved throughout the years and here are some of its benefits for your business:
Enhanced productivity
When each worker utilizes the integrated ERP system as the primary point of work, it enhances efficiency. They are able to work flawlessly thanks to the automation of their duties including scrutinizing product information, tracking inventory deductions, shipments, and deliveries. This further enhances productivity. 
Superior customer experience
Better client engagement equals better client experience. For instance, an ERP-Shopify integrated system can inform clients when the process of manufacturing starts, when the product has been packed, and when it's being shipped and delivered. According to an ERP Trends report by Accenture based on a survey of 122 CIOs, 38% concurred that ERP enhances their capacity to fulfill client needs. 25% on the other hand concurred that it improves the potential of their omnichannel management.
Cost effectiveness
Perhaps the greatest value you will get out of an ERP-Shopify integration is the opportunity to save your company or organization costs in various ways. By automating numerous basic, tedious errands between your ERP and Shopify operations, you limit mistakes and the need to add workers. Cross-organization coordination makes it straightforward to detect shortcomings that are likely to increase expenses. It prompts better resource distribution, from work to stock to hardware.
Data security
Both your Shopify and ERP contain vital, delicate information that you must always strive to keep secure. In the absence of proper Shopify-ERP integration, some data will be at risk of compromise or loss. This is why you need to integrate the two so that data from both sides is secured in a synchronized system where everyone can see what is happening and take action when there is a need to. This is crucial especially now that cyberattacks are on the rise.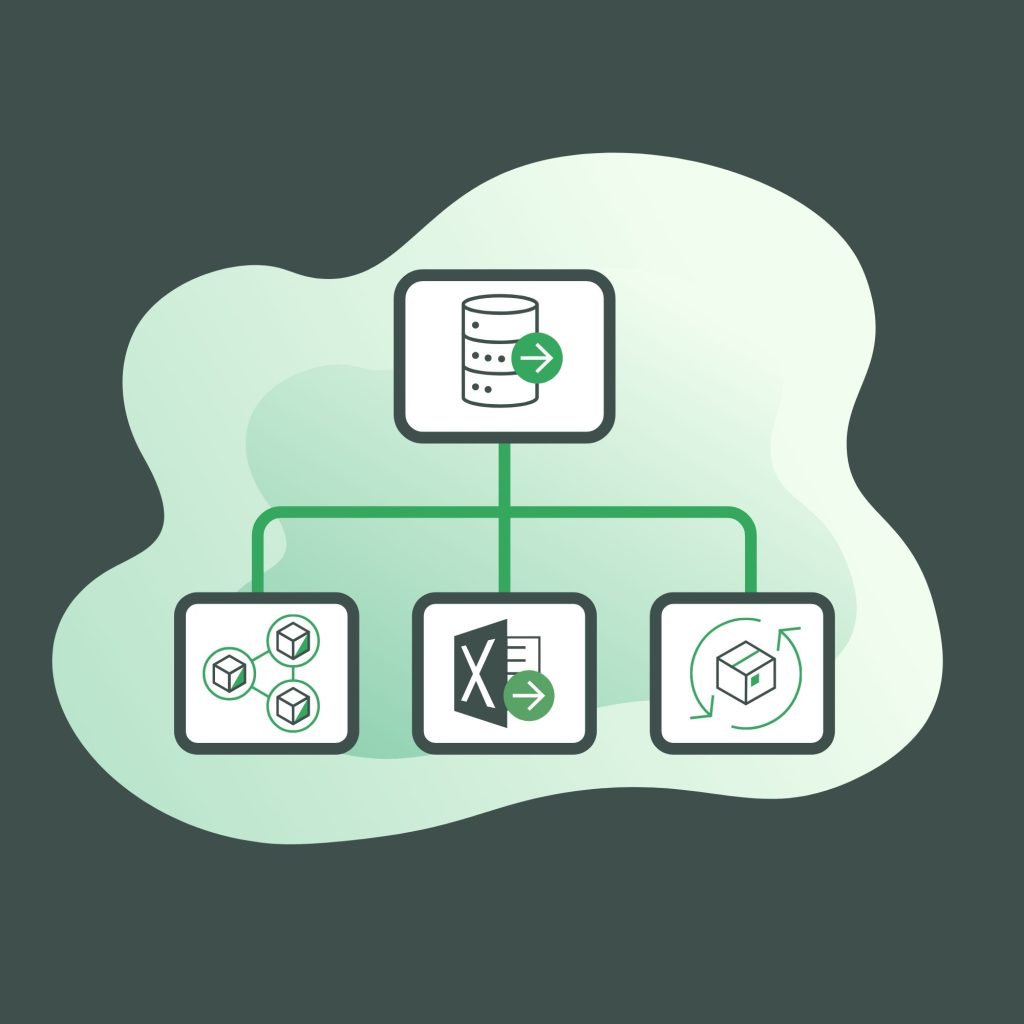 3 Best Ways to Integrate Shopify with ERP
You're probably selling on Shopify if you're reading this, or maybe you're considering moving to the platform. In any case, it's essential to boost the capability of selling on Shopify by focusing on the aspects that burn through the most resources.
Before diving into the details of how to best integrate ERP-Shopify, take a look at this comparison of costs. Use this comparison to get a professional view of how the various methods we'll talk about compare across the board. 
| | | | | |
| --- | --- | --- | --- | --- |
|   | Inventory Sync | CSV Integration |   | PIM Driven Integration |
|   |   |   |   |   |
| Integration Frequency |   | Nightly |   | Hourly |
| Integration Costs |   | Moderate |   | Low |
| Limitations | High. Limited to inventory only | Moderate |   | Low. Many attributes including custom attributes and meta fields can be integrated |
| Cost of Integration | Moderate | Low |   | Reasonable |
| Cost of Ongoing Support | Moderate | Low |   | Reasonable |
Inventory Sync
With an inventory sync, you'll be able to synchronize your eCommerce orders and POS (Point Of Sale) orders. You can synchronize data over to automatically eliminate from your retail store all items that already sold on the web. In addition, you can sync unfinished orders to identify and package in your distribution center. To handle such data, eCommerce platforms like Shopify should be integrated with inventory frameworks. This makes it possible to easily get stock information from online stores and automatically update the ERP.
It's a superb choice for Shopify stores that need to expand while keeping the activities productive. Furthermore, taking care of the Shopify stores with various dialects and currencies will be simpler.
Downside: only syncs inventory data
CSV Integration
CSV Files are one of the most widely recognized formats that are supported with eCommerce shopping carts. CSVs are utilized to store tabular information. This implies they can be imported and traded from programs that store information in tables such as Microsoft Excel or a spreadsheet program, to turn into a clear form. If you have a Shopify store, you can manually integrate it with your ERP via CVS. Therefore, utilizing CVS means you make a manual record that assists you with observing what is available on Shopify. Uusing that information, you'll have to make updates via your ERP.
Assuming you observe that your store develops rapidly, you'll wind up jammed with delivery and dealing with those orders consistently. You'll potentially need to employ an outsider so you can focus on other things like promoting and selling your items. If so, then, at that point, you'll need to integrate your Shopify CSV files with ERP.
You'll likewise have to synchronize your inventory and request order tracking data so that your Shopify store is always updated. CSV files are non-restrictive to a particular software dealer. Making and sharing a CSV is a common method of dealing with information, thus making them simple to interact with and divide between systems and individuals.
Downside: Takes more time as it includes manual labor with lots of room for error – no tools for optimizing content for eCommerce or checking for accuracy.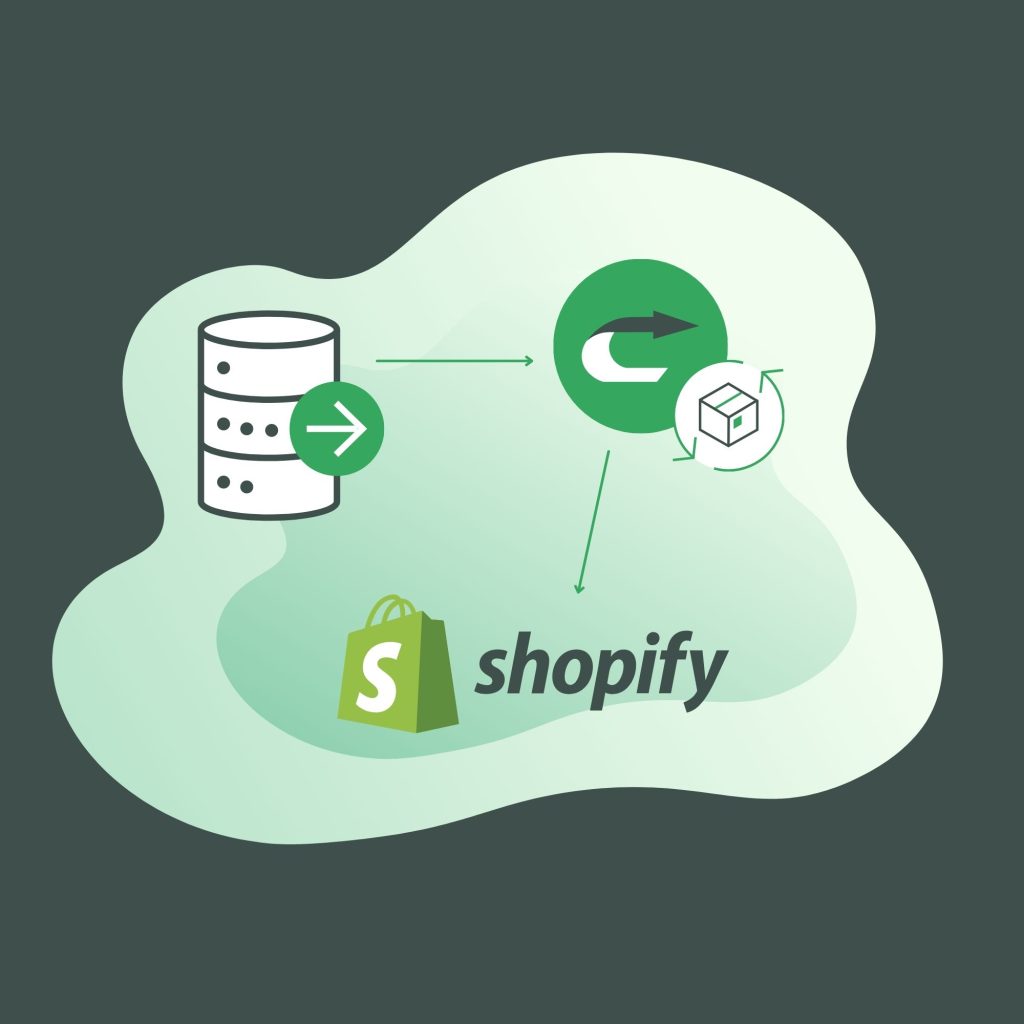 PIM-driven integration
Using a product information management system (PIM), you can easily optimize product information on the go and get products to market faster. This is simply the simplest way to automate the complete go-to-market process between your ERP and Shopify. 
Secondly, it enables you to reduce product returns by eliminating inaccuracies in product attributes. No more keying in manually from ERP to sales channels. Integrate Shopify with ERP.
The Catsy PIM integration with Shopify Software is a high quality integration tool that you can comfortably rely on to reduce manual labor and optimize product data.
Examples of important items you can easily optimize include attributes and descriptions, according to Shopify requirements. The integration or connection between your ERP and Shopify is based on the same SKUs that you already have in your ERP. 
Here is a glance at how PIM-driven integration with Shopify and ERP can speed products to market and drive revenue for your business. 
Tailor SKUs to Shopify requirements.
As with any eCommerce platform, Shopify has product page requirements that brands must follow in order to publish a page. Certain formatting standards apply for marketing content, including the title down to the product specs.
Catsy PIM has a built-in feature that allows you to tailor content according to Shopify standards using a Shopify channel template. Using the template, your team can ensure your products meet all Shopify requirements before posting to the platform.
Enrich product content.
Apart from integrations where enrichment requires a tedious, manual process, PIM automates much for the enrichment process. These tools include completeness scoring and recommended actions to point out gaps in content, as well as data validation scoring to reduce inaccuracies on the product page.
Additionally, PIM allows your team to add unlimited attributes to products. Attribute tagging leverages product data to improve product page discoverability and boost SEO.
Enriching content for a specific market increases product sales and reduces costly returns for brands.
Manage & publish to multiple Shopify stores with ease.
PIM empowers brands to quickly manage products across multiple Shopify stores out of a single source of truth for all product information and digital assets.
Using a PIM, your teams are able to create and manage multiple persona use-cases for a single SKU, meant for specific Shopify stores, out of a single location.
For sales across the globe, your team is able to manage multilingual marketing content in side-by-side views in Catsy PIM. The same feature applies to currencies, dimensions and any other product spec that may vary from country to country.
Once your products are tailored to specified personas in Shopify format, simply push new data updates to Shopify via a high limits API integration.
Why PIM?
PIM (product information management) is the best way to integrate Shopify and ERP in terms of driving revenue. For example, CSV integration and inventory integration both require manual processes in order for the integrations to run smoothly. In addition, PIM is the only integration that provides automated tools for enrichment before products are published to Shopify. Finally, PIM enables your team to scale product data across many Shopify stores, supporting more revenue opportunities for your company.
Conclusion
Integrating or connecting your ERP to Shopify can save you time and money while powering your Shopify sales to a higher level without expanding your teams' responsibilities. The efficiency of key tasks will improve drastically, including automatic stock updates, optimizing product information, updating multiple stores at once, spotting gaps, and fixing them instantly. Your customers on the ether hand will equally enjoy enhanced customer experience because now your core operations engine  (ERP) is continuously in sync with your eCommerce store (Shopify). 
If you currently use excel or other manual means to manage your Shopify product attributes and distribution, then you are already losing a huge opportunity to increase revenue. See Catsy's integration of ERP-PIM-Shopify in action now. 
FAQs
What is CATSY?
Catsy streamlines the management of product information and digital asset management for omni channel use. A cloud based PIM and DAM solution, brands operate out of a single source of truth fueled by ERP integration, optimized in PIM and published to Shopify with ease.
Does CATSY offer ERP Integration?
Yes. Catsy offers seamless ERP-PIM integration via high API limits. Your team can schedule hourly or nightly syncs with PIM to ensure all systems across your organization are up-to-date, without the manual hassle.
Why should I integrate ERP-PIM-Shopify?
Integrating ERP with Shopify via a product information management solution replaces manual transfer of data between systems, ensuring a fast and accurate time-to-market process.