As your product catalogs grow in size or quality, you'll find yourself needing a well-equipped PIM. Shopify, while made to withstand scaling and multiple storefronts, may need a boost in the product information management area. With its API-capabilities and the ability to handle custom attributes and product variant options, the PIM software you choose must be comprehensive.
A robust PIM is one that is impervious to error and malfunction. In other words, it offers a steady, technological safety net with multiple capabilities to enhance your Shopify multi-store management experience.
When looking for a great product information management software for your Shopify stores, you want the very best. Here are several features to look for when choosing an exceptional PIM to integrate with Shopify.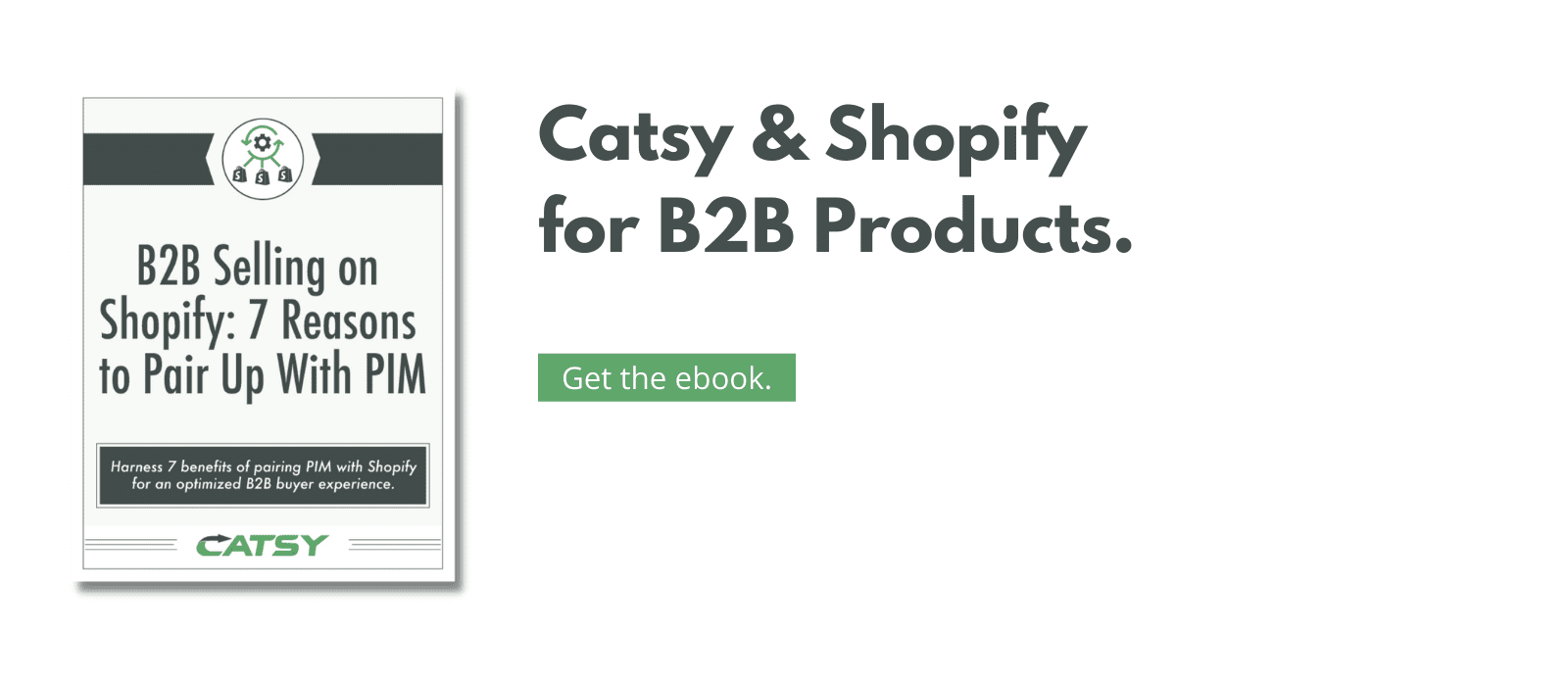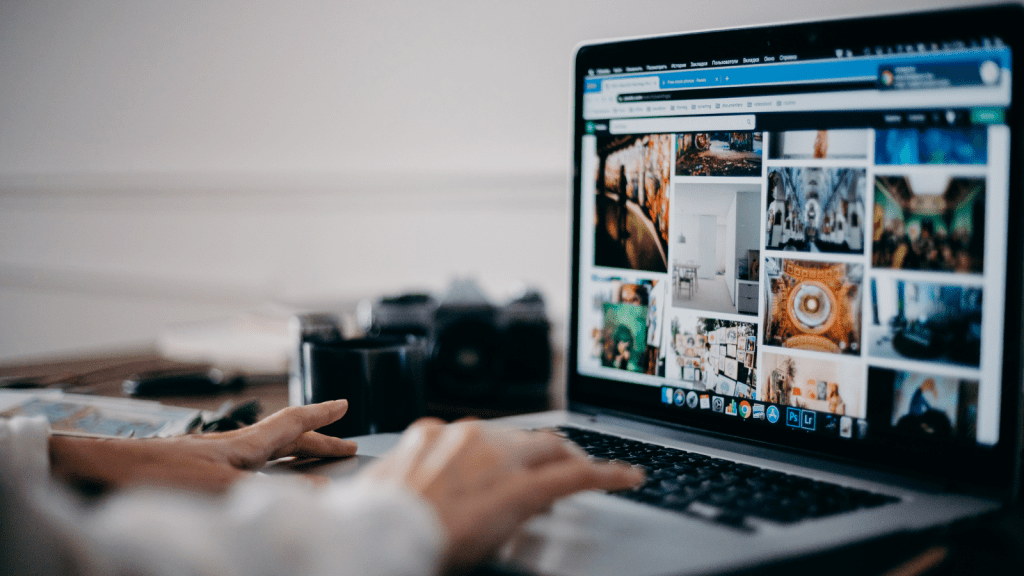 1. Images convert. Streamline how you push images onto Shopify with a robust PIM.
Visual content is powerful for creating an environment that encourages conversions. Over 90% of shoppers agree that product photos are the most important part of their decisions. To guide visitors on your Shopify store down the sales funnel, you need to maximize your efforts in photography.
Product photography among other digital assets goes a long way in enriching your product pages. Potential customers need to see an all-encompassing view of the product before choosing to buy. Much like the experience of viewing, touching, and examining a product in-store, your Shopify store offers the digital version.
First, let's see what digital asset options are at your disposal. Then, we'll see how a robust PIM for Shopify can really help improve your process of managing a multitude of digital assets for efficiency and quality.
Types of Digital Assets
Product photography and other images
360 Spin Images
PDF Spec Sheets
Others (video, infographics, etc.)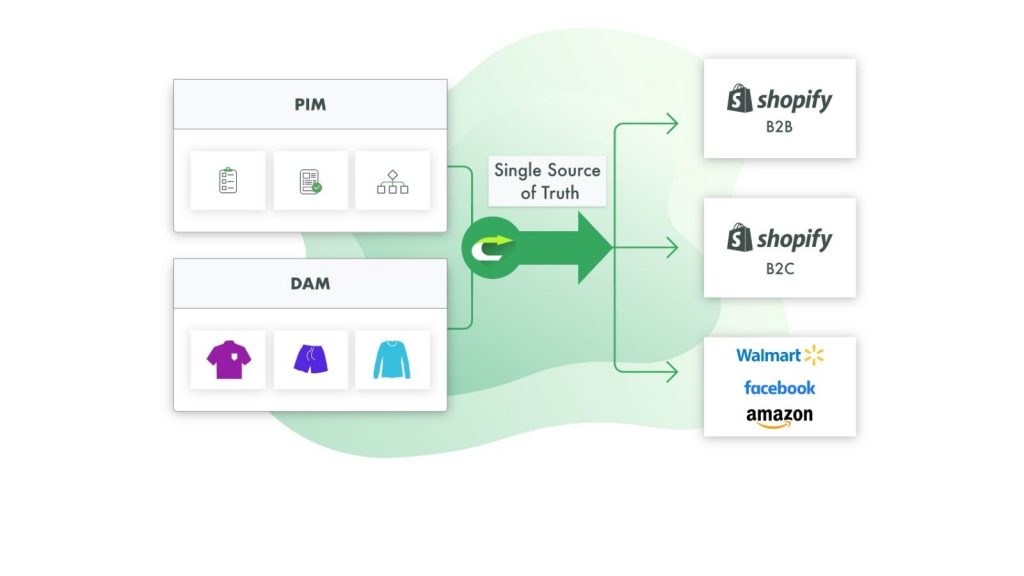 Create a Digital Asset Management Strategy for Shopify
Invest in Product Images and Photography.
It's easy to take pictures of multiple angles of your products and call it a day. However, to really extract the potential of images for Shopify, you must invest in the entire process. From the snapshot to optimization, your product images should be high-quality and ready to convert.
Product images are the centerpieces of your Shopify product pages. They must be high-definition (2048 x 2048 pixels recommended for Shopify) and rich. Investing in the photography process is very important to your product page aesthetic.
A PIM that nurtures this process is best for conversion optimization. For example, a PIM suited for collaboration with your photography teams is well-suited for your Shopify store. Ensure that all product photography is well-taken and centralized. On PIM, all marketing and sales teams can view the images, with zero mess, missing images, or disorganization. Investing in PIM means investing in excellent product photography.
Invest in 360 Images
When it comes to product photography, 360 spin images take things a step further. A 360 image shows all possible aspects of a product. Using a method of combining photos of the product from all sides, a 360 image portrays them as though the product is revolving. According to 78% of consumers, photos should bring the product to life – what better way than 360 images to do that?
What's so great is not only the streamlined experience of taking in the product all at once but also the interactivity. That's why 360-spin images are so conducive to conversions.
Invest in PDF Spec Sheets
PDF specification sheets are vital for your retailer and supplier relationships. Prospective customers want to see all the product details, dimensions, and data. To input spec sheets on Shopify requires some manual work. One option is to add custom code, or metafields, into your product description in which you add the link to your PDF files. Another way is using an app to place a PDF icon on your product page.
A PIM can circumvent these techniques because it can distribute assets specific to the platform, including Shopify. Catsy's PIM supports Shopify metafields (read more about this below), so it pushes whatever PDF spec sheets you want onto Shopify conforming to its requirements.
Manage and deploy variant images (swatches, and unique SKU level of images)
Variant images – When you have multiple variants on your Shopify store, you need unique photos specific for each one. For example, if you see t-shirts in different colors, you will need an image for each color. Visitors to your store will expect to be able to click on a variant option and view the exact product image in that style.
Using a management system that organizes variant images by unique SKU is optimal. As we will discuss below, product variants under a parent category will have the same beginning SKU code. A PIM that is categorized by SKU simplifies the process of deploying variant images. As a result, there is less of a chance for errors and misplaced variant images.
On Shopify, you can also display your variants as swatches. Instead of a drop-down menu, you can choose neat little swatches of color that represent each variant color.
How to Manage Product Photography for Shopify
A robust PIM for your Shopify business should include digital asset management (DAM). Not all PIM software includes this feature. However, upon using such a PIM, you quickly understand how intertwined the two features are. Product information and digital assets should always be stored together.
One purpose of using PIM is to streamline your marketing processes. It makes your product data easier to manage. Everything is stored in one place, with great search and filter tools that make your products and variants findable. The same should go for all of your product photography and a slew of other assets.
Usually, when spearheading a Shopify business, it can get difficult to keep track of all your product SKUs, much less for all the images and assets per variant. The beauty of robust PIM with DAM is that those issues dissolve. For example, PIM like Catsy needs only one HD parent photo for each product. From that, it transforms the photo to meet the standards of different sales channels, be it Shopify or otherwise. It can create different sized versions depending on the need automatically.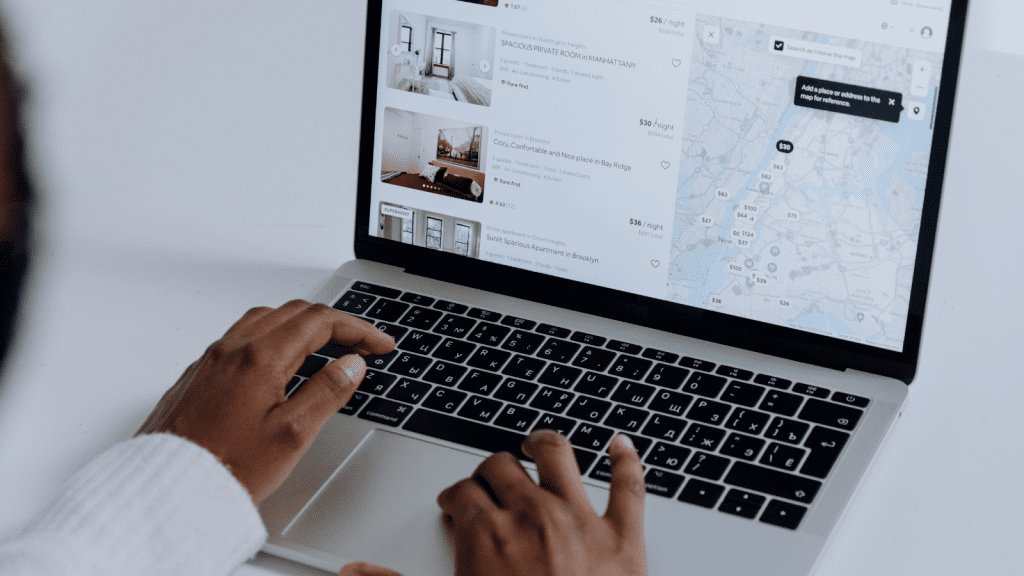 2. Discoverability is important. A robust Shopify PIM helps with its detailed tagging system.
There's a lot that a robust PIM can do to optimize how you manage your products for Shopify. First of all, a great PIM will automate the product categorization process. Above all else, automation is the most critical feature of a robust PIM. No matter what categorization system you use, nothing beats an automated system.
For example, a PIM like Catsy will attribute metatags to products and quickly organize them by multiple variables. What this results in is a simple-to-use filter system where you can find your products across different tags, like product type, size, assets, and so on. For your team, this system makes searching for products faster. It's much more sophisticated than standard lengthy excel sheets. For your customers, this improves the discoverability of your products. Visitors to your Shopify store should enjoy a user-friendly search and navigation system. Here's how a PIM can help you leverage this feature.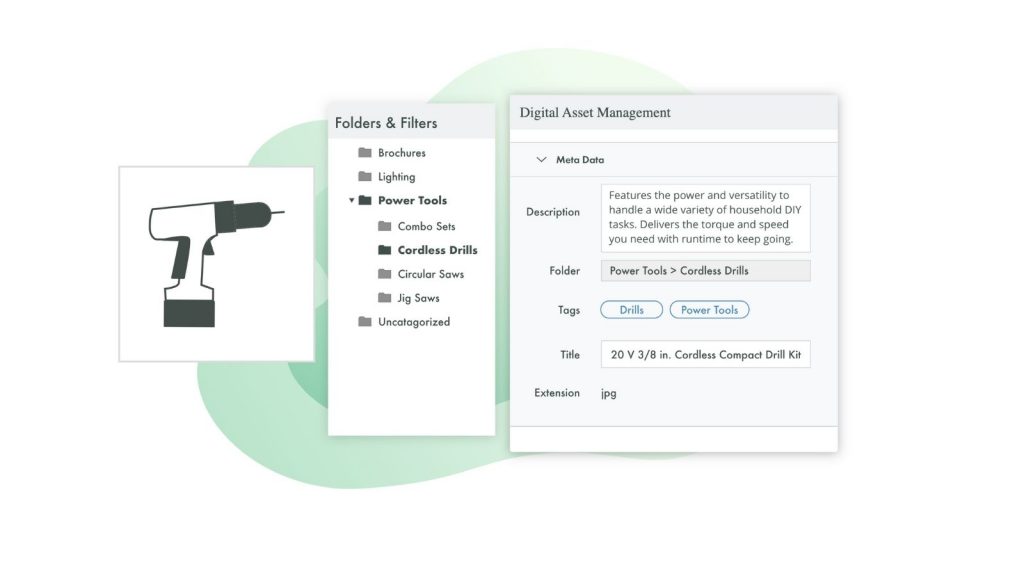 Automatically Organize on Shopify Straight from a Robust PIM
Here are some features of a PIM designed to optimize for discoverability on your store – both back-end and front.
Asset Organization
Instead of a complicated folder full of thousands of different images, videos, and other assets, organize your digital assets on a PIM. A robust PIM that includes DAM capability will need only one or a few high-definition assets for each product.
PIM organizes assets with a strong taxonomy structure. Under each parent category of your products, a robust PIM will classify your assets under more specific subcategories. You can further find your digital assets by searching for specific metadata, like asset types and keywords.
Automate Merchandising
On any Shopify store, it's important to present product collections well. Not only should they be well-organized and make sense, but displayed properly. To merchandise optimally on Shopify, a robust PIM overseeing the marketing aspect of product categorization.
All you can do on any ecommerce site is basic categorization. A robust PIM will take this further, enriching and arranging products for the most optimal experience. Create a smart merchandising strategy using the bird's eye view you have of all your products on PIM. Then, watch sales rise once you transfer that out to Shopify.
Improve Product Findability
A robust categorization system on PIM translates to easy-to-locate products on your Shopify stores. This is a great feature for merchants with many product SKUs. It can be a nightmare organizing your products in a way to allow your marketing and sales teams to find them quickly.
Integrating your Shopify business with a robust PIM improves market time. It takes out a hefty chunk of time that you would have wasted just searching for products and variants. Now, you can leverage a PIM a Catsy to manage your content and prepare items for the market much sooner.
Learn more about organizing product content.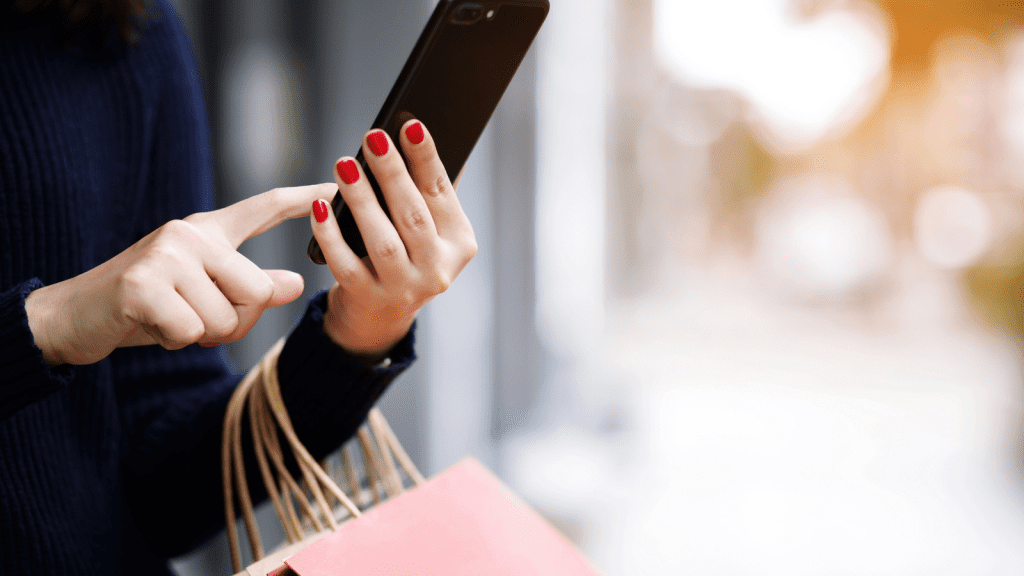 3. Increase conversions with a faceted search using a robust PIM.
Faceted search has enhanced how customers interact with an online store. A faceted search system uses product metadata and tags to help users specify what they are looking for. Not only can they browse through your organized collections, but they can also filter out tags they don't want and target tags they prefer. In other words, customers can see the exact search results that fit their criteria, with fewer pages to look through.
Why is a faceted search important?
A weak navigation system on your Shopify store can lead to a low conversion rate. To guide prospective customers down the funnel, you must make your store website easy to maneuver. After all, how will they be able to buy if they can't find what they need? A faceted search taps into relevance, or how well it fits the shopper's exact desires.
For example, if you draft inducers in many sizes, and a visitor is looking for specific dimensions, it will be difficult to sift through all the draft inducers, having to read each product title carefully. With a faceted search, they simply check the box next to their desired size and can choose from that specific selection. It speeds up the process, and shoppers are less likely to give up and leave.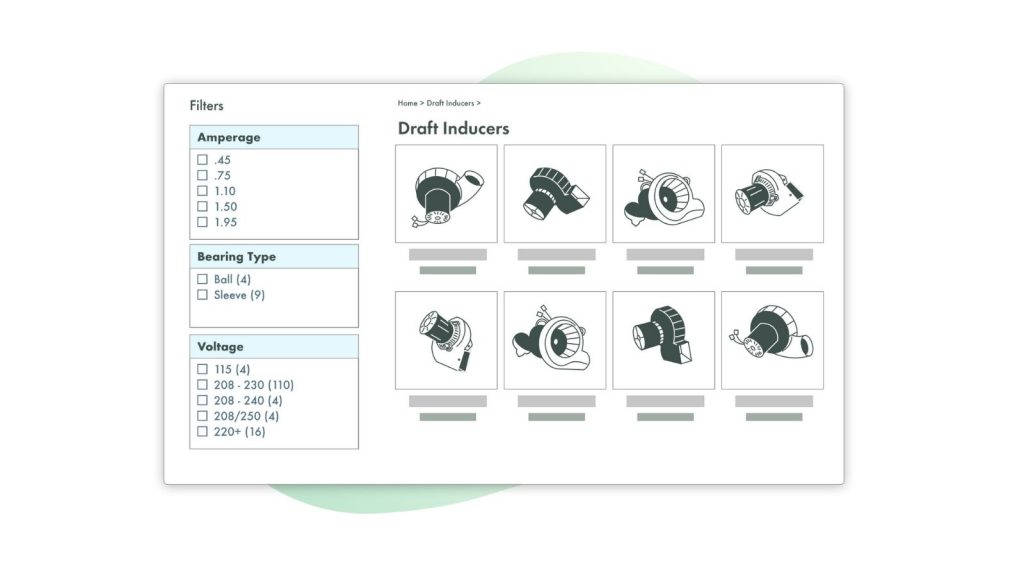 How a Robust Shopify PIM Improves Faceted Search
A PIM improves your Shopify store's faceted search with how it addresses SKUs and product attributes.
If you have a lot of products, over thousands, you know the struggle of organizing your SKUs. Usually, a Stock Keep Unit helps organize your product inventory. Businesses use SKUs to manage returns, exchanges, and track product transactions. Overall, it simplifies the process when collaborating with your suppliers and retailers.
Particularly, SKUs help differentiates product variants. A product with various features has a unique SKU for each one. For example, for a product that comes in 5 different options (color, size, material, etc.), each variant has a different SKU code ending.
With SKUs, products are findable and well-organized into categories. However, sometimes when you have similar products in your Shopify collection that you want to organize together, it can be helpful to assign SKUs that overlap across products.
Benefits of Managing SKUs on a Robust PIM
An excellent PIM simplifies the process of tagging product attributes – particularly for Shopify.
Shopify merchants organize their products with collections. A collection is a broader way of managing products outside of just variants. It helps in establishing order in the back-end, before setting up a user-friendly navigation experience on the customers' end. In other words, you can group together similar products into a collection. Using the tagging system we mentioned before, you can further specify sub-collections under each parent collection.
A general PIM, while helpful, may not support this precise product grouping feature. While you can populate your Shopify admin with product data from PIM, you may need to organize all your collections on Shopify anyway.
On the other hand, a robust PIM like Catsy will do this all on the SKU level. All your products will already be grouped by SKUs before populating your Shopify collections automatically. When you have a ton of SKUs, this can make setting up your Shopify store(s) so much faster. A strong tagging structure provides for powerful faceted search features.
More importantly, it makes all your products easily discoverable by prospective customers. It allows for a multi-faceted search feature on your Shopify storefronts that visitors can use to filter whatever tags they want.
Overall, look out for this feature when choosing a robust PIM to integrate with Shopify.
More on optimizing product attributes.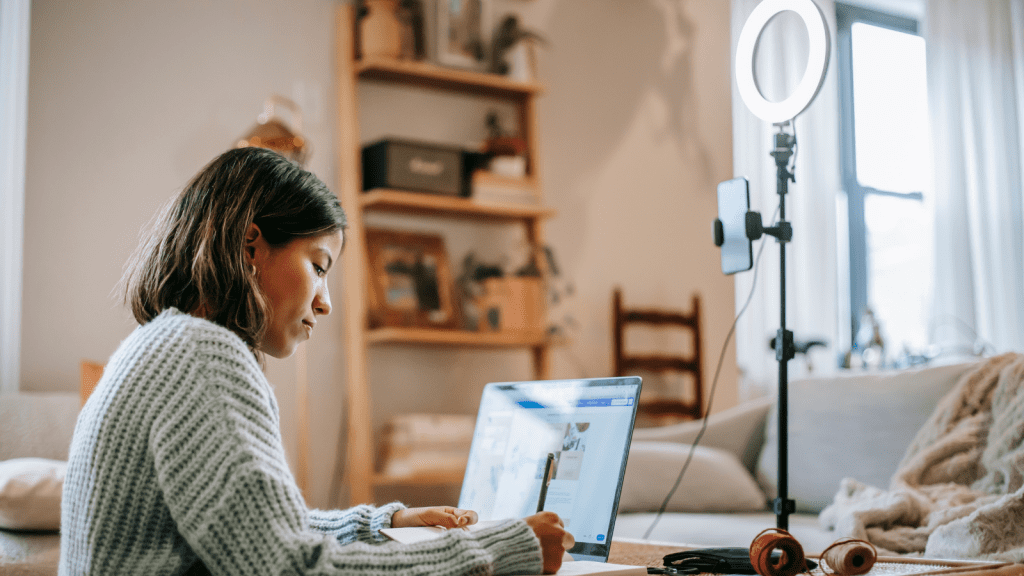 4. Increase conversions with great product description copy.
The key to boosting sales and increasing conversions is the marketing copy. You'll most likely already know what copywriting entails. Copy is simply the words you place your product pages – but enriched. It's written in a way that compels readers. To optimize your product descriptions, you need a mixture of features plus benefits. Using bullet points to flesh out your product copy is an excellent way to boost SEO. It also improves readability for shoppers who want the most important information.
How to Write Amazing Copy on Shopify
Open with a hook that grabs attention
Focus on pain points that customers interested in the product would have
Portray your product as the solution
Inform and inspire: Layout the major features and how they will enhance life
Keep it simple, don't get too wordy with your copy
A PIM can nurture collaboration between your marketing team and copywriters. Working together to ensure all the body is consistent with your brand and accurate is what propels conversions. It would be disastrous if the copy fell short of informing shoppers of the most important details they need to know. Copy should be creative, but also provide value.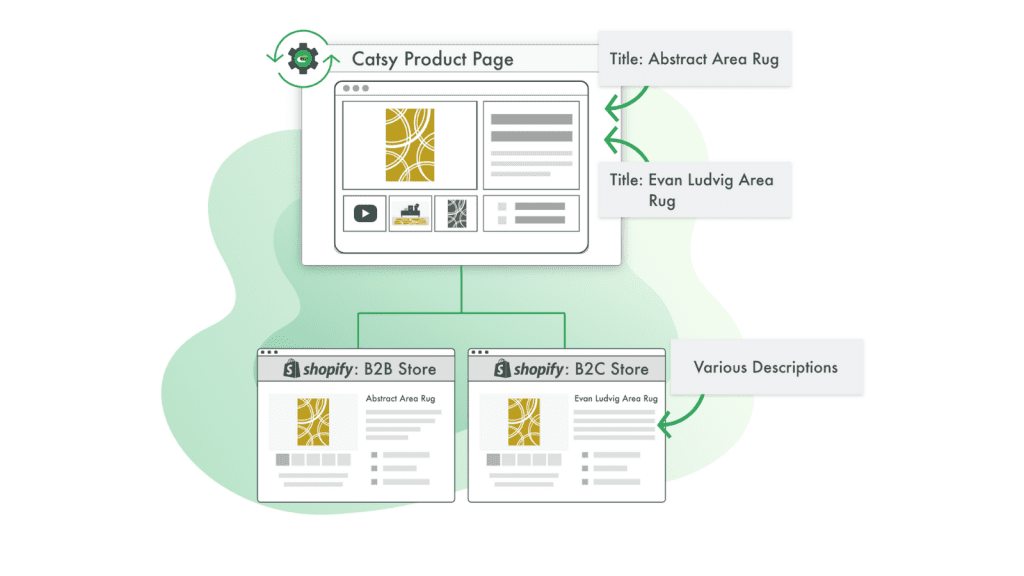 What if you want to add custom information to your product pages?
In addition to the default fields for your product description, Shopify also includes metafields. Metafields are short strings of codes that add custom fields to your Shopify store theme. If you want to add a specific piece of information that doesn't have a default field on Shopify's admin, you can use metafields to do so. Be it product part numbers or blog post summaries, you can tailor your metafields for whatever you want.
However, using this feature requires that you download a Shopify application. By using a robust PIM, you can avoid that altogether and edit your custom field directly from a product information management hub.
Before we go into that, let's understand the importance of metafield editing for Shopify merchants.
The Benefits of Metafields for Shopify
The ability to add metafields helps enhance your product information. Sometimes there are critical details about a product that doesn't already have a space on the Shopify admin. Doing this allows you to add data about everything from your store webpages to your product collections. Overall, adding metafields boost product listings.
How to use metafields?
A metafield refers to a short line of code that contains certain components you can customize. It contains the Namespace, the Key, the Value, and the description.
Namespace: This groups and organizes your custom meta fields.
Key: This describes the specific information organized under the namespace.
Value: This is the unique content or information you want to add.
Example: A table's custom metafield could have a Namespace of "Instructions," in which the Key refers to the specific type of instructions, like 'Assembly.' The value would then be 'Ready-to-assemble.'
To use metafields, you must download a Shopify app. A metafield editor app allows you to store your information directly there while integrating with Shopify. Bulk-editing on the Shopify admin page is also available in regards to your metafields.
A better solution to adding unique product data to your Shopify stores is using a PIM. Storing and editing product data is literally a PIM's job. Even more, a robust PIM will have the capability to tailor content to the marketplace or sales channel.
Using a Robust PIM for Shopify Metafield Editing
Since PIM centralizes all possible product information, you need only import your data once onto the interface. From there, you choose what information to send out, or syndicate, to specific platforms.
In the case of Shopify, a PIM like Catsy is designed to conform to Shopify's elements, including metafield support. Instead of separately populating your custom product information on Shopify, before doing the same to your other channels (if any), you only need to do so in one place: The PIM.
Using a robust PIM like Catsy eliminates the need to use any new apps. It also takes out the possibility of inconsistent product information across Shopify stores and other channels on which you sell. Furthermore, it's easier to import, export, and edit metafields on PIM.
All-in-all, using a PIM to customize your Shopify and enrich your product data saves time. Finally, backup and security are ingrained principles of a robust PIM. Equipped with a strong, secure interface and great customer support makes for an exceptional product information management solution.
Let's recap the advantages of using a PIM with metafield support:
Enrich product detail pages
Maintain consistency across all collections, Shopify storefronts, and other channels
Bulk edit metafields
Secure backup and cloud-based storage system
Why not centralize and store your metafield content on a robust PIM on which you can propagate multiple platforms with the same, uniform content?
One of the biggest time wasters in a multi-store ecommerce business is ensuring all your storefronts are consistent. Because a single error or inaccuracy can hinder your potential, it's important to check and double-check.
Obviously, doing this manually takes a lot of time.
Now, when you use a robust PIM equipped to distribute content to multiple destinations, you are free from these issues. Centralizing all possible product data on PIM gives you a bird's eye view of your content. From PIM, you pick and choose what content you want to publish on what platform.
A PIM like Catsy will automatically ensure your content falls in line with that destination's requirements. This goes for your assets as well. All your product images and enrichment materials (videos, infographics, etc.) automatically resize or fit Shopify and other platforms.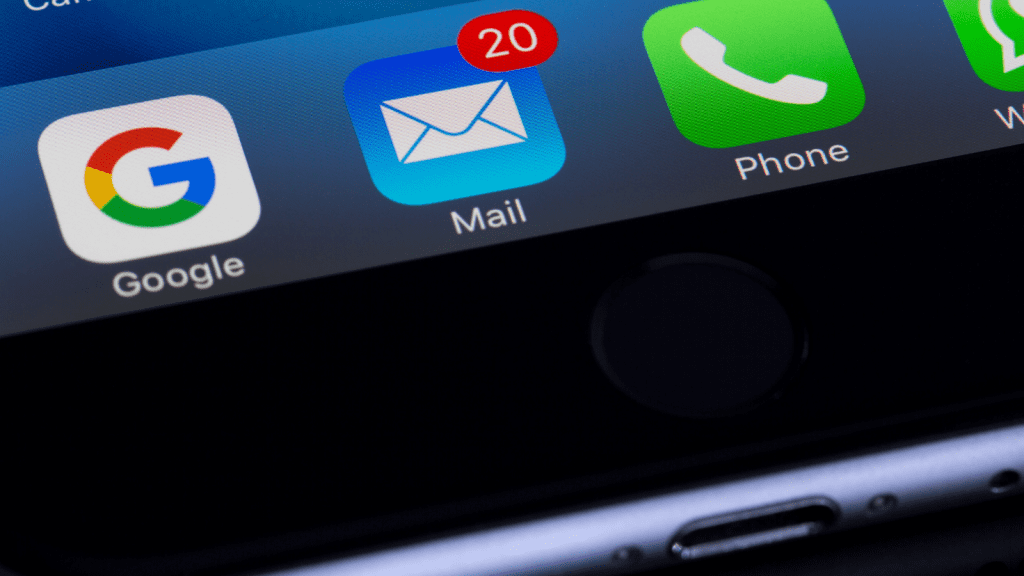 5. Reduce time to market with workflow and notifications.
When choosing a robust PIM for your Shopify business(es), an integrated workflow is an essential feature. When you are gaining traction in your business, it's necessary to have a strong network to support that growth. Otherwise, with a surge in sales and product demand, it can quickly get overwhelming. Performing your processes manually won't cut it anymore.
The whole purpose of a sturdy PIM is to speed up processes. With a workflow involved, you can cut the time it takes to complete general tasks by 60%. Reducing cycle time is an essential benefit that a PIM with workflow offers Shopify merchants.
Features of a robust PIM Workflow:
Task management tools
Efficient Collaboration
Fully customizable to suit your business needs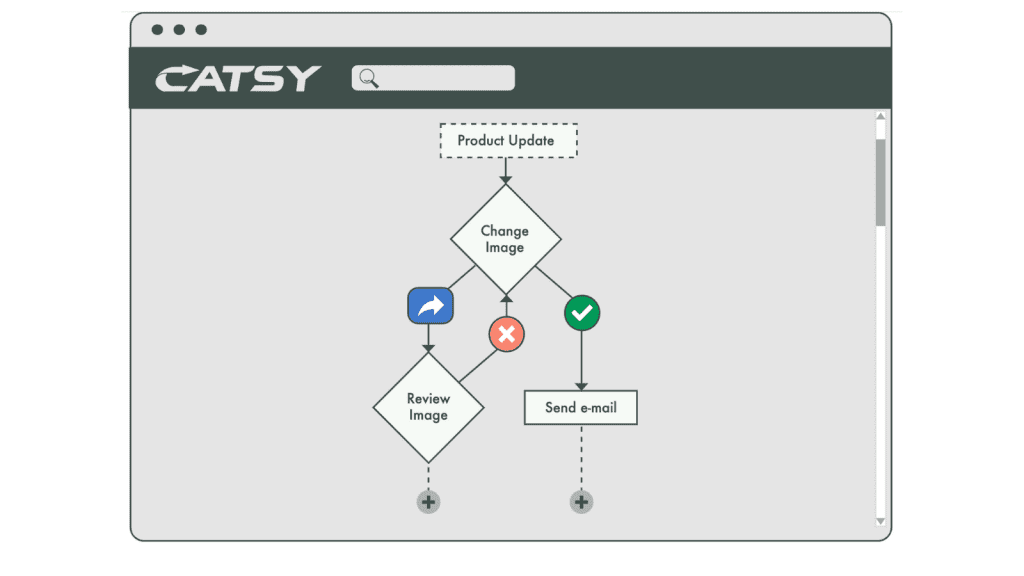 Task Management Tools
In any ecommerce SaaS, a workflow feature helps streamline processes by organizing tasks in a sequence. In the case of PIM, workflow sets up a strategy of critical tasks to any product cycle. You can assign tasks to relevant team members, which move to the approval stage one complete.
What makes a PIM workflow robust is its ability to speed up this review and approval process. Usually, waiting for a task to meet standards with the manager in charge of a project is a major time sink. With a notification system like Catsy's PIM, members receive a notification when a task has reached them in the workflow.
Collaboration
A PIM constructed to support streamlined Shopify processes will include strong collaboration tools. Many projects progress slowly due to miscommunication. A product cycle project is a team effort, so software that supports communication reduces the cycle time.
For example, on Catsy's PIM, all members have access to a project directly on the interface. There, everyone can view the progress of all product attributes, marketing tasks, as well as assignments and roles. The process remains organized and clear to all members. If any issues about completion arise, PIM offers a place to communicate and settle them immediately.
Customizability
Finally, you can customize the PIM workflow settings however you want. Depending on your business needs, a robust PIM like Catsy has a plethora of tools that best fit. For example, you can choose the type of project workflow you want. Pick from options like New Product Introduction workflow, Product Update workflow, or Product Discontinuation workflow. You can decide the length of time, the members who can view or edit tasks, and more. Any changes you make, you choose if and when to implement onto your Shopify store and other channels.
How does PIM workflow streamline your Shopify processes?
Firstly, if your main platform is Shopify, you can directly push your desired content onto all Shopify storefronts with a robust PIM. Secondly, if you have other platforms, a PIM equals the playing field. In other words, you have consistent, valuable data across every store. There's no need to divide your attention between platforms. Additionally, you ensure that all data is high-quality and error-free.
A PIM that can support workflow helps Shopify merchants get ahead of competitors. With tools made to effectively get products to market faster, you save time and money.
Learn more about Catsy's PIM Workflow.
Conclusion
Nowadays, product information management software is very common in the ecommerce industry. No matter how small or large your business is, a simple way to consolidate all your product data is critical. Not only is it important for the organization, but also for scaling.
Even more important is using a PIM that is robust – one that is multidimensional in its features and usability. For your Shopify business, it's important to implement a PIM that is attuned to Shopify's specific properties.
At Catsy, we understand what's important for merchants on Shopify, and we make sure our software is robust enough to match up to your needs. Read more about the ecommerce and product management world on our blog or check out our website to schedule a live demo.