SEO, SEO, SEO. Marketers have the three letter acronym at the forefront of every marketing campaign, every webpage, and every PDP. For good reason: while 68% of all internet activities start with a search engine, 75% of searchers never click past the first page.
What does SEO have to do with enriching PDPs with enriched content? Everything, actually.
PDPs with enhanced content can increase conversion rates by 10-20%. When conversions go up, page ranking will rise.
When page ranking rises, more traffic occurs, and the cycle continues.
In addition to SEO, the goal of enhancing content is to establish a meaningful connection between the brand and the customer. By demonstrating how the product can benefit your target audience, enhanced content pages can help retailers increase conversions and improve the likelihood of repeat customers.
In this guide, you will learn actionable steps to position your content for optimum conversion and help you increase sales.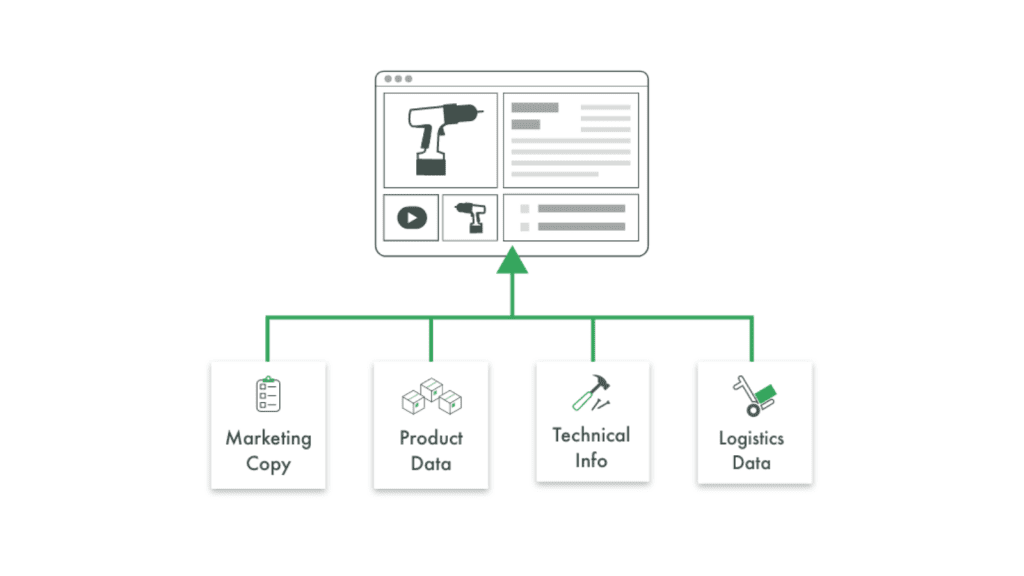 The anatomy of an enhanced content page.
Enhanced content pages are product detail pages that go beyond basic product data to include enriched titles, descriptions, bullets alonsgide additionaly startegic content such as product reviews and inventory notices. The goal of an enhanced product page is to connect with buyers and set your store apart from competitors.
Content can range from informative to creative. Enhanced PDPs are additionally important for establishing customer loyalty and trust. People tend to look for rich, helpful information before making a purchase, and using enhanced content can help establish your brand as an expert and build trust.
In the end, it's all about making the product page engaging enough to hold a visitor's attention for long enough to make a buying decision. Generally, there are three elements to enriching PDPs.
1. Required product content.
From an eCommerce perspective, basic/required content covers routine data that comes from your suppliers, including:
Title
Benefits List
Short description
3-4 Images
Metadata
Ensuring the accuracy of required data is essential for maintaining conversion rates and limiting product returns. Although critically important, required data doesn't necessarily increase conversions.
So, what does?
2. Enriched product data.
Enriched product data.Keeping customers engaged, examples of enriched content are:
1. Longer descriptions that are attention-grabbing, based on emotions, and customized according to buyer personas.

2. Downloadable resources, such as how-to guides.

3. Image galleries with in-use photos.

4. Comparison charts.

5. Product videos, "how-to-use" videos.

6. 360-degree photos.

7. Digital assets with keyword attributes.
3. A clean, strategic layout.
Providing additional information to help buyers make a quick decision is the third piece of Enhanced Content Pages. Spearheading enhanced content sections, Amazon has been an early leader of improving the strategy of the PDP.
Using clean strategic layouts, and in adition to the enriched product data (already mentioned) Amazon's A+ Content pages include:
Inventory alerts
Coupons
Unique image and text layouts
Though Amazon is a clear leader in product pages, many retailers are using similar strategies to entice buyers into hitting the "add to cart" button.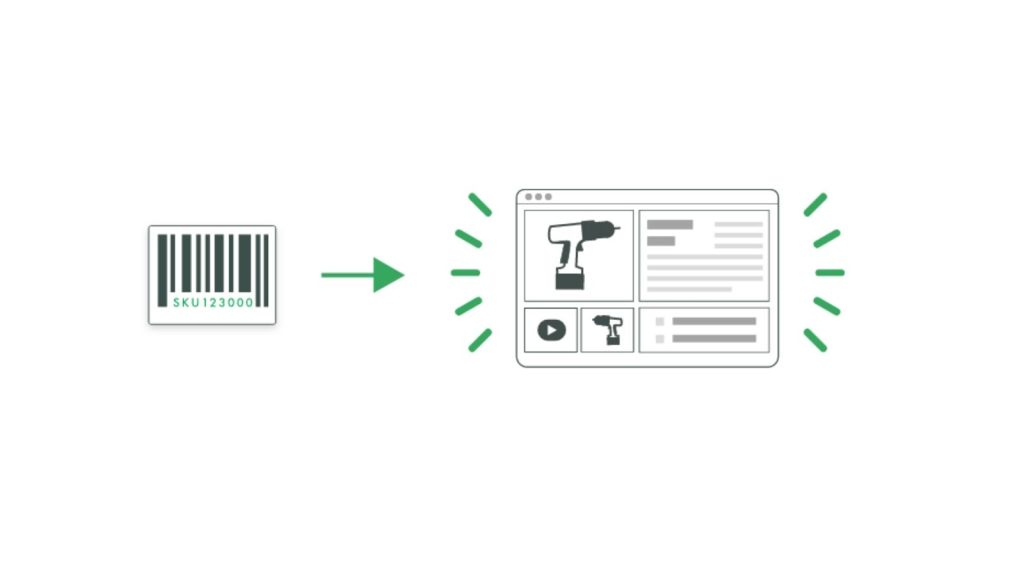 Here it is, the 5-Step Guide for Enriching PDPs.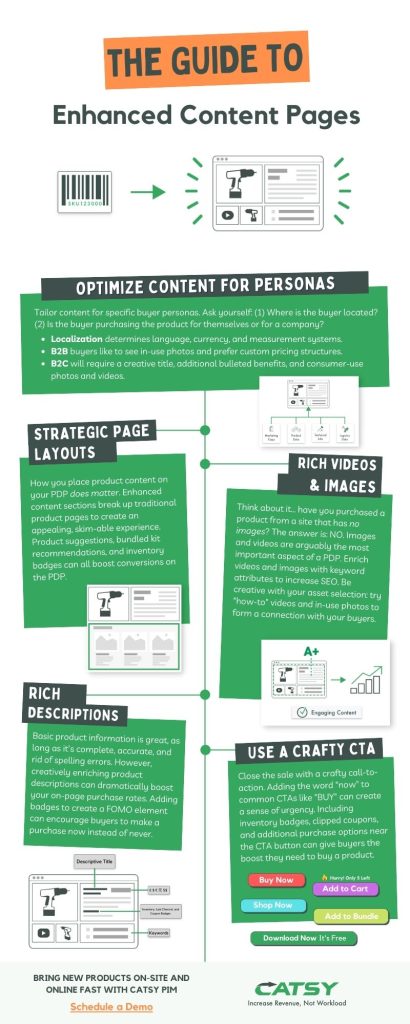 As established, the design of your PDPs must be easy to navigate and have correct information. In addition to the content, PDPs should be highly visible.
The page should answer questions, provide comparisons, reviews and facilitate the purchase process. It should offer enough information to educate a user about the product in a clear, unambiguous way.
A fool-proof 5 point guide to enriching PDPs: Download the PDF
1. Optimize PDP Content for Personas.
It is important to optimize the product detail page according to the target audience and shopper persona. Actually, it's not just important, but essential for driving revenue. In the last year alone, businesses lost an $756 billion because of poor personalization.
When marketers talk about personas, they may be referring to different concepts, depending on business type. At the top the "persona umbrella," product marketers pay attention to buyer categories.
This can include (but not limited to):
Localization – where is the buyer located?
B2B – is the buyer purchasing for a business?
B2C – is the buyer purchasing for themselves?
D2C – is the buyer making a purchase through a marketplace?
Optimizing content for localized personas.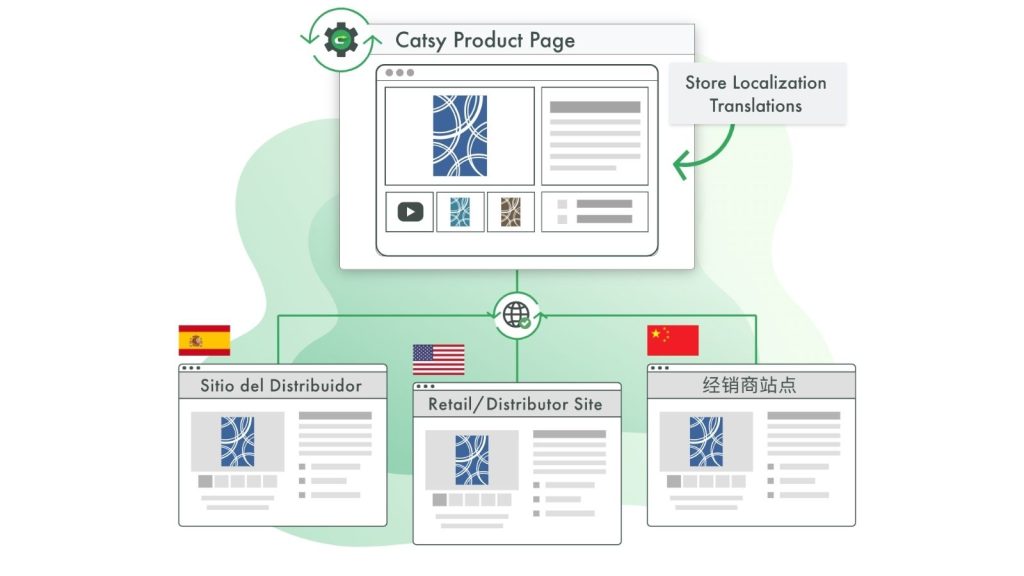 Managing product content for localization personas can be a long and tedious process. From ensuring language and currency translations are correct, to making sure dimensions are consistent and up-to-date, localizing content for buyers overseas is no joke.
However, in order to remain competitive, scaling products for global scale is worth the work. Global commerce isn't going anywhere. In 2022, forecasters are predicting $5.5 billion in sales with steady growth the next few years.
B2B, B2C and D2C personas. How do I know who I'm selling to?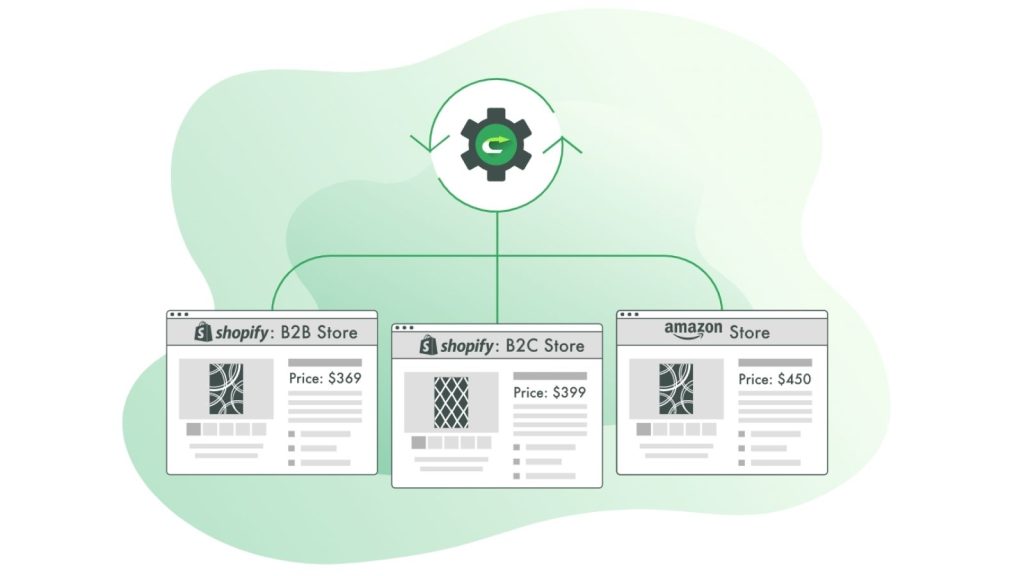 If you're a retailer, you're more than likely selling to B2C buyers (consumers). Brand manufacturers and distributors sell to other businesses (B2B) and sometimes offload inventory to consumer channels (D2C).
Retailers who are selling to consumers have the opportunity to benefit the most from enhanced content pages. Consumers are more likely to gravitate toward the easiest buying journey, boosted by enhanced content and strategic layouts.
Tailoring beyond the buyer type and location.
Depending on your product, it may be a good idea to tailor to beyond buyer type and/or location when enriching PDPs. For example, eco-concious shoppers are more likely to do more research about which companies buy product materials from ethical sources. Moreover, if you have a product page targeting eco-friendly shoppers, the information you provide should include the source of materials for that product.
On the other hand, if you know for certain that your target audience doesn't make purchase decisions based on source material, you can replace that information with something more relevant.
Further, if you have a single product you'd like to sell to both groups, it may be a good idea to have several eCommerce websites tailored to each group.
Check out our guide to Opening Multiple Shopify Stores in two weeks.
When it comes to writing copy, two tactics you can use to optimize for different personas:
Add a personal touch
Adding a personal touch depending on your target persona is a great way to increase your product's appeal. Don't be afraid to use colloquialisms and technically inept terms to make your description a more genuine one. Moreover, a product description should be written as if it's a conversation between a customer and an actual human being. If it sounds like a conversation, it is!
Follow the respect principle
The product detail page should follow the respect principle. The customer shouldn't feel tricked, for example, by a price that sounds too good to be true. Equally, avoid luring customers with a low price that is not the actual price or surprise costs that are hidden in the fine print.
Regardless of persona type, product detail pages should always be as honest as possible. Avoid trickery and point out any hidden costs or limitations. Make the details clear and include only the most relevant information.
2. Strategically Build Page Layouts
Creating an optimized page layout may look different, again based on the product your promoting and who your specific audience is. However, there are several basic principles anyone can use to generate beautiful enhanced content pages. We'll break this down using two categories: enhanced content sections and layout strategy.
1. Enriching PDPs with Enhanced Content Sections
The sum of a great product page are it's content sections. Splitting up enhanced content into skimable sections can allow buyers to easily consume the information they need before making an informed purchase decision.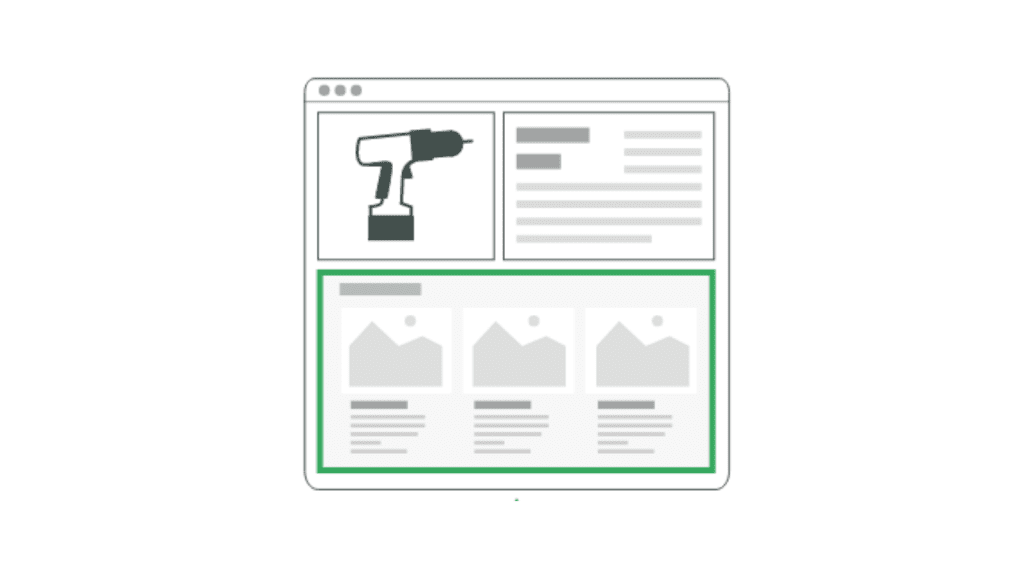 In addition, enhanced content sections customized to your brand can set your brand apart from competitors.
Initial easy steps to take include using visible borders to allow quick switching between sections. This prevents the buyer from having to scroll too much. Additionally, it is uncluttered and provides the user with relevant information.
2. Enriching PDPs with Layout Strategy
The layout of the product detail page is crucial to maximizing conversions. It is important to have enough options to meet the needs of the consumer.
Initial easy steps to take include using visible borders to allow quick switching between sections. This prevents the buyer from having to scroll too much. Additionally, it is uncluttered and provides the user with relevant information.
This may include:
Contact information
A well-designed product detail page should include contact information. A chatbot can be useful in answering questions, but it's still better to have a live human behind the chatbot.
If the customer is unsure about the purchase, they can easily contact the company through a phone call or email.
Return policy
Your layout should take into account positioning for return guidelines. A link to or some quick details about your return policy should be prominently visible on all product detail pages.
It is important to explain your return policy clearly because when customers are unhappy with their purchases, they are often in a vulnerable position. In addition, be as transparent as possible by including the terms and deadline clearly when you're enriching PDPs. Avoid legalese language, and make sure the deadline is listed in bold. The more consumers understand a return policy, the more likely they are to purchase from you.
A return policy can be included in a footer or the product description.
Additional layout components can include:
Inventory badges
Discount codes
Product reviews
Product variations
Suggested products
Product kits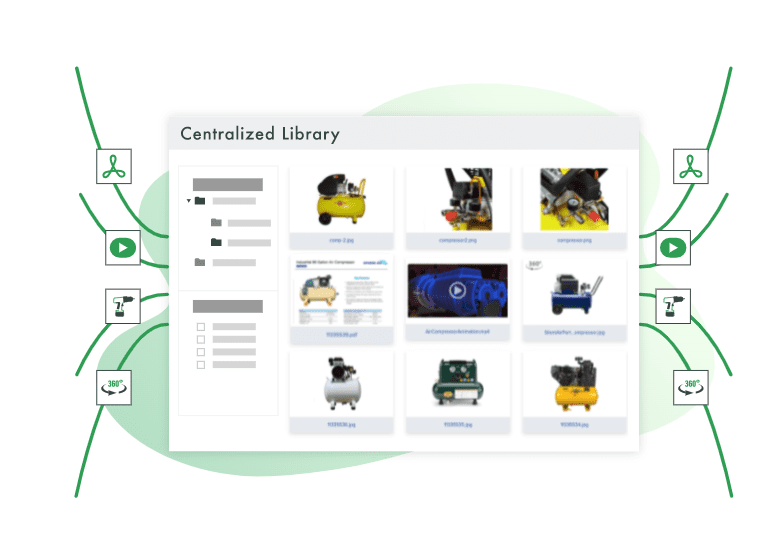 3. Provide Rich Videos and Images
Videos and images are probably the most valuable items you can use to enrich your product details pages. Even when you have no idea what to do when enriching PDPs, you can focus on rich videos and images alone, and you will still witness tremendous results.
How do you go about this?
Rich videos
In addition to providing high-quality content, videos can help set a product apart from other listings in the SERPs. You can embed videos in galleries, or you can even include them on YouTube. To get the most out of your product detail page, make sure your videos are engaging.
Second, make sure your videos are easy to understand. Try to keep them simple, short, and informal. Your video should answer even the most skeptical inquiries. Moreover, make sure it's fun and easy to follow.
Provide a closer look.
The thing about videos is that they help customers zoom in and look at the product from a 360-degree angle. By adding a video, you can show your potential customers a 360-degree view of the product. If it works, your video will get results. If not, you can always re-do it to improve your video's results. The key is to be creative, have fun, and monitor the results.
Rich images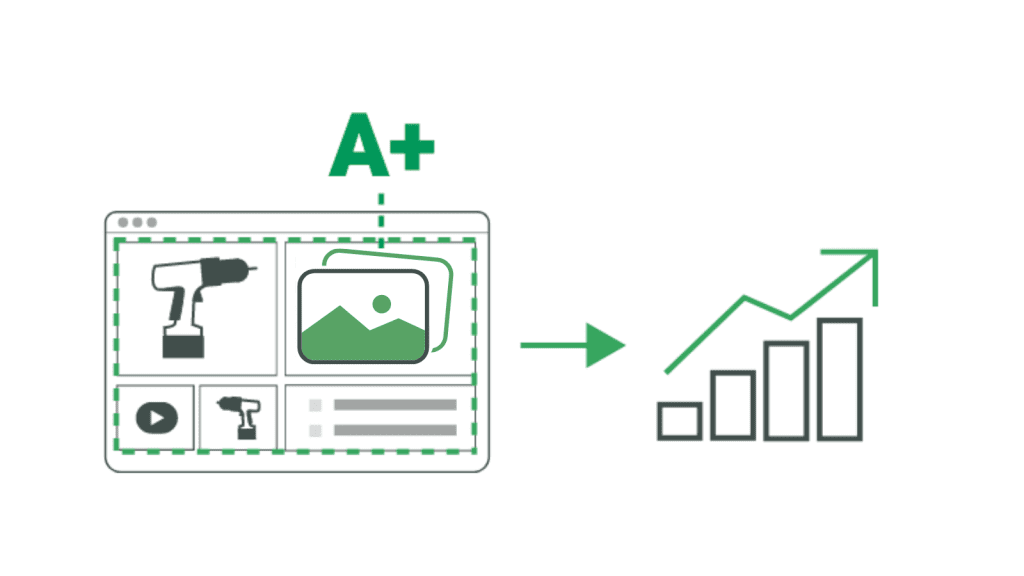 Whether your goal is to increase sales or increase brand recognition, the right images will make all the difference. Images can make your content more interesting, provide a better user experience, and improve conversion rates. Product images influence a prospective customer's decision to purchase, and they have a direct impact on the number of sales. Providing an attractive image can increase your CTR and increase the number of purchases made.
Images for SEO
In addition to boosting conversion rates, good product images are also important for boosting your ranking on search results. Aim to provide high-quality images of products that will evoke positive emotions and help your customers identify with them.
Here are some of the most prominent items to focus on when it comes to images;
Colors
Using the proper color palette is essential for a successful image on product detail pages. For example, you can highlight the product's color and size by using different shades of red, blue, and green. Bright colors are also helpful for scannability, and they will emphasize positive ratings.
Size
You can enhance the images on a product detail page by making them larger and clearer. A 370px-wide image is the best size for listings on category and search results pages. Moreover, the most effective size for a full-size image is 1,200px wide. It's best to include the full-size version of an image on the product listing.
Highlight different aspects
The product detail page should contain images that highlight different aspects of the product. In addition, alternative images and descriptions should be present as a way to help the buyer overcome any hesitation.
Utilize feature images
Feature images are a particularly crucial part of enriching PDPs. These images showcase the product in a way that attracts the customer. They should be taken in an eye-level or long-shot position. You can use the feature images to highlight different features of a product.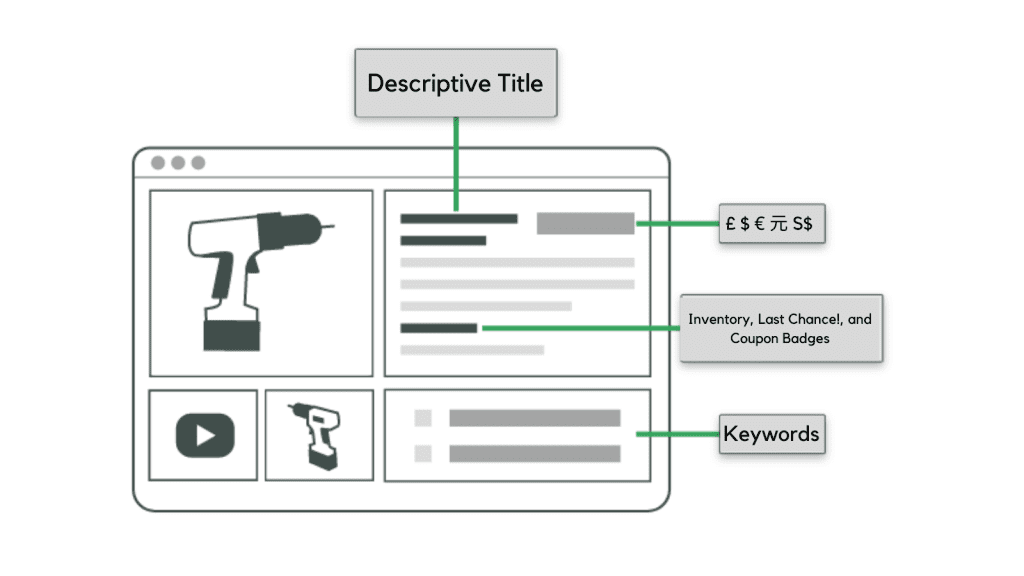 4. Enrich PDPs with Enhanced Product Descriptions
Creating a high-quality product description is indeed essential for several reasons. Consumers need more information about a product, and a lack of details will turn them off.
Studies have shown that a large portion of consumers will stop a purchase if a product's description is incomplete. In addition, a product description can help build social proof, build urgency, and drive traffic through search engines. A rich, accurate product description reduces the risk of complaints and returns. It is also the most cost-effective way to increase sales.
However, you must endeavor to go beyond descriptions and make the details worthwhile for the prospective buyers. Here are a couple of tips for enriching PDPs with enhanced product descriptions.
Think like a buyer
The first tip to writing a high-converting product description is to think like a buyer. An ideal customer is someone interested in a particular brand, and the best product description should be no exception. Its interests and needs should be expressed in a way that will make them purchase it.
Be persuasive
A product description should be persuasive and eloquent, stating the benefits of the product and how it fits into the customer's life. While you can't go wrong with a basic bullet list of benefits, a high-converting product description should go beyond a simple summary. The best descriptions incorporate the needs of your target customer and include how the products will meet these needs.
Don't stop at features
It's tempting to focus on the features of your product and stop there. But don't get carried away with this. Although you want your readers to purchase your product, they want to know more than just the features. Doing the best you can to showcase the product features and stopping there won't help you convert potential customers. Instead, provide the most important features then go a step further to demonstrate what makes your product special.
Show how those features solve their problems. Always remember that every potential customer that comes to your product page is most likely coming to seek answers to specific questions. In fact, they will only buy when the questions are answered.
Highlight special offers
Offers are most effective if they are specific, relevant, and a good way to grab attention is to put them right in front of the reader. Incorporate words such as 'free trial' or 'limited time offer', or 'limited stock' to emphasize urgency. People are typically motivated by emotions, so make sure to optimize this when enriching your PDPs.
Add comparison charts
Adding comparison charts to your product detail page is another effective way to go beyond descriptions and boost conversions. The goal of a comparison chart is to aid the customer in making decisions by showing similar products and suggesting which ones are more appropriate for them.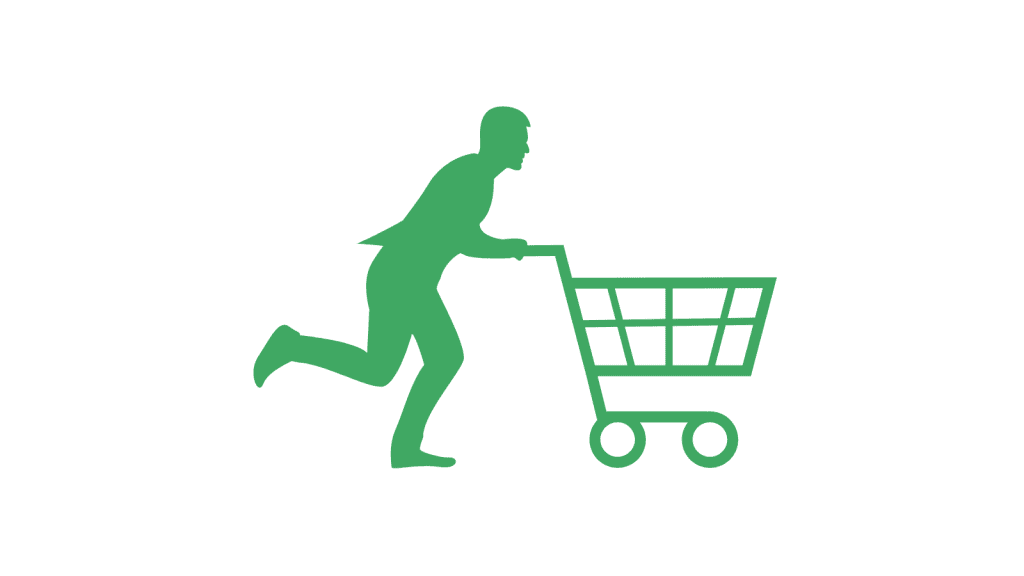 5. Craft a Winning Call To Action (CTA)
The role of a CTA is to direct users to take a specific action. It should be easy to find, be noticeable, and command the attention of the user.
Apply these tested tricks to create a powerful CTA for enriching PDPs:
Create a sense of urgency
Today's consumer is desensitized to many types of advertising. If they're unsure about the purchase, they'll abandon the cart, and/or cancel the payment. A simple cause-and-effect statement is an effective way to create urgency.
Your last chance to persuad
A great call to action is a combination of strong persuasive language and a strong design. Whether you are calling for a product or service, you need to make sure that your call to action stands out in the audience's mind.
Start with a strong command verb
A good call to action should start with a strong command verb that lets your audience know what they should do. The words should be specific, clear, and simple. The best way to make this statement is to make use of a strong verb. Examples of a strong verb include Buy, Shop, Order, Reserve, etc
The best call-to-action phrases start with a strong command verb and end with a clear, concise message. This is important because people like to be told what to do. Remember that humans are busy and have many responsibilities, so they appreciate clear instructions. A strong, command-verb-based call to action will help your readers picture themselves taking the action you want them to take.
Employ fear of missing out (FOMO)
A good call to action should exploit the fear of missing out (FOMO) to entice customers to act immediately. This psychological factor is an effective motivator and can be used in many product campaigns. If the product or service is limited, the customer may feel 'threatened' by missing out on the limited quantity.
The fear of missing out (FOMO) is a common marketing technique and can be successfully applied to many products and services. To be effective, it must be used responsibly. Moreover, it is vital to avoid creating fake scarcity, as this can backfire and lose its effectiveness. Use it carefully and only if the offer is truly irresistible.
Use a color that stands out
When choosing a color for a call to action section, it is important to choose a color that stands out from the background. But this color should still be consistent with the rest of the page. The color should also be bright enough to attract the eye and should be readable even at a glance. It must be visually appealing to attract the attention of the audience and encourage conversions.
Easily create enhanced product pages with Product Information Management (PIM).
Product information management (PIM) exists to help teams manage product content for sales on eCommerce channels. Retailers use PIM to streamline the content optimization process, and more recently, to build enhanced content sections for PDPs.
Using a PIM, Retailers have the opportunity to easily manage thousands upon thousands of SKUs and tailor content for personas. This includes complete localization content, such as multiple languages, dimensions, currencies, and photos.
Ensure required content is always present.
In addition, PIM grades content from suppliers to ensure all required content is present. Using enrichment workflows, retailers can work together to enhance content before and after it's publication. High limits API keeps content pages up-to-date with new edits at all times.
Most relevant to this article, some PIMs enable you to build enhanced content sections for enriching PDPs directly in PIM. Moreover, the ability to create impressive content directly in your single source of truth for product information can save teams hours upon hours of time and reduce human error.
Conclusion
Enhanced content is the secret weapon for driving content to your eCommerce businesses. Creating personalized buying experiences is essential for remaining relevant in today's online marketplace. The time to start taking enhanced content seriously is now.
Wondering where or how to get started? You'll need a single source of truth ecosystem to collect and manage product conten, enrich product data, and build enhanced content pages.
Learn more by booking a demo with Catsy to learn more about how Product Information Management helps retailers increase revenue, without increasing workload.
FAQs
1. What is CATSY?
CATSY simplifies the way retailers manage and publish product content across retail channels. A cloud-based PIM and DAM solution, retailers operate out of a single source of truth to drive revenue using a three-step strategy: normalize data, validate for completeness, and speed products to market.
2. What is Product Information Management (PIM)?
Product information management (PIM) is the streamlined process of centralizing product data for enrichment and publication on multiple sales and marketing channels, increasing product findability, accuracy, and completeness to drive revenue for organizations.
3. Why is PIM important for Retailers?
PIM and DAM are built to reduce time-to-value for your retail business. The faster your team can create more accurate and actionable content, the better the results your organization will achieve.
4. How can I improve brand enhancement?
The most cost-efficient way to enhance and humanize your brand is through social media. This is particularly useful in the case of smaller brands. A mascot can be an affordable, effective way to represent your product. But don't just use a mascot to make people familiar with your product. Instead, create an animated version that can be easily shared on social media platforms such as YouTube.
5. What is metadata enrichment?
Metadata enrichment involves adding additional tags and assigning the right tags for each item. This process is vital to make your channels accessible to all users, including those with disabilities. In addition to increasing discoverability, it can also be an effective tactic to drive sales.
Metadata enrichment should be user-friendly. It should include relevant metadata that is presented according to the needs and preferences of the user. The goal of metadata enrichment is to provide full visibility to the user. By aggregating and filtering data, it helps marketers make decisions that are relevant to their users.