What the Best Product Information and Digital Asset Management (PIM & DAM) Software 2022 offers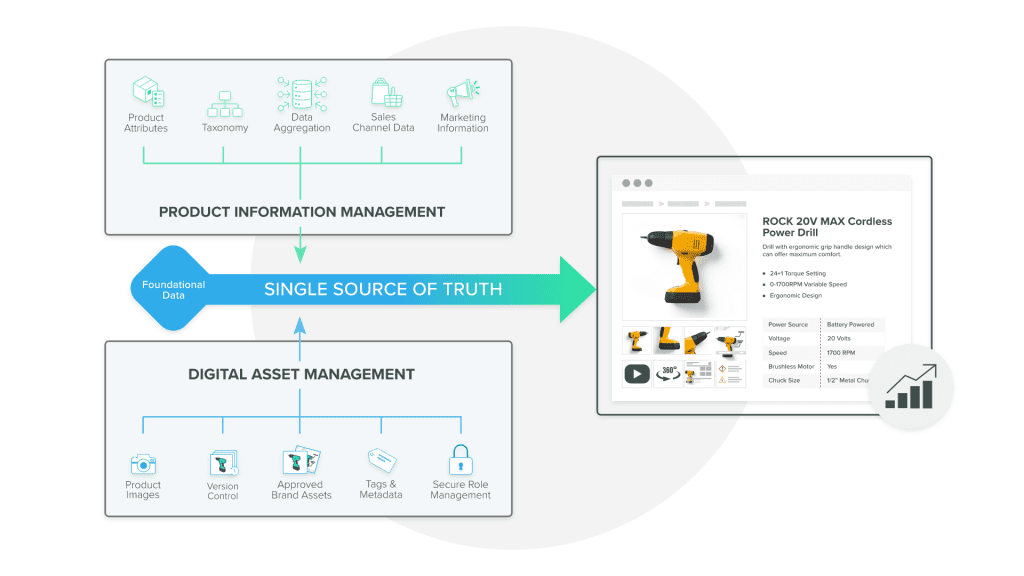 Product information management (PIM) is essential for creating PDPs that win on category pages
Studies in the last two years have shown that category pages drive an estimated 202% more traffic than PDPs. How can you make sure your PDPs are strong enough to appear at the top of a category page? PIM can help with the management & re-usability of keyword attributes. Keep reading to learn more.
Digital Asset Management (DAM) needs to have powerful tools and features for successful eCommerce use
Many DAMs exist, but not all include the powerful tools and features required to sell products on eCommerce. An eCommerce product-centric DAM should include the following features:
Multi-Dimensional Search

Gap Reporting

Channel Export Templates 

Workflows

Asset Naming Flexibility

Product Catalog Portal

Product Information Scalability
PIM & DAM combined create a strong single source of truth for product content
Together, PIM & DAM create a strong single source of truth for eCommerce businesses. A single source of truth empowers businesses to unify processes, improve security & control, access approved content at any time, seamlessly share with outside partners, and automate item setup templates and channel syndication.
As organizations and brands seek to grow their business, success on eCommerce sites and online catalogs becomes a critical component to their progress. To achieve success on eCommerce sites and brand portals, having a great product is only a part of the journey.
The presentation of these products, their features, and their functions on product details pages is the most important factor for growth on eCommerce platforms and channels. Product details pages create an impactful (and often permanent) first impression for the prospective buyer. 
To understand why product detail pages are so crucial to success in sales, and how to create more engaging pages, refer to this article. In short, a good product details page consists of:
Product information that is:
Implementing great product details pages with these qualities requires efficient coordination and transition of product information and digital assets between the organization and all its sales channels.
This means that an effective and highly organized system is required to store all this product information and digital assets and send the necessary details for each product to these sales channels.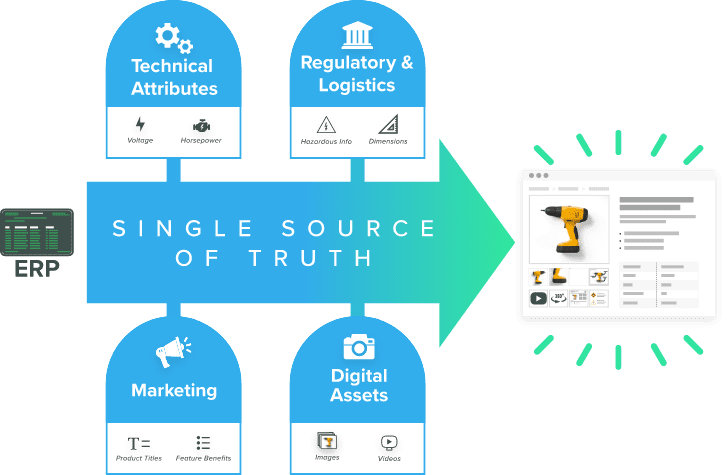 When do businesses need a PIM & DAM?
At their grassroots stages, brands may go through this process manually using localized file systems or outdated enterprise resource planning applications, as they may not have a lot of products, but as the number of products and resources increase with the size of the organization, they require a single source of truth for all their digital assets and product information to be successful in this process.
Using an application or software that serves as a single source of truth, organizations have access to one location where they can store all their approved product-related content. Using this source as an origin, information and digital assets can be sent to eCommerce sites, distributors, brand portals, and other sales channels through automated workflows and other features offered by these solutions. 
Product information and digital assets can be edited only by authorized personnel, which guarantees that all the content within these systems is 'approved', and any changes made to these assets and information are reflected on product details pages on eCommerce sites and digital catalogs. 
These features allow the organization to spend a lot less time and effort on organizing product-related content and sending information and assets to sales sites and can dedicate more resources to the development of the product itself. 
This is where the product information management (or PIM) and digital asset management (or DAM) solutions come into the picture. Before we look at how these solutions work together to create a single source of truth for all product-related content, let's closely consider each system and understand what it offers.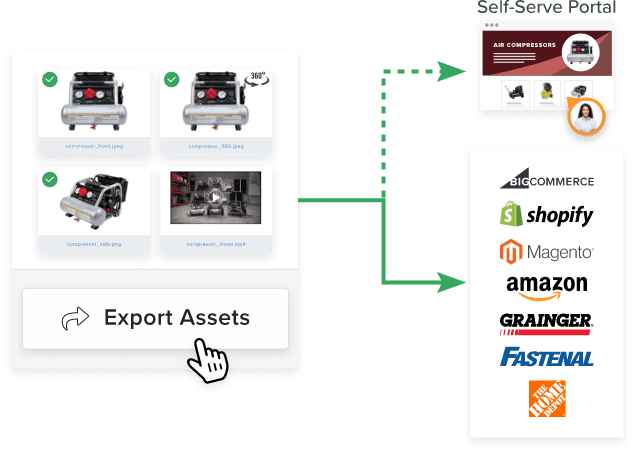 Digital Asset Management system (DAM)
A digital asset management system is an application that offers a solution to organizing, archiving, authorized editing, and efficiently accessing digital media and assets for an organization of any size. 
It serves as a centralized repository of all sorts of media files such as:
In the case of an eCommerce enterprise, the importance of using such a tool goes beyond just 'convenience'.
Beginning with approval of product images to post on an e-catalog, internal or customer service systems for extracting and reviewing PDFs, spec sheets used by the engineering team to store computer-aided design drawings, and by marketing and print teams to import and export high resolutions photos and other forms of physical media, a DAM can serve as a single source of truth for all digital content in the organization.
For information on the history and future of DAM solutions, click here to take a look at this article authored by IBM.
To gain a better understanding of digital asset management systems, here are four features and functions of a DAM: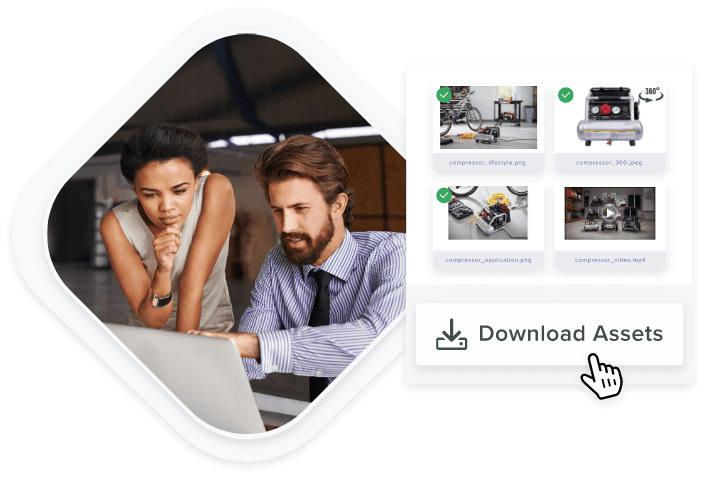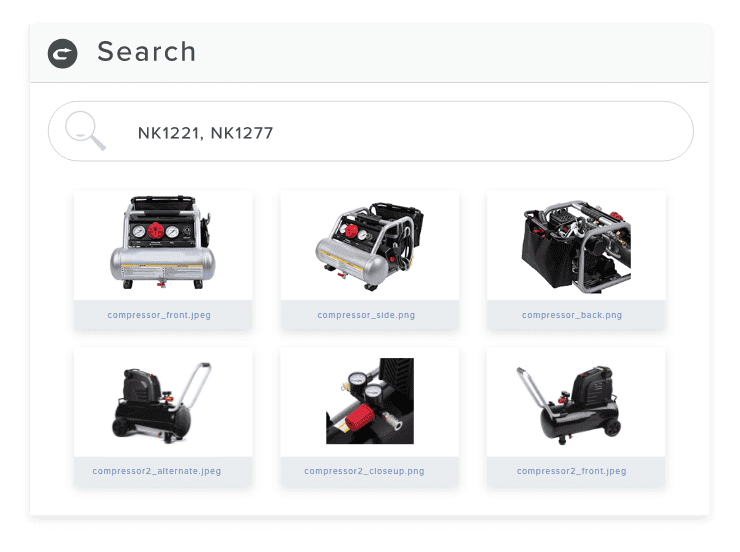 A single source of truth for all digital content
As the name (digital asset management) suggests, this application serves as a centralized database for all digital content related to their products and the brand. This centralization allows all branches and departments of the organization to access these digital assets for their own purposes. 
For example, sales and marketing teams may need access to product spec sheets (created by the engineering department), so they can design sell sheets that highlight various technical features of the product. Let's say that after a few months, the engineering team decides to add a new feature to the product. 
They would then edit the spec sheet to reflect this change, and since the spec sheet is stored in a centralized repository (the DAM), the marketing team would be able to view these changes and edit their sell sheets accordingly. 
A caveat to the accessibility feature which will be addressed in further detail shortly, is that all departments can access these digital assets, but they cannot edit, remove, or replace these assets. Edit rights are reserved only for the department that directly works with these assets, but access and export rights are often available to all departments of the organization. 
The DAM comes with an efficient and fast search system, which allows personnel to search for a specific digital asset using various attributes, tags, titles, and identifiers. This feature of the DAM promotes synchronicity and coordination, with respect to digital content, amongst various parts of the organization.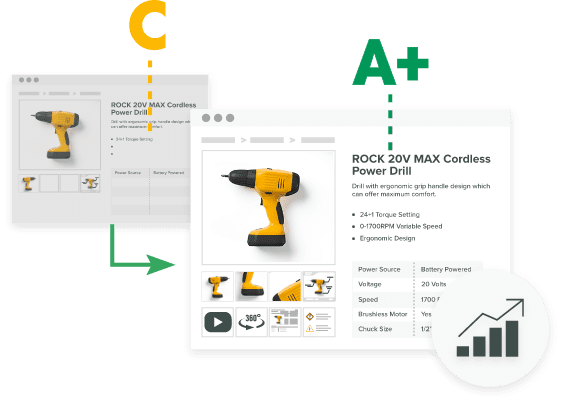 Source of authentic and approved content
As discussed in the previous point, digital assets in the organization can often be accessed by all departments, but only specific departments can edit, replace, or remove certain digital assets. For example, only marketing and sales will have edit rights to sell sheets, brochures, and other marketing-related media. 
Engineering and research and development teams will have edit access to computer-aided design drawings, product spec sheets, and other technical and scientific digital assets. This feature of restricted access guarantees the authenticity, originality, and credibility of this product information. 
These qualities also need to be reflected in product details sections on product details pages, because the last thing any customer wants is false or inaccurate product information. In short, DAM serves as a source of all 'approved' digital content in the organization.
Organizing and implementing automated workflows
From this single source of truth, all the digital assets related to a specific product can be conveyed to a variety of sales channels that the brand deals with. This conveyance of assets and media files to various channels can be automated through workflows, which alleviates the task of manually sending digital assets for multiple products to different sales channels. 
This feature supports brand consistency across all eCommerce platforms, as the same approved content for each product is sent to these sites. As the DAM is a source of approved content, we can guarantee that these channels receive digital assets that are genuine and approved by the organization. 
Automated workflows also reflect changes made to digital assets in the DAM to content on sales platforms. For example, if the marketing and photography teams decide to replace the thumbnail of a specific product to highlight a new feature, the thumbnail for the corresponding product on the eCommerce platform will change as well. This function saves a lot of time and resources, which allows for further development of the product and other aspects of the organization.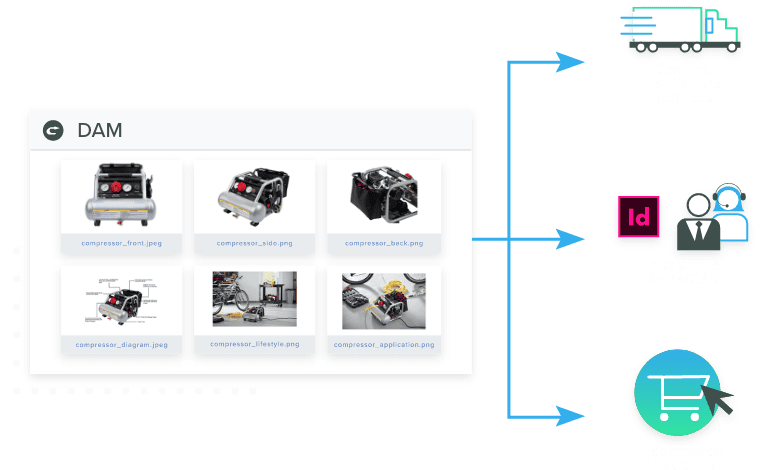 Seamless integration with external applications
DAM allows external third-party applications to communicate and connect with them using APIs or application programming interfaces. Without going into much detail, this means that an external application designed by an organization (such as a brand portal or e-catalog) can easily connect to the DAM using an API. 
Once this connection is established, content from the DAM can be shared with this application, and workflows to convey information from the DAM to the application can be established. Basically, adding a sales channel to the DAM is a seamless task. In addition to external applications designed by the brand, third-party applications such as design tools, social media platforms, and other databases can be connected to the DAM as well. 
For example, if a brand that has an active and verified social media page, shares information about new products and marketing posts every week. Digital assets such as videos or images, that are specifically created for these posts can be stored on the DAM, and then be channeled to the social media site to be shared with followers. 
Additionally, sell sheets, brochures, and other media files created on special design applications can be directly exported to the DAM after a connection between the DAM and this application has been established.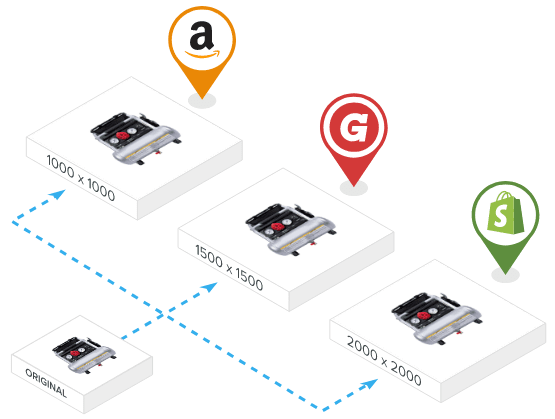 eCommerce expansion with Digital Asset Management
Using digital asset management software allows companies to expand their business and their brand on eCommerce platforms. This software is extremely useful for any organization that deals with a large number of digital assets, and since digital assets are one of the most foundational aspects of driving engagement on product details pages, almost every company can use a DAM as a single source of truth for all their digital assets. 
Now that we have a sound application to deal with digital content, we can turn our attention to the second half of the solution – the Product Information Management system or the PIM.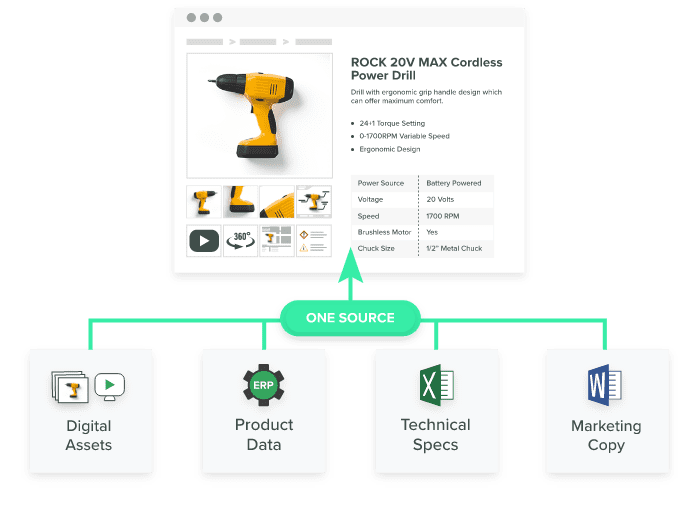 Product Information Management system (PIM)
Similar to a DAM in basic principle, a product information management system serves as a centralized single source of truth for all product-related information.
Product-related information includes product:
In addition to digital assets, a good product details page consists of rich, accurate, and detailed yet concise product information in various formats (tables, charts, paragraphs, and documents). 
A PIM offers a solution to storing all product-related information in a location that is secure, approved, and can serve as a launchpad of information to sales channels and eCommerce platforms.
Streamlining the process of organizing all product information for a brand's products, as well as the process by which it is sent to sales channels is crucial to the brand's success on these platforms. 
Product information always needs to stay up-to-date, and the consistency and authenticity of this information need to be maintained across all channels and platforms that the organization deals with. In order to understand how a product information management system can benefit an organization, let us take a look at 4 core features of a PIM.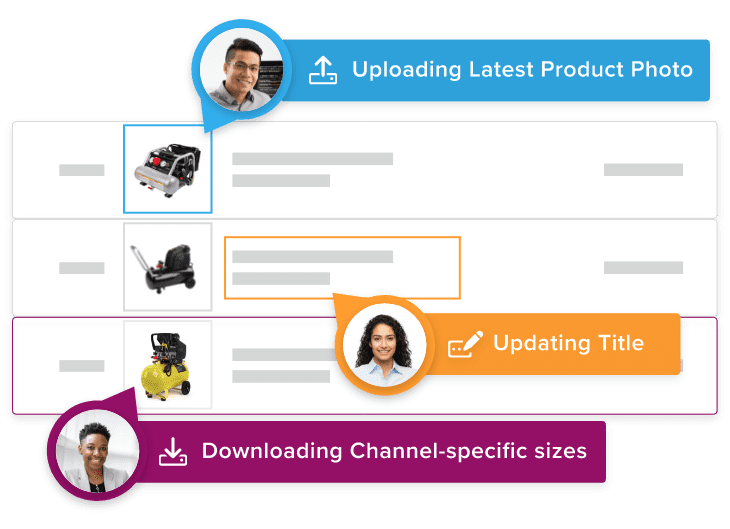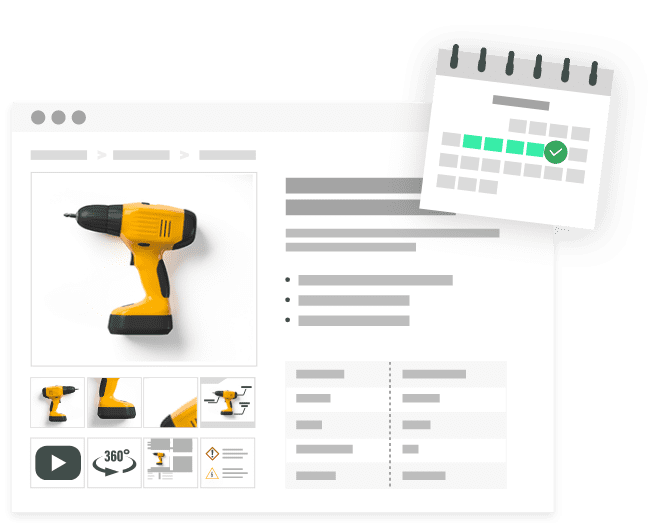 A single source of truth for all product information
All product-related information and content can be stored in the PIM, which acts as a centralized database. Similar to a DAM for digital assets, a PIM can be accessed by different departments in an organization, but certain information in the PIM can only be authored and edited by a specific department ('approved' feature of PIMs). 
PIMs facilitate collaboration between different departments of the organization, as information authored by departments can be viewed and exported by other departments for their own use. PIMs also come with identifiers, attributes, and filters that highly increase the discoverability of product information. Using similar features, search engine optimization strategies can be practiced by adding tags, attributes, and other features.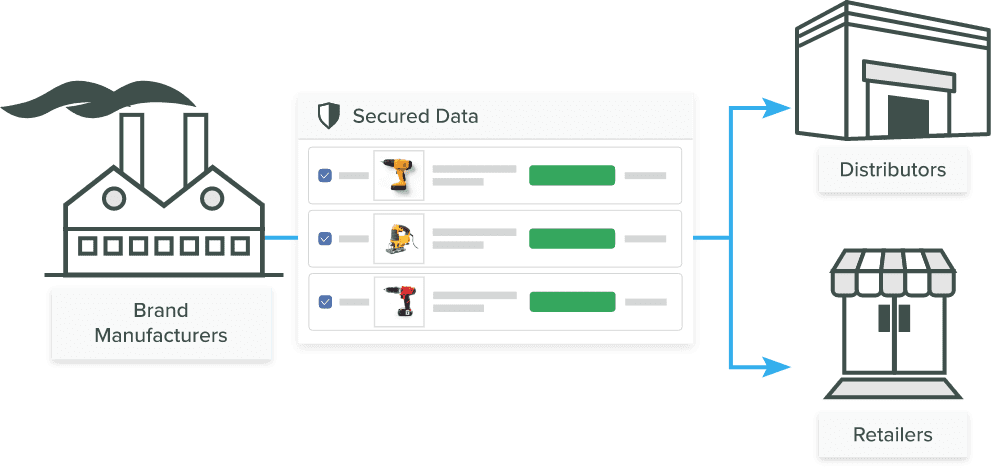 Source of accurate and approved content
As mentioned above, specific aspects of a product's information can only be authored or changed by certain departments. For example, all the information concerning the product's technical attributes and performance features (such as voltage and horsepower) can only be modified by the engineering team. 
Other aspects of product information such as product descriptions can be modified only by marketing teams, as they determine the creative balance between detail and conciseness of product descriptions. 
Since the accuracy and credibility of product information on product details pages is critical, using a PIM significantly reduces the chances of error when it comes to information to multiple sales channels for a variety of products. This feature also ensures brand consistency and credibility of information across all sales channels and eCommerce platforms.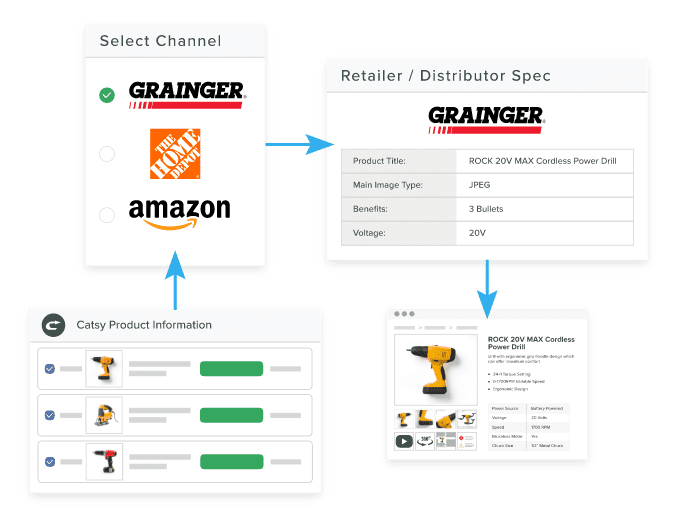 Implementing automated workflows
New product features are always exciting and beneficial to the product's attractiveness and the brand, but updating the information on this new feature across all sales channels can prove to be a hassle without a PIM. 
With the ability to automate workflows and updates, changes made to product information on the PIM can be reflected on product details pages across multiple channels and platforms. This way, all product information out there can be managed from a single source of truth. 
This decreases the amount of effort that goes into accurately distributing content across multiple networks, thereby reducing the chance of error and increasing the product's credibility.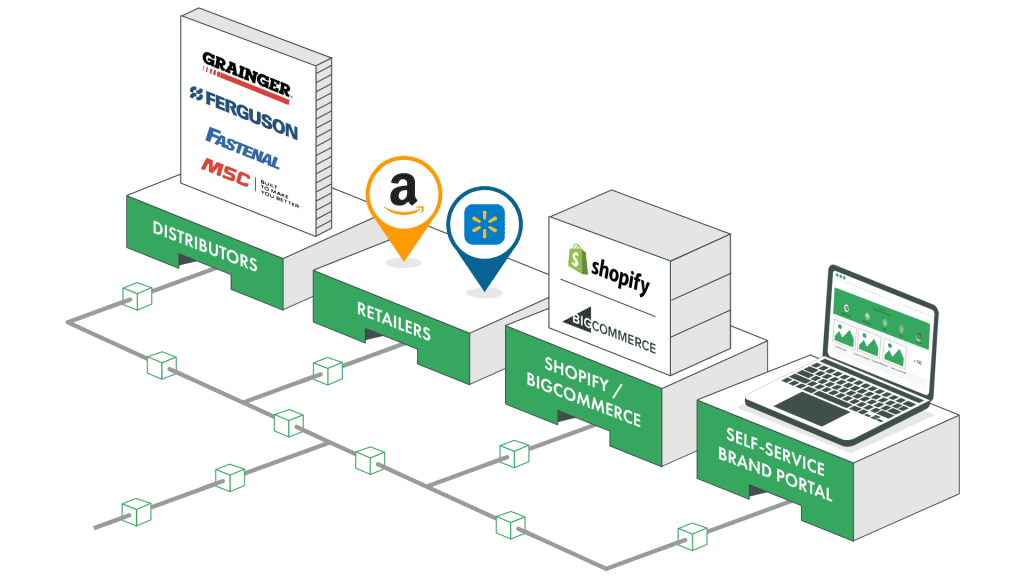 Integration with external applications and channels
Export channels and external applications can be integrated with the PIM using an API, after which product information can be exported to these channels and applications. 
Export profiles and channel templates can be designed for each channel and updates in product information can be conveyed to the channels automatically. Using this feature, content can be published globally across external applications with ease and efficiency. 
Integrations allow organizations to easily enter new markets and eCommerce platforms while reusing the same product profiles in the PIM instead of starting from scratch. This also allows brands to bring new products to the market with ease and speed, reducing listing delays and improving customer satisfaction in the process.
Use a PIM to manage thousands of SKUs
Accurate and up-to-date product information provides prospective buyers with all the details they need to purchase a product. Along with an increment in the number of products a company offers, there is a significant rise in the quantity of product information. 
A PIM is useful for any company with large datasets of product information that need to be aggregated, organized, stored, and syndicated from a single source of truth.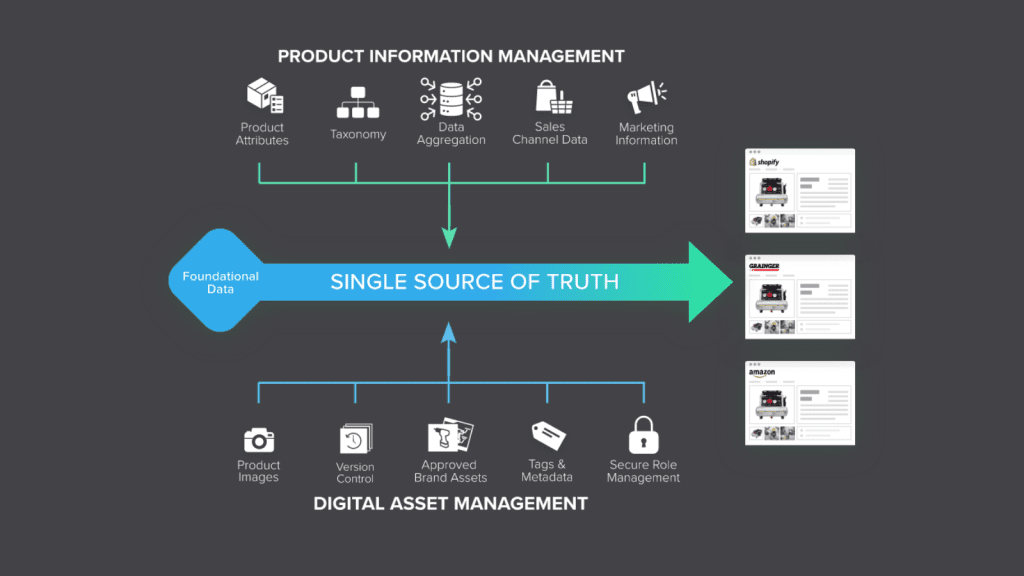 PIM & DAM Are They Better Together?
Now that we have a detailed overview of both solutions – PIM and DAM, brands can start making informed decisions about which type of software they need to facilitate their growth on eCommerce platforms. 
To summarize the information presented above, a PIM is a single source of truth in all product-related information, and a DAM is a single source of truth in all product-related digital assets. 
Any organization seeking success on eCommerce platforms needs impactful product details pages that comprise digital assets and product information. For this reason, a brand will benefit most with BOTH solutions, as they can leverage both applications to store, organize, and channel content from two single sources of truth – one for digital assets and the other for product information. 
These two elements of product details pages go hand-in-hand, because the product needs information to describe its features, attributes, and functions, and it needs digital assets to visually portray these qualities. Here are 3 features that organizations can benefit from with a PIM-DAM solution:
3 Features of a PIM & DAM solution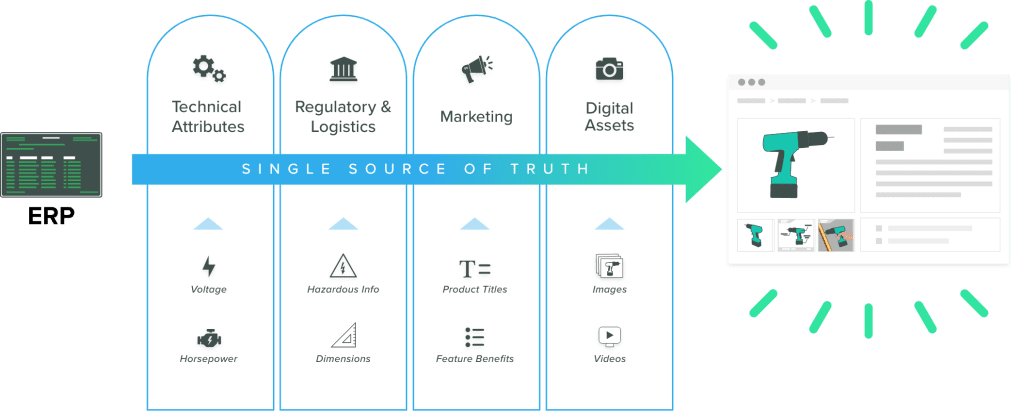 A unified single source of truth
With a PIM & DAM, brands can store all product-related information and digital assets in a centralized location. SaaS Solutions such as Catsy offer PIM and DAM integrations, which allow brands to store and access ALL product-related content from a single source of truth. Digital assets and product information can be viewed and edited simultaneously, instead of working with the PIM and DAM separately. 
All the departments in the organization can now work with content stored in a centralized database, where product information and digital assets can be edited, replaced, or moved with ease and confidence. Large catalogs (which contain both product information and digital assets) designed by a brand can now be effortlessly imported and exported from this single source of truth. This makes publishing a lot easier and less time-consuming.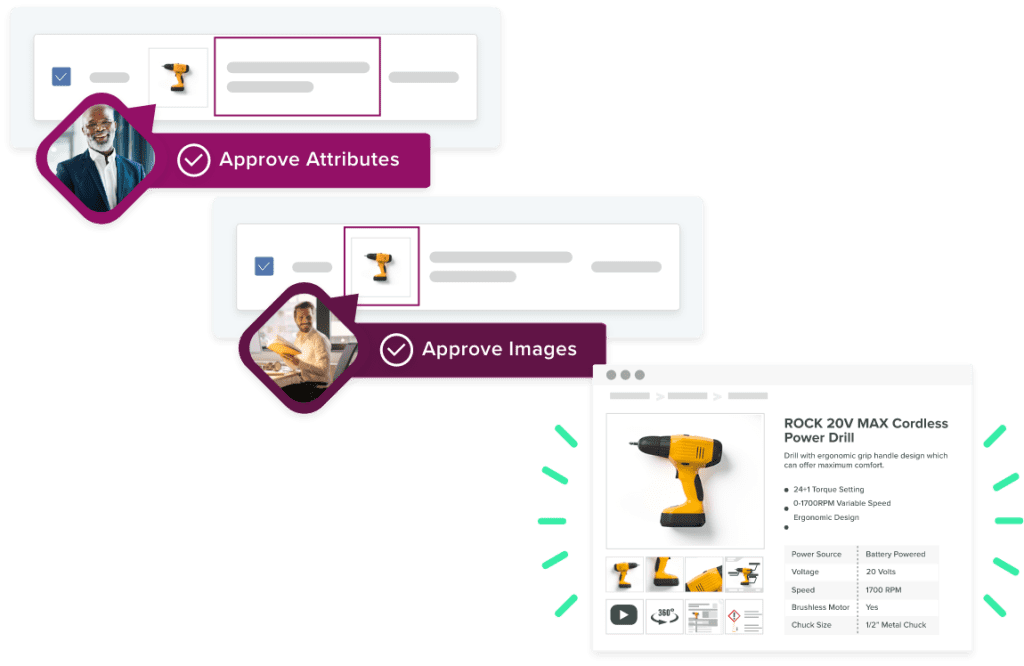 A unified source of approved content
All content within this integrated solution is approved, as edit rights and authorizations for various pieces of information and digital assets can be allocated to different departments.
Engineering and research and development departments can work on all the technical-related aspects of the product (CAD drawings, spec sheets, technical product information, and functional details) in one application. 
Similarly, marketing teams can view and edit all marketing-related content such as sell sheets, product descriptions, brochures, marketing advertisements, posts, videos, and product description page templates. Instead of switching between two applications, departments can now use one unified solution to perform edits on all product content. 
A unified source of approved content ensures that all information and digital assets across all channels will be accurate and validated by the respective teams. Each department takes responsibility for its set of digital assets and product information, which drives collaboration and accuracy of the content.
In addition to ease of management, a unified source of approved content enables users to seamlessly share product content across channels. This allows marketers to ensure brand consistency and allows businesses to quickly add more channels to access a larger customer base. 
Common PIM & DAM channels include eCommerce channels, retail channels, distribution channels, and internal sales channels. A few examples of eCommerce channels include Shopify, BigCommerce, and Magento.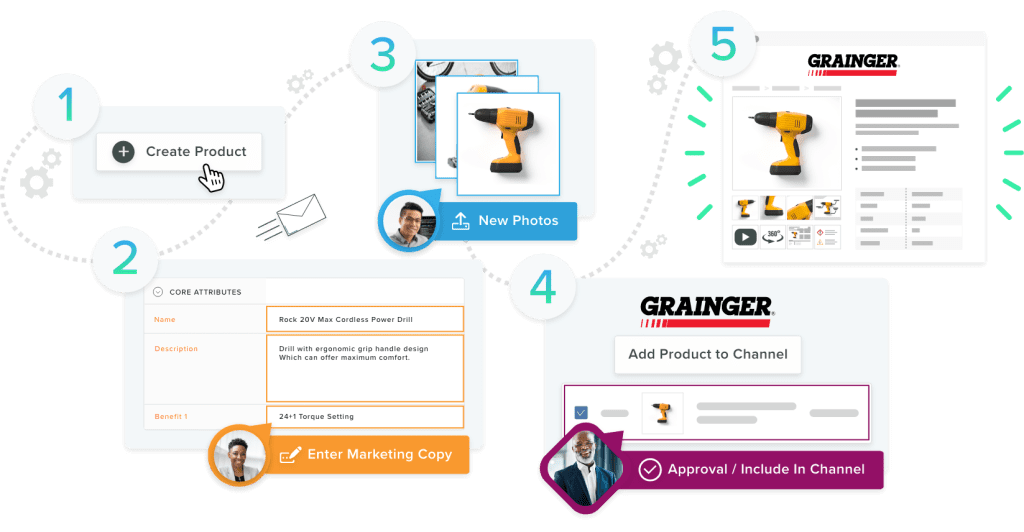 Automated workflows and updates
Any edits made to product content in a PIM-DAM integrated system can be reflected on eCommerce sites with the help of automated workflows.
With a unified source of truth, export profiles and templates can be automated, and product information and digital assets can be populated onto these templates at the same time.
Without such integration, brands would first have to design templates with all the product information from the PIM, and then begin using the DAM to populate all the digital assets.
Once new channels and platforms are acquired, these profiles can be immediately and automatically exported as workflows. Any changes or updates made to product information or digital assets can be accurately and quickly updated across all channels.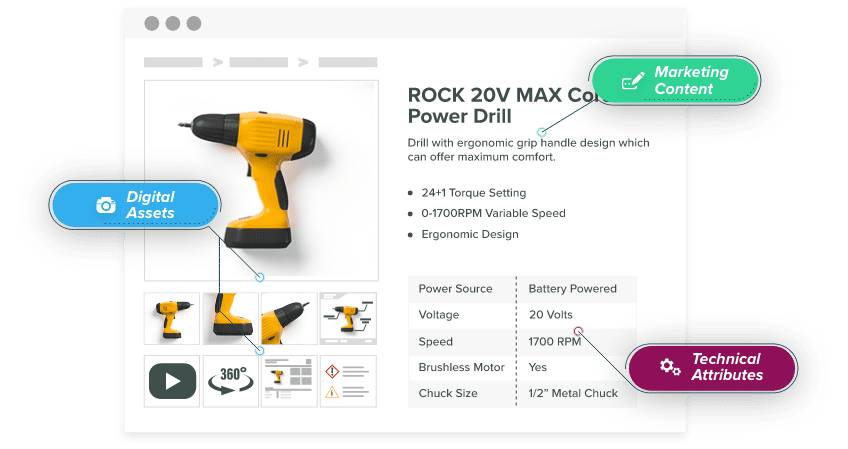 With the content management tools such as a product information management system and a digital asset management system in hand, brands can now operate out of a single repository of all product-related content. 
From designing product detail pages by marketing teams to assimilating all the technical content by the engineering team, so that they can design new features, a single source of truth is the beginning and the key to success on eCommerce platforms. 
Such integration takes care of most of the grunt work such as channeling content, verifying its accuracy, and repeating the same process across multiple sales channels. This leaves time and resources, which can be spent on the development of the product, identifying new sales channels and markets, and creative processes that make good brands great. 
For more information on PIM & DAM as a single source of truth, book a demo with Catsy! We look forward to showing you around the platform.